Niu Yu felt she regained a long-lost sense of control over her body when she took off her prosthetic sponge, exposed her steel leg, put a flashlight on it and jumped on the street.
"Look how amazing my right lower leg is! It can not only rotate 360 degrees, but it is also luminous." In a short video posted on social media, Niu introduces her prosthetic leg in a relaxing tone. Now 25, she has been using the artificial limb for 14 years.
Fourteen years ago, on May 12, 2008, Niu and her classmates experienced a 8.0-magnitude earthquake in Wenchuan County, Sichuan Province. The 11-year-old was trapped under rubble for three days before rescuers were able to reach her. But even though she survived, she had to have her right leg amputated below the knee to save her life. Since then, like so many wounded survivors of the earthquake, her life was once plunged into darkness and, like so many of them, she struggled to overcome the injuries and their scars left behind.
What Niu has had to overcome is beyond what most people can imagine. Looking back at all this, she said she has now made peace with her fate. The encouragement and love of her caring parents, the medical staff who treated her patiently, and the countless strangers who gave her great strength helped her through. Now, as a professional photographer and an online influencer, she spares no effort to pass on her positive attitude to more people in need.
As the only disabled model, Niu was invited to walk the ramp in the Shanghai Fashion Week in 2021, stunning the crowd with her mechanical leg and confidence. In April 2022, Niu was awarded the 25th Sichuan Youth May 4th Medal as a role model to young people.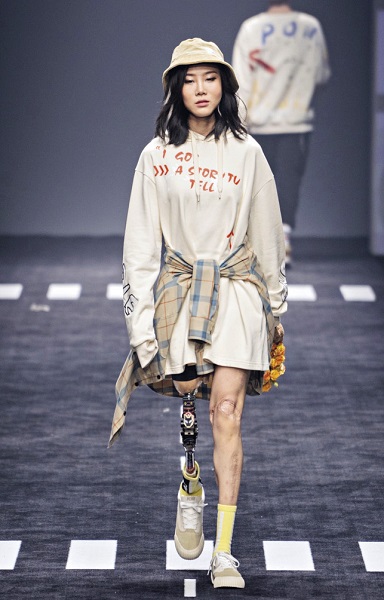 Niu Yu is walking on the runway at the Shanghai Fashion Week on October 14, 2021.
Chasing the Wind
Niu was a member of the school track and field team before the earthquake.
Recalling the fateful earthquake, Niu says she remembers lying in a hospital bed after being rescued and hearing doctors tell her parents about the surgery. She didn't give it much thought at the time. "Maybe it was because I was too young to realize how my life would be with one leg amputated." But as she grew older, she felt a sense of inferiority that was hard to shake off.
The pain of the surgery and of fitting her body to the prosthesis often caused her to fall apart emotionally. Psychological wounds are harder to heal than physical ones. In her adolescent years, she couldn't bear to hear other people mention the word "disabled." With a heavy heart she suppressed her feelings for a boy she had a crush on, thinking, "If only I had a sound body!" After entering college, she often wore only long pants to hide her prosthetic limb for fear of being noticed.
But hiding did not help her feel more relaxed. Instead, she felt even more trapped. Gradually, she thought she might make a change; instead of trying to hide it, she wanted to be honest about it. She tried wearing shorts, exposing her prosthetic leg, walking with her head up in the crowd to make eye contact with others. And once a runner at school, she began to jog, and to chase the wind again.
On May 12, 2018, at the 10th anniversary of the Wenchuan Earthquake, she took part in a marathon which finally enabled her to accept herself from the depth of her heart. "When I was running, people on both sides of the road were cheering me on. They first shouted 'go girl go!', and then some shouted 'go China' and 'go Wenchuan!' At that moment, it occurred to me that my leg is a badge of all my sufferings, I shouldn't hide it any more. I feel so relieved that I finally began to love the real me."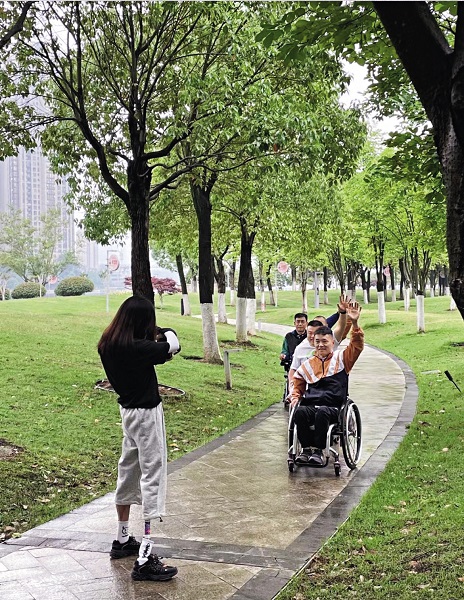 Niu Yu taking photos of the Changsha wheelchair running group.
Unique Is Better Than Perfect
Niu fell in love with photography while studying at Tianfu College of Southwestern University of Finance and Economics. She bought a portable ladder to use when she was out shooting. Once, she fell down from the ladder and suffered a fracture. Some friends advised her to give up. "They don't understand. I was in great pain indeed, but I was so happy. I took satisfactory pictures that day. Life is too short to give up those things you really like."
After graduating from college, Niu worked in the field of new media. She now has millions of followers on social media platforms where she confidently presents her life as a "prosthetic woman" through photography and short videos. Many people are inspired by her optimism, leaving her messages and telling her about their life.
"I often get private messages on social media from people like me. They tell me, 'Today I stood up,' 'Today I tried basketball,' 'Today I tried swimming,' 'Today I took off the sponge and walked on the street.' They would tell me that they were encouraged by me to try new things. For me, their words of encouragement also helped me in my healing process. They give me the confidence to do more things."
In 2021, Niu was invited to walk on the runway with professional models. She recalled that she was at first very nervous before going on stage; then she remembered a private message a girl had sent her, which said, "We're not perfect, but we're still beautiful." It occurred to her that she was not standing there alone, but on behalf of a group of differently-abled people who wanted to shine and be appreciated.
On May 12 every year, Niu writes down words she wants to say to herself. This year, she told herself on her social media platform, "To accept your imperfections, be comfortable with who you really are, to expect surprises, to love and be loved, and to be ordinary but unique."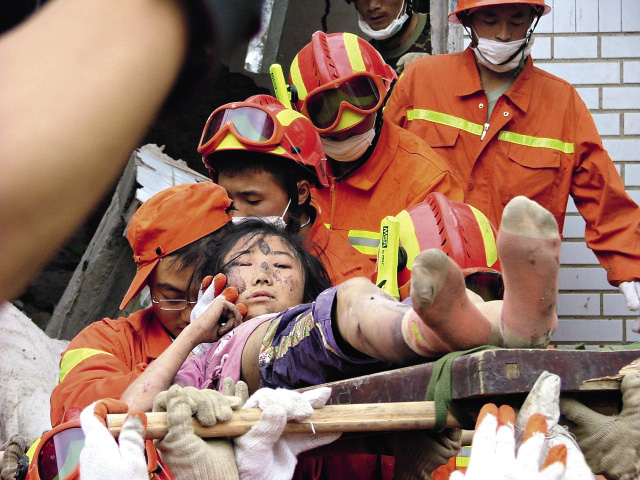 Niu Yu is being rescued from the rubble of the Wenchuan Earthquake's epicenter on May 15, 2008.
Recording Stories of Other People with Disabilities
Over the past several years, in her spare time, Niu has also traveled to many places to take photos and videos of a community of online differently abled individuals and record their stories. They are managers of QQ groups who helped disabled people through online channels.
She was deeply touched when she first read online reports about them. On May 15, 2022, the National Disability Day, she posted the photos online to present to the public the lives of those kind-hearted people.
Through her lens, people got to know Li Wei, a wheelchair-bound athlete from Changsha, Hunan Province, who is a paraplegic himself. In the beginning, he participated in a wheelchair marathon to exercise, then he established a wheelchair running group on QQ app and took more people to compete in the national wheelchair marathon for the disabled.
There's also Cui Zhi from Changsha. Cui is a part-time mechanic who helped to convert the cars of the disabled into moving billboards, thus enabling them to have an extra income. There's also Luan Qiping from Anshan City of Liaoning Province, who set up a QQ group to send people with one foot their most suitable shoe for free.
In addition, through her, more people got to know Zheng Rui and Zhou Fugui, two visually impaired experts from Shenzhen who devoted themselves to enabling barrier-free Internet experiences. And Cao Jun from Shenzhen, who creates employment opportunities for adults with Down's syndrome.
Most of these QQ group managers are disabled themselves, which makes them all the more respected, "Helping others is not as easy as it seems for people like me. We have to control our sensibilities and deal with the prejudice against the disabled from many others. It takes a lot of courage."
Niu said she was glad to have the experience of recording their stories with her camera, and hopes more people could know how great they are.
"These are ordinary people. But they never stop helping others. I was lucky to have the chance to record what they've done, and I hope more people will join in."