Four designated impoverished rural areas have struck off that label and are ready for further transformation.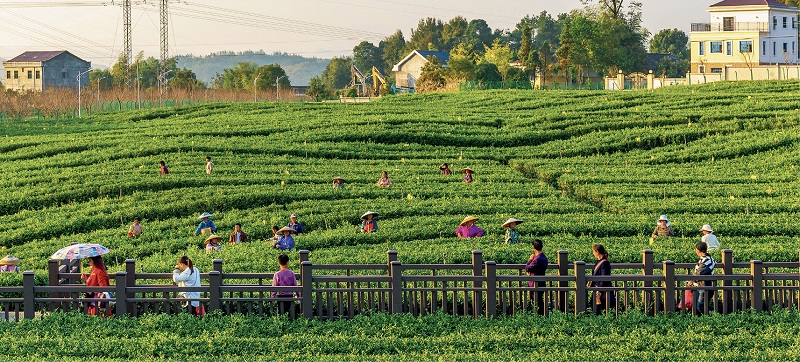 Tourists are enjoying the beautiful scene of the spring tea harvest in Xinglong'ao Modern Agricultural Park in Xiushan County.
On October 1, Chinese National Day, last year, over 3,000 tourists visited the scenic spots in four mountainous areas in southeast Chongqing, the bustling industrial hub in southwestern China. That's a considerable feat, given that the four districts and counties – Qian-jiang, Xiushan, Wulong, and Youyang – were designated impoverished areas in the past. Most of the land there is mountainous, and the houses were scattered. The soil was barren, the per-capita arable land area being only 0.05 hectare. Transportation was near impossible in the absence of proper roads, which made it difficult to develop industries.
However, after the nationwide drive to eradicate absolute poverty was announced a success in 2021, southeast Chongqing has had a makeover. To revitalize and modernize the rural areas, substantial investment has been made to build roads, electrify the area, improve telecom connectivity, and bring running water to the residents. This has boosted logistics services. Today there are express delivery branches throughout the villages to facilitate e-commerce. Villagers sell their produce like alpine potatoes, bamboo shoots, and bacon through smartphones and ship them out.
In the past, the products had to be consumed locally due to lack of transport and logistics. Now they sell at a good price in the cities since they are grown in a pollution-free alpine area. Xiushan boasts a national e-commerce demonstration base, and it takes just a day to send goods to Guangzhou, an industrial center in southern China 900 kilometers away.
Xiushan has developed five major sectors: traditional Chinese medicine ingredients, tea oil, citrus fruits, tea, and livestock. Taiji, a town in Qianjiang District, cultivates silkworms, which is the largest industry in the town. Jingzhu, a village in Wulong District, has developed high-end homestays for tourists who come drawn by the area's unique karst landscape and alpine resources. The once impoverished village has been transformed into a rural tourism demonstration site listed by the UN as a global poverty alleviation case.
Tourism is flourishing as the traditional houses, clothes, food, and handicrafts of the local ethnic minorities are also a strong cultural attraction. Chongqing was paired off with Shandong Province in east China as well as nine government enterprises so that it could rise above poverty with their assistance. Every year, the partnerships bring nearly RMB 1 billion (US $139 million) for the underdeveloped areas of Chongqing.
The Chongqing Expressway Group, for instance, is supporting a local scenic spot by adding a service area nearby. New destinations are being developed such as the Dieshi Flower Valley Scenic Spot in Youyang, the Jinjiba Modern Agricultural Sightseeing Park in Qianjiang, and the Hong'an ethnic minority scenic area in Xiushan.
When the poverty alleviation campaign started, there was a crying need for skilled workers. Since many residents of working age left the area for jobs outside, the local population consisted mainly of women, children, and the elderly. However, with the improvement of rural infrastructure and supportive policies, the outward migration has been stemmed. Also, entrepreneurs and investors are choosing to start businesses in rural areas. To nurture local talent, vocational institutions are set up, such as the Chongqing Vocational Institute of Tourism. And more than 10,000 local officials are selected to work on secondment in villages to help in rural development.
To consolidate the achievements, the city, county, and township leaders continue to monitor the progress and devise further innovations. According to Yuan Jiajun, Party secretary of Chongqing, preventing a relapse into poverty is at the core of building a new vitalized and prosperous Chongqing.
Ecological protection is an integral part of rural revitalization, and there are stringent policies to ensure that. The four areas have no chemical industry, and aquaculture is strictly managed to prevent pollution. Organic planting and green deep processing technology is used to minimize emissions.
As the economy improves, the rural lifestyle is improving as well. The anti-poverty drives advocate personal hygiene and beautifying the living environment to reduce diseases. The government has promoted a long-term toilet revolution through subsidies, and today, rural families have flush toilets instead of the pit toilets of the past.
Villagers groups are also chipping in. They organize sports competitions, fostering better relations between residents.
Other hardships of the past, such as difficulty in seeking medical treatment or going to school, lack of safe drinking water, and low social security are being addressed.
Through the development of large-scale industries, the protection of the ecology and attracting talents and funds to the countryside, rural lives are coming increasingly in line with modern lifestyles. Agriculture is also changing into modern agriculture, creating a prototype of rural modernization.