The 500 colorful bouquets of crocheted woolen flowers, or "blossoms of honor," presented to medalists at the Beijing 2022 Paralympic Winter Games were the handiwork of 150 women suffering from spinal-cord injuries that live in China's capital Beijing.
On a sunny day in April this year, 14 disabled participants of the Rukang Home scheme in Boxing County of Binzhou City, in east China's Shandong Province, set about producing bittern-coagulated bean curd. Made with non-GMO soybeans through traditional procedures, the tofu was a big hit with the local community. The Rukang Home is a public welfare program of the provincial government, aiming to provide rehabilitation, employment, and other support services to people with disabilities. Its participants in Binzhou alone exceed 1,000.
On May 30, 2023, local authorities of Gaochun District in Nanjing, capital city of Jiangsu Province, 700 km from Binzhou, presented Yang Maohong and two other local residents with the 2022 outstanding entrepreneurship award. In 2000, Yang, long afflicted with hearing loss, invested in a three-hectare crab farm. Three years later, his introduction of advanced farming methods and launch of online sales had generated soaring profits.
Earlier this year 44-year-old Lu Hong, who has cerebral palsy, became a national celebrity in Suzhou (another prominent city of Jiangsu 200 km away from Nanjing) upon being elected one of the "10 People Who Moved China in 2022," and appearing in a CGTN program. Lu runs seven online stores and a paper mill employing 43 workers, 80 percent of whom are disabled in some way. His business has been consistent, even during the pandemic, having reported an annual turnover of RMB 11-12 million between 2019 and 2021, and RMB 14 million in 2022.
These are just a few examples of people with disabilities that are working and thriving in different social sectors. China Disabled Persons' Federation data show that in 2020 there were 85 million people in China with disabilities, accounting for 6.34 percent of the national population. For those of working age, in addition to providing a fruitful livelihood, employment has also promoted their engagement in social activities, and helped them to gain higher living standards. Giving disabled people the chance to work and provide for themselves, therefore, is of crucial importance to them, their families, and to the nation as a whole.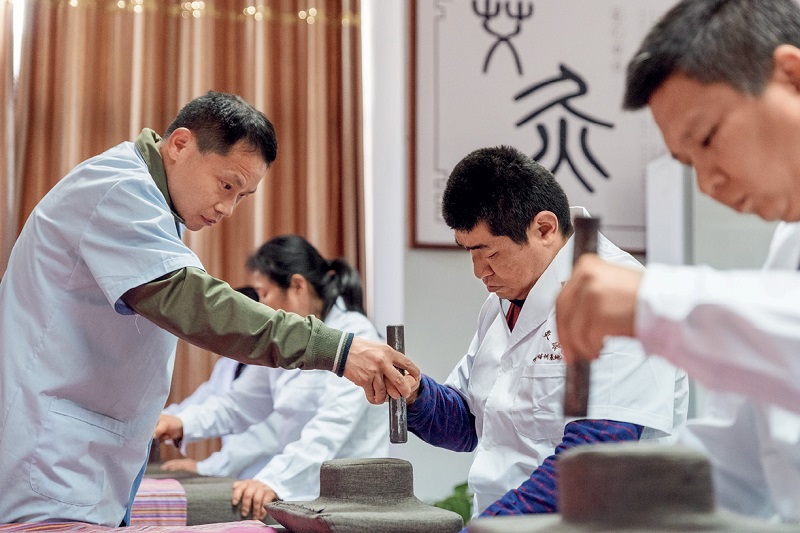 A free moxibustion class is held for people with disabilities in Feidong County, Hefei City of Anhui Province on April 8, 2021.
Steady Progress
China's strenuous efforts to include people with disabilities in the work force have made remarkable progress over past years. For instance, last year 592,000 disabled people found jobs, 184,000 more than in 2021, and 502,000 received vocational training. As of 2022, 9.06 million disabled people were in employment.
The urban environment offers this group three main sources of employment. The first is that of public welfare enterprises, where disabled people constitute a substantial share of workers. The second consists of government departments, public institutions, enterprises, and other economic entities. Required by law to offer a specific amount of job opportunities to the disabled, no less than 1.5 percent of them make up their workforces. The third source encompasses self-employment and running small businesses. In rural areas, meanwhile, disabled people work in farming, animal husbandry, cottage industries, and village/township factories. Businesses either owned by or which hire people with disabilities are eligible for a broad range of tax benefits and exemptions, as well as government subsidies.
Employment for disabled people is factored into various state policies and programs, notably the Employment Promotion Plan for the 14th Five-Year Plan Period (2021-2025). Last year the State Council released a three-year action plan geared to enabling an additional one million people with disabilities to find jobs in the 2022-2024 period. The plan puts forward many measures that involve government agencies, public institutions, private companies, communities, associations, and schools.
For instance, all provincial- and prefecture-level government departments with a staff of at least 50, and public institutions that hire 67 or more people, must recruit at least one disabled person. State-owned enterprises are also required to allocate a certain number of positions to disabled people, and to include their practice in this aspect in their corporate social responsibility reports. Private businesses are encouraged to support disabled people's participation in e-commerce and their taking up of related jobs, such as express deliveries, through free training and reduced licensing fees, as well as giving them priority in promotional activities. Disabled persons' federations, charity organizations, and local communities will, moreover, team up with businesses to launch employment promotion programs, open more cultural creation bases and handicraft workshops, and provide customized, targeted services.
Regional data bases for college students with disabilities are to be established that will enable their universities and relevant government agencies to provide the information and services that they need. Online and offline recruitment events will also be organized specifically for these students.
Cai Qionghui, a blind young woman from Hangzhou, Zhejiang Province, is tuning a piano on September 9, 2019.
New Methods, New Fronts
In recent years innovative measures and programs to expand job opportunities for people with disabilities have been adopted. In 2020, the Ministry of Culture and Tourism and the China Disabled Persons' Federation jointly released a guideline on disabled persons' participation in intangible cultural heritage-related sectors. It states that training bases and production workshops will be established, through government funding, in selected localities of the less developed central and western regions. Relevant authorities will organize teams of experts tasked with providing design and technological assistance. They will also encourage enterprises, especially those operating e-commerce platforms, to help with product promotion and sales. The aim of this program is to create stable incomes for people with disabilities, especially those living in relative poverty.
Following suit, more activities of this kind have appeared across the country over the past several years. Last July the North Taipingzhuang Sub-District in central Beijing sponsored a kite-making activity for local residents with disabilities. Artists were invited to give lectures online, community workers provided help on how to use the necessary apps and software, and free materials were provided. More than 50 disabled people received the training which enabled them to master an employable skill and hence to bolster both their experience and confidence. A women surnamed Zhang living in the Jimenli Community left the message on WeChat: "As my physical plight makes running free impossible for me, let the kite I made carrying my dreams soar ever higher."
Jiangsu Province, a land whose rich world intangible cultural heritage includes Kunqu Opera, the Guqin (a stringed musical instrument), and Yunjin brocade, leads the way in expanding employment opportunities for disabled people through the medium of traditional arts and crafts preservation. As early as 2016, Jiangsu launched training sessions on painted lantern-making skills, paper-cutting, clay teapots, and embroidery, among others. Chen Quan, a resident of Nantong City afflicted with ankylosing spondylitis, earned his very first pay packet by making Qinhuai lanterns after completing, on crutches, a 21-day training session. He has since become financially independent and, more importantly, socially proactive.
In sharing his experiences in this work, a local official in charge of employment for disabled persons emphasized the importance of tailoring vocational education to the needs and strengths of this group. People with disabilities display unexpected aptitudes. For example, those with impaired vision have a more nuanced sense of hearing, especially when it comes to musical abilities and tracking moving objects in space. Those who are deaf or hard of hearing, meanwhile, have heightened visual acuity, so often excel at embroidery and paper cutting. When devising the applicable training schemes, therefore, it is important to bear such propensities in mind.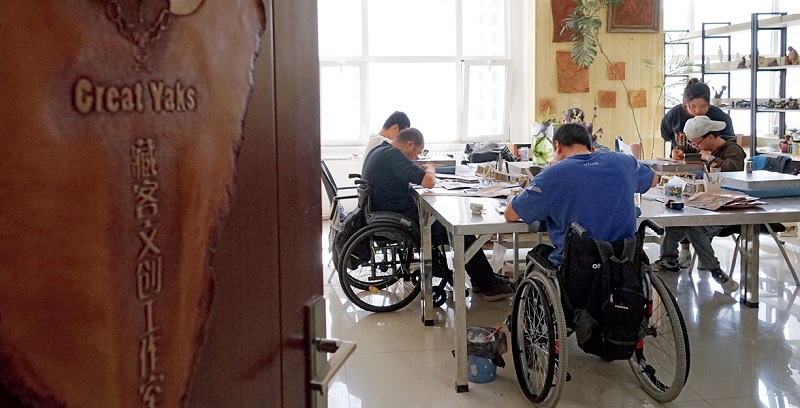 Interns are practicing their leather carving skills at an art studio run by the employment center of Qinghai Disabled Persons' Federation in Xining City, Qinghai Province, on September 14, 2022.
Education Is Key
Cognizant that better education increases people's employment options and earning potential, the Chinese government has gone all out to ensure that citizens with disabilities enjoy equal rights in this respect. As of 2021, the country had 69,000 full-time special education teachers, 57.89 percent more than in 2012, and the number of special education schools had risen from 1,933 in 2013 to 2,288, with students totaling 919,800, as compared with 368,000 in 2013.
Meanwhile growing numbers of children with disabilities may now attend regular schools, apparent in a 128.17 percent growth in this regard between 2013 and 2022. More than 95 percent of children with disabilities receive compulsory education (the nine years covering the primary and junior middle school periods), and in 2016 the State Council decided to provide those from low-income families with free education covering the 12 years from primary school to senior middle school. This was made possible through steady increases in state funding — from RMB 5.82 billion in 2013 to nearly RMB 15 billion in 2021.
As Chinese society progresses, the barriers facing people with disabilities perceptibly dissolve. This summer a video of the speech by Dong Lina, the Communication University of China's first visually impaired graduate of broadcasting and hosting art, and also China's first visually impaired master in broadcasting and anchoring, at the university's commencement ceremony, went viral on the Internet. Dong said in an interview that she took the decision to apply for postgraduate study upon hearing that the national exam for postgraduate programs had become more accessible to visually impaired people. Meanwhile, Chinese universities have opened more subjects to them.
A More Inclusive Society
Such change is not limited to the educational system; it has touched every aspect of society. In recent decades, there have been continuous, extensive, and multi-level efforts to build a more accessible environment for disabled people in China. This goal is apparent in national economic and social development plans, as well as policy documents and programs in the specific realms of basic public services, transport development, and rural revitalization. As of 2020, 1,753 cities and counties had initiated efforts to improve accessibility, and the state had recognized 469 cities, counties, towns, and villages as barrier-free. During the 13th Five-year Plan period (2016-2020) home adaptation was carried out for 650,000 poor families with severely disabled members. This government-subsidized program is expected to benefit 1.1 million more families during the 14th Five-Year Plan period (2021-2025).
A wide range of measures to improve information accessibility, increase the supply of accessible terminal products, and incorporate accessible products and technologies into the pursuit of better services have also been taken. In expanding channels whereby disabled people may engage in the information society, and facilitating the application of information technology in order to build an accessible environment, China is doing its utmost to eliminate the digital divide and create a more inclusive society. The country's efforts have thus created conditions more conducive to the participation in the workforce of people with disabilities.
Chinese President Xi Jinping said, when receiving a group of people with disabilities in May 2014, "The Chinese Dream is the dream of our nation, our country, and all Chinese people, including all friends with disabilities. While chasing our individual dreams in life, we should pool our wisdom and strength for the realization of the shared dream of the Chinese nation."
Dong Lina's speech at the commencement ceremony also mentioned her and others' dreams: "Wherever we may go after graduation, we will keep dreams and passion in our hearts ... pursue betterment of ourselves, of others, and of our world."