COSCO SHIPPING has ensured its core business remains globally competitive while building a comprehensive logistics supply chain service ecosystem.
China COSCO SHIPPING Corporation Limited (COSCO SHIPPING) was founded in Shanghai on February 18, 2016 as a result of the merger between China Ocean Shipping (Group) Company (COSCO) and China Shipping (Group) Company (China Shipping). In the six years since its restructuring, COSCO SHIPPING has attached equal importance to improving the competitiveness of its core businesses and optimizing the industrial chain layout, while facilitating the global economic and trade development and creating an integrated logistics supply chain ecosystem. By constantly optimizing its business structure and layout and establishing a market-oriented operation system, it has made unremitting efforts to become a world-class enterprise with global competitiveness.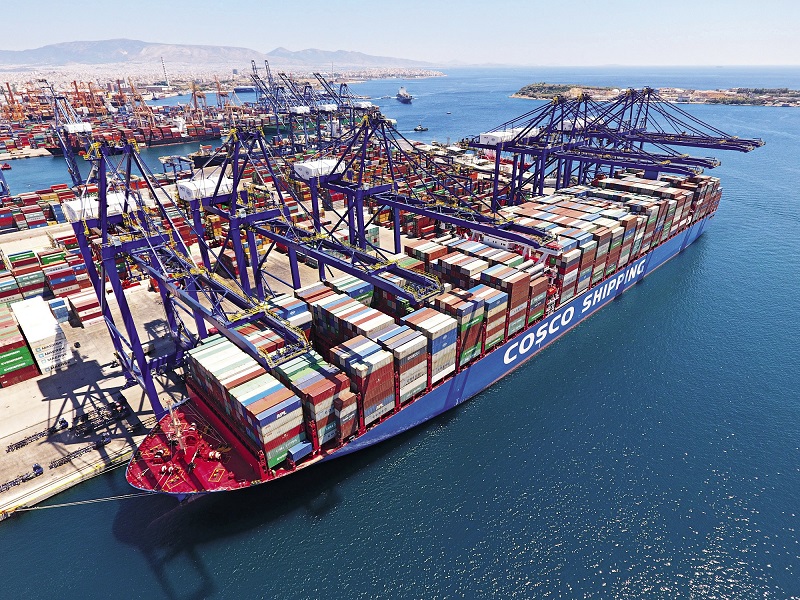 China's first 20,000 TEU container vessel COSCO SHIPPING ARIES is docked at the port of Piraeus, Greece.
Focus on Core Business and Optimize Industrial Structure
During the 13th Five-Year Plan period (2016-2020), COSCO SHIPPING carried out deep and rapid reforms during the restructuring process. While focusing on four strategic dimensions – scale growth, profitability, anti-cyclicality, and globalization, it made an overall plan to promote the integration of group headquarters and the reorganization of its core businesses. In 2016, also the initial year of its restructuring, COSCO SHIPPING completed the reorganization of its headquarters and seven core industrial clusters, including container shipping, ports, oil tankers, dry bulk shipping, logistics, shipping finance, and equipment manufacturing, as well as its overseas networks. Based on that, it successively completed a number of integration projects on seafarer management and educational resources, in addition to a total of 20 major specialized restructuring reforms. Eleven listed companies were engaged in the reorganization, involving 130,000 employees and more than 1,600 units in more than 160 countries and regions.
Through reform and reorganization over the past six years, COSCO SHIPPING has continuously consolidated its industrial leadership and become the world's largest integrated shipping enterprise, with a fleet capacity of more than 110 million DWT. It has also become the world's largest terminal operator, with an annual throughput of 130 million TEUs. COSCO SHIPPING ranked 231st among the Fortune 500 in 2021, up 234 places compared with the pre-merger ranking.
Today, the global operations of COSCO SHIPPING are gaining steam, with the overseas assets, income and net profits accounting for 57 percent, 59 percent and 63 percent of the total, respectively. In addition, the core businesses weigh more heavily, as the ability of the corporation to serve globalization has been effectively enhanced. Its total shipping capacity has increased by 35 percent compared with the pre-merger period, and the container shipping capacity has increased by 78 percent. Particularly since 2020, COSCO SHIPPING has added 47 ships into its fleet, with a capacity of 6.76 million DWT to stabilize imports and exports, ensure the transportation of anti-pandemic supplies, and safeguard the stability of the global industrial chain and supply chain.
Build an Unimpeded Service Supply Chain
COSCO SHIPPING highlights the role of business that serves as a pivotal point and continuously strengthens port operations in the Belt and Road countries. Terminal business is the foundation and strategic support of its global network. COSCO SHIPPING has so far invested RMB 64.2 billion in countries and regions involved in the Belt and Road Initiative and invested in 20 ports. In 2016, it acquired 67 percent of the equity in the Port of Piraeus, the largest port in Greece, and fully took over its operation. In 2019, the throughput of the Port of Piraeus jumped to 5.4 million TEUs, making it the largest port in the Mediterranean, and bringing great economic and social benefits to the local communities. Chinese President Xi Jinping and Greek Prime Minister Kyriakos Mitsotakis jointly inspected the port on November 11, 2019. According to President Xi, the Belt and Road Initiative advocated by China is not just a slogan or a legend, but a real and exciting example of cooperation. He said that the project is a successful example of China and Greece complementing each other's advantages and pulling together to achieve mutual benefit and win-win results.
The China-Europe Land-Sea Express starting from the Port of Piraeus has become the third trade corridor from the Far East to Europe. Extending from the Far East to the Port of Piraeus by sea, and then to the hinterland of Central and Eastern Europe by rail, it covers nine countries along the route and a population of 71 million.
COSCO SHIPPING places great emphasis on total logistics and consolidates the land-sea integrated logistics service foundation. Since the Belt and Road Initiative was proposed, COSCO SHIPPING has been increasing its investments in Asia-Europe sea-rail intermodal transport and Asia-Europe freight trains. Transport services, including Chongqing-Shenzhen, Chengdu-Shenzhen, Lianyungang-Kazakhstan-Europe, and Tianjin-Moscow lines, have been launched successively in recent years. To further boost the construction of the new land-sea corridor in the west, COSCO SHIPPING has opened new ocean routes with Qinzhou Port in Guangxi Zhuang Autonomous Region as the departure or stopover port. Combined with the service provided for the construction of the Hainan Free Trade Port, special trains offering intermodal transport service were also put into operation in 2021, with new accomplishments achieved at Hainan Free Trade Port by the supporting industrial chains. Since the outbreak of the COVID-19 pandemic in 2020, COSCO SHIPPING launched special trains to transport pandemic prevention supplies to Germany, France and other countries and regions, which have provided a strong guarantee for the resumption of import and export trade of local enterprises, as well as great support for overseas pandemic prevention and control.
COSCO SHIPPING highlights innovation-driven development and promotes the creation of a digital-empowered industrial ecosystem. During the reform, COSCO SHIPPING has been promoting digital innovation and transformation, applying big data technology to build a data integration platform to continuously improve its global resource allocation capabilities. It pioneered the application of blockchain technology in the shipping industry, and took the lead in building the industry's first blockchain alliance – Global Shipping Business Network (GSBN). The GSBN platform has launched the paperless cargo release application, cutting the time for imported goods to be document ready for release from 24-48 hours to less than 4 hours. COSCO SHIPPING also launched Syncon Hub, a visual shipping e-commerce platform, and put into use the IRIS4 global container management system and e-commerce platforms for domestic trade to promote the realization of digital transformation and improve the transportation efficiency and service quality. In addition, it also launched China's first smart port with full-scenario application of 5G technology at Xiamen Ocean Gate Container Terminal, achieving smart port operation in all business scenarios empowered by 5G technology. Its data integration platform, IRIS4 system and GSBN blockchain platform have been successively listed as major projects by the Ministry of Transport
While carrying out global operations, COSCO SHIPPING also highlights the obligation of fulfilling its corporate social responsibility. It attaches great importance to its overseas charitable causes and continues to organize regular charitable donations. In 2020, it launched a campaign in overseas markets to battle against COVID-19, donating 42 batches of supplies in cash and kind to more than 20 countries to support the global fight against the pandemic. COSCO SHIPPING (North America) was presented the 2020 Hero Award by the city of Secaucus where it is based and the Hudson Regional Hospital, as a recognition of its contribution to the local community during the pandemic. COSCO SHIPPING also received letters of thanks from Rotterdam Port Authority. The donation activities held by COSCO SHIPPING in Italy were covered by local media, including Rai Radiotelevisione Italiana and ANSA News Agency, which reported that at this historical moment, COSCO SHIPPING's donations are more precious than gold and diamonds.