While China remains committed to its course of opening up, the CIIE also sees exhibitors committed to being a part of the onward progression.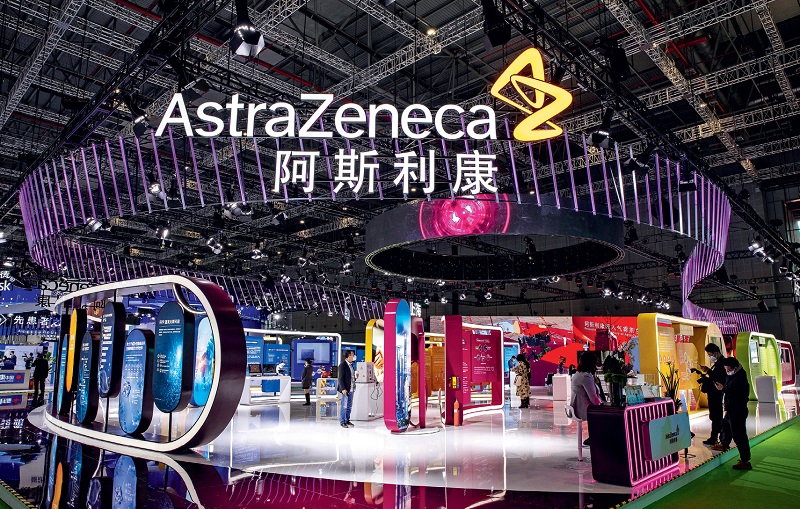 Dazzling exhibits of the AstraZeneca's booth at the fifth China International Import Expo attracting visitors on November 7, 2022, Shanghai.
At the opening ceremony of the fifth China International Import Expo (CIIE) on November 4, President Xi Jinping defined the purpose behind holding the expo, saying: "Five years ago, I announced the decision to hold the CIIE for the very purpose of expanding China's opening-up and turning our enormous market into enormous opportunities for the world. Today, the CIIE has become a showcase of China's new development paradigm, a platform for high-standard opening-up, and a public good for the whole world."
It was also the first major international exhibition held in China following the 20th National Congress of the Communist Party of China (CPC), showing China's determination to promote high-level opening-up.
For 125-year-old Dow, the largest chemical company in North America and the second largest globally, it was its fifth consecutive year at the CIIE. This year, Dow brought over 93 products in four focus areas: low carbon, consumption upgrade, circular economy and new infrastructure. Of these, 17 were new launches.
"The CIIE provides an effective way of discussion with multiple partners," said Jon Penrice, president of Dow in Asia Pacific. "It enables an engagement of not just our customers but also cutstomers' customers, our partners and the government in China. Especially for low carbon and sustainability, partnership is key to innovation success, and the CIIE is an efficient platform for us to have discussion with multiple people all in one time. That is a major value we see in the CIIE."
He also mentioned how Dow views the opening Chinese market: "First, the quality is doing great, and it's our second largest market in the world. Second, China's goal to achieve low-carbon and carbon-zero is a very exciting opportunity for all foreign companies in China."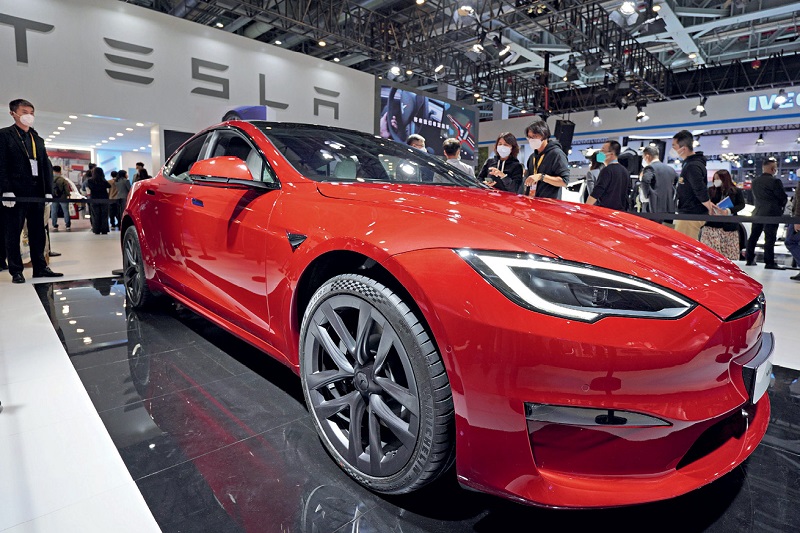 Tesla's Model S Plaid makes its China debut at the fifth China International Import Expo in Shanghai.
Confidence in the Chinese Market
Tesla was also attending the CIIE for the fifth year. "Tesla is a participant in and beneficiary of China's openness," said Gong Ling, general manager of Tesla Shanghai region. This year, the company debuted its Model S Plaid and Model X Plaid vehicles at the CIIE.
China's preferential policies for foreign investors have facilitated their business growth. A Tesla engineer said that Tesla's Gigafactory in the Shanghai Pilot Free Trade Zone, while supplying vehicles to the Chinese market, is exporting more made-in-China Tesla products to Europe and the rest of Asia. The preferential tax policies in China have enabled Tesla to lower its production costs. "We have very high confidence in the Chinese market and the Chinese economy," he added.
This year marks the 20th anniversary of Kärcher's entry into China and also its fifth year at the CIIE. As the world's largest provider of cleaning equipment and cleaning solutions, the German company has more than 3,000 product series, over 14,000 employees and 150 subsidiaries in 78 countries. At this year's booth, visitors could drive a cleaning vehicle and receive a small gift if they finished a lap around a racing track-like course within a time limit. This novel interactive display drew many visitors to line up for a try.
"The CIIE for us is a very successful showcase," said Christian May, deputy chief executive officer and chief sales officer of Kärcher. "We found a lot of partners and networks and we could establish some new business. For example, part of our car cleaning business was established here." May thinks there are many opportunities in China. There is still a lot of need for cleaning equipment, as Kärcher has seen at the CIIE.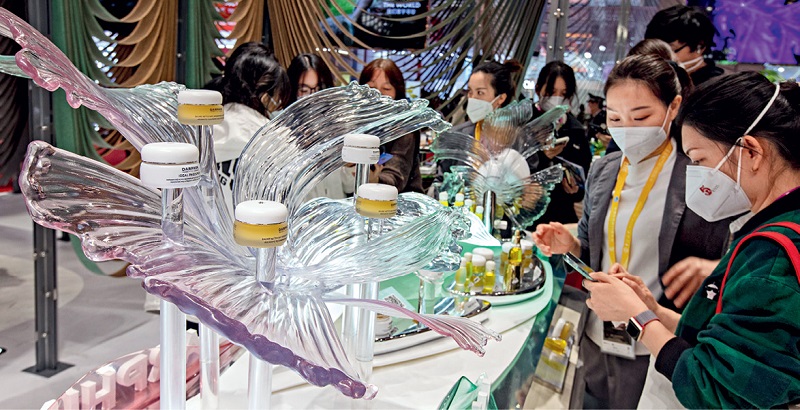 A group of customers are checking out the DARPHIN cosmetics at Estee Lauder's booth at the fifth China International Import Expo in Shanghai, on November 8, 2022.
Ready for More
The Hongqiao International Economic Forum is an important part of the CIIE, held since the expo's inception. The World Openness Report 2022, compiled by leading Chinese think tanks, was released at the forum on November 5. For five consecutive years, the CIIE was held on schedule, making China's big market a big opportunity, strengthening international cooperation, and promoting world economic recovery. China now holds the 31st place in the global ranking of business climate, according to the report.
Vice Minister of Commerce Sheng Qiuping said many exhibitors have already signed up for the sixth CIIE. On the second day of the expo, about 60 companies and organizations had pledged their participation for the next year.
Nestle, the world's largest food and beverage company, was one of the first foreign companies to enter the Chinese market. It was also one of the first companies to sign up for the next CIIE after five consecutive years. This time it brought more than 300 best-selling products from 16 countries, of which more than 90 were entering the Chinese market for the first time.
"Zone Greater China is Nestle's second largest market in the world. As one of the important platforms for China's continuous opening-up and sharing China's opportunities, the CIIE provides foreign enterprises like Nestle with the convenience and guarantee of two-way communication and win-win development," said David Xi-qiang Zhang, executive vice president of the Nestlé Group and chairman & CEO of Zone Greater China. "China's commitment to high-standard opening-up and a new development pattern of dual circulation gives us more confidence to grow together with the Chinese economy and to seize the opportunity that China offers."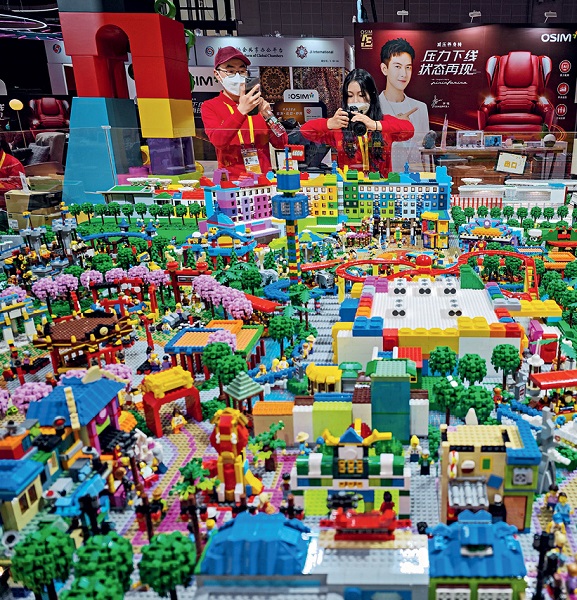 LEGO showcasing its products at the fifth China International Import Expo in Shanghai.
A Platform for Cultural Cooperation
Over the past five years, the expo has not only showcased products but also created a platform to promote cultural exchanges. This year, the Italian national pavilion in the CIIE's clover-shaped venue played Italian films and displayed tourism scenes and celebratory events from the China-Italy Year of Culture and Tourism on a giant screen, presenting Italy's innovation, culture, art, technology and cuisine. "We want to show Italy in 360 degrees, not only the economic or commerce sector," said Augusto Di Giacinto, the Italian Trade Agency's trade commissioner in Shanghai. "This year marks the China-Italy Year of Culture and Tourism, so we want to show what Italy is doing in the cultural and tourism fields."
The area for cultural activities expanded to a record 32,000 square meters where 715 organizations participated. Art groups presented over 50 performances, incuding troupes from the Hong Kong Special Administrative Region, who performed at the expo for the first time. Over 200 intangible cultural heritage projects were showcased, while 275 time-honored brands displayed their signature items. Ten provinces, autonomous regions and municipalities had long-term exhibition halls in the area.
This was the LEGO Group's fifth year at the expo too. The company built a 396-square-meter LEGO playground at its booth and to mark its 90th anniversary, designed a special float with multiple cultural images: from the iconic dragon and Monkey King of Chinese culture to pirates and castle soldiers from the West.
Justin Ramsden, senior designer of the LEGO Group, said, "We can introduce the Chinese culture by selling it all through the world. They are not exclusive to China but open to the world, so that foreign consumers can also get a sense of Chinese cultural elements by building LEGO products."
Over the past five years, CIIE has offered a trade platform, through which a raft of companies and organizations from across the globe have found their way to venture into the Chinese market. As China embarks on a new journey towards Chinese modernization, CIIE becomes an epitome of China's high-standard opening-up.
More than 100,000 square meters of exhibition area for the next CIIE have already been reserved, according to the CIIE Bureau. Looking into the future, CIIE is ready to continually showcase innovative solutions and prime products as well as to enhance cultural communications. At the same time, China seeks cooperation with other countries with more openness, injecting more vitality into the global economy and promising peaceful development to the international community.
There are sufficient reasons for transnational corporations to continue investing in the world's second-largest economy, which has a population of 1.4 billion, especially with an expanding middle-income group that's already 400 million strong.
Craig Allen, president of the U.S.-China Business Council, in an interview with Xinhua, said that nearly 200 U.S. companies attended this year's CIIE, and every individual company wanted "a little bit more space" at the venue.
In the first nine months of this year, foreign direct investment into the Chinese mainland expanded 15.6 percent year on year to RMB 1.00376 trillion. All this shows the growing passion and confidence of foreign investors in the Chinese market.