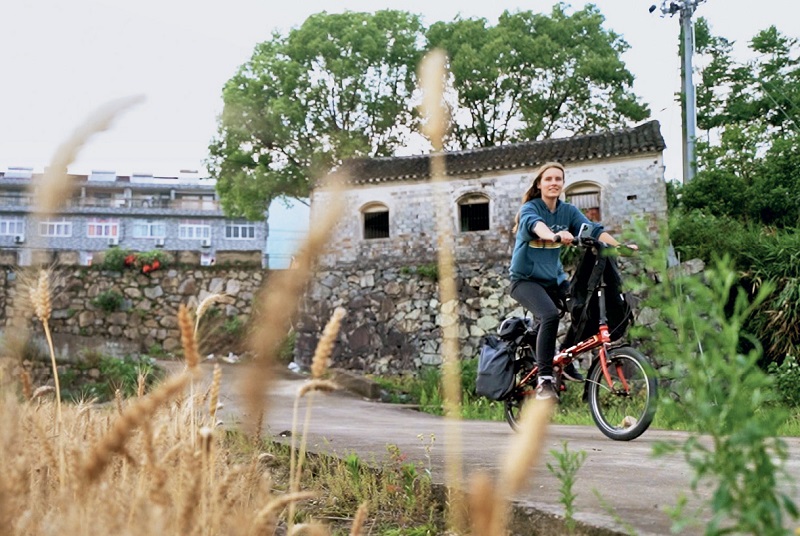 Katherine is taking a bike ride through a Chinese village.
When American student Katherine Olson was biking in a village in the historical city Nanjing in east China's Jiangsu Province in 2020, she was attracted by a little courtyard full of a variety of plants. It reminded her of her mother, who was also an avid gardener. As she stopped there to take photos for her mother, a woman came out of the house. She invited Katherine in, named the plants growing in the yard, and then gave her a tour of the house. They had a nice chat and added each other on WeChat. The hostess invited Katherine to come again when the flowers would be in full bloom.
This is an example of the warm hospitality the 26-year-old from Virginia received from strangers during her frequent bike tours in China. Her YouTube channel, Katherine's Journey to the East, which borrows its name from the famed Chinese classic Journey to the West, records these travel experiences. It has over 100,000 subscribers and has been viewed more than eight million times. Katherine's videos show a China that is different from the Western media's negative portrayals.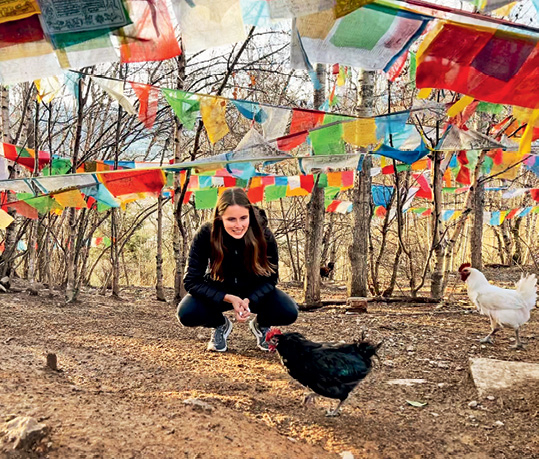 Katherine has fun making friends with chickens.
Off the Beaten Track
Katherine used to be an avid runner who liked to do marathons. She had participated in many marathons in China but then got bored with the similar routes and wanted to see other interesting parts. So she planned her own marathon routes mainly in rural areas around Nanjing till a knee injury stopped her and she turned to cycling instead.
In 2020, while doing her postgraduate in environmental engineering at Nanjing University, Katherine got a folding bike. Due to COVID-19, she was living in Beijing at that time and couldn't go to the lab. So she had plenty of time to bike around Hebei Province, which borders Beijing.
Her initial tours often covered over 100 kilometers, taking about nine hours each, but she didn't feel tired. The beautiful rural environment motivated her to explore more places in rural China. She has lost count of the numerous villages she's visited.
"A lot of cities look kind of the same, but rural areas have their regional specialties that you won't find anywhere else, like the way people build their houses, the crops they grow, and the overall structure of the villages," Katherine told China Today. "I think the scenery in those places is more interesting because it integrates the local natural features with a human environment." Such diverse village scenery is hard to find in the U.S., she said.
It was not only the uniqueness of the villages that hooked Katherine but also their laid-back lifestyle. "In the city, everyone is rushing from here to there. So, it's harder to have interaction with them. In the villages or small towns, people live a much more slow-paced life and I get a chance to talk to them," she said.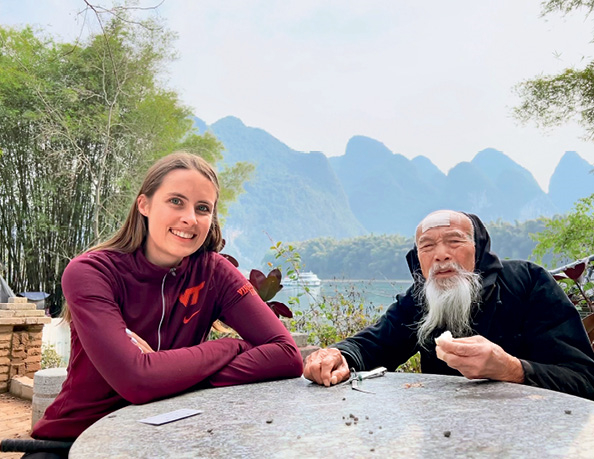 Katherine makes friends with a local villager.
Katherine has a Chinese name as well, Yang Lizi. Yang means sunshine and contains positive energy, reflecting her optimistic nature. Lizi means ion, which is related to her major in wastewater treatment. The name describes her aptly and creates a special impression because it is different from the average Chinese name. Her videos are different as well.
In one, she challenges a goat to a staredown, cautions "stupid chickens" dangerously walking on the road, and takes a bug to "hitchhike" with her. The tranquil roads with green trees on both sides create a wonderful "small world" for her to bike through. She especially enjoys the street markets along the roads where she can find local specialties and meet interesting people. She gets both curious stares as well as is greeted by smiling people who want to take selfies with her.
Many foreign viewers find her videos interesting because through them they learn a lot of things that they didn't know before — the life of ordinary Chinese people, the local culture, and the real China that runs counter to the Western media's negative reports. These videos can't be dismissed as propaganda that show only good things. For example, when she found a polluted canal with black water in one village, she chose to share it in a video.
Katherine's mother had seen U.S. news outlets portraying China as repressive and dystopian. When she visited China in 2020, she discovered a totally different country. "My mother was amazed at the life of the elderly people here, the beautiful parks and green spaces in the city, and the high-speed trains, which are not what you would expect from watching the news," Katherine said.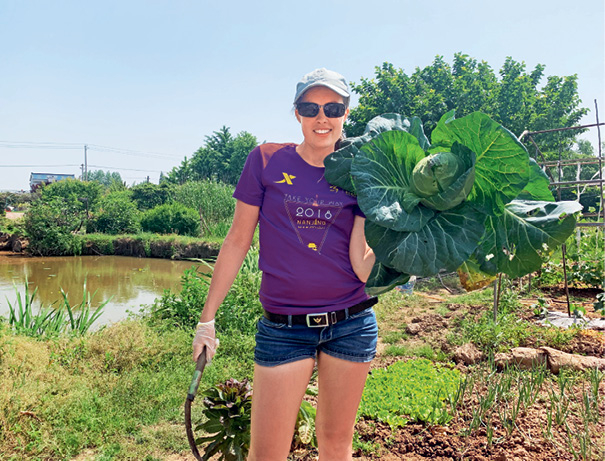 Katherine displays a huge head of cabbage freshly harvested in rural China.
Environment Concerns
Katherine's connection with China started when she was an undergraduate student at Virginia Tech, where the mentor and students at her lab were all Chinese. She soon become interested in learning Chinese and practiced her Chinese on the other students. "And then I thought maybe I should go to China and see if I like it."
In 2016, she came to China for the first time to do a lab project in Shandong Province and an internship in Shanghai during the summer. In 2018, she applied for a master's degree in environmental engineering at Nanjing University, and then after graduating in 2020, spent one gap year traveling around China, which produced the content for her videos. In 2022, she joined Green Zhejiang, an NGO working on environmental protection.
There she participated in environmental education programs. She gave a weekly class on sustainable city development in an elementary school in a village near Hangzhou, capital city of Zhejiang Province. She taught the kids about organic farming, how a sustainable city is designed, the different elements it needs, and what should be considered in the early stages of development.
In the meantime, Katherine has continued her bike tours, now mainly in Zhejiang. Twenty years ago, her boss did a 2,000-kilometer bike tour in Zhejiang and found some environmental issues, which inspired him to start Green Zhejiang. Now, Katherine has embarked on a journey to witness the changes. Some of her videos spread awareness about low-carbon projects in Zhejiang, such as a mini documentary about eco-friendly mushroom farming.
This summer, Katherine's wish to live in rural China finally came true when she moved to a village near Hangzhou for local environmental and educational programs after the bike tour, contributing to China's rural revitalization efforts. "A lot of young people in China have this impression of rural China as being backward and crappy. I want to show people that there are career opportunities in rural China and it's possible to live a life that's actually pretty nice. It's not what people envision, that rural areas have terrible bathrooms and dirt roads. If you want to keep developing the rural areas, you got to have young people."
It has been seven years since Katherine first came to China. She has witnessed a lot of changes in China's development and environmental protection. "Wastewater pollution [control] has improved a lot to the point where I never see that anymore. I don't see wastewater getting dumped and I see a lot of wastewater treatment plants, even in small towns and villages. The smog situation has got better in a lot of cities like Beijing."
Katherine hopes to stay in China as long as possible. Incidentally, she did revisit the gracious owner of the blooming courtyard and was served local dishes. They remain in touch both online and offline and she spends traditional festivals like the Chinese New Year and Dragon Boat Festival with them like a family.