Chinese companies, accompanied by local trade promotion authorities, visit countries overseas to increase economic and trade cooperation.
Nuno Maposse still has memories of his experience at the inaugural China-Africa Economic and Trade Expo (CAETE), which was held in Changsha, Hunan Province, in June 2019. "The event was fantastic and amazing," he said.
He was pleased to welcome to his country an official economic and trade delegation sent by Hunan Province just four years after the initial meeting, in his capacity as assistant to the director general of the Investment and Export Promotion Agency (APIEX) of Mozambique. The delegation's primary aim is to promote the third edition of the CAETE, which will take place in June this year.
On December 10, 2022, the team left on their 12-day journey around Africa which stopped at Mozambique, Tanzania, and Madagascar among other places. "These three African countries have close economic and trade ties with Hunan, being important participants in CAETE and the construction of the Pilot Zone for In-depth China-Africa Economic and Trade Cooperation in Hunan," said Lou Liangjin, head of the delegation and an official of the province's Department of Commerce.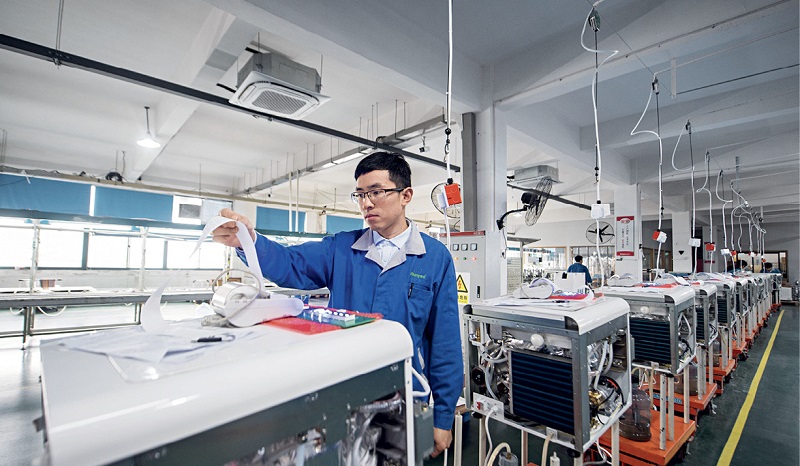 An employee works on a production line at Runyes Medical Instrument Co. Ltd. in Jiangbei District of Ningbo, Zhejiang Province, on December 9, 2022.
A Special Journey
The Central Economic Work Conference held in December 2022 stressed that economic work for this year should prioritize stability while continuing to make progress. It emphasized the roles of managers, local governments, businesses, and the public in efforts to move the economy forward.
In this context, coupled with the optimization of the country's COVID-19 response, local trade departments are taking the lead, organizing businesses to increase foreign trade while attracting investment. The local governments have taken more responsibility to further stimulate the country's foreign trade.
Hunan is targeting Africa, whereas many provinces and cities choose Europe and Asia as their final destinations. According to data from Changsha Customs, Hunan and Africa's economic and trade ties have been expanding steadily during recent years. In the first 10 months of 2022, Hunan and Africa's trade volume totalled RMB 46.13 billion (US $6.73 billion), up 50.5 percent from the same period of 2021, placing Hunan at the top of China's central and western regions in such trade.
After COVID-19 broke out three years ago, this delegation was the first at the provincial level to travel to Africa.
The delegation, which was made up of a dozen private enterprises, visited 10 government departments in the industrial, commercial, agricultural, and energy sectors and nine industrial parks and projects for China-Africa cooperation.
APIEX would offer one-stop services and tax benefits to Chinese businesses planning to invest in or collaborate with Mozambique as the division in charge of authorizing, promoting, and organizing cooperation projects. An extensive discussion on the viability of collaboration and policy incentives for the Mocuba SEZ Agricultural Development project, the Chimoio Textile Plant project, and the investment, building and operation project for an exhibition center took place between APIEX and the delegation.
The agricultural sector and mining industry are important areas of cooperation. Tanzania was considering to cultivate and process coffee, nuts, and cassava, as well as how to export specialty items like cloves and aquatic goods to China. Ways of introducing Hunan's agricultural equipment to the Tanzanian market were also discussed.
Mineral resources are abundant in Madagascar. According to Rakotomalala Herindrainy Olivier, Madagascar's minister of mines and strategic resources, the country will seek cooperation with foreign investors in exploration, exploitation, processing, and trade to enhance the added value of minerals, increase employment and tax revenues, and create a win-win cooperation model.
Emerging industries were also targeted. During the visit to Tanzania, there were discussions and investigations about e-commerce platforms, overseas warehouse development, and logistics. All in all, this economic and trade trip was fruitful, resulting in a list of planned cooperation projects, a list of special products for trade, and a list of invitees for participation in this year's CAETE, the Department of Commerce of Hunan Province said on December 28, 2022.
Members of Hunan's economic and trade delegation talk to a representative of Tanzania's Ministry of Agriculture.
Double Objective
Similar delegations organized by provincial trade promotion departments in December last year were also well received. Unlike Hunan, they preferred to go to other business partners of China such as the Association of Southeast Asian Nations, Japan, the Republic of Korea, and Europe.
On December 9, 2022, a delegation from Suzhou, Jiangsu Province, set off on a tour to Europe. Of the delegation's more than 200 participants, 100 were government representatives in charge of attracting investment and 100 were company executives in charge of looking for clients and new business opportunities. According to the Suzhou Bureau of Commerce, a total of US $5.95 billion in planned investment was secured and US $3 billion in orders were received, following 10 days of travel.
Import and export data for the first 10 months of 2022 show that Guangdong, Jiangsu, and Zhejiang provinces ranked the top three in the country, while Sichuan, which ranked eighth, is the strongest province in terms of foreign trade in the inland. "This trip allowed me to discover a new market to exploit in Paris, where the new energy vehicle is not yet popular," said Chen Youfu, general manager of a vehicle sales company in Chengdu, Sichuan, who was part of a delegation from the province that travelled to France, Germany, and Italy, along with some 30 company managers. For him, the trip was a good start for his business, which was disrupted by COVID-19.
The combined value of China's imports and exports in November 2022 stood at US $522.34 billion, a 9.5-percent drop from the same period of 2021. Faced with this situation, Guo Ning, deputy director general of the Department of Commerce of Hunan Province, said that the only way to gain a better understanding of foreign markets and establish contact with multinationals is to travel to foreign markets to explore new opportunities. "This will allow us to understand market trends and demands and help the relevant companies to survive the downturn caused by the pandemic," he said.