"Every poor student may get an opportunity to live a better life after receiving vocational education," said Zhou Zhu, president of the secondary vocational school in Qianxi County of Bijie City, Guizhou Province. In recent years, the Guizhou provincial government has taken vocational education as a breakthrough method to promote targeted poverty alleviation by strengthening technical skills of students from poor families. The vocational school Zhou works in has set up five departments including information technology, tourism & hotel management, preschool education, medical science, and transportation with altogether up to 12 majors.
Knowledge Matters
A total of 35 students from vehicle maintenance and repair class enrolled in 2018 are getting practical training in factories. He Weijun, a teacher at the transportation department, is teaching the basic structure of an engine. "After half a year's training, all students must be proficient in removing and assembling a complete engine manually; otherwise, they can't pass the examination," said He.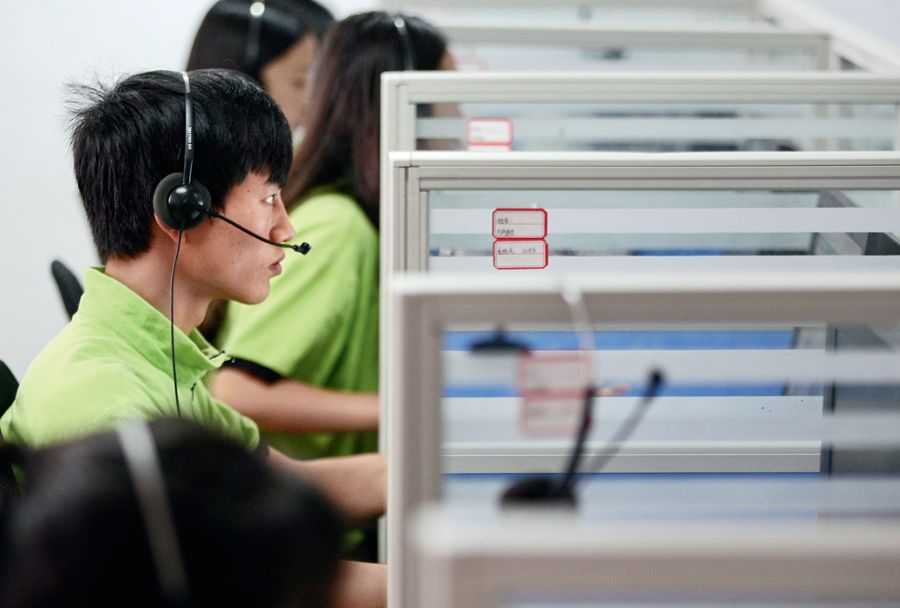 The Qianxi vocational school's call center has 50 seats for teaching and practicing, and another 50 seats for business calling.
Zhang Mengxian, just 16-year-old, hails from a small village called Zhafang in Qianxi County. Growing up in an underprivileged family of five, the soft-spoken boy is introverted and reserved, compared to other youngsters in their adolescence. He told China Today that his biological father died when he was three years old, and since then, he has lived with his stepfather. His elder brother is an automobile repair technician, earning a livelihood in Guiyang, the capital city of Guizhou Province. Zhang chose to follow in his brother's footsteps, hoping to earn more money to reduce the burden on the family.
In the secondary vocational school, Zhang receives education in some fundamental curricula such as Chinese, mathematics, English, but also has to complete both theoretical and practical courses on vehicle repair. "Everyone has a chance to perform specific tasks in the practical classes to improve our practical abilities, a necessary skill for our future employment," Zhang said.
The students are eager to be skillful at work so as to escape from the poverty trap, which is the dream of many students like Zhang, as they know that only by obtaining an education and training can their fates be changed. Another student in the class, Zhao Xiaochao, had to drop out of school without financial support from his family, but doing temporary and odd jobs could not earn him enough money. He considered returning to school to pursue an education to meet the qualification requirements on the job market.
Access to Free Vocational Education
Zhao's dream finally came true thanks to the "Targeted Poverty Alleviation Plan on Education in Guizhou Province." In April 2018, he returned to school after two years of work experience.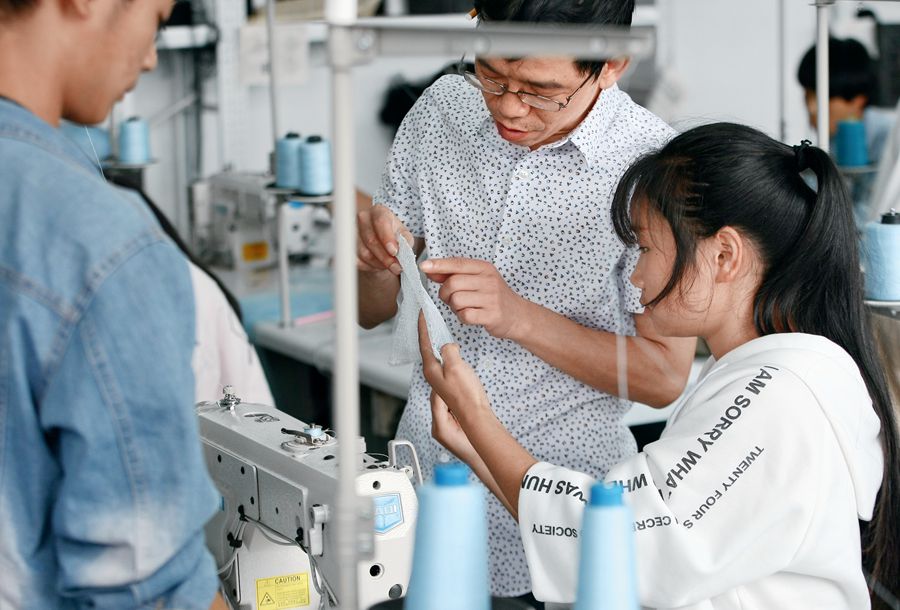 Students taking practical fashion design classes on machines.
According to the "Targeted Poverty Alleviation Plan on Education in Guizhou Province," the local government provides financial support to ensure that no poor students are left behind, or drop out of school, and no families return to poverty for paying for their children's schooling.
Free vocational education is offered in the secondary vocational school of Qianxi County, which opened free classes for 14 deeply impoverished counties and 20 extremely poor townships and towns in cooperation with vocational colleges and the local poverty alleviation base. The annual enrollment has reached over 10,000 students. A "four-level cooperation" institution among provinces, cities, counties, and schools has been established to guarantee enrollment, subsidy, training, and employment for poor students. After three years of vocational education, students will be cultivated into professional and technical personnel to realize the goals of "one student being educated and obtaining a job, while the whole family gets lifted up and out of poverty."
"During the Spring Festival, staff of the township educational authority came to my home and told me I could return to school without paying a penny." Zhao recalled. His family was elated upon hearing the news. The school not only announced the tuition waiver of RMB 2,000 annually, but also exempted his fees of textbooks, boarding, and school uniform. "I can annually receive RMB 2,000 of national poverty subsidy and RMB 1,900 of educational assistance for students from targeted impoverished families."
Students are very concerned about future employment. Teacher He told China Today, their classes covered repair of motorbikes, automobiles, and buses, as well as new energy vehicles. "Once students pass their examination, they can get an internship in automobile 4S shops. Our employment rate can reach as high as 95 percent."
It is big news that Chongqing Lifan Automobile Company will set up a manufacturing factory in Qianxi County. "Students in vehicle maintenance and repair classes hope to find a fairly good job. One important thing is the cooperation between schools and enterprises, as students can obtain invaluable work experience during their education, making them more eligible for future jobs. After graduation, they can earn at least RMB 3,000 per month," President Zhou said.
After one and a half year of training and one year internship, students like Zhang and Zhao will become vehicle repair technicians and work at automobile factories or 4S shops. But they have even bigger dreams, "If I can earn enough money to open a private vehicle repairing workshop, I will be able to support my younger siblings' education." Getting more education to change life is an aspiration of all impoverished students.
Competitiveness on the Job Market
To ensure that students can find jobs after graduation, the curricula are designed based on market research to meet the needs of the local economic and social development, including vehicle maintenance and repair, beauty & hairdressing, fashion design, hotel services, call center services, fruit & vegetable cultivation, and e-commerce, as well as two new majors: industrial robotics, and urban rail transit. Graduates can get an internship in Qianxi County, or be sent to Shanghai and Dongguan where more opportunities are offered.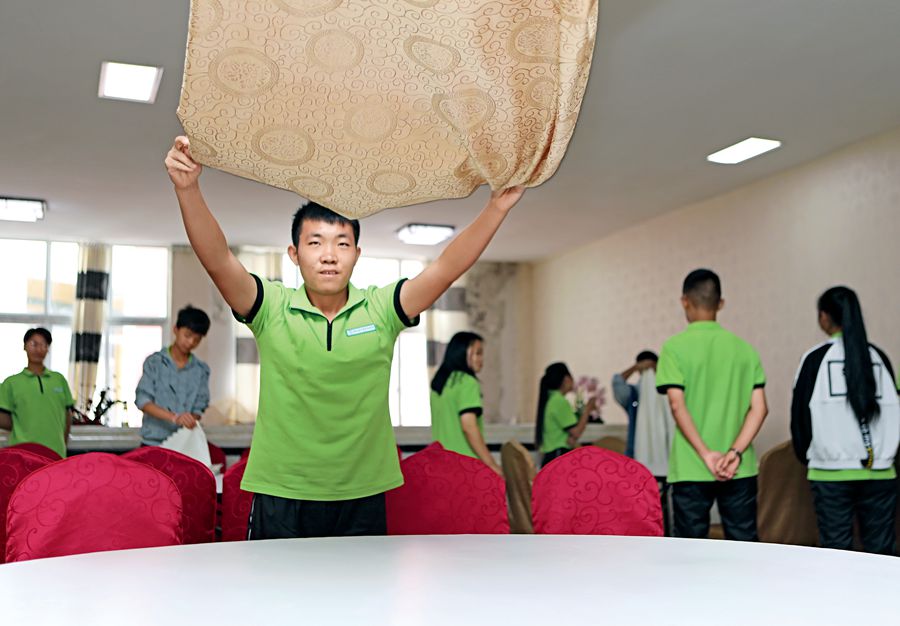 A student majoring in hospitality and hotel management practices laying a tablecloth.
In the training base for call center services, director of the comprehensive department Feng Jun said it was easy for graduates to find proper jobs. Its call center with 50 seats for teaching and practicing, and another 50 seats for business calling, is a fruitful venture with Hua Tang Zhong Ke Educational Science Company. A big data program at county- and city-levels, the center is scaling up its operation.
According to Feng, the seemingly simple call center services require much skill. "The most difficult thing for adolescent students is to control emotions, and present their professional services and passion to customers on the other side of the phone. It contains much more psychological knowledge and is a big challenge even for adults," said Feng.
A new management model is being adopted in the school, requiring "six plus one plus one" certificates for students' graduation. "Six" refers to certificates on six aspects including mandarin, professional morality accomplishment, specialty, required skills, academic performance, and internship certification." "One" is the graduation certificate, while the other "One" means the gaining of junior college or university diplomas after the completion of correspondence courses or passing the vocational college entrance examination.
Job opportunities are invaluable for the poor and their families and are what the vocational school works for. President Zhou told China Today, "Each year, our school has almost 1,000 graduates who can earn an average monthly income of about RMB 4,000." For those from impoverished regions and living in destitution, a steady income of that level can have a very positive impact on their quality of life.