IN south China's Hainan Province, technologies are playing an important role in poverty alleviation. With the help of big data and the Internet, government officials are now able to roll out targeted measures for poverty reduction and to track the efforts via smart phones. People can print poverty alleviation handbooks with just one click. In the self-service supermarket, customers can buy agricultural products produced by low-income households by just scanning a code. Rhizomes of winged yams, which used to be an unmarketable product, are now popular among customers.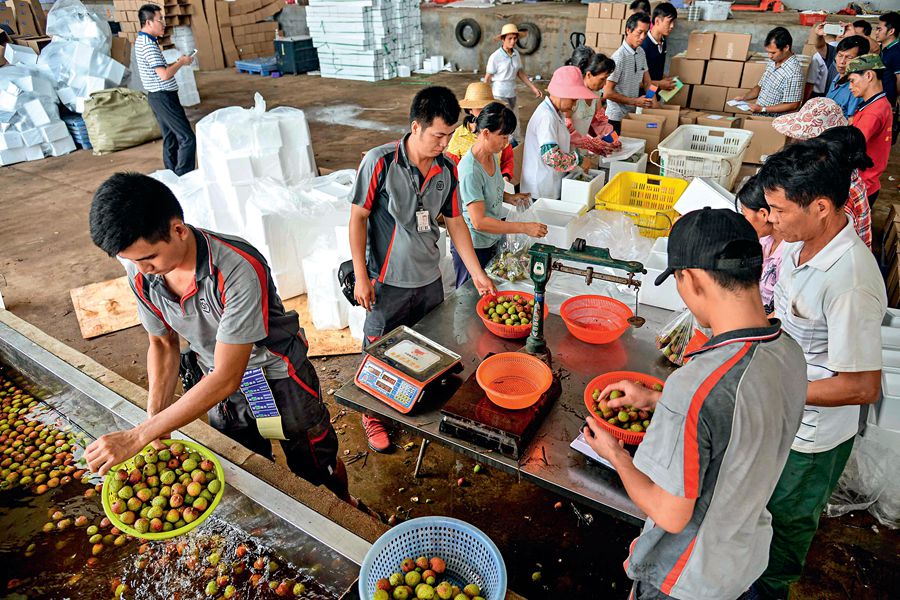 A packaging workshop in Haikou of Hainan Province where workers process lychees. Thanks to the e-commerce platform and convenient logistics, lychees from Hainan are now sold all over the country.
Since 2012, Hainan has increased investment in science and technology. There is determination to combine big data with the development of tropical agriculture by collecting and analyzing data on agriculture, promoting a traceability system of agricultural products, and setting up an e-commerce platform. Work is also being done to set up a provincial database and platform for poverty alleviation and social assistance, so information on poverty alleviation can be collected and shared across the province, and the registered impoverished population be managed in a dynamic manner.
Technology has made poverty alleviation more targeted and intelligent.
Identifying on the Cloud
Collecting accurate information is vital and serves as the basis of the work. In March 2007, Hainan rolled out a guideline on enhancing information sharing throughout the province. It planned to build a unified provincial big data platform. On the platform, government departments at all levels can collect and release information for the public to look up or download. It can also be used for mobile applications. The guideline also encouraged the creation of new means of poverty alleviation with the help of big data and cloud computing, and building a big data system exclusive for poverty alleviation.
"Thanks to the support of the government, the hardest days are over," said Su Xianghai, from a poverty-stricken household in Nashou Village, Yucai Town, Sanya City. He still remembers clearly the financial hardship he went through when he could hardly make ends meet. Three years ago, he fractured his cervical vertebra in a motorcycle accident, which made him temporarily unable to work. Then in order to receive treatment, his family accumulated a debt of more than RMB 10,000 (US $1,441).
During that difficult period, Su and his family were identified as a poor household, and their information was recorded in the database and managemet system for targeted poverty alleviation in Sanya. The system then tailored a series of support measures after analyzing the recorded information of Su and his family.
With the help of the system, the government is able to offer medical assistance to those who need it, and provide necessary assistance to people who are short of funds. In addition, it also invites agricultural experts to give on-spot instructions and teach those who lack know-how on farming. According to information recorded in the system, the per capita net income of the Su family is now above the poverty line, which indicates that his family has been lifted out of poverty.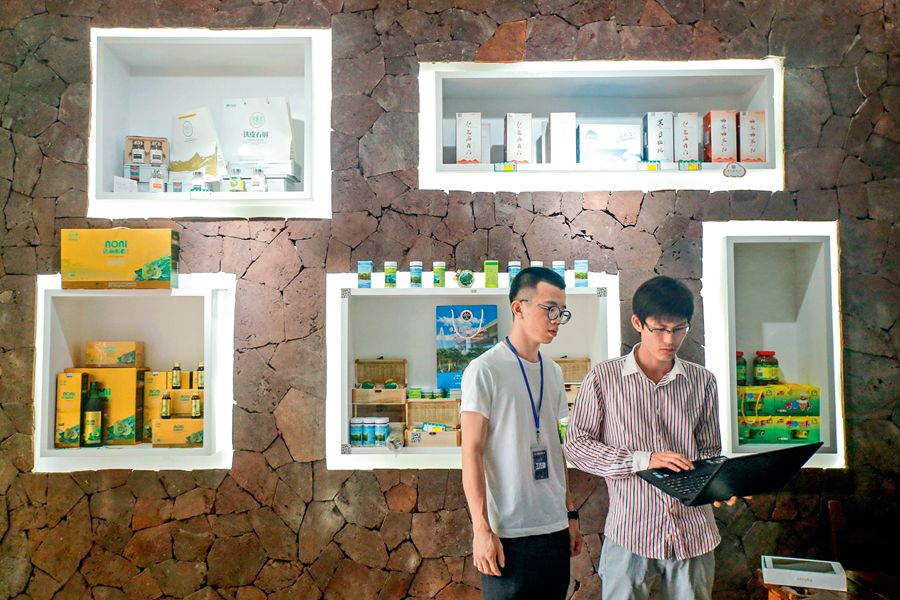 Exhibition of locally produced agricultural products in the Shishan Town Tourist Service Center.
The result cannot be achieved easily without the help of the database and management system for targeted poverty alleviation.
"With big data, we can better identify poor households, track the efforts of poverty alleviation, and obtain feedback in a timely manner," said Zhang Lei, deputy director of Poverty Alleviation Office of Sanya. According to him, the local database and system are connected with a national one for information exchange and sharing nationwide.
"Lack of land resulted in the poverty of Wang Chunmei and her family. By giving them poultry, we helped raise the family's income," said Wu Yi, the first secretary stationed to the village committee of the Communist Party of China in Nashou Village. Each day, after Wu arrives at his office, the first thing he does is to turn on the computer and log into the database and system, where he can check the information of the six poverty-stricken families he is helping, and then plans his daily work according to the latest information.
The big data platform also greatly helps the front-line officials, like Wu, carry out their work of poverty alleviation. When they visit poverty-stricken families, they can complete all the work on their mobile phones. On the phone app, they can write down the supporting measures and confirm the progress of poverty alleviation. More than this, the app can automatically summarize the income of poverty-stricken families and accurately distribute the poverty alleviation materials. This, in turn, greatly reduces the workload of primary-level officials for poverty alleviation.
Ridding of Poverty
via E-Commerce
With ample sunshine and beautiful beaches, Sanya is a destination favored by people from Northeast China to escape the freezing winter. They are also the principal purchasers of local agricultural produce. With a refreshing shopping experience brought by unmmaned stores, the sales of locally grown agricultural products are on the rise, adding to the incomes of poor rural households.
In an unmanned supermarket in the e-commerce industrial park in Baisha Li Autonomous County, there are more than 60 kinds of fresh agricultural products on the shelves, including blood oranges, rhizomes of winged yams, green tea, and wild honey. "The higher the sales reach, the more benefits these families can enjoy," said the chief for public services in the industrial park. The sales hit RMB 8,000 (US $1,153) on the first day when the supermarket was opened.
Unmanned supermarkets are just a miniature representation of the e-commerce poverty alleviation project in Hainan. According to Meng Li, director of the Hainan Provincial Office of Poverty Alleviation, the project was introduced in 2016. Since then, the government has been playing an active role in bridging poor rural producers with e-commerce businesses as a new way of bringing people out of poverty.
Take Baisha County as an example. In its 22 poor villages, every agricultural sector, cooperative and household engaged in e-commerce has their unique QR code. So far, the online transaction volume has amounted to RMB 120 million (US $17.3 million). At present, more than 80 kinds of products, including green tea, eggs, and honey, are directly sold online.
In Lingshui Li Autonomous County, production and business by non-enterprise entities such as rural e-commerce are encouraged to employ labor from poverty-stricken families. If an entity can provide stable employment for more than six months, it will receive a lump-sum subsidy of RMB 1,000 (US $144.1) for each person. The government has set up a three-level e-commerce platform that covers counties, towns, and villages. E-commerce service centers have been built in almost every village across the county. The sales volume of agricultural products via e-commerce reached RMB 216 million (US $31.1 million).
According to Meng Li, building a well-established e-commerce system has become a top priority of governments at all levels. "By bringing together the agricultural products from scattered poverty-stricken families and creating a regional e-commerce platform featuring technology-assisted promotions and logistics, the sustainability of poverty alleviation and rural development is enhanced," he noted. By the end of 2017, there were more than 700 e-commerce enterprises in Hainan selling agricultural products from poverty-stricken areas, and 515 e-commerce service centers were built, providing full coverage for all poverty-stricken villages. The cumulative sales volume has amounted to RMB 277 million (US $39.9 million), directly benefitting 80,988 people of 19,118 poor households.
Since the implementation of targeted poverty alleviation, Hainan has built an industrial chain connecting every part of e-commerce from sectors of planting and breeding, purchasing and tallying and sales platforms, to logistics and distribution. As a result of e-commerce, people in the area have chosen to either be employed or start their own online stores, thus increasing the employment rate of the area.
"People in Hainan have witnessed great progress in poverty alleviation over the past several years," said Meng, adding that the development of poverty alleviation in Hainan can be divided into three phases. In the beginning, the government offered direct help to the people in need, such as money and materials; then, the government taught them how to lift themselves out of poverty and make their life better by themselves; and now, e-commerce has become a major form of poverty alleviation. On the e-commerce platform, poverty-stricken people have access to a broader market and can sell their agricultural products at a good price.
Cities and counties throughout Hainan are actively participating in the e-commerce poverty alleviation program. For example, through e-commerce, the sales of rice dumplings in Ding'an County reached RMB 270 million (US $38.9 million), and at the same time provided jobs to about 5,000 people. Tunchang County combined e-commerce with the efforts of poverty alleviation by developing industries and has been marketing pheasants raised by poor households online. Already, it has achieved a total online sales volume of more than RMB 3 million (US $430,000). In Tunchang County, this form of poverty alleviation has created direct or indirect jobs for 574 poor households and increased their income by a total of RMB 520,000 (US $74,965).
The "Internet plus agriculture" model and "e-commerce plus poverty alleviation" model adopted by Haikou City have not only encouraged the development of the Internet industry but also brought farmers out of poverty. In May 2017, Hainan's first town-level e-commerce poverty alleviation center was set up in Yongxing Town, creating an innovative way of applying new technologies into poverty alleviation efforts. According to preliminary estimates, online sales have exceeded RMB 13 million (US $1.87 million) since the Yongxing e-commerce poverty alleviation center went into operation.
More and more poverty-stricken households are benefitting from applying technologies to poverty alleviation in Hainan.