OVER the past 40 years since the policy of reform and opening-up was introduced, China has accomplished remarkable achievements in eliminating poverty with the rapid economic and social development, and the promotion of poverty alleviation initiatives. About 740 million people have been freed from the shackles of absolute poverty, leading China to become a country with the most people lifted out of poverty in the world. How has China achieved such large-scale poverty reduction? What development logic leads to the great accomplishments in poverty reduction?
Intensified Support to Poverty Alleviation
Under the current poverty threshold of RMB 2,300 (US $339.6) (at 2010 constant price) in annual income per capita, China's rural poor population decreased from 770 million in 1978 to 30.46 million by the end of 2017. With some 740 million people raised out of poverty, China witnessed the poverty incidence rate plummet from 97.5 percent in 1978 to 3.1 percent at the end of 2017. The vast majority of the rural population has shaken off absolute poverty over the past 40 years, and their living conditions have improved significantly.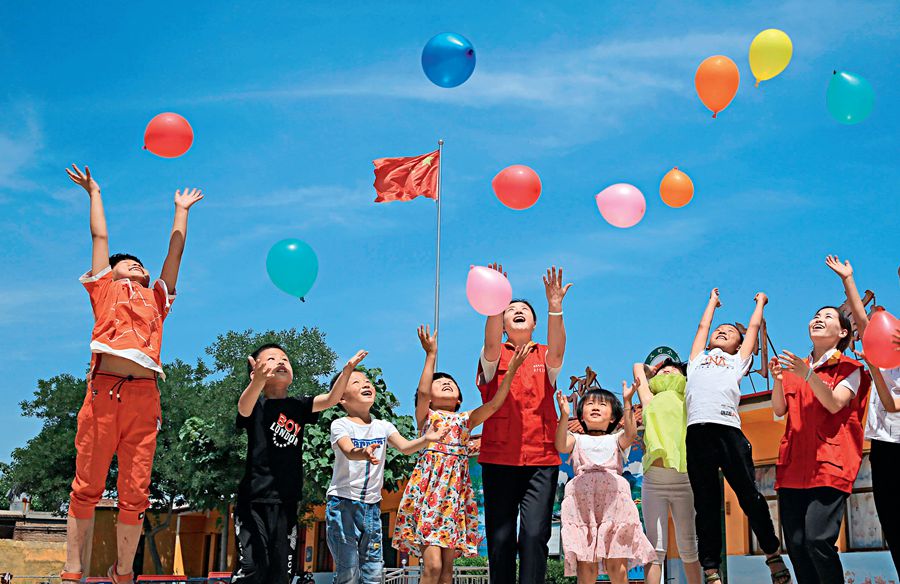 On May 30, 2018, a "Service Team of Party Members" of the State Grid in Pingxiang County, Hebei Province visits the Primary School of Zhong-yiding Village.
In recent years, the efforts of development-oriented poverty alleviation have been constantly strengthened. Although it is becoming increasingly difficult to overcome poverty, the pace of poverty reduction has been accelerating. During the seven-year period when development-oriented poverty reduction was driven by institutional reform from 1978 to 1985, over 109,380,000 people were lifted out of poverty, with an annual figure of 15.63 million people on average. This signifies an annual rate of 2 percent in poverty reduction. During the 15-year phase when development-oriented poverty alleviation focused on providing adequate food and clothing to poor people from 1986 to 2000, a total of 198.77 million people, or 13.25 million people annually on average, were pulled out of poverty. The annual rate remained at 2 percent. During the 10-year period of consolidating achievements made in the last stage from 2001 to 2010, an aggregate of 296.57 million people, or an annual number of 29.66 million on average, were lifted out of poverty, signifying the annual rate climbing to 6.4 percent. During the period when the poverty alleviation campaign was advancing toward the goal of completing the building of a moderately prosperous society in all respects from 2011 to 2017, 135.21 million people were uplifted from poverty, with the annual figure standing at 19.32 million, and the annual rate of poverty reduction increasing to 11.7 percent.
The living conditions of rural residents have also been improved. First, the income level has been increased, and the income structure has been optimized. In 1978 comparable price terms, the per capita disposable income of rural residents increased by 15-fold to RMB 2,106.9 (US $ 311.05) in 2017 from the 1978 level of RMB 133.6 (US $19.7). With the continuous improvement of income levels, the income structure is also optimized. In inflation adjusted terms, the per-capita property income and transferred income of rural residents in 2017 was 305 times higher than that in 1978. The growth outperformed net income increase in the same period. The proportion of the two income sources in total net incomes increased from 7.1 percent in 1978 to 21.6 percent in 2017, signifying diversified sources of income.
Second, the household spending power has been significantly enhanced. In 1978 comparable price terms, Chinese rural residents spent RMB 1,719.8 (US $253.9) on average in 2017, while in 1978, the figure was only RMB 116.1 (US $17.1). It represents a 14-fold increase. The proportion of income spent on food by rural residents in total expenditure, or the Engel's coefficient, dropped from 67.7 percent in 1978 to 31.2 percent in 2017, decreasing by 36.5 percentage points. According to international standards, it shows that rural residents in China have lived a moderately prosperous life and have been moving to an affluent status.
High-speed Growth Injecting Impetus to Poverty Reduction
China's achievements in poverty reduction on such a large scale are driven by many factors. But the most important one is high-speed economic growth, especially the development of agriculture and rural areas.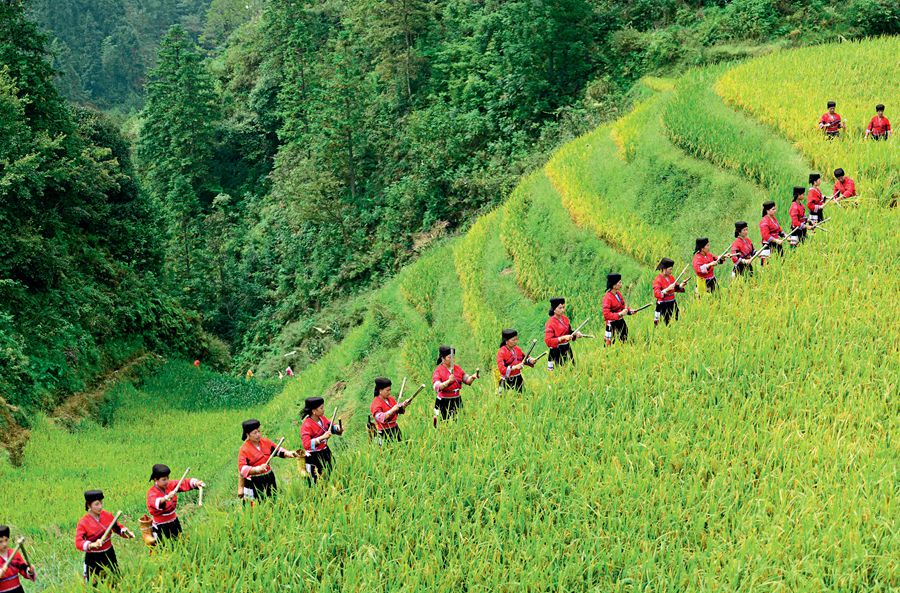 On September 23, 2018, the Yao people in multiethnic autonomous county of Longsheng, Guilin City, Guangxi Zhuang Autonomous Region, gather together to celebrate the harvest.
High-speed economic growth over the past decades fundamentally powered efforts of reducing poverty. The role of economic growth in poverty reduction is mainly manifested in two aspects. One is direct impact as economic development creates more jobs available to the poor. The other is indirect impact. Economic development and national strength render the government more capable of lifting the poor out of poverty.
China's remarkable achievements in poverty reduction over the past 40 years of reform and opening-up are closely related to China's rapid economic growth. In 1978 comparable price terms, China's GDP increased from RMB 367.87 billion (US $55.17 billion) in 1978 to RMB 11.84997 trillion (US $1.7775 trillion) in 2016, an increase of some 32 times, and an average annual growth of 9.6 percent. At the same time, as the GDP explodes, the incidence of poverty has been significantly reduced, with the two rates of change coming closer.
In addition, compared with secondary and tertiary industries, agricultural and rural economic development has the most prominent poverty reduction effect.
First, China's impoverished population is mainly based in rural areas. According to the poverty standard of 2010, 80 percent of the total population in 1978 lived in poverty in rural areas. Agricultural and rural economic development is conducive to increasing the rural population's income and plays a significant role in reducing poverty.
Second, China's poor families mainly live on farming. The poorer they are, the more dependent they get on income from agriculture. In 1978, the proportion of farmers' income from the primary industry in total household income was 94.1 percent. In 2006, for example, only 32.8 percent of the total income of 20 percent of rural households in the highest-income bracket were from the primary industry, while poor rural families had 54.5 percent of total income made from the sector, which was about 22 percentage points higher.
Third, the inputs in agriculture, such as land, is distributed in a fairer manner, empowering the rural poor to benefit from agricultural development. China's agricultural land system ensures that the rural poor have equal access to land for agricultural production. To a certain extent, it also avoids poverty caused by deprivation of production rights.
Development-oriented Poverty Alleviation Fuels Rapid Development
China's massive poverty reduction has benefitted from high-speed economic growth over the years, but the widening income gap has hindered the poor from sharing the gains of the economic growth. As the economic growth bestows fewer and fewer benefits on poverty issues, regional poverty has become increasingly acuter. In response, the Chinese government has adopted a raft of policies and measures to address regional poverty issues.
Regional development-oriented poverty alleviation programs can effectively fuel the development of poverty-stricken areas at a faster pace, thus leading to larger-scale poverty reduction.
Taking the Seven-Year Program for Lifting 80 Million People Out of Poverty (1994-2000) as an example, during the period, the added value of agriculture in poverty-stricken counties under key national support rose by 54 percent, with an average annual increase of 7.5 percent, 0.5 percentage points higher than that in rural areas throughout the country. Grain output increased by 12.3 percent, registering an average annual growth of 1.9 percent, 3.2 times the national average level. Per capita net income of farmers increased from RMB 648 to RMB 1,337, an average annual increase of 12.8 percent, 2 percentage points higher than national level.
From 2001 to 2010, the state shifted the focus of development-oriented poverty alleviation campaign to 150,000 poverty-stricken villages. As a result, the annual growth of per capita net income of farmers in these villages was three percentage points higher than that of farmers from the rest of the country. Sustained efforts in regional poverty alleviation help narrow the income gap between poverty-stricken areas and the rest of rural areas. The ratio of poverty-stricken counties to the entire rural areas in terms of per capita income has increased from 51.8:100 in 1985 to 68.4:100 in 2016.
The reason for faster growth of farmers' income in poverty-stricken areas lies in comprehensive investment in poverty alleviation that has greatly improved infrastructure and farmers' living and production conditions. Another contributing factor is the increase of productivity, which helps create more jobs available to the rural poor.
During the past 40 years of reform and opening-up, the central government has earmarked more than RMB 60 billion as special funds for poverty alleviation. In just the five years from 2013 to 2017, the amount reached RMB 282.2 billion. Fiscal funding for poverty alleviation at the provincial level and below also saw substantial increase. Apart from these, other sources include subsidized loans for poverty alleviation purposes, funds for subsistence allowance system in rural areas, special subsidies for projects of returning farmland to forests and grasslands, and international funding for poverty alleviation. Taking the year of 2016 as an example, a total of RMB 295.86 billion were invested in poverty-stricken regions.
Targeted Poverty Alleviation Helps Uplift Poor People out of Poverty
After 30 years of regional development-oriented poverty alleviation, the impoverished population gradually shrank. With the remaining poor people suffering a deeper degree of poverty, it becomes increasingly more difficult for them to shake off poverty.
As the trickle-down effect of economic growth wears out, more targeted measures must be taken to help the remaining poor get out of poverty. In November 2013, Chinese President Xi Jinping first put forward the idea of targeted poverty alleviation based on the current situation of poverty and the need of eliminating poverty. The General Office of the Central Committee of the Communist Party of China (CPC) and the General Office of the State Council subsequently fleshed out guidelines for carrying out the strategy of targeted poverty alleviation nationwide.
Targeted poverty alleviation aims directly at poor families and the impoverished population. Support goes directly to these households and people. The primary measures include creating profiles for impoverished people, analyzing the root cause of poverty, introducing targeted assistance measures for each household, and implementing the exit mechanism for those ridding off poverty.
The goal is to ensure that the income of registered poor households steadily rises above the poverty line. At the same time, they will have adequate food and clothing, and access to nine-year compulsory education, basic medical services, and safe housing. To increase the income of the rural poor, targeted policies like developing local industries, and offering them with jobs and financial support have been implemented. Poor people living in remote areas, areas frequently hit by natural disasters, or areas with fragile ecology are relocated so that they can live a well-off life. During the 13th Five-Year Plan period (2016-2020), a total of 10 million poor people will be relocated. Students from poor families which are overburdened by education costs are exempted from tuition fees and subsidized with living allowances throughout the school years. Poor people with serious or chronic diseases are supported with more favorable medical services. They are covered by serious illness insurance and relief schemes, and have their medical bills reimbursed with a higher proportion. Those with chronic diseases have regular medical services offered by family doctors. Poor families are also subsidized to build houses or renovate dilapidated ones. Social security programs are made available to those who have completely lost their ability to work.
Since the implementation of targeted poverty alleviation measures in 2014, remarkable results have been achieved, and the speed of poverty reduction has also been greatly accelerated. From 2014 to 2017, impoverished population in rural areas decreased from 82.49 million to 30.46 million, with 13 million people lifted out of poverty every year on average. The average annual rate of decline of the impoverished population was as high as 15.8 percent. Such an accelerated pace of poverty reduction shows that targeted poverty alleviation plays a crucial role in eradicating absolute poverty.
Joint Efforts to Win the Battle against Poverty
The goal of the poverty reduction campaign in China is to eradicate absolute poverty under the existing standards by 2020, and ensure the poor have adequate food and clothing and access to medical services, education, and safe housing so that they can live a moderately prosperous life. The CPC Central Committee and the State Council recently promulgated guidelines for the three-year campaign to win the battle against poverty. It made it clear that China will uplift the remaining 30 million poor people out of poverty in three years.
At present, the remaining impoverished population mainly consists of rural vulnerable groups in extreme poverty and those living in poverty-stricken regions where income from agriculture is not stable, but industries cannot sustain due to fragile ecology, limited natural resources, or frequent natural disasters.
These areas, with poor education conditions and insufficient human resources, are mainly inhabited by ethnic minority groups. Most of local people cannot speak fluent mandarin, unable to have secured income by migrating to urban areas for jobs. In addition, most houses there are dilapidated, posing a daunting challenge for the government to solve the issue.
The remaining rural poor live in distress as a result of illness, disability, or laziness. With disabled or sick people, families are vulnerable to serious debt crisis due to the lack of work force and heavy burden of medical expenditure. The lazy poor mainly lack willingness to improve their own living conditions, and instead count on government subsidies.
In order to win the battle against poverty, the focus of the next three years is to adopt tailor-made measures to these regions and vulnerable groups. In the poverty-stricken areas, the primary priority is to relocate the poor people and renovate the dilapidated houses. Tailor-made measures should be introduced to increase their incomes. First, we should make more use of the insurance poverty alleviation policy to stabilize basic agricultural income. Second, public-service jobs should be created with the subsidies of fiscal transfer payment for poor people with the ability to work. Third, we can launch vocational training programs for the rural poor and encourage them to work in urban areas.
In the long run, we should focus on improving the quality of human capital and changing backward ethos through education. With conditional cash transfer payment policy, the country could encourage poor families to receive public services of education and health. Improving the quality of human capital is the most effective way to deter poverty from being passed down to the next generation.
Families living in poverty due to illness and disability in rural areas should be covered by the social security net so that they can afford medical services and higher education. For those families who are poor because of laziness, a combination of moral persuasion and material incentives can be employed to boost their confidence and increase their capacity for self-development.
The poverty alleviation efforts in the past 40 years have proved that with the strong leadership of the CPC Central Committee and the joint efforts of government at all levels and all sectors of society, China can win the battle against poverty and lay a solid foundation for finishing the building of a moderately prosperous society in all respects and the revitalization of the countryside.
WANG SANGUI is director of Anti-Poverty Research Center, Renmin University of China.