A 28-year-old conservationist dedicates herself to protecting endangered beavers in China's Xinjiang.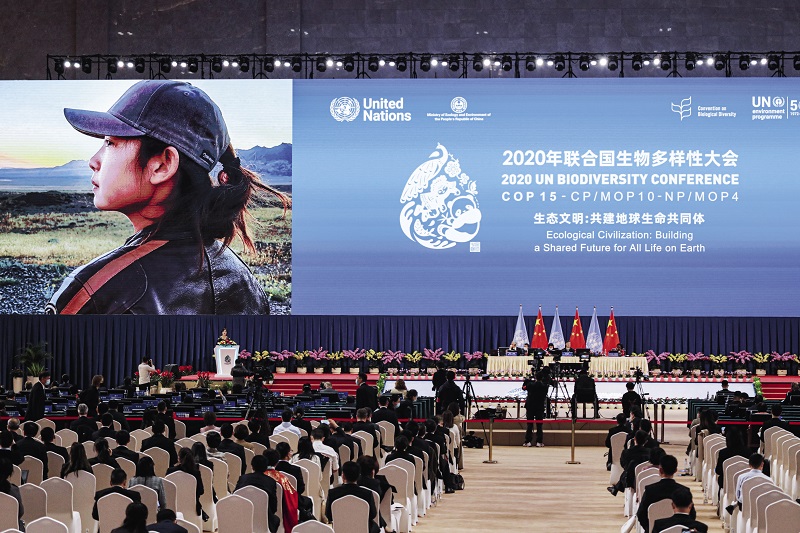 As a result of her contributions to wildlife conservation in Xinjiang, Chu Wenwen is invited to the 15th Meeting of the Conference of the Parties to the UN Convention on Biological Diversity held in Yunnan Province on October 11, 2021.
"It is such a great honor to receive the China Youth May Fourth Medal. I've never imagined I could ever be a recipient of such high recognition," said Chu Wenwen in an interview on May 8.
Four days earlier on May 4 Youth Day, Chu was awarded the 26th China Youth May Fourth Medal, the top honor for outstanding young Chinese people, filling her with both joy and a high sense of responsibility.
"It is not only a recognition of what I've done, but of people from all sectors of society who are supportive of ecological protection. The achievements we've made are inseparable from the care and support of millions of netizens and relevant government departments," said Chu Wenwen excitedly.
Born in Altay, Xinjiang Uygur Autonomous Region in 1994, Chu's life choice was influenced by her father, a wildlife conservationist who took her into the wild when she was only two years old. At seven, she already knew how to pack her bags, and at eleven, she saved animals with adults in the wild. After getting her master's degree from Beijing Forestry University she founded the nature conservation association of Altay Prefecture, initiating charity projects such as Beaver Canteen, Mengxin Beaver Guardians, and a wildlife rescue center. She is affectionately known as "Princess Beaver" because she has always been concerned about the Mengxin beaver, a state-level protected wild animal.
The Wulungu River and its tributaries in Altay are inhabited by Mengxin beavers, small creatures known as the architects of the animal kingdom. They know how to build dams and to create an environment suitable for their living. At present, there are about 600 Mengxin beavers living around the Ulungur River basin. Chu has been observing and recording their daily life since her childhood.
After her postgraduate qualification, Chu gave up the chance to work in big cities and returned to her hometown in 2018 to do wildlife conservation work. She initiated the nature conservation association of Altay Prefecture to attract people from various sectors of the society to pay attention to protecting the Mengxin beaver. With the efforts made by Chu and her team, the number of beaver nests have increased from 162 to 190, a 20 percent rise.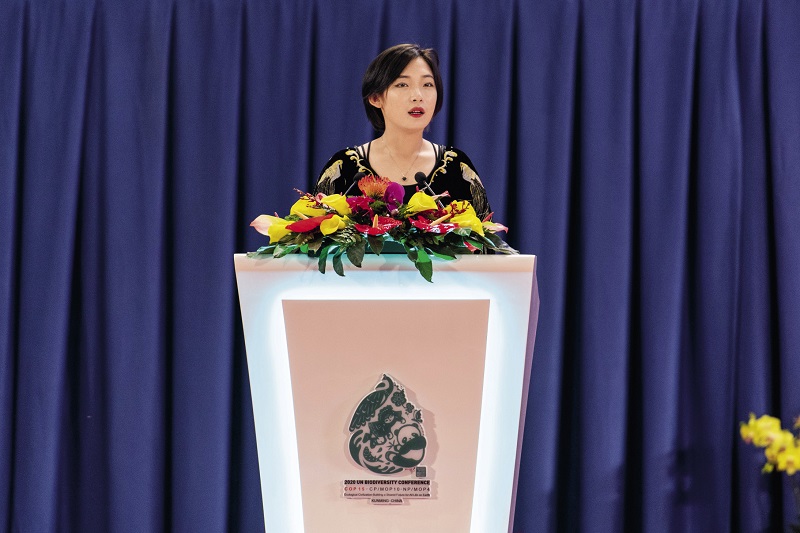 At the opening ceremony of COP 15, Chu gives a speech as a representative of China's youth, telling her story of protecting Mengxin beavers in her hometown Altay.
With her outstanding work in the field, Chu was invited to attend the 15th meeting of the Conference of the Parties to the Convention on Biological Diversity in October 2021. At the opening ceremony, she gave a speech as a representative of China's youth, telling her story of protecting Mengxin beavers in her hometown Altay.
Chu's composure and confidence on the international stage impressed audiences. "I just want to tell the world that Chinese youth like me are serious about and devoted to nature conservation. We love nature and respect wildlife. I believe with so many of my peers working together, there will be a promising future for our planet," said she in an interview.
Chu is independent, capable, articulate, and spirited. In the wild, she is a competent, vigorous environmentalist. On the Internet, she always appears to be humorous, delivering the happiness she gains from her work to followers online. She is an intelligent young woman full of ideas and knows how to express herself.
Chu's personal charisma has inspired many people. In just a few years, the nature conservation association of Altay Prefecture has pooled numbers of like-minded youth from all over the country. They work shoulder to shoulder with Chu in the mountains to improve the habitat of the Mengxin beavers.
Now the association has a clearer goal: to make it easy for the general public to participate in environmental protection. In this regard, Chu's team set a five-year development goal for the construction of various channels for public participation. They hope that more people could do their bit for nature conservation through donating their money, time, or energy. Their ultimate goal is to get as many people on board as possible, and increase more people's awareness of nature.
"People of my generation are fortunate to have grown up in a new era where our country is promoting ecological conservation vigorously. For me and my colleagues, strong government support, media participation, and growing public awareness in nature conservation are the core foundation of our work. For the next step, we will explore more new models and technologies for natural protection to carry forward our mission," said Chu.
CAO HUA is a reporter with Xinjiang Daily.