Throughout the pursuit of realizing the big task of going green and environmental protection, the role that small insects are playing cannot be ignored.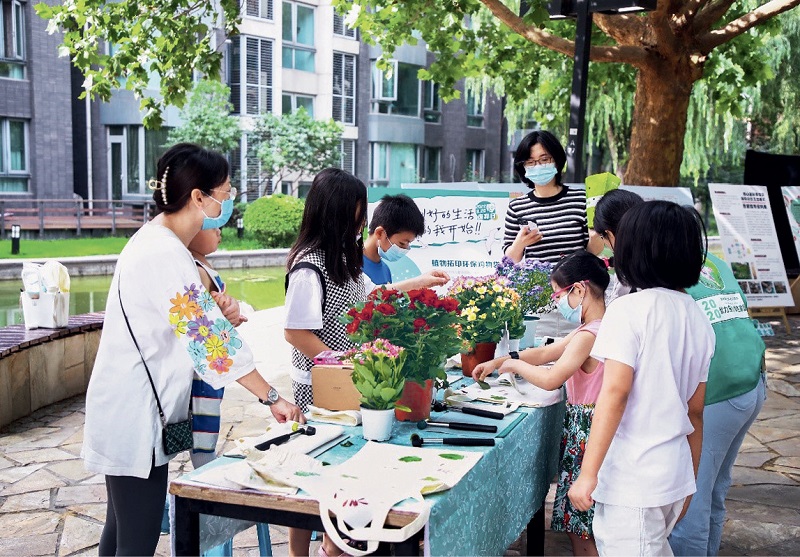 Children actively participate in promotional activities of environmental science held in Xishan Courtyard.
Great Merits
Near the east gate of Vanke Xishan Courtyard Community in Haidian District, Beijing, there is a small building covering an area of about 50 square meters that is utilized to dispose the community's kitchen waste. An insect named Hermetia illucens L. (also known as black soldier flies) is the core worker in the garbage sorting process and disposal station, a project run by Beijing CanFit Resource Recovery Technologies Inc.
Inside the station, rows of yellow cases are lined up against the wall, and inside them black soldier flies feast on kitchen garbage creating almost no smell. According to Qin Yuechen, an engineering manager of CanFit, the kitchen waste is first shredded, and then loaded into a cabinet with a relevant amount of black soldier flies. A black soldier fly can eat 200,000 times its own weight in kitchen waste and increase 4,000 times its weight within one week.
Black soldier fly feces when mixed with garden waste such as dead branches and fallen leaves ferment together producing high-quality soil amendments and organic fertilizers, which in turn are reused for community greening. The larvae produced by this fly can be used as poultry feed and also enter the aquaponics system to participate in another microcirculation. "During winter months, grown fish are given to local residents as an incentive for their participation in garbage sorting," said Qin.
At present, the project has been able to totally recycle the average daily output of 500 kilograms of kitchen waste in the community, including some garden waste. "Our equipment is highly automated, automatically adjusting its operation according to the temperature and humidity and is capable of conducting on-site odor control. The equipment can also be remotely controlled and monitored," Qin said.
The black soldier fly waste treatment system solves many problems that exist in the traditional treatment method, such as long hours needed and difficulties of controlling the process and environment. At the same time, it has produced good economic benefits. "The use of this system can greatly reduce the cost of the whole chain of urban food waste treatment. Besides, the output of animal protein and organic fertilizer can be reused in the community, reducing management costs," Qin said.
In addition, the system consumes little energy throughout the whole operating process, and the organic fertilizers made from black soldier flies can increase soil organic matter content, improve the agglomerate structure of soil, and enhance soil carbon sequestration function. It is estimated that the community alone can achieve a carbon emission reduction of 20.68 tonnes per year, which is equivalent to planting 207 trees.
Qin believes that creating biodiversity to open a material cycle and achieve balance in the entire ecosystem is an excellent solution to ecological crises such as the greenhouse effect and freshwater depletion. The ecological station is a breakthrough attempt to achieve this end.
CanFit has put 16 black soldier fly waste treatment stations into operation in China. In 2022, Xishan Courtyard was named a Model Project for Pilot Application of Advanced Low-Carbon Technology in Beijing. CanFit also won several awards at the municipal and national levels. Its project received the most attention at the 2023 Beijing Science and Technological Week in May.
So far, CanFit has run a dozen projects in Beijing, Shenzhen, Zhuhai, Chengdu, and other places, and has obtained a total of 70 patents. It aims to build an ecological hometown model based on the purification, transformation, and value regeneration of urban waste, and unremittingly explore new paths and methods for achieving material cycle and carbon neutrality.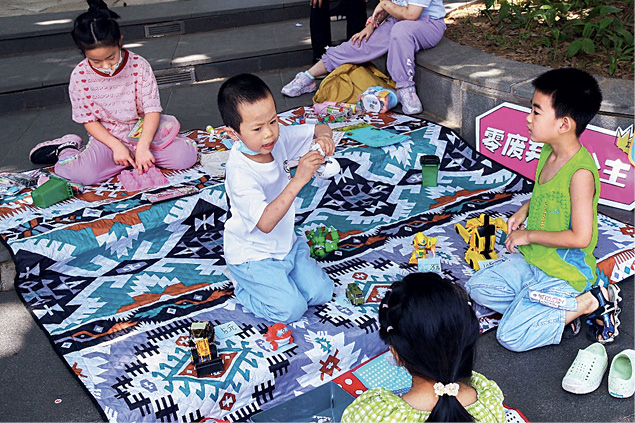 A Zero Waste Day publicity campaign held in Xishan Courtyard to heighten children's interest in science and enhance the effectiveness of science popularization by organizing small games on August 20, 2022.
A Virtuous Circle
The first aspect of the Suzhouqiao West Community in Haidian District, Beijing, that impresses people is that it is clean and tidy as well as full of vegetation and vitality.
In 2020, the community transformed a small space in their bicycle shed that was sandwiched between two buildings into an eco-site. According to resident Ms. Zhao, the plants in the community are planted and maintained by the residents themselves, and the organic fertilizer applied is converted from the kitchen waste disposed of in the community. "I planted color peppers, eggplants, and cabbage," she said happily. "Organic vegetables taste much better, all thanks to the eco-site!"
Zhao is part of a team of 100 volunteers in her community, "We take turns sorting garbage every day, and with the cooperation of residents, there is basically no misclassification." The community became the first pilot site of kitchen garbage sorting and collection in Haidian District because of its excellent waste management, which greatly helped the subsequent garbage disposal.
A household waste sorting station was put into operation in the Shijicheng Community in Haidian District in 2016, in which nearly 40 tonnes of waste are transferred every day. Through the automatic control system for mechanized garbage sorting, classified transportation and treatment of perishables, combustibles, and recyclables have realized, and garbage is purified. This has greatly reduced the transportation volume of transported garbage and significantly improved the surrounding environment.
Here, people can smell a citrus-like aroma. Qin revealed that this smell is an enzyme scent made from fruit peels in the kitchen waste, "The enzyme can be used as an air freshener, the enzyme stock solution can be used in cleaning pipes, and washing dishes and laundry, helping to reduce grease."
The enzyme is just one of the end products that CanFit launched. "Black soldier flies are high in protein and have been listed by the Food and Agriculture Organization of the United Nations as one of the top 10 edible insects. The antibacterial peptides produced from it can improve the immunity of pets or poultry and aquatic products, reduce the use of drugs, and are very beneficial to food safety and public health. Besides. These flies are rich in chitin and can also be used in the medical field," Qin said.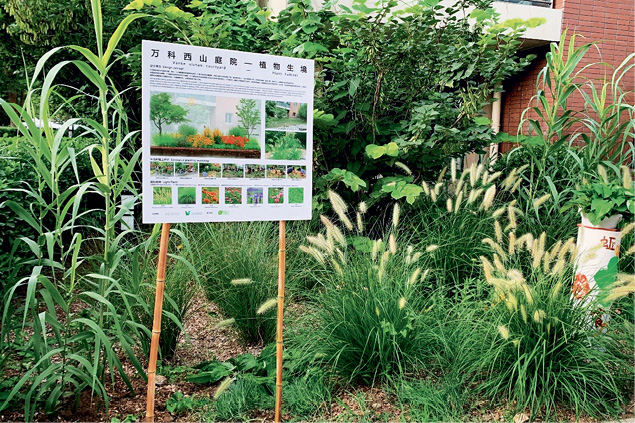 Xishan Courtyard community has held many planting activities to improve the soil by using organic fertilizers produced by black soldier flies processing kitchen waste.
Starting with Children
At the 2023 National Science Week, CanFit's booth attracted many visitors. Ms. Li and her five-year-old daughter listened carefully to the information presented at the booth and asked questions. "This kind of scientific payoff constitutes a sustainable ecosystem and exhibits great wisdom in the field of environmental protection," Li said, then added that her daughter likes small animals and hopes to use this opportunity to improve her daughter's interest in science and raise her environmental awareness.
This recycle system which includes eco-sites and household waste sorting stations allows residents to experience the art of "turning waste into wealth" within their own communities.
"We carry out activities every year, such as the zero waste day and community planting. The painting of the exterior wall of the Xishan Courtyard was also done by children," said Qin. "Children's curiosity and desire to explore unknown things are strong. Chinese parents pay much attention to their children, and we have found through research that influencing a community and society is relatively much easier when you begin the drive of concept change in a family with children."
In April 2023, CanFit established China's first schoolyard ecological education base at the Xi'erqi campus of Zhongguancun No.1 Primary School. The project used the vacant space in the school to build an ecological corridor that displayed educational content which covered the entire material cycle of the ecosystem. In addition to utilizing all school kitchen waste, students also promote ecological awareness through school-community integration, and conduct ecological science education for other teachers, students, and people from all walks of life who visit the campus.
The school has incorporated this project into its curriculum, teaching children the whole process of material cycle and how to actively participate in it. "A group of senior students can apply the relevant information into daily life on their own and share explanations with visitors who come to the school. This has also served as a good opportunity for communication among schools," Qin said.