"The 15th Meeting of the Conference of the Parties to the Convention on Biological Diversity (COP15) is held at a crucial time prior to the 26th UN Climate Change Conference of the Parties (COP26) which will take place in U.K.'s Glasgow from October 31 to November 12. Biodiversity loss and climate change are so inseparable that they need to be dealt with together," Eleanor Whittle, Climate and Natural Resources Advisor at the British Embassy in China, told China Today on October 14, 2021, on the sidelines of COP15.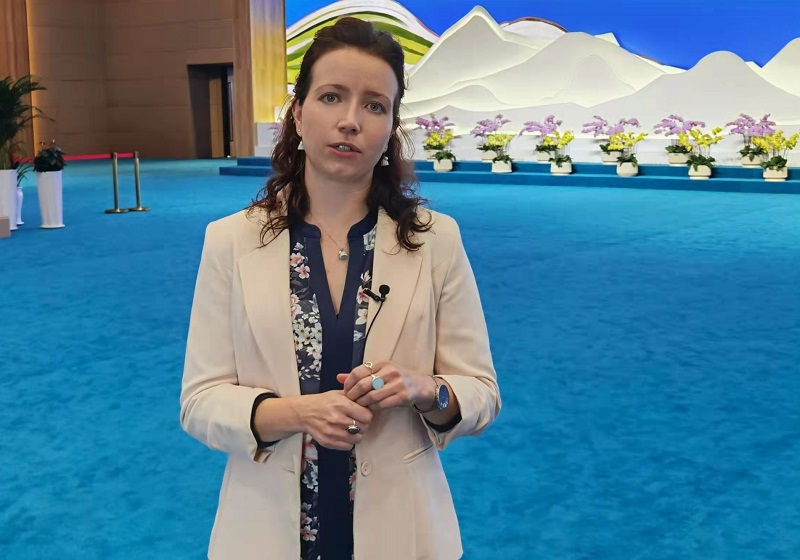 Eleanor Whittle, Climate and Natural Resources Advisor at the British Embassy in China
Whittle said that humanity has come to the point that biodiversity loss and climate crisis have to be addressed effectively, not just for the sake of the environment, but also ensure our own survival. "We're at a point where we have to act now. The climate change has undermined biodiversity and ecosystems, which consequently makes the situation even more complicated and challenging," she said, and then added, "It is also economically better for us to start dealing with the crisis properly now, rather than waiting to deal with the impact it will bring or has already been bringing."
She pointed out that collaboration between the U.K. and China on biodiversity conservation has been ongoing. Since 2014, the two nations have been carrying out the forest governance program. The program focuses on the risks associated with forest related commodities like timber, palm oil, and rubber, and then works with different stakeholders across China, trying to address these risks.
"We've also been working through research and innovation on modeling that looks at how climate change impacts biodiversity in southwest China," she said. This is an independent review regarding the economics of biodiversity which has been commissioned by the U.K. government and conducted with a global expert panel from all around the world. This review provides recommendations to governments about how they need to give better consideration to nature and biodiversity in economic decision making.
In addition to that, the two countries have already had close collaboration on green finance. The work of biodiversity conservation should not only depend upon the government, it also requires the participation of the private sector and financial institutions, Whittle pointed out.
The global community has witnessed China's efforts in biodiversity conservation. "It is really commendable," Whittle said when talking about the Chinese solutions, especially the ecological conservation red line. "China has a lot to share with the international community on this, because I imagine it's an incredibly challenging approach to try and implement in such large national scale."