Shougang City in Shandong Province is the largest vegetable base in northern China, with a cultivated area of about 40,000 hectares. The output in 2021 reached 4.5 million tonnes, and the daily trading volume exceeded 15 million kilograms. Baidu AI Cloud and Shandong Wuze Ecological Agricultural Technology Development Co., Ltd. (hereafter referred to as Wuze), a leading enterprise in agricultural industrialization in Shouguang, jointly created the Facility Vegetable Smart Brain. The combination of the big data platform and AI technology makes vegetable planting more intelligent, and the formulation of standards and promotion of new business models are leading the high-quality development of the vegetable industry.
Shouguang boasts more than 170,000 vegetable greenhouses. Different from the traditional greenhouses usually used in winter, these facilities maintain a constant temperature throughout the year, enabling farmers to grow vegetables all year round. Each greenhouse is as big as three football fields, with a planting area of 0.36 hectare.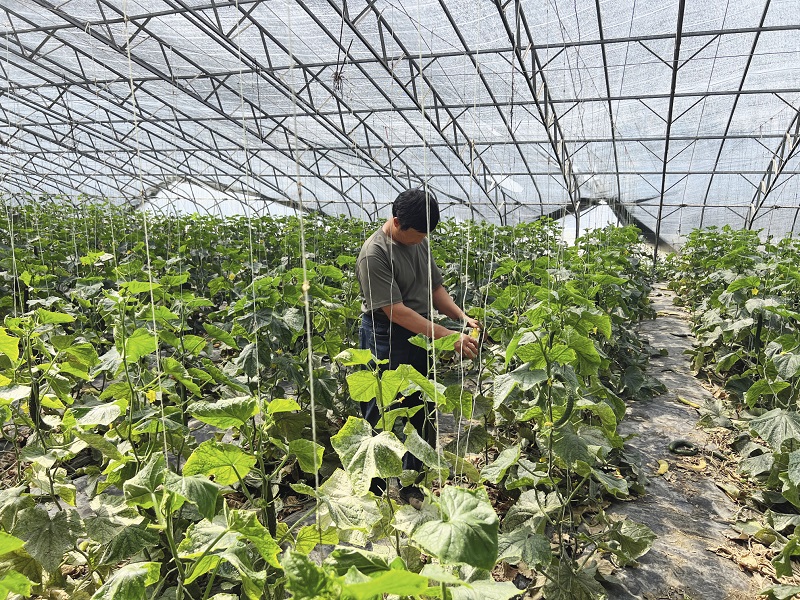 A technician is inspecting vegetables in a greenhouse in Shouguang, Shandong Province.
Cultivation Automation
Gong Rujun, a 54-year-old vegetable farmer in Yingli Town, has been busy working in the greenhouse with his son for almost a whole day, hanging vines of 5,200 tomato seedlings one by one. The indoor temperature drops in the evening. "These seedlings are very delicate, any slight drop in the temperature or humidity will affect the yield." Gong used his smart phone App to control window shades, cotton curtains, and ventilation openings to adjust light and temperature during both winter and summer months.
"In the past, I could only read the real-time temperature, but now I can see the temperature curve of the entire day, week, or even the whole year on the App," his son said while using voice to add light. Obviously, the App has become the most effective assistant in managing their greenhouses.
The changes brought by technology to vegetable plantation are far more than that. Intelligent devices such as intelligent atomizers and high-pressure spray systems have become the standard configurations for newly built greenhouses, and agricultural operations no longer require a lot of labor. Now, in bad weather, Gong can operate the greenhouse remotely through the mobile phone APP, allowing him more free time and income.
"These tomatoes will be on the market in two months. According to the price last year, I can sell them for RMB 100,000," his son said. This greenhouse farming is now so promising that he was actually ready to give up his work in the city and return to work full-time in the village. In Shouguang, more and more vegetable greenhouses have been transformed into smart factories.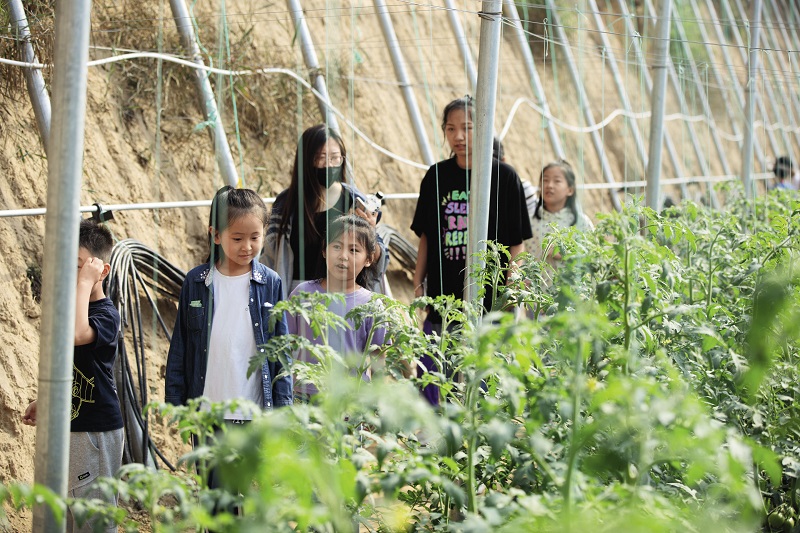 Several children visit the National Vegetable Quality Standard Center in Shouguang, Shandong Province.
Smart Planting
Traditional agriculture has been automated, but when scattered greenhouses are connected into a 40,000-hectare operation, agricultural planting urgently needs standardized and digitalized development.
Wuze has a 530-hectare demonstration base in the National Vegetable Quality Standard Center, and a quarter of the area are vegetable greenhouses which mainly grow different varieties of eggplants, tomatoes, cucumbers, and peppers, among other vegetables.
"Although greenhouses have greatly reduced the labor intensity of farmers, in large-scale production, farmers still face the problem of relying on their own experience without unified standards," said Pei Qiang, head of the Baidu AI Cloud's Shouguang Project, "Different plants need different temperatures at different growth stages. The intensity of sunlight, the timing and amount of water needed and how much fertilizer to apply are also different." When all the equipment is automated, how do farmers monitor their operation? Different farmers master the growth laws of different vegetable varieties, and each farmer has unique experience or technology even for the same variety of vegetables, which leads to the lack of a unified standard for production operations and processes.
To this end, Wuze cooperated with Baidu to build a smart planting platform and opened a road leading to smart planting.
In its demonstration base, many advanced facilities and sensors are set up in each greenhouse to collect and timely transmit information such as temperature, humidity, and fertilization to a cloud data management center. A planting model is then established through AI-specific algorithms to provide the base with accurate guidance for the entire production process from managing production to forecasting yields, making agricultural plans, and so on.
According to technician Ma Xueming, the smart "brain" system will adjust the lighting and temperature of the greenhouse and turn on the water and fertilizer integrated machine according to the real-time situation. "In the past, fertilization was based on experience. Farmers had no idea about how much should be used. If you use too little, it will have no effect. If you use too much, the cost will rise, and there will inevitably be pesticide residue. Now, the integrated machine will control the time and amount precisely.
Pei pointed to the ground under his feet and said that there are many pipes underneath. There is a dropper that releases water at the root of the crop at regular intervals. After receiving instructions from the smart "brain," the machine automatically mixes the water and fertilizer in the specified needed ratio and irrigates.
"For many years, vegetable greenhouses have been facing a problem – soil hardening," said Pei. Although the production efficiency of these greenhouses is very high, however, due to the lack of natural ventilation and rain erosion in the greenhouse, the self-cleaning ability of the soil is low. Fertilizers that are not absorbed by crops get deposited into the soil. Under normal circumstances, the ground in greenhouses will produce a large area of soil layers that are as hard as concrete after five years, which will affect subsequent planting.
"Based on the data Wuze has collected for more than 10 years, we built a model through AI deep learning, produced accurate data and formed a unified standard to guide farmers in using fertilizer in a precise manner, so that they can avoid land hardening, and achieve green production and smart planting," said Pei.
"Smart farmers" and "smart agriculture" are closely linked, supported by the power of science and technology. With the help of the smart "brain" technology, Wuze has realized the large-scale production and comprehensive management of facility agriculture. A tripartite linkage mechanism of management, technology, and production has been formed, in which administrators formulate planting plans, plan time nodes, and coordinate production management; technicians implement plans, provide technical guidance, monitor production conditions, and put forward production suggestions; and operators are responsible for specific production measures.
Now one technician can control 13 hectares of facility agriculture, one administrator can be responsible for the production of 100 hectares of grain fields, and the production efficiency has increased by more than 200 percent. In 2021, the per capita disposable income of rural residents in China was RMB 18,931. By comparison, 92 percent of Wuze employees are over 60 years old, and their per capita income was about RMB 50,000 last year.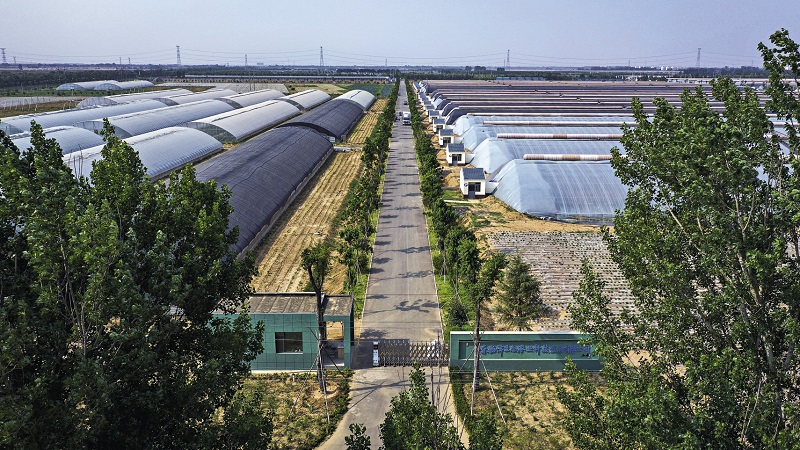 Baidu AI Cloud and Shandong Wuze Ecological Agricultural Technology Development Co., Ltd. jointly create the Facility Vegetable Smart Brain.
Visual Traceability
The establishment of quality assurance systems such as on-site video surveillance and agricultural product quality and safety tracing has achieved the goal of complete accountability and allows the planting process of vegetables to be well documented and traceable.
"Agricultural planting starts from sowing a seed and goes through various periods of germination, seedling, flowering, and then fruiting. The planting management at each stage is different," said Pei, "We can now achieve intelligent management of the whole process because all the smart control models have been established. Once seedlings are planted, we can predict the fruit quality and yield three months later by utilizing the model which has been established. In this way, sales and logistics can be arranged in advance."
According to the China Rural Development Report 2020, China's urbanization rate will reach 65.5 percent by 2025, and the proportion of agricultural employment will drop to about 20 percent.
Today, farmers can enjoy standardized commercial services from planting to sales. With the support of the Internet of Things, big data, cloud computing, artificial intelligence, and other technologies, the operation can be done with a few voice commands on a mobile phone, and there will be more modern smart agricultural parks in Shouguang. This high-quality and efficient agricultural development platform has attracted many young people to return to their rural hometowns to get involved in the agricultural production industry. Their hometown carries their dreams, and they also have new hopes for rural revitalization.