Thanks to big data, artificial intelligence (AI), and cloud computing, among others, smart robots, formerly the exclusive domain of sci-fi literature and Hollywood blockbusters, are rapidly becoming part and parcel of Chinese people's daily life.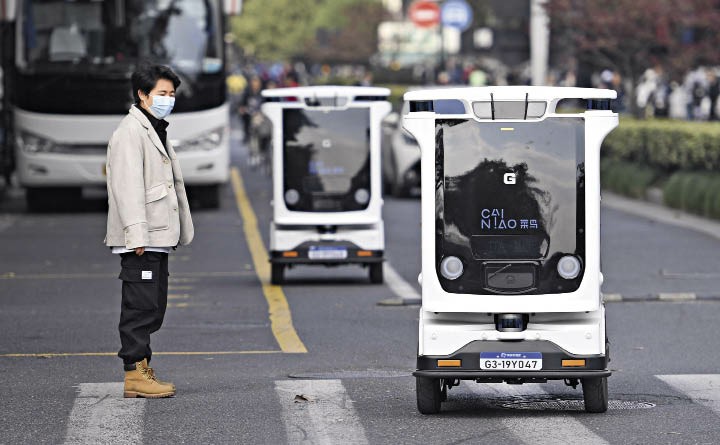 Two operating smart logistics robots captivate the attention of a passer-by in Hangzhou, Zhejiang Province, on November 13, 2020.
Smart Domestic Services
Beijing housewife Liu Chang starts the weekend by telling her "help" to clean the kitchen floor while she prepares breakfast for her family.
The Liu household's "help" is the AI-driven MI Robot Vacuum Mop. Produced by Chinese multinational electronics company Xiaomi, it has, Liu proudly states, "a laser distance sensor (LDS) navigation system that guides it to clean every nook and cranny."
She goes on to extol the many merits of her AI "help." Its 12 different multi-directional sensors enable its navigation of complex surroundings and helps it avoid collisions. It does not damage wooden floors, and can operate for as long as 110 minutes at a stretch. Liu is understandably delighted with her robotic maid.
After breakfast Liu instructs the home "tutor"— a robot developed by Chinese tech company iFLYTEK that specializes in voice recognition — to help her son with his homework. The AI-powered robot tells him the meaning and correct pronunciation of new words, grades his Chinese and English speaking ability, helps him with his math homework, and tells him stories. "It makes learning fun for him, and saves me the time, not to mention mental exhaustion, of tutoring him," Liu said.
Smart robots such as these are becoming commonplace throughout China in many households like Liu's. Their use is also expanding to such application scenarios as reception desks at office buildings, restaurants, shopping malls, and banks. Chinese Institute of Electronics statistics show that, in 2019, the market value of robots in China was around US $8.68 billion, while that of service robots was around US $2.2 billion. Given the burgeoning applications for robots, for example in parking lots and supermarkets, the latter figure is projected to approach US $4 billion in 2021.
Smart Manufacturing Perks
Wang Zheng is a logistics order operator. His work has been made much easier since his company adopted logistic robots.
The accuracy of picking and placing the right products by these robots is three-fold higher than that of human operators. When an order is placed, the system issues a directive to the automatic guided vehicle that then ships the products to the point of delivery. All that's required of Wang Zheng and his workmates is to label and dispatch the goods.
Such application scenarios are becoming ever more commonplace in China. Advances in intelligent technologies have made it possible for industrial robots to replace human welders, assemblers, spray painters, and polishers, to name just a few. They are also a frequent feature of aerospace, steelmaking, auto-making, and machine industry production lines. Their value lies in improving production efficiency and freeing people from heavy work.
Furthermore, industrial robots have been applied in certain high-risk sectors. In electricity supply, for example, smart robots have made automated power grid maintenance possible. The latest industrial robots adopted by the State Grid Corporation of China feature core technologies like visual recognition, motion control, and reconstruction of a three-dimensional environment, which enable their automatic identification of lead wiring, as well as picking up, peeling, and threading it. Such bold innovation reduces labor intensity and protects workers' safety.
Against the backdrop of an aging population and rise in labor costs, the use of industrial robots in the manufacturing sector will alleviate labor shortages, and promote intelligent manufacturing. The 2020 report of the International Federation of Robotics highlighted China as the world's largest and fastest growing market for industrial robots. The country indeed produced 237,068 industrial robots in 2020, a 19.1 percent year-on-year increase, according to the National Bureau of Statistics.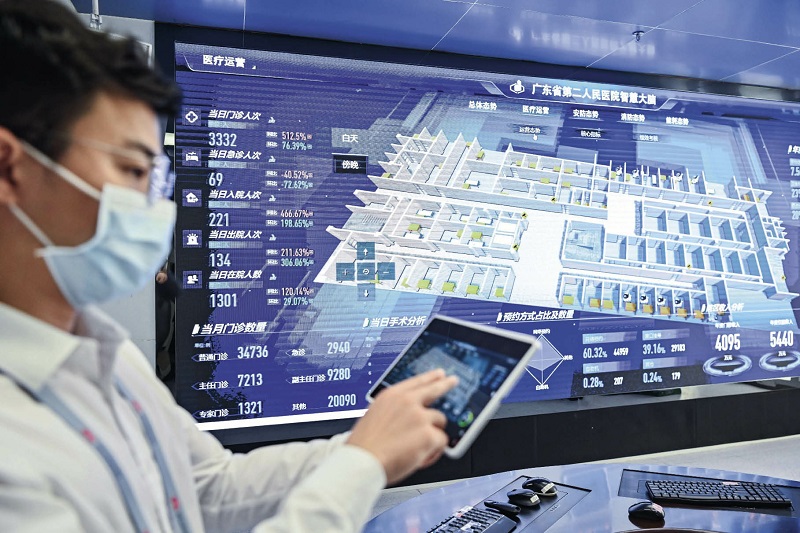 A medical worker at the Guangdong Second Provincial General Hospital demonstrates the function of the hospital's smart system on March 1, 2021. The hospital is the first whole-scenario smart hospital in China's mainland.
Smart Healthcare
Robots are also a godsend to healthcare. Statistics show that around 16 million patients in China are in need of orthopedic surgery. Surgical robots help surgeons make timely diagnoses, but carry the risk of inflicting radiation damage on both surgeons and patients. The all-in-one orthopedic robot (AIOOR) solves this problem. Developed by the orthopedic specialist Zhang Yuanzhi and his team at the Affiliated Hospital of Inner Mongolia Medical University, the robot is the first of its kind in China.
The AIOOR's cutting-edge imaging system and software precludes the need for pre-operation planning. Moreover, it shortens the time needed for complicated operations, including those for pelvic and osteoporotic fractures and spinal injuries. It also makes such surgeries safer.
Smart robotics, moreover, considerably eases patients' discomfort. The traditional gastroscopy requires that the physician inserts a tube down the patient's oesophagus to his or her stomach and upper small intestine. The discomfort this creats is unbearable to many patients, to the extent that they avoid checkups despite the pain they suffer from stomach ailments, and consequently miss the optimum time for treatment. The NaviCam, a magnetically controlled capsule endoscopy system developed by Ankon Medical Technologies in Shanghai, enables a less invasive, hence painless stomach visualization that also avoids the risk of cross infection. Patients only need to swallow a capsule-sized endoscopy robot, and the examination is completed within 15 minutes. Anesthetic is unnecessary, and the visualization accuracy is as high as 92.8 percent. After the procedure, the endoscopy robot is painlessly excreted from patients' digestive tract. So far, these robots have been used in close to 1,000 medical facilities across China.