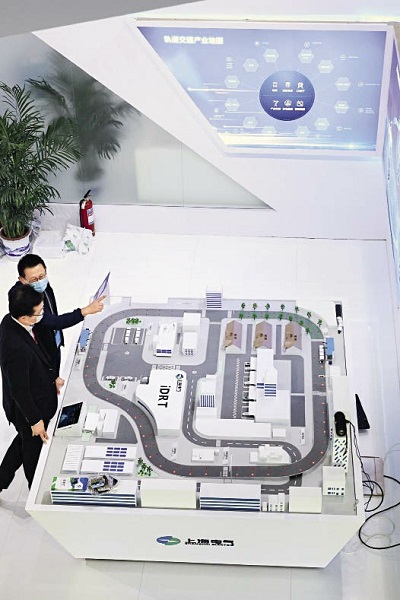 A staff member introducing an intelligent urban rail transit system on display in Beijing.
At 8:30 a.m., Chegongzhuang metro station is one of the busiest transportation hubs in Xicheng District, Beijing. Commuters line up in an orderly manner to go through the security check, get temperatures screened, swipe metro cards, and then enter through the turnstiles. Many commuters now also use their smartphones to enter by swiping the screen over the sensor on the turnstile.
"It's much more convenient now. As long as the smartphone supports NFC (near field communication) technology, you can download the electronic transportation card and save it in your mobile wallet. There is no need to unlock it when you swipe your phone," said Cui Yue, who lives in Fengtai District and has to transfer subway lines twice to reach Chegongzhuang, taking her an hour to complete.
Cui recalls previously using her bus pass, then the QR code to enter the metro. At the entrance gate, during rush hour passengers had to unlock their phones, open the Beijing Bus Card app, bring up the QR code, scan it at the QR code reader on the turnstile, and then enter only if the identification was a success. Sometimes, if the phone signal was weak, the QR code wouldn't load for some time, thus causing agitation for a mass of commuters for the delay in getting to work.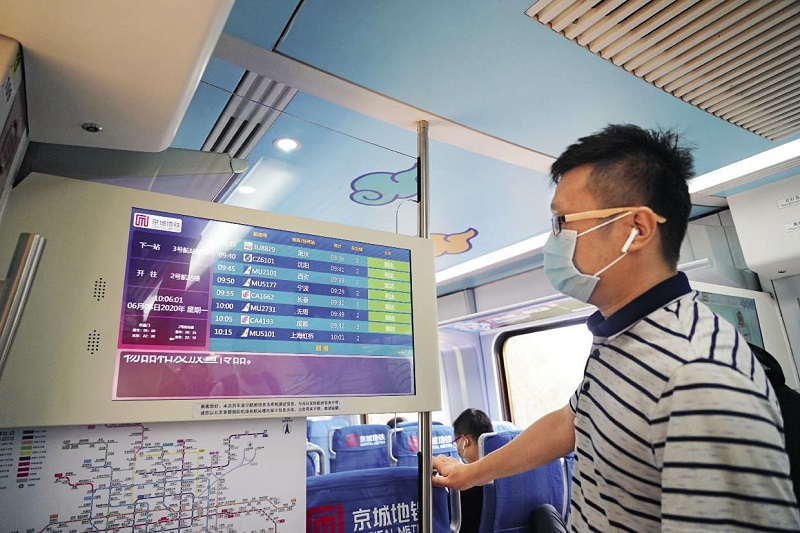 A passenger checks flight information on an upgraded Airport Express Train in Beijing, on June 8, 2020.
Hi-tech Subway System
The new type of card swiping technology is called contactless screen swiping. NFC technology enables simple and safe two-way interaction between electronic devices, allowing consumers to perform contactless transactions.
The JD Finance Transportation Card that Cui uses supports automatic recharging. Whenever the balance is less than RMB 10, the card will be charged automatically via the self-determined option of password-free payment, allowing customers to ride the train before paying the ticket. The newly-applied hi-tech is time-saving, safe and convenient, and has dramatically increased the flow of passengers.
During the pandemic, the super technologies that have shown up in Beijing's subway are far more than just the contactless payment.
"The windows of Metro Line 6 have turned into 'magic mirrors'," said Fu Jialong, a daily commuter on the line. He found that since last April, the train has had a 55-inch built-in 4K high-definition electronic screen, which displays real-time three-dimensional diagrams of the train's current location, toilets and escalators at the front station, transfer routes, exits, and the congested state in carriages. "The electronic screen is so cool, just like a holographic projection in a sci-fi movie. It helps make the commuting less boring," said Fu.
At Hujialou, a transfer station on Line 6, the Passenger Advisory Screen informs passengers of the approach time of the next Smart Metro before its arrival, the congested state of carriages, and the intensity of air-conditioning in different carriages during summer. It makes it more convenient for passengers to decide which carriage to enter.
According to Beijing MTR Corporation Limited, the intelligent passenger service system is part of the "Capital Smart Metro" research project. In addition to the obvious changes, image sensors have been set up to recognize passengers who are not feeling well or are calling for help. This is done via in-vehicle sensing cameras, using image recognition and intelligent analysis technologies.
Sensing and alarm equipment is also installed in front of the driver to capture facial features. Once signs of fatigue or distraction are detected, the system will issue a voice prompt. The Smart Metro also collects real-time information, such as the full load rate, temperature, humidity, and air quality of the carriages and then uploads it with other operational data to the monitoring cloud platform, which provides a digital basis for comfort improvement and operation management.
A customized bus service put forward by the Beijing Public Transport Group is officially launched on February 27, 2020, in which passengers are arranged to sit with empty seats between them.
Big Data Available to All
It is now routine for Beijing citizens to open the AutoNavi Map app at breakfast and have a quick look at the traffic congestion, check the destination's heat map, the passenger density of buses and subways, and then choose the best route and method of commuting.
Liu Hu lives in the north of Beijing's Tongzhou District but works at Yizhuang Science & Tech Park, located at the southernmost part of the district. The real-time data provided on the map app really helps him a lot during the pandemic.
"I will drive my own car if roads are not too congested. Or I will take a certified taxi hailed from the AutoNavi Map, which ensures that the driver is temperature-tested and the car is disinfected. What's more, I can book a customized bus online with nearby residents," said Liu. Using big data to get transportation information, make decisions and choose certain services is a current trend.
"Surprises also come when you are waiting at the bus stop," said Liu. He opened the AutoNavi Map, showing the map of buses that were on the way. "If I want to take the Tong Bus No. 70 to the Tongzhou Beiguan Station, I can check where the nearest incoming bus is, how full it is, and how many minutes it will take to arrive."
Last February, amid the nationwide battle against COVID-19, AutoNavi Map, China's largest data platform for commuter movement and the first national travel platform with daily users of more than 100 million, launched the inquiry function of the passenger flow on Beijing's subways and buses. Commuters can get real-time information about the flow rate of passengers to help them make choices about the most effective way to get from point A to point B.
According to the Administrative Measures for the Opening of Beijing Traffic Trip Data (Trial Version), published by the Beijing Municipal Commission of Transportation on its official website in November 2019, big data from ground public transportation, rail transit, static transportation, and road network operations is all available to the public. The data includes information on subways, bus lines, stations, roadside parking spaces, and sharing bicycles.
The published measures also clarified that in addition to ensuring the stability and reliability of the data, the source providers must update information in a timely manner following the required frequency. For example, bus arrival times should be updated every minute, passenger load of buses and subways every five minutes, parking lot availability and real-time road conditions every five minutes, and accidents on highways should be updated in real-time.
There are currently 46,000 roadside parking spaces in Beijing that have been covered by the electronic toll collection system. The number and specific location of roadside parking space in each area, screen-shots of entering and exiting vehicles, and parking time can all be checked in the Beijing Transportation app. People can park, drive away and then pay online, saving time, improving efficiency, and reducing personnel contact.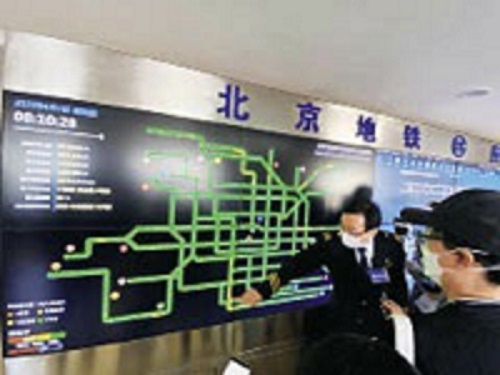 A staff member of the Beijing Metro Emergency Command Center explains the passenger flow in subways via an information screen on Metro Line 6 on April 2, 2020.
A New Era of Travel
According to the Annual Report on Beijing Transportation Development, Beijing's permanent urban population in 2019 decreased by 193,000, or 0.9 percent, compared with that of 2016. However, the number of daily trips in the city has increased by 3.6 percent. The increasing travel needs should be addressed by the new model of transportation service.
In 2020, along with a gradual increase of enterprises and institutions that resumed operations, the daily commute demands of Beijing citizens also increased. Due to the pandemic prevention requirements, more flexible, safe, and efficient travel methods are needed. Therefore, the Beijing Public Transport Group put forward a customized bus service, which was officially launched on February 27, 2020, with 164 customized bus lines put into operation.
Using their WeChat app from which they can log into the Beijing Customized Public Transport Upgrade app, users can search for bus routes that meet their needs and make online reservations. If there is no suitable route, they can create one by getting friends and other commuters to lobby for a new route through a shared link generated by the system. If there is enough demand for a new route, it will accelerate the establishment of one.
"At present, what we provide are mainly morning and evening peak hour commuting services," said Wan Yifei, manager of the network center of Beijing Public Transport Group. For the location of bus stops, the final decision is based on the data collected from online users, gathered from several sites.
The Beijing Customized Public Transport Upgrade provides online ticket purchasing, pedestrian navigation, route maps, and sharing functions, and will gradually realize online seat selection, real-time location queries, and real-time site viewing, to further enhance users' experience.
Crisis and opportunity often arrive together. The coronavirus has created a sweeping trend to use data to empower transportation and develop a smart travel system that is deeply integrated with multiple industries and truly serves the people.