Jiang Yijia has an ambitious goal in life. The successful entrepreneur wants to bring hope to his fellow villagers by improving their life quality and beautifying their countryside.
Jiang, who won a national award for his contribution to poverty alleviation, is the Party secretary of Gongshi Joint Village (consisting of Gongshi and five other neighboring villages) in Sui-ning City, Sichuan Province. Under his leadership, the village that had no road access and whose farmland was largely abandoned is now full of fruit trees on the mountain slopes, while the fields located at the foot of the mountain are fertile and lush. Most villagers now live in storied houses, drive their own cars, and have tap water and natural gas in their homes. In their spare time, villagers go to the village cultural and sports activity center to exercise, read books, and play chess.
To lead his villagers on the road to prosperity, Jiang has implemented Chinese President Xi Jinping's concept of "lucid waters and lush mountains are invaluable assets," always insisting on ecological priority, green development, and building the village into a field of hope.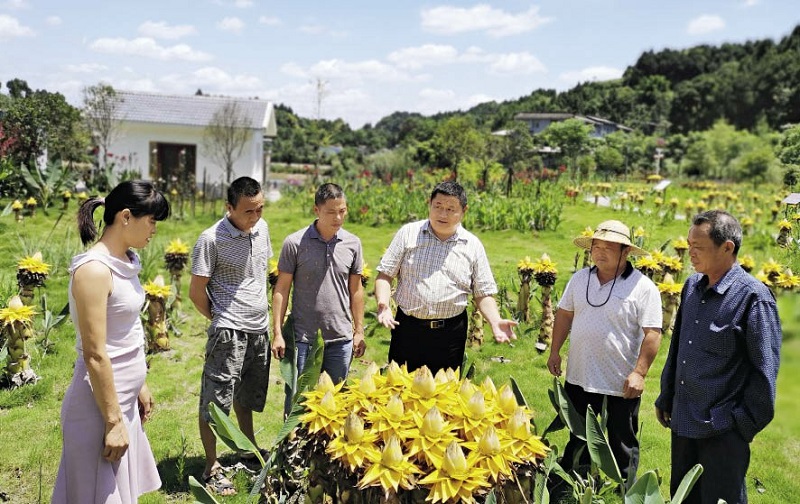 Jiang Yijia (center) is explaining planting techniques of golden lotus banana to local villagers in June 2020.
Localizing Industries
Jiang was born in Gongshi Village in 1959. In 1978, he was drafted into the army and left his hometown. When he retired from the army after 19 years of service, he started his own business. Jiang explained that this choice stemmed from a wish he made at the age of 12. "When I grow up, I want to see the world outside and return to my hometown when I have the means to build it up and change its face of poverty and backwardness," he recalled. After 10 years of hard work, Jiang became a successful entrepreneur with assets of more than RMB 10 million. With his financial muscle, in 2007 he was able to begin the process of rejuvenating his hometown and uplifting those who lived there out of poverty.
"During the decades I was away from my hometown, the village still had no roads or tap water, and there had been no development of industry at all," said Jiang. At his own expense, he built more than 40 kilometers of cement road, 75 kilometers of sidewalks, 15 kilometers of asphalt roads, as well as 18 ponds and 30 small reservoirs to improve farmland water conservancy. After he had addressed these infrastructure challenges, Jiang turned his attention to industrial development.
"Over the past years, we followed the theory proposed by President Xi to develop modern ecological agriculture. We hoped to truly turn the green hills and clear waters into invaluable assets," he said.
Jiang led villagers to rehabilitate the farmland that had been abandoned for many years, invited agrotechnical experts to conduct field inspections to guide local efforts, and developed plantations and aquaculture in accordance with natural conditions. They built orchards on the mountains and developed fruit industries, while also breeding aquatic products, such as fish and crayfish in the rice fields.
Jiang also introduced and cultivated golden lotus banana (Musella lasiocarpa) as the pillar industry of Gongshi Village. "This plant has a long blooming period of more than 200 days, and has extremely high economic value. It can be used in beauty products, to dispel the effects of alcohol, and to make nectar. A single plant can be sold for hundreds of yuan or more," said Jiang.
In 2013, Gongshi rose above poverty. People in the surrounding five villagers hoped to cooperate with it for joint development. In July 2015, the local government decided to establish Gongshi Joint Village, with Gongshi as the core, to develop industrial alliances. According to Jiang, the current cultivated area of golden lotus banana is more than 300 hectares, from which lotus products are sold to Beijing, Tianjin, Shanghai, Guangdong, and other places. Jiang hopes that in the future, lotus flowers and the related products can be exported to Southeast Asian countries to promote the village's opening to the outside world.
The development of the eco-agricultural industry has not only increased villagers' income, but also improved the ecological environment. Now the per capita net income of Gongshi villagers has increased from RMB 2,300 in 2007 to RMB 21,000 in 2020.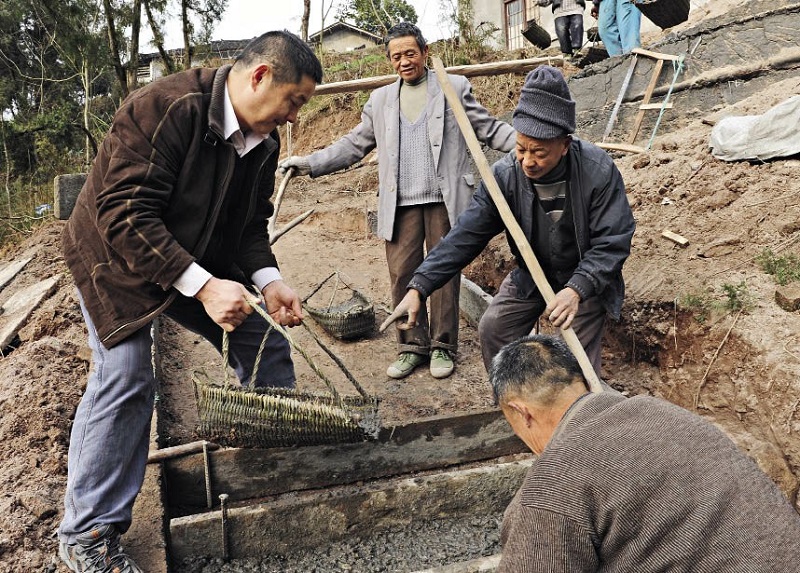 Jiang Yijia (left) repairing a road with villagers in January 2011.
Improving Living Environment and Developing Rural Tourism
Jiang also attaches great importance to raising villagers' awareness of environmental protection and improving the rural living environment. "When I returned to my hometown in 2007, the village was dirty, disorder, and in a generally poor condition," said Jiang. In order to encourage villagers to improve their living environment, he took the lead in picking up garbage and cleaning village roads for nearly five years. Later, children joined in, picking up rubbish and sweeping the road with him. Spurred on by this example, villagers' awareness of environmental protection has gradually improved, and household garbage is now concentrated in a designated dumping point. "Trash bins are placed across the village, garbage is sorted, and garbage recycling trucks are on hand to clean up every day," said Jiang.
The village has also established a moral bank to innovate grassroots governance, and implemented moral credit management. With good behavior such as taking good care of aged parents and practicing frugality, villagers can earn points on a family basis. At the end of each year, they can use the points to redeem prizes from the bank.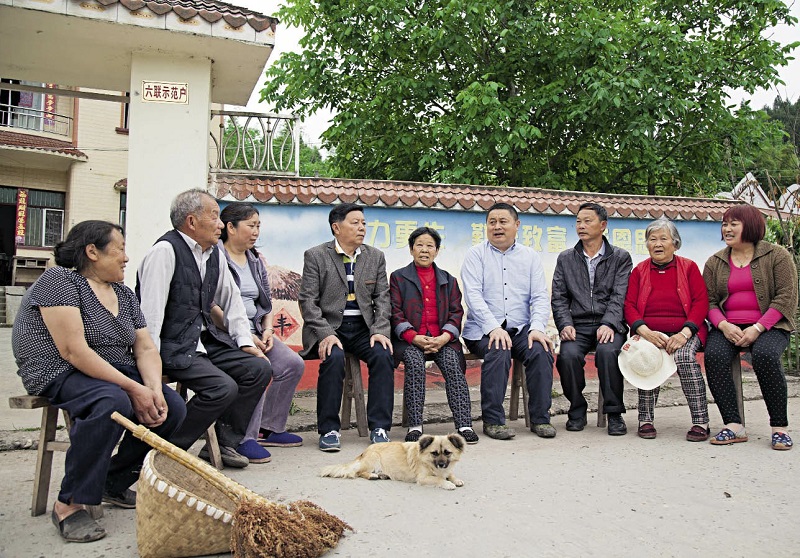 Jiang Yijia (4th from right) is having a meeting with his fellow villagers in Gongshi Village in May 2018.
With the improvement of the ecological environment, the village successively attracted many tourists eager to enjoy nature. Jiang then set his mind on the development of rural tourism. In 2018, the joint village hosted a culture and art festival to develop tourism with flower watching as the focal point. On the basis of the existing ecological agriculture industry, the village is building a comprehensive agricultural tourism demonstration park. In addition to the existing agriculture, it also includes oil manufacturing, beancurd workshops, bamboo workshops, straw weaving workshops, and carpenters' workshops, where visitors can learn about and experience farming culture. "We hope to transform our agricultural projects so as to maximize their value, not only to protect the ecological environment, but also to strengthen the collective economy and increase people's income," said Jiang. In 2019, the village attracted more than 130,000 tourists.
The village has been selected as one of the first batch of National Model Villages, National Environmental Governance Demonstration Villages, and National New Rural Happy Communities, and was also categorized as a demonstration village for implementing the rural revitalization strategy in Sichuan Province.
Rural revitalization became one of the hot topics discussed during this year's "Two Sessions" in Beijing. On March 5, Wang Yang, chairman of the National Committee of the Chinese People's Political Consultative Conference, participated in the deliberation of the Sichuan delegation and pointed out that Sichuan could focus on consolidating and expanding the results of poverty alleviation, and continue to promote rural revitalization. Jiang was encouraged after watching the video. "I will continue to stay in the village, lead villagers to take the road of green development, and promote the continuous revitalization of the village."