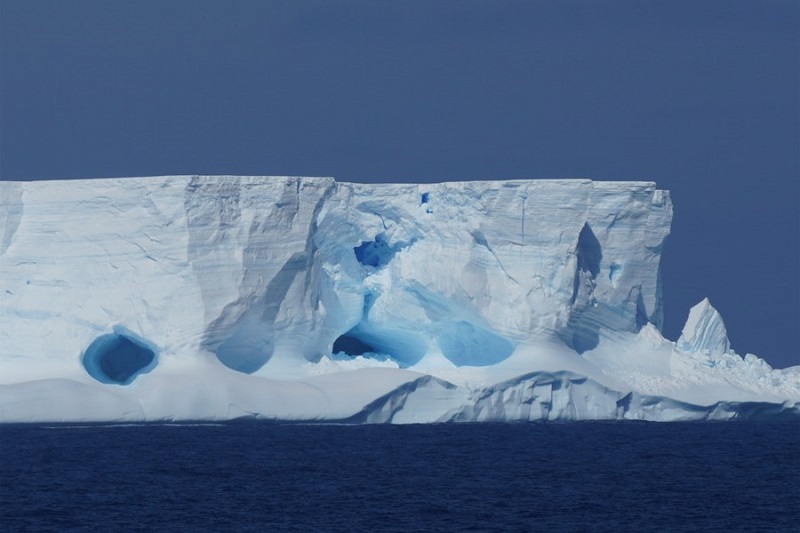 Photo taken on Feb. 1, 2020 shows a glacier in the Weddell Sea off the Antarctic continent. (Xinhua/Liu Shiping)
The past month has seen "ecological civilization," a concept first proposed by China, buzzing around the front pages of media outlets across the world with the convening of the 15th meeting of the Conference of the Parties to the Convention on Biological Diversity (COP15) in China. Themed "Ecological Civilization: Building a Shared Future for All Life on Earth," COP15 adopted Kunming Declaration, and Parties to the Convention committed to develop, adopt, and implement an effective post-2020 global biodiversity framework that would put biodiversity on a path to recovery by 2030 at the latest, towards the full realization of the 2050 Vision for Biodiversity of "Living in Harmony with Nature."
COP15 drove home the point that biodiversity and the ecosystem functions and services it provides support all forms of life on Earth and underpin our human and planetary health and well-being, economic growth, and sustainable development. And the ongoing loss of biodiversity jeopardizes the achievement of the Sustainable Development Goals.
China, the host country of COP15, has further impressed the world with its system of protected areas (PAs) for ecological conservation. According to Biodiversity Conservation in China, a white paper released by the State Council Information Office right before COP15, China has established close to 10,000 PAs of all types, accounting for about 18 percent of its total land area. The well-planned PA system has brought 90 percent of terrestrial ecosystem types and 71 percent of key state-protected wildlife species under effective protection, the white paper said.
However, what demands people's special attention is the fact that the crises of biodiversity loss, climate change, land degradation, and pollution, to name a few, are interrelated with some being the cause of others. To address the crises, a holistic approach is needed which requires integrated actions across the world through policy alignment and synergies of countries as well as international organizations. This would entail coordinated measures to address climate change, biodiversity loss, and environmental pollution as well as necessary moves to transform economic and financial systems and to ensure sustainable production and consumption. As Chinese President Xi pointed out in his book Xi Jinping: The Governance of China III, we must make an overall plan that takes all relevant factors into consideration, and adopt multiple measures simultaneously to advance eco-environmental progress in all respects.
Since ancient times, Chinese people have manifested their wisdom in dealing with nature by cherishing such concepts as harmony between humanity and nature and that man is an integral part of nature. Since the CPC's 18th National Congress in 2012, China has been seeking eco-environmental progress under the guidance of the new development concept that emphasizes "innovation-driven, coordinated, green, oriented toward global progress, and beneficial to all." Ecological civilization building has thus been boosted. Gladly, those ecological conservation concepts proposed by China based on traditional Chinese culture are gaining more and more endorsement across the globe, evidenced by the Kunming Declaration, in which ecological civilization and living in harmony with nature have been emphasized.
China's efforts in ecological conservation have shown tangible results. From 2009 to 2019, China had completed afforestation of 71.307 million hectares of land, registering the highest increase in forest resources worldwide. China also has more than half of the world's new energy vehicles hitting the road. In July, China launched the world's largest carbon trading market, encouraging companies to reduce their carbon footprint. Meanwhile, public awareness on environmental protection and low-carbon life has greatly improved as waste classification is being promoted across the country and a green lifestyle is advocated. China is now vigorously on the move to realize the two goals of peaking carbon dioxide emissions by 2030 and achieving carbon neutrality before 2060.
At COP15, China called on the international community to enhance cooperation, build consensus, and pool strength to build a community of all life on Earth. President Xi announced China's initiative to establish the Kunming Biodiversity Fund and take the lead by investing RMB 1.5 billion to support biodiversity protection in developing countries. Another of China's recent contributions to global environmental governance was conveyed at the General Debate of the 76th Session of the United Nations General Assembly on September 21, when President Xi pledged that China would step up support for other developing countries in developing green and low-carbon energy, and will not build new coal-fired power projects abroad.
A new study from the nonprofit organization Climate Central presents a bleak outlook of the future of a world ravaged by global warming if the planet warms to three degrees Celsius above pre-industrial levels. According to the study, roughly 50 major coastal cities will need to implement "unprecedented" adaptation measures to prevent rising seas from devouring their most populated areas. This is not an implausible doomsday scenario, but a likely outcome if nothing is done about global warming. While heaps of expection have been piled on the 26th UN Climate Change Conference of the Parties (COP26) in November, now is the time for action!