THE Jinggang Mountain is the cradle of the Chinese revolution. Ninety years ago, a revolutionary base was set up in the region. Since then, the spark of the Chinese revolution had been originating from here to all across the country.
In February 2016, a week before the Spring Festival, Chinese President Xi Jinping visited the people residing in Jinggang Mountain. During his visit, he repeatedly stressed that no one should be left behind when the country is building a moderately prosperous society in all aspects; the Jinggang Mountain should become an example in the poverty alleviation campaign, and the Jinggang Mountain Spirit should usher in fresh inspiration in the new era.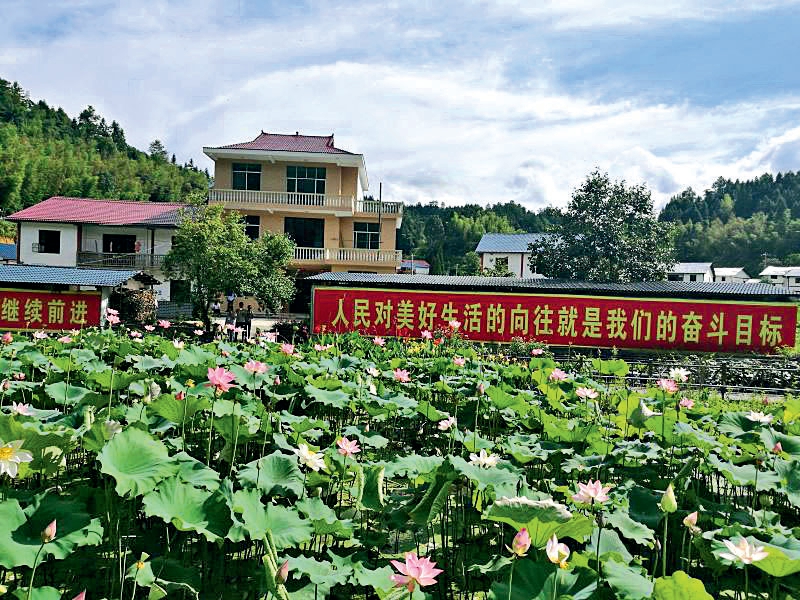 Bashang Village in the Jinggang Mountain area.
By February 2017, the Jinggang Mountain has lifted itself out of poverty through comprehensive measures featured by red tourism. Its poverty rate has reduced from 13.8 percent in 2014 to 0.42 percent in 2017, per capita disposable income in rural areas reached almost RMB 10,000. Liu Hong, Party secretary of Jinggangshan City, said: "Getting rid of poverty fast is not our ultimate goal. We strive to let all the people living in the former revolutionary base to live a better life."
Bashang Village, once a poverty-stricken community, has become an epitome of the people's pursuit for a better life in the Jinggang Mountain area.
"Red Army Experience" Enriches the Village
Bashang Village is located at the central area of the Jinggang Mountain revolutionary base, only six km from the octagonal house where Mao Zedong once lived. In the village, people can find sites of the Buyun Mountain Red Army training ground and headquarters for the Fourth Front Red Army, and tomb of the revolution martyr, Yuan Wencai. Hence, Bashang Village is also called the "Red Army Village."
In 2016, Bashang Village began to develop tourism, taking advantage of these "red" resources. The Jinggang Mountain was designated as a national youth education center of modern history. Taking this opportunity, Bashang Village invested more than RMB 500 million and developed a program named "A Day in the Red Army." In the program, themed activities like rapid marches, Red Army meals, home visits, and Red Army story sharing are included. Every year, more than 40,000 tourists participate in the program to get a taste of the Red Army soldiers' daily life.
In the village, tourists dressed in Red Army uniforms are a scene to behold. People from all across China attend to experience firsthand a day in the life of a Red Army soldier. "All the drills, presentations, and field study have made my day," said Yue Guiyong, a student from Baoding College, Hebei Province.
Due to the popularity of the experience program, the local people's life has seen improvement.
Wu Yunyue is a resident of Bashang Village. She lost her husband to disease years ago, and led a tough life raising her two children alone. Before 2013, her whole household relied on income from planting rice and raising pigs. Even when there are errands for Wu to make extra money, she can earn no more than RMB 17 a day. In 2013, Wu participated in the preparation for the "Red Army meals," and that year she earned more than RMB 3,000. By 2016, Wu had catered to more than 1,000 visitors, earning a net income of RMB 15,000 per year. "Sometimes I will also do some errands in the village to earn extra money. My son can make about RMB 20,000 a year, so now our income reaches nearly RMB 40,000 every year." Wu said, with a content smile.
"In 2017, more than 50 families participated in the dining business, and each one of them ended up making an extra RMB 20,000 on average", said Liu Weidong, an official of Maoping Township. "Now low-income families in the village have all gotten rid of poverty. The experience program has really increased the villagers' incomes!"
Education Base Brings More Visitors
July is the peak season for tourism. During this time, Deng Zhuxiang's family is particularly busy. Providing visitors with authentic farmhouse meals has become an indispensable part of Deng's daily life. On a regular day, she is busy in the family kitchen, minding the steamed dishes on the brick stove, and at the same time stir-frying the vegetables harvested in the backyard. The dining cost is RMB 33 per person. A table for 10 can generate a net income of RMB 180 for Deng's family, which brings much needed financial relief for her.
Since May, an abandoned primary school in the village has been transformed into a "red education" base. Bashang Village has welcomed new visitors – children coming for summer camps.
"A single-bed room costs RMB 30. A twin-bed room costs RMB 50. And an air-conditioned room costs RMB 80." In early July, Deng's family hosted 14 elementary school students at the summer camps for a few days, adding another RMB 1,000 to 2,000 to her income.
"Bashang Village will soon sign a cooperation agreement with Nanchang Tiange Education Group to promote summer camps and outward bound training. By then, Bashang Village will be able to accommodate 200 additional students per day." Seeing that a one-off investment can bring sustained and substantial income, Li Guofeng, Party secretary of Bashang, is urging the villagers to follow Deng's example, and transform their farmhouses into homestay options for students at the education base. It can increase Bashang's popularity, and open up new channels for farmers to get rich.
According to Li, "We must ensure growth in both the village's collective economy and the villagers' income, and build up the village and households together. In line with such requirements, Bashang Village has made further progress this year in poverty alleviation, seen homestay flourishing, intensified efforts in environmental remediation, and continued to increase the village's collective income. We will transform our historical and natural resources into development advantages for rural tourism and red tourism." This year, Bashang Village has further improved its environment, and elected model households with the most beautiful courtyards. Deng's family ranks among them. Moreover, solar power generation alone can bring RMB 80,000 of income to the village's collective economy this year.
Passing on the Red Gene
The Jinggang Mountain, with its splendid revolutionary history, serves as a massive classroom and base for education in the Party spirit, ideals, beliefs, revolutionary tradition, and patriotism.
Li Zufang, 61, is the grandson of the Red Army martyr Li Xiaofu. He was head of a production team at the age of 21. In 1987, he joined the Party and served as secretary of the village Party branch. Li tells the revolution's stories brimming with emotion, sings Red Army songs from time to time, and has become the most popular teacher at the Jinggangshan "red" training base. He told the students, "We should never forget what today's life is based upon, and pass on the 'red genes'."
"This is how a stretcher is made..." Li instructed the students who participated in the "A Day in the Red Army" program. He took bamboo sticks and hemp ropes, and demonstrated how to make the stretcher with great skill. In Li's opinion, letting young people experience the life of the Red Army is the duty and responsibility for a Red Army's descendent. Nowadays, he wants more than teaching at Bashang Village. He wants to spread the stories of the Red Army and the Jinggangshan spirit outside the mountains. In fact, Li has already brought the stories to other parts of the country. In November 2017, he went to South China Normal University to spread the "red gene." And this year, Li was hired as a social practice teacher at the Graduate School of Capital Normal University.
"Those who have heard my lectures have invited me to give further lectures. My audience have probably reached 300,000 in number," Li said. His lectures kept him so busy that he frequently skipped lunch. And once he had to participate in more than 180 group photos in a day.
In the past, Li used to earn a monthly income of about RMB 1,000 by working away from the village and farming. Since he participated in the village's poverty alleviation project in 2016, his yearly income has steadily increased. "This year's income will probably reach RMB 50,000. Last year I made RMB 30,000," Li said with satisfaction.
At the beginning of the poverty alleviation operation, Bashang Village had 36 poverty-stricken households, with a total population of 92. By 2017, only one household remained in poverty in the entire village.
In the future, life in Bashang Village will be even more prosperous. This is because Maoping Township, where the village is located, is implementing a development strategy that promotes tourism in the entire area, entrepreneurship for everyone, a beautiful environment, and moderate prosperity in an all-round way. The township aims at becoming the most beautiful "red town," and focuses on building a landscape belt for ecotourism, an experience zone for red training, and a resort for relaxation and holidays. The red training experience zone at Bashang Village is already listed for planning.