QIN Yuefei is a village chief in Baiyun Village of Hengshan County, Hunan Province. While he goes about his work quietly, Qin is an example of youth in action.
Born in Chongqing in 1985 — the seventh year after China's reform and opening-up — he started to learn English at two, went to Yale University at 20, and devoted himself to a Chinese village at 26. At the age of 32, he was selected as one of the "10 Most Impressive People" by China Central Television.
A year before he received the award, in 2016, having worked in China's poor villages for five years, Qin came to the conclusion that to effect positive changes, he had to look at challenges through new eyes. Therefore that year, joined by a fellow graduate from Yale, he initiated a non-profit organization for targeted poverty alleviation called Serve for China (SFC). Its aim was to wipe out poverty through rural entrepreneurship. As the scheme developed, so too did the number of people who participated.
Ivy League Village Chief
It's hard to distinguish Qin from other young local farmers: thin and swarthy, wearing a T-shirt and cheap shoes with trouser legs rolled up. He goes about his business without much fanfare. His Yale classmates would be dumbfounded to see how the former long-haired, rock band member had remodeled his appearance.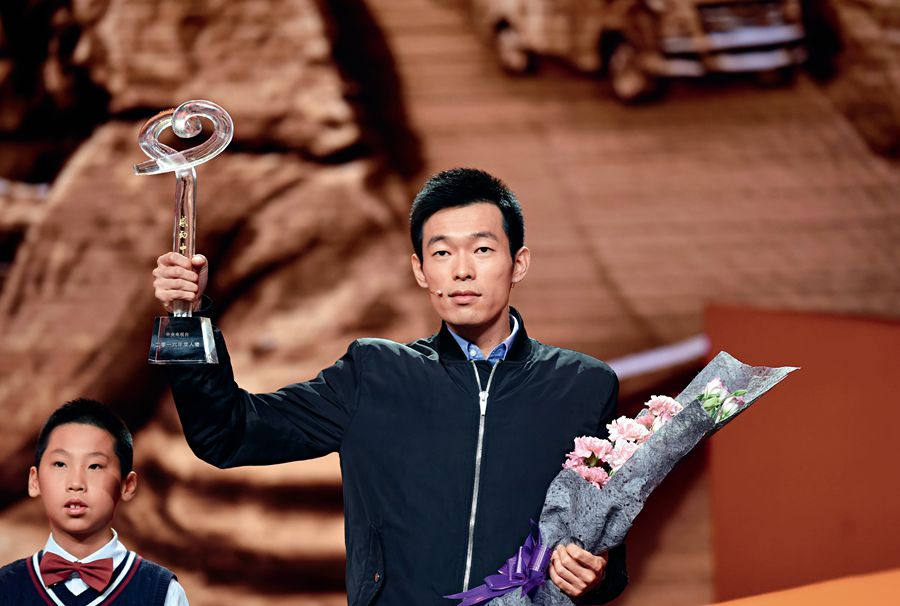 Qin receives the award for being among the "10 Most Impressive People 2017" at CCTV in Beijing.
Back in the summer of 2005, Qin headed for the United States with a full scholarship from Yale. That year, the university only enrolled five students from China. Qin majored in politics and economics at Yale, and was president of the student union for Chinese students.
Six years later, in the summer of 2011, when top university graduates were flooding into China's four first-tier cities for high-paying jobs, Qin boarded a train to Hejiashan Village with a letter of admittance. He was to be assistant to the village director.
The fast development of the countryside since the start of China's reform and opening-up put the country in desperate need of talent. In 2008, a "college students becoming village chiefs" program was launched countrywide in a bid to cultivate managerial personnel for the socialist new countryside. By the end of 2016, there were a total of 100,000 or more college students-turned village chiefs across China.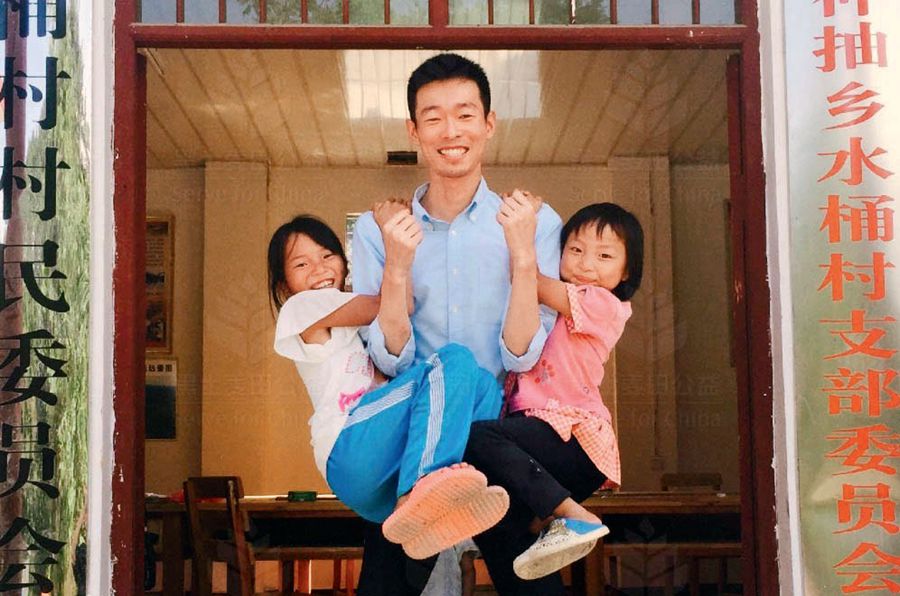 Local children see Qin as a big brother.
Qin's village is surrounded by green mountains, and summers there are sweltering. Qin liked to stroll around the village streets when he had time, chatting with the villagers who were mostly elderly and children. He had the village plumbing and house roofs repaired, helped villagers with their application for subsidies, and was always on hand to assist those in need.
During his three-year term in the village, Qin raised funds to build irrigation canals, install street lamps, build nursing homes, and modern teaching facilities. He often burned the midnight oil thinking of new ways to improve the village infrastructure.
On October 24, 2012, Qin was elected as a deputy to the People's Congress of Hengshan County by 3,027 of the 3,527 voting villagers. Qin said the election result made him happier than when he got his Yale admission, as it shows the trust villagers have in him.
Some people think he is over-qualified to work there. But Qin thinks differently, "If you want to get ahead in life, you'd better forget about labels. I think we should never forget where we come from, and if I can help ordinary people like my parents, then I'm really happy."
Poverty Alleviation:
Passing on Skills
Although the newly-built irrigation canals and roads were a big help to improve quality of life, they did not immediately help the villagers to become better-off. This is something that led Qin to realize that the only way to really lift the impoverished village out of poverty was to have sustainable development.
"The answer could not be found only in theory, but through action," said Qin with the understanding that poverty reduction through rural entrepreneurship was the most effective path to take.
In the summer of 2014, after completing his first term, Qin refused a promotion and applied for another three-year term, this time, in Baiyun Village, about 30 km away from Hejiashan Village.
The mountains in Baiyun were covered by camellia trees, known for the oil that can be processed from the trees' seeds. In the past, the oil extracted by hand was not purified and sold for RMB 100 (US $15) per half kg. Through research and analysis, Qin set up an agricultural cooperative, which attracted more than 40 local households. The cooperative worked with professional food technicians to produce purified edible camellia oil, which was sold for RMB 200 (US $30) for the same amount. In addition, the oil was used to manufacture skin care products and hair pomades which all sold well. All those made a gross income of RMB 120,000 (US $17,500) in the first year.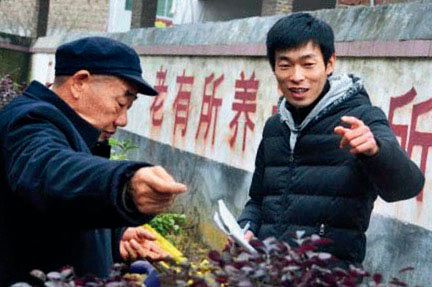 Qin Yuefei visits the elderly at a nursing home of Hejiashan Village in Hengshan County of Central China's Hunan Province, where he works.
Qin was encouraged by the results, and was now totally convinced that local entrepreneurship was the key to poverty alleviation and rural reform. What he desperately needed at that time was to find like-minded people to expand the program.
In the summer of 2016, 27 college graduates from top universities such as Harvard, Australian National University, Tsinghua and Fudan "settled" in 15 poverty-stricken villages in Hunan, Jiangxi, Shandong, and Guangdong provinces.
They were the first batch of poverty-reduction students of SFC. During their two-year term, they helped local farmers to set up agricultural cooperatives, and develop competitive industries in planting, breeding and handicrafts. After one year's effort, with more than 10 kinds of products, the local farmers earned over RMB 1 million (US $145,000), and attracted an investment of more than RMB 8 million (US $1.2 million).
In Qin's eyes, SFC was born from the countryside and integrated political, social, and industrial resources. The modus operandi of placing talented personnel in poverty-stricken areas to help develop local competitive industries in a bid to lift people up from under the poverty line was a winning formula. "When the students leave, the industries can hopefully continue to benefit the locals," Qin said.
To Qin, the devotion of young talents to rural rejuvenation is an innovative example of how to develop China's countryside. In retrospect, China's countryside was the cradle of many great ideas.
Qin's experience made him realize that though the majority of SFC programs fared well, there were still some that could not bring any benefits to the villagers in a sustainable fashion. Therefore, he introduced an assessment program. Those that passed the assessment were supported with funds and resources, those that fail are sifted out.
"Poverty reduction is result-oriented. Our goals are quite clear: A program must empower the poor and help them make money on an ongoing basis." All the reforms on this land are aimed at people living and working here, he said.
On a Promising Land
At the 2018 "two sessions" held in Beijing, as a National People's Congress deputy, Qin made two proposals, one on targeted poverty alleviation and the other on rural rejuvenation. On the Hunan delegation's media open day, Qin mentioned that strong organization and good leadership were crucial to good governance in the countryside. He also suggested that as the current leaders at the grassroots level were aging, new bodies of agricultural operation such as agricultural cooperatives were established to nurture and train management personnel for the countryside.
In his eyes, there is plenty of room in the countryside for young people to develop their skills to the fullest. But the problem was that young talents do not want to work in the rural areas because of poor salaries and limited career development paths. For Qin and his SFC, that was something they aim to change.
SFC provides a variety of guarantees for its members. They are offered five social insurances and a housing fund besides salary. Besides that, SFC gets investment and support from the government. The first batch of participants who are about to complete their terms, either got recommended by SFC to further their study or got dream job offers. "Helping farmers to develop competitive industries in turn help these young talents to further themselves," Qin said, pointing out that this is the true definition of win-win cooperation.
To continue cultivating local talent, Qin has come up with a good solution. SFC will use its members who have already succeeded in rural areas to help recruit young villagers who did not attend college to work as leaders in developing rural industries.
In August 2017, Qin finished his second term as village chief. Again, he refused a promotion. "I lived a happy life in the past six years. I'll continue working in the countryside. That's where my value is," he said.
To him, living and working with the villagers gives him the chance to understand their pursuit of a better life. "In the beginning, it was high ideals that brought me here. But when I came, I knew deep inside that I chose to stay here not for material gain or fame but for this promising land and the people."
"Real idealists are judged by what they do, which can be seen in China's development in the past four decades," Qin said. In his third term Qin Yuefei will spend his time on another poverty-stricken county, Huayuan in western Hunan Province. There he will work together with other SFC members to help set up local businesses. "SFC is an organization where our lofty ideals are brought down to earth. We go to where we are needed the most and grow with our nation," he said.
YAN BING, CHAI YAXIN & HOU KE are journalists for People's Daily overseas edition.