By staff reporter SUN LI
IN 2017 Tong Ren Tang, a leading company of traditional Chinese medicine (TCM), saw a steady growth in its overseas business. By the end of the year, it had opened 140 retail outlets in 27 countries and regions overseas, serving more than 30 million person-times of patients.
Gaining Fans from the Balkan Peninsula
In 2017, Tong Ren Tang was invited to the second Forum for Mayors of the "16+1" Capital Cities of China and Central & Eastern European Countries (CEECs), as well as to the "Beijing Day" event in Belgrade, Serbia. The China-CEEC Leaders' Meeting is part of a medium-term plan jointly developed by China and the 16 CEECs. The plan aims to clarify the direction and focus of work from 2015 to 2020, create further opportunities for cooperation, and promote quality and efficiency of the "16+1 Cooperation."
Beijing Tong Ren Tang (Montenegro) Center for TCM Development, a cooperation project between Tong Ren Tang and a TCM hospital in Montenegro, was launched in 2017, with an impressive TCM cultural exhibition at the Forum for Mayors of "16+1" Capital Cities of China and CEECs.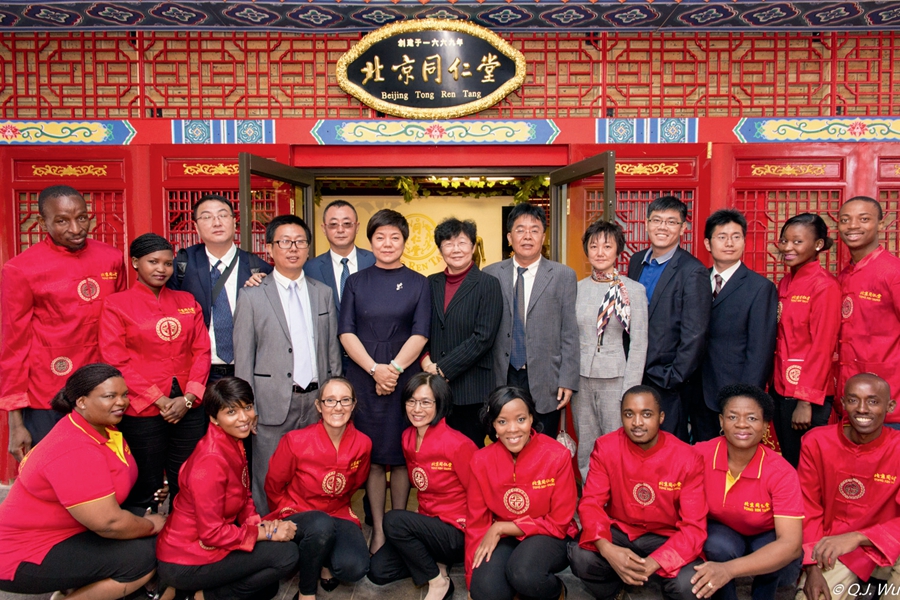 Tong Ren Tang has achieved a comprehensive expansion to five continents after it opened five stores in South Africa in November 2016.
In the subsequent "Beijing Day" event in Belgrade, the Tong Ren Tang booth attracted hundreds of Serbian citizens, where TCM experts volunteered their time to see patients, give lectures, and teach traditional exercise called Ba-duanjin, which many of the locals found useful. Tong Ren Tang's TCM specialists were then divided into two groups, one heading to Poland and the other to the Czech Republic, to see patients, including a number of diplomats from different countries. In Poland, Tong Ren Tang hosted a special session for envoys, receiving diplomats from nearly 20 countries including Germany, the Netherlands, Denmark, Russia, Japan, and Lebanon.
Tong Ren Tang's outstanding performance during the five-day cultural promotion activity gained numerous fans, setting off a TCM fever in the Balkan Peninsula.
Comprehensive Expansion in Five Continents
In recent years, Tong Ren Tang's overseas business has seen explosive growth. In 2016, Tong Ren Tang successfully entered the American market, opening stores, medical and cultural centers in New York, Los Angeles, and San Francisco. In the same year, it opened five stores in Johannesburg, Pretoria, and Durban in South Africa. In 2017, Beijing Tong Ren Tang Acupuncture Center and Tong Ren Tang Museum were opened in Johannesburg, South Africa.
Tong Ren Tang achieved a comprehensive expansion to five continents in 2016, injecting new momentum into its growth, and bringing in more breakthroughs and innovations for the time-honored brand in service and sales models in the new era.
An Impressive Business Card on the Belt and Road
TCM has always been an important part of business activities along the ancient Silk Road. In 2016, the Chinese government published the TCM Development Plan for the Belt and Road Initiative (2016-2020), setting a clear development goal for the TCM industry, and effectively promoting TCM's overseas development.
By leveraging the Belt and Road Initiative, Tong Ren Tang firmly seized opportunities and created an overseas development path of promoting and sharing products, healthcare services, Chinese culture, scientific research, and talent. Tong Ren Tang has established a name for itself by serving common people, and exploring a global path as the entire industry chain starts to take shape. Through these efforts, Tong Ren Tang has made bold and effective explorations for Chinese businesses to "go global."
As a TCM ambassador for the Belt and Road Initiative, Tong Ren Tang has the mission of inheriting and innovating TCM culture. It vows to continue to use its own technical strength and industrial advantages as it works with countries along the Belt and Road and beyond, to develop resources, explore herb planting, and build local factories to develop a positive image for Chinese culture.