BEIJING Tong Ren Tang celebrates the 25th anniversary of becoming a global brand this year, now boasting an impressive footprint on five continents.
The company operates over 140 branches in 27 countries and regions overseas. Tong Ren Tang built its first R&D base in Hong Kong along with a TCM health center, the largest of this kind in the city.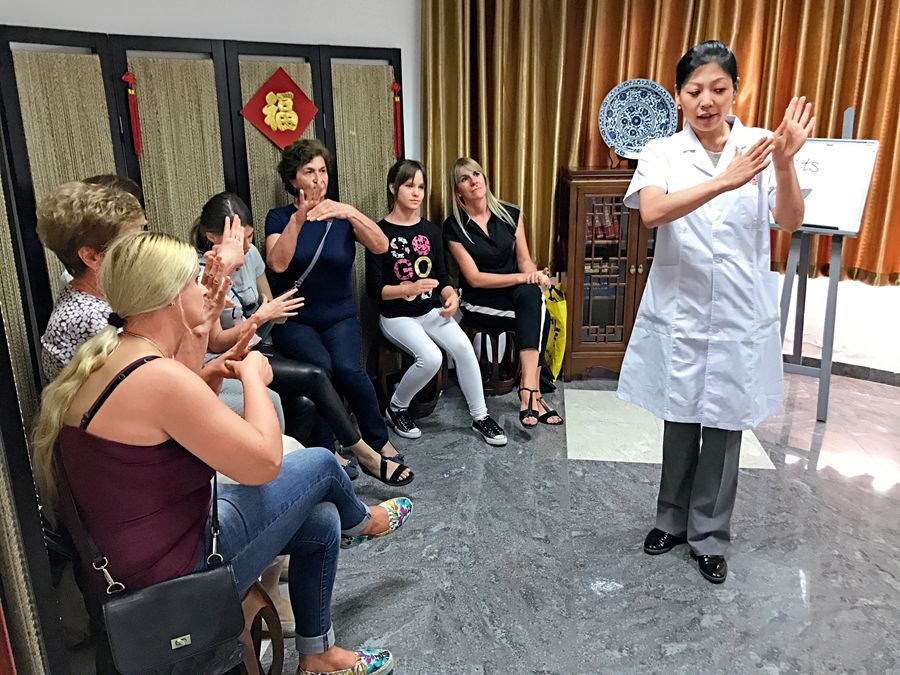 In Montenegro, an expert from Beijing Tong Ren Tang gives a lecture on TCM to local residents.
The number of patients treated by Tong Ren Tang's overseas branches adds up to over 30 million, and its annual export revenue exceeds US $100 million. Committed to a mission of enhancing health globally, Tong Ren Tang has developed a "five-in-one" plan for the overseas market covering products, medical treatment, culture spread, scientific research, and talent cultivation, which makes it a successful example of the globalization of traditional Chinese medicine.
Getting Listed
With a history of 349 years, the brand is still a green hand in global market. The company's pharmacies overseas adopt an operation model of introducing medicines in treatment and combining its medicines with diagnosis to maximize the effect. This model has been very effective with local patients, helping them develop a healthy lifestyle, and gained loyal customers.
On May 7, 2013, Beijing Tong Ren Tang Chinese Medicine Co., Ltd. was listed on the Hong Kong Stock Exchange Growth Enterprise Market. On May 29, 2018, the fifth anniversary of it being listed, the company was listed on the main board of the Stock Exchange of Hong Kong Limited.
Cultural Ambassador
Overseas outlets of Tong Ren Tang don't just run businesses but also serve as cultural centers. While providing medical services, the outlets also display TCM culture via exhibitions and TV shows. Therefore, while visiting Tong Ren Tang clinics, pharmacies, or health centers, patients can not only experience their quality services and TCM's marvelous effect, but also learn about some traditional Chinese ways to enhance health, like exercising tai chi and baduanjin (one of the most common forms of Chinese qigong used as exercise). Regular lectures on health and free medical consultations make Tong Ren Tang an envoy of Chinese culture abroad.
In March 2016, when Chinese President Xi Jinping paid a state visit to the Czech Republic, a series of free TCM consultations and academic seminars were jointly sponsored by the Beijing Municipal Health Commission, Beijing Municipal Administration of Traditional Chinese Medicine, and Beijing Tong Ren Tang. In September 2016, when Tong Ren Tang was about to launch its operation in the U.S. and Canada, it held a large-scale free TCM consultation. Municipal governments of New York and Los Angeles bestowed Tong Ren Tang certificates of honor, and the San Francisco government marked September 30 as "Day of Tong Ren Tang." In September 2017, Tong Ren Tang was invited to the second Forum for the Mayors of the "16+1" Capital Cities of China and Central and Eastern European Countries, as well as to the "Beijing Day" event in Belgrade, Serbia.
Tong Ren Tang also built museums at the Confucius Institute at the University of the Republic of San Marino and at its Medical Center in Los Angeles, enabling more Westerners to become familiar with the culture behind TCM and the 5,000-year history of China.
Belt and Road Initiative
Tong Ren Tang has stayed abreast of national policies and seized every opportunity to achieve sustainable development.
With the advent of the Belt and Road Initiative, Tong Ren Tang intends to tap into local resources in countries along the routes, build localized factories, and shape its development model that covers the entire TCM industrial chain. Tong Ren Tang has set its sights on developing itself into an international and professional TCM group that integrates herb planting, purchasing, R&D, production, sales, service, culture, and education.