In this year's government work report, Premier Li Keqiang particularly emphasized fostering rural industries with local features to create more channels for increasing rural income, and by doing so advance rural revitalization. "I am fully encouraged by the premier's words," said Yu Wulin, a deputy to the 14th National People's Congress who comes from Laomudeng Village in Yunnan Province.
The name "Laomudeng" means "a place people like to visit" in the Nu ethnic language. The village is located halfway up the Biluo Snow Mountain in Nujiang Prefecture, Yunnan Province, and since it is cloudy all year round, it is also commonly called a "village on the clouds" by tourists.
As a rural tourism practitioner and intangible cultural inheritor of the Nu ethnic group, Yu has led local villagers in recent years to embark on a new road of rural revitalization through well integrating local intangible cultural heritage and the development of tourism.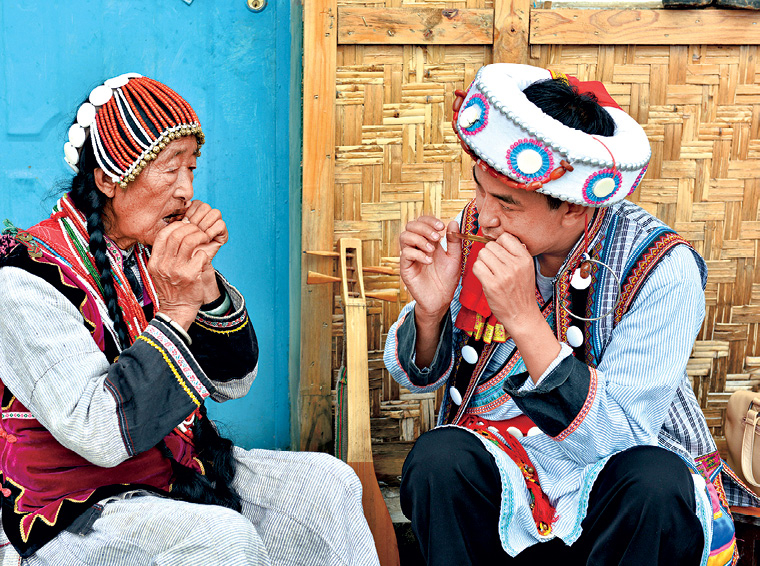 Yu Wulin (right) learning to play a traditional instrument from an old artist of the Nu. Luo Jinhe
Overcoming Poverty
The Nu is an ethnic group with a small population living in the border region of Yunnan. "With the strong help of the central government, we have been able to rise above poverty and enjoy prosperity, and live a life of peace and contentment," said Yu, as he told the story of how the villagers lived quite an isolated life in the past as a result of being ill-informed and poorly-connected with the outside world. Thanks to the national poverty alleviation policy, implemented by government departments at all levels, Yu and his fellow villagers have been able to plant tea trees, raise chickens and sheep, and build new houses, and also use unique local natural resources to develop rural tourism. By the end of 2020, more than 380 households in the village were lifted out of poverty.
Yu's family was the first in the village to take steps to develop tourism in 2003. After he became successful, Yu began teaching other villagers practical skills of operating agritainment and selling agricultural products. Now there are 33 farmhouses and inns of various types in the village, and local products such as alpine tea, wild mushrooms, and honey have also achieved stable sales. "Villagers now no longer have to go out to work. They can earn money at their doorstep, and at the same time take care of the elderly and children. I think this is the real way for everyone to make a living," said Yu.
To expand his accommodation business, Yu took the lead in building a new homestay a few years ago. "With rural tourism developing more, what make your business stand out from the competition are high-quality services and profound culture. We must cater to the market demands and actively seek change," Yu commented. His newly renovated homestay is equipped with the amenities of a modern life, "We make guests feel at home, providing them with an environment where they can not only enjoy the beautiful scenery and food, but also stay in comfortable accommodations," he noted.
According to Yu, in the beginning many villagers were concerned about developing tourism, but now local rural tours have become a brand, and many villagers have joined the homestay business. A dozen more of them are building new homestays or renovating their present houses in preparation to open their own business. During this year's Spring Festival, the number of tourists increased by leaps and bounds. "There was a traffic jam at the village entrance like what usually occurs in the city. The guest rooms were full every day, and the net income of my two inns reached almost RMB 100,000 within a week," Yu said. Laomudeng now is embracing the peak tourist season, and many inns there have been booked until the end of April.
Wang Bi, director of the Fugong County Bureau of Culture and Tourism, who has been actively promoting the village's tourism development, said that the local rural tour of sightseeing, tea plantations, local cuisine, and cultural performances has become a signature of Nujiang Grand Canyon's tourism. "If the endowment of cultural tourism resources is a godsend, then high-quality products and services are our real 'hard power.' Only by discovering the full splendor of and digging deep into the unique culture of the Nu people, can we meet the expectations and needs of tourists," said Wang.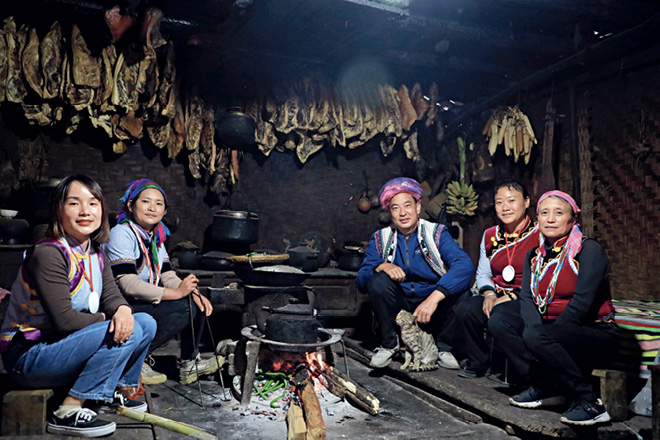 Before coming to Beijing to participate in the "two sessions," Yu Wulin (third from right) visits a villager's home to solicit suggestions regarding the development of rural tourism.
Perfect Integration
In order to deeply explore and inherit the traditional culture of the Nu people and make intangible cultural heritage a powerful engine for promoting rural tourism, Yu took the lead in integrating the Nu folk music, an intangible cultural heritage, with tourism.
"Because the Nu people have no written language, each of their songs is orally taught by senior artists. In order to save and retain much repertoire, I learned songs from them in my early years," Yu said. The performances he learned have not only made him an inheritor of the intangible cultural heritage, but also helped achieve the integration of culture and tourism.
"My fellow villagers and I have integrated traditional elements found in dance and folk songs into rural tourism, and set up a team of performers, which not only does a good job in inheriting and meeting tourists' expectations for cultural experience, but also increases the income of villagers," said Yu. "Many villagers were surprised that the folk songs which have been sung for several generations also come in handy." Villagers like Li Yulan and Zeng Guanxin have their own work to do during the daytime, and come to the inn at night to participate in the performance. Their monthly income as a result has increased to RMB 3,000.
In order to organize the inheritance of cultural heritage, Yu teaches children in the village to sing and dance every winter and summer vacation, and many children have studied the music from elementary school all the way up to high school.
According to Wang Bi, this model not only preserves intangible cultural heritage skills, but also boosts nighttime economy and enhances tourists' experience of folk culture. From the Spring Festival to the Lantern Festival in 2023, nearly 10,000 tourists visited the village and experienced the local intangible cultural heritage, a true integration of culture and tourism.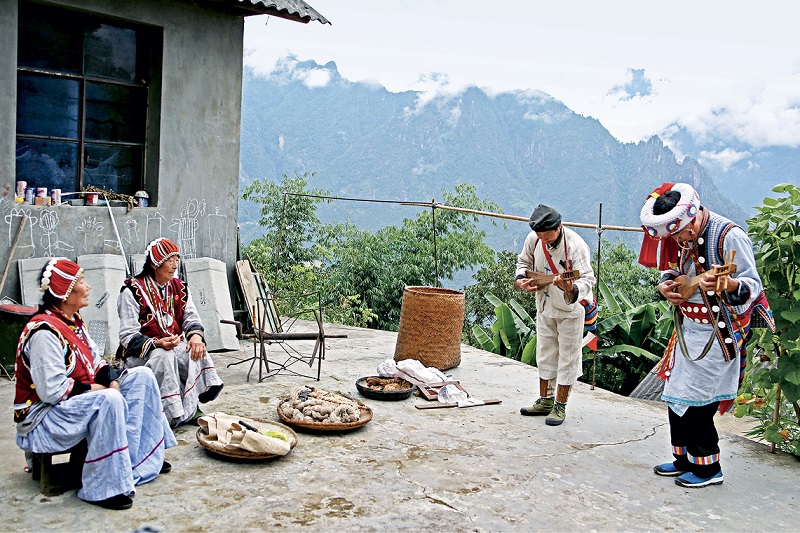 A dance performance by the Nu. Pu Yandong
A Dream for the Future
The Ministry of Culture and Tourism issued a notice on February 22, 2023 to further clarify the significance and requirements for the systematic protection of intangible cultural heritage and the promotion of high-quality tourism development.
This gives Yu and his fellow villagers impetus and confidence for future development. Yu's "big dream" for the future is to see a large square built that can hold ethnic song and dance exhibitions; a helipad from which tourists can take off in a helicopter to tour the Nujiang Grand Canyon; and a pedestrian street that helps tourists really experience local ethnic culture while inspiring them to take more cultural and creative products back home with them.
After studying this development model, economist Zhang Lianqi said that in the new development phase, in the vast countryside of China, there will be more new villages like Laomudeng and new farmers like Yu Wulin, and behind their respective development is the rising revenue curve of China's rural tourism economy. "This climbing curve will eventually become the means of ushering in prosperous development for the villagers and a thriving day for the Chinese countryside," Zhang said, stressing that in the in-depth integration and development of intangible cultural heritage and tourism, all localities should not only preserve the common human values, understandings, and emotions contained in intangible cultural heritage, but also tell the stories of China's excellent traditional culture, actively promote the integration of Chinese culture into life, and go global.
According to Yu, development is the best method for protecting and inheriting culture. "It is our hope that by strengthening the utilization of the traditional culture of the Nu ethnic group and embed such elements into the development of rural tourism, our intangible cultural heritage will be better preserved and promoted."