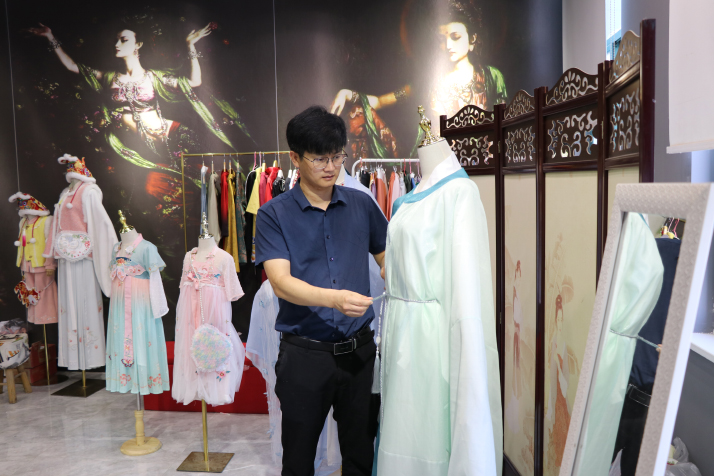 Hu Chunqing, President of the Caoxian Hanfu Association, checks the products on display at his hanfu company in Caoxian County of Heze, Shandong Province, on June 2, 2022 (COURTESY PHOTO)
First brought under the limelight by some local influencers via short videos in 2021, Caoxian, a once little-known inland county in the eastern province of Shandong has since risen to fame, with some Chinese netizens even jocularly referring to it as "the center of the universe."
In some ways, it deserves the fame. One of the poorest counties in Shandong a decade ago, Caoxian has ranked among the province's most prosperous regions in recent years. Booming e-commerce and industries relating to hanfu, the traditional dress of the Han Chinese, drove the county to become a nationwide hanfu production base.
Small shops line both sides of the streets in Caoxian, offering services including costume making, cloth production and pattern printing. During peak production seasons, the roads are almost empty as so many people are busy in their workshops. In this county, not many people wear hanfu in daily life, but they are very keen on producing it. Caoxian has been China's largest manufacturing site of performance costumes since 2009 and around 2013, many people dove head-first into e-commerce.
In recent years, hanfu has been increasingly embraced by Chinese young people. According to market consultancy iiMedia Research, China's hanfu market could be worth over 19 billion yuan ($2.7 billion) by 2025. Many performance costume producers in Caoxian have shifted to focus on hanfu, making the industry an economic pillar of the county. According to the county's government, Caoxian is now home to over 2,000 related companies including 600 manufacturing companies, employing nearly 200,000 people in total.
Hanfu from Caoxian is more moderately priced than the traditional garments offered by famous brands in megacities like Guangzhou in Guangdong Province and Hangzhou in Zhejiang Province. The county, with a complete industrial chain, produces around one third of hanfu sold through online stores across China. Total annual sales of its hanfu industries reached 4 billion yuan ($581 million) in 2021.
"With cloth weaving, sewing, embroidery and pattern printing businesses all in one place, we can complete the production of a piece of clothing within a radius of 5 km. As market demand expands, what we are doing is producing more high-quality products," Hu Chunqing, President of the Caoxian Hanfu Association, told Beijing Review.
Riding the tide
In his 30s, Hu is a native of Caoxian. After receiving his Ph.D. in metal research, business opportunities lured him back to his hometown. Together with his wife Meng Xiaoxia, he launched a performance costume company in the county in 2017.
"Due to the COVID-19 pandemic, our performance costume business was greatly affected in 2020. With the help of the local government, we received bank loans we urgently needed," Hu recalled.
In 2020, the couple shifted to the hanfu business. Meng, who majored in art at college, has been designing the garments, while Hu focuses on sales.
Before 2015, many people in Caoxian left their hometowns to work in other regions for a higher income. In recent years, owing to the rising opportunities in the hanfu and e-commerce sectors, the number of people returning to the county to start their own businesses, like Hu, has reached nearly 70,000, including around 12,000 college graduates.
After settling down in the county's Daji Town, the couple set up shop.
"We have referred to records from cultural heritage sites and museums to inspire our designs, produce hanfu using modern techniques and continue to innovate," Hu said.
The couple has designed over 40 types of hanfu, and hold 12 patents on original art creation. Annual sales of their company have reached 10 million yuan ($1.45 million). Their business has offered jobs to over 400 locals and boosted related industries such as pattern printing. The company has also provided training on e-commerce and live-streaming for local vocational schools. Meng also teaches villagers to design the traditional dress.
As delivery services and offline activities have largely resumed this year, local hanfu companies, too, are recovering. Hu expects that these industries in the county will rise to new heights this year.
Almost as bold as Hu and Meng, the founder of another Caoxian-based hanfu company known by his pseudonym Fei Yu, is a Gen-Z entrepreneur who enjoys wearing the traditional clothes in daily life. After graduation, he returned to his home Caoxian.
He started a hanfu company in 2018. When designing the attire he sells, Fei takes inspiration from the Monkey King, an adventurous figure in Journey to the West, one of the Four Great Classical Novels of Chinese literature.
The products in his store are different from those of many others. While others' are usually brightly colored and elegantly designed, Fei's designs mostly feature dark colors and avant-garde styles, catering to the preference many young people now have for gender-neutral clothing.
"We are planning to expand our businesses to more cities, including Hangzhou, and then to other countries," Fei said.
A better life
In 2021, Caoxian's total GDP surpassed 50 billion yuan ($7.2 billion), up from 12 billion yuan ($1.7 billion) a decade ago. Its prosperity began with the boom of e-commerce.
According to the county-level government, e-commerce began to flourish in the county around 2017. Caoxian had over 6,000 e-commerce companies and more than 170 Taobao villages as of the end of 2022. In such villages, more than 10 percent of total households have online stores with annual e-commerce sales exceeding 10 million yuan. Over 18,000 stores on Taobao, an online marketplace of tech titan Alibaba, are located in Caoxian, making it the second largest Taobao village cluster in China, following Yiwu in Zhejiang.
E-commerce has helped more than 20,000 locals shake off absolute poverty. After hanfu businesses began to dominate the area, many younger people started their own businesses, which in turn offered older villagers the chance to do some simple work there, like cutting threads, for a living.
Wang Yunying, in his 30s, manages a hanfu company in Wangshanzhuang Village in Caoxian's Ancailou Township. Wang told Beijing Review that people in the village were among the first to sell the traditional garments online in Caoxian. In the village with 523 households, 320 households work in e-commerce.
"It is convenient to do e-commerce business here. We can apply for business licenses and get approval for bank loans in one day, and enjoy lower interest rates than in other industries. The delivery sector is also efficient," Wang said.
Wang has been engaged in the hanfu business for five years and now owns hanfu and performance costume companies with about 15 local employees. "The combined annual sales of my companies are around 10 million yuan, but this is only a medium-level figure in my village," he said.
According to Wang, Ancailou Township is China's largest base of hanfu live-streaming. Over the past three years, they continued to sell the clothing online despite the impact of COVID-19.
Through e-commerce platforms, hanfu from Caoxian has swept through the Chinese market and is also making inroads overseas. According to Alibaba, during the Double 11 (November 11) online shopping festival in 2021, the overseas sales of local-made hanfu doubled that of the festival in the previous year.
Trendsetting
In previous years, for some hanfu fans, Caoxian was synonymous with low-quality knock-offs. Low prices of less than 100 yuan ($14.5), poor quality and patterns not in line with ancient ones were once what Caoxian was known for. In recent years, producers in Caoxian have been working to enhance their reputation by improving original design and quality.
Xu Zhi, a student based in Fujian Province, recently bought a piece of hanfu from Caoxian. "Each time you place an order, it feels like you're placing a bet, because of all the negative comments on social media; but this one turned out better than expected," Xu told Beijing Review.
Jia Lin, president of a hanfu association in Guangdong, told Beijing Review that with industrial upgrading and the growing demand for higher-quality products, low prices are no longer an advantage. "Hanfu businesses in Caoxian need to improve their quality and design to gain recognition from the fandom and retain their market share," he said.
(Print Edition Title: Living Up to the Reputation)
(Reporting from Caoxian County, Shandong Province)
Copyedited by G.P. Wilson
Comments to lixiaoyang@cicgamericas.com