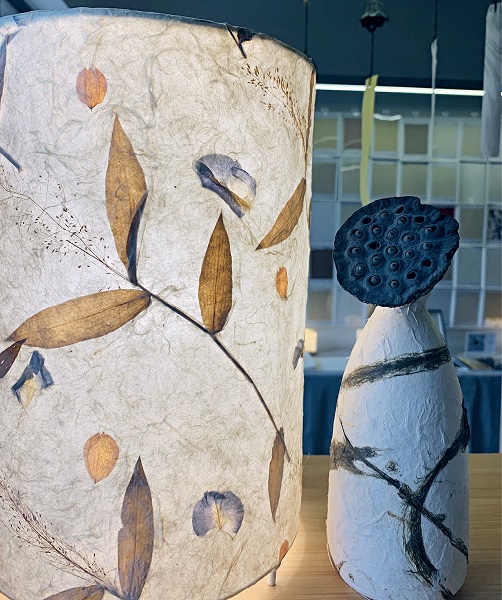 A lantern and a vase decorated with handmade paper are exhibited in the studio "I'm Mr. Chu."
In the rush of industrialization, many traditional skills have slowly faded out of people's sight. In Beijing's Dongcheng District, there is a small studio called "I'm Mr. Chu," where visitors can appreciate more than 100 types of traditional handmade paper, showcasing the charm of the ancient skill and various cultures in different regions in China.
Cui Zhenshuo and Yang Bo, founders of the studio, have collected more than 500 types of Chinese handmade paper in existence, and dedicated their time and energy to introducing handmade paper to more people, and preserving and developing this traditional craft in the modern era.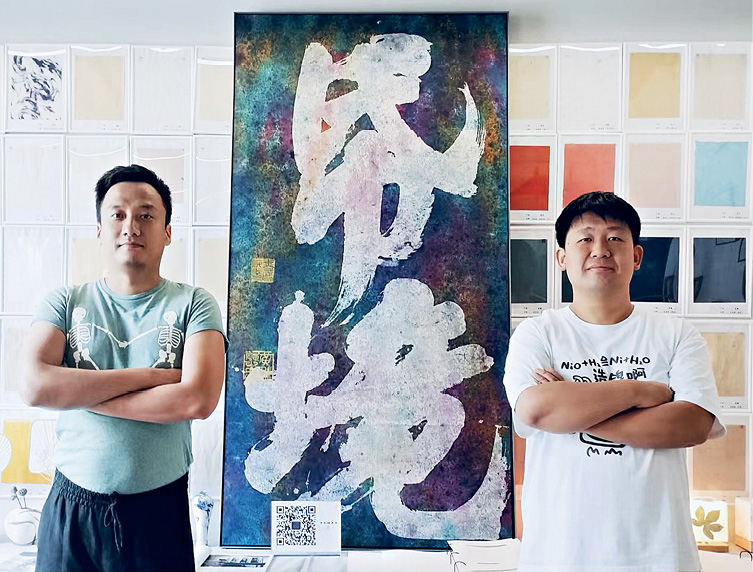 Yang Bo (left) and Cui Zhenshuo (right) at their studio.
Connecting with Handmade Paper
Cui and Yang came in contact with handmade paper quite by accident. In 2018, the two entered a state-owned papermaking enterprise. Cui was responsible for logistics, while Yang helped organize exhibitions and other events.
At that time, a self-proclaimed master of papermaking borrowed the warehouse of the enterprise to make a type of paper that was three meters wide and 100 meters long. Cui and Yang were sent by their boss to oversee the site. The traditional way of making paper aroused their interest in this field. However, as they got more acquainted with the so-called "master" over time, they gradually discovered that he actually did not know how to make paper by hand. It turned out that he hired senior workers who could make paper in a traditional way, while hyping himself up as a master. In fact, the craftsmen whom he hired were the true papermaking masters.
In the end, the project was called off, but the real skills of papermaking left a deep impression on the two men, triggering their deep fascination in handmade paper. "After learning about handmade paper, we realized that there were quite a lot of different techniques involved in making it, and we wanted to learn more about it from the real craftsmen," said Cui.
One of the craftsmen Cui and Yang met while overseeing the project was Chu Chengyan. He left them the address of his workshop. After some time, they set off to visit Chu's workshop in the spring of 2019. A long journey traveling by high-speed rail and then over bumpy mountain roads brought them to their destination, a village in Maojianshan Township, Anqing City in eastern China's Anhui Province. This was the beginning of their journey of exploring traditional handmade paper.
Chu's workshop was a 15 minute-drive away from the village by car, near a small water pool. There, Cui and Yang saw the handmade paper Chu's team made using the bark of mulberry, oriental paperbush, paper mulberry, and blue sandalwood as raw materials. They also learned about how a family mode production process operates with a clear division of labor and close collaboration.
Before leaving the village, Chu introduced a member of the Library of Ancient Books of the National Library of China to Cui and Yang, and also gave them some paper for future promotion. After returning to Beijing, the two men contacted the librarian and obtained several addresses for other handmade paper workshops. After that, they traveled to 17 regions across China including Xinjiang, Tibet, Yunnan, Guizhou, Hainan, Anhui, and Zhejiang, to find out more secrets of handmade paper.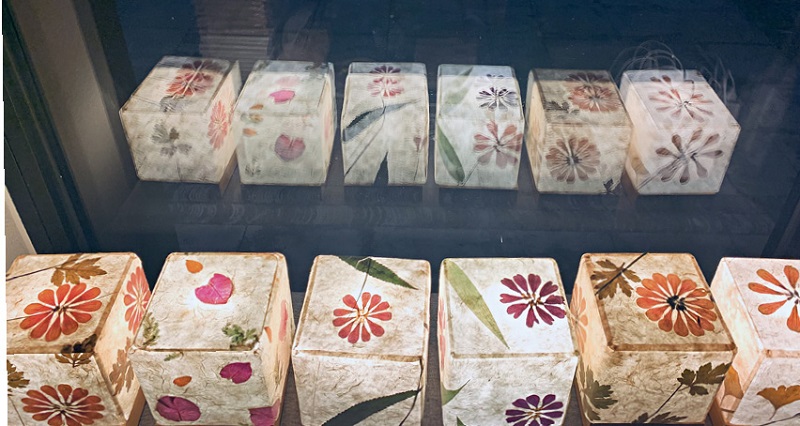 A batch of lanterns made with handmade paper in the studio.
As one of ancient China's four great inventions, papermaking technology was originally invented by Cai Lun in the Eastern Han Dynasty (25-220). Later it spread all over the world, greatly promoting the development of human society. This ancient Oriental technique uses natural plants such as bark, straw, and cotton as raw materials, and the process includes filing, pounding, dragging, and drying. Due to unique local natural conditions and differing regional cultures, the raw materials and production techniques vary in different regions.
Yang introduced two widely used processes of papermaking to China Today. One method involves stiring the pulp with a suspending agent and water. A horizontal screen is placed in the pulp and then lifted out of it, catching a thin dispersed layer of intertwined fibers. After letting it dry under the sun, a flat sheet is finally formulated. The paper fibers made in this way are evenly distributed. This kind of paper was often used by literati in ancient times to create calligraphy, paintings, and fans.
Another method used by paper craftsmen is to brush the pulp over the surface of a flat screen. When using this method, the fiber is unevenly distributed and relatively thick, and the process takes longer to complete than the first method. The kind of paper made with this method is used to make such things as insoles and bandages in Xinjiang. In Tibet, people use it for writing and preserving scriptures. In Yunnan Province, it is also used to package tea and traditional Chinese medicine. Compared to the disordered arrangement and hard texture of fibers in mechanized papermaking, the orderly arrangement and soft texture of the fibers in handmade paper are favored by artists such as calligraphers and painters.
Each step of making handmade paper requires unique skills and tools. Generations of craftsmen have passed down the ancient skill with strict standards and sophisticated techniques. "Being 'alive' is the biggest characteristic of handmade paper. Handmade paper is different from mass-produced paper with modern machines, which is cold and bland. Produced in a workshop, the thickness and size of the paper can be customized and adjustments can be made according to various needs. The recipe can also be changed to include various raw materials, which is very personalized," Yang told China Today.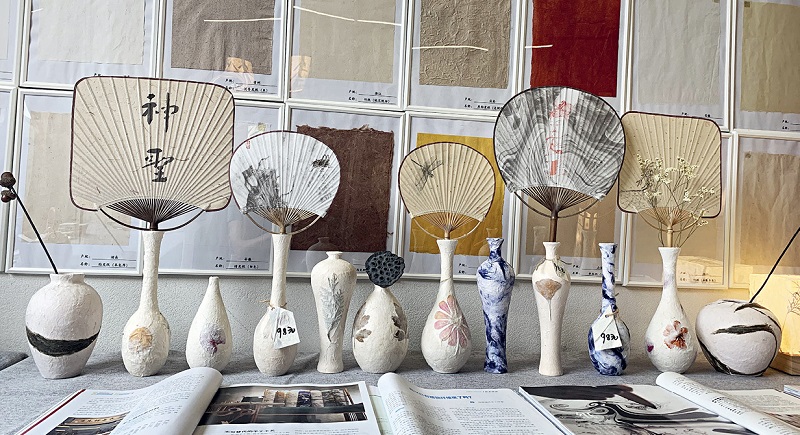 Fans and vases made from handmade paper are on display in the studio. Photos courtesy of Yang Bo
The Creation of "I am Mr. Chu"
On their journey, Cui and Yang discovered that due to the remote location of most paper workshops and traditional lifestyles of the paper-making craftsmen, their products are unable to directly reach the market. Therefore, Cui and Yang came up with the idea of establishing their own studio that could serve as a bridge to connect rural workshops with buyers and be a platform to promote traditional Chinese handmade paper.
Chu is a kind of deciduous tree. Its bark is a common raw material that was used in papermaking in ancient times. Han Yu, a famous writer of prose during the Tang Dynasty (618-907) called paper Mr. Chu in his work Biography of Mao Ying. Since then, it has been used as a nickname for paper by Chinese literati. In 2019, Cui and Yang founded their own studio and named it "I am Mr. Chu."
In addition to selling handmade paper and related cultural products, Cui and Yang have also made a series of Chinese handmade paper samples. When they worked at the enterprise, Du Weisheng, an expert in the restoration of ancient books at the National Library of China, told them that, in the 1990s, a batch of Chinese paper relics collected in the British Museum needed to be repaired. The British team contacted China in search of the needed handmade paper. But the Chinese team could not find the related paper at that time. Eventually, Du used paper from Japan to repair them. They also learned that there was a complete paper tracing system in Japan, which allowed people to find information on various paper styles, techniques, and inheritors. However, there was no such system in China up to that point, so the expert could not find the needed paper in China. "This was shocking to us. Through our exploration, we realized that there was no lack of paper, but people did not know where to find it. We searched and discovered more and more types of paper through various channels," said Cui.
The two began to launch the series of handmade paper samples since 2021. Each volume consists of 30 types of handmade paper, each of which is sourced from its place of origin. At present, two volumes of the series have been produced, and they plan to produce 10 volumes. "We hope that this series can provide information for those who need handmade paper. Through this reading style design, we also expect that more people can learn about handmade paper in China," said Cui.
Besides, they also hold offline experience programs, lecture salons, and free classes at primary schools. In 2019 alone, they held 40 such events. Through making cultural and creative products of handmade paper, such as decorative lanterns, bookmarks, refrigerator decorations, and ink flow paper, they want more children and those who love traditional Chinese culture to be able to feel the charm of the ancient invention and the Chinese culture beyond that.
"We bond with handmade paper not because we love paper, but because it has a tremendous charm that attracts us to dig deep to understand it. The more you explore it, the more you feel that there is so much wisdom contained in it that needs to be understood and passed on. There are also many stories connected with this traditional craft that always intrigue you," Cui told China Today.