The leading-edge technologies showcased at the fifth China International Import Expo gave visitors a glimpse of the very possible future of human life.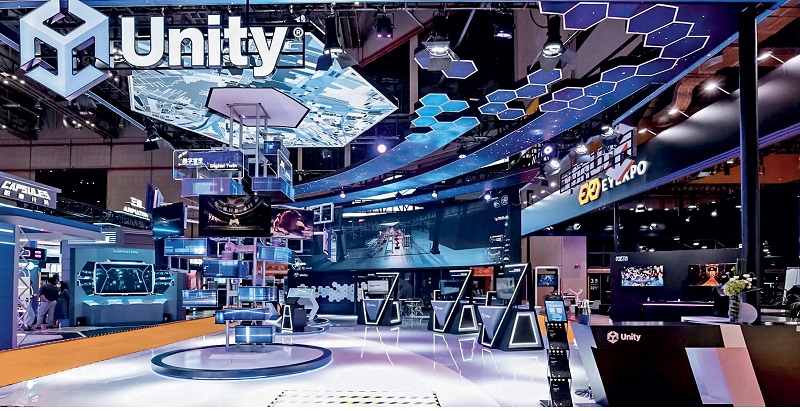 Unity's booth at the fifth China International Import Expo in Shanghai.
Held annually, the China International Import Expo (CIIE) serves as an important platform for exhibitors from across the world to demonstrate the most cutting-edge technological products. This year, the fifth edition of the CIIE, held from November 5 to 10 in Shanghai, once again saw a wide range of dazzling state-of-the-art hi-tech materials, equipment, and devices that enthralled visitors.
Freudenberg showcasing its battery and fuel cell system at the fifth China International Import Expo in Shanghai.
Digital Universe
In the equipment hall, visitors could try out wearable virtual reality devices to experience the digital world in the flesh.
In the section of Meta, the parent company of Facebook, visitors could get a "taste" of the flagship Meta VR headset. After putting on the headset, a virtual conference room comes into view, along with a group of options ranging from avatars, backgrounds and the arrangement of the room to the location of the user's seat. A highlight of this device is that it is capable of recognizing hand gestures. To select the options, wearers can simply place the index finger and thumb on the options in front of them, and tap these two fingers together, which is equivalent to clicking a computer mouse. In addition, people attending the conference were able to interact with each other, such as high-fiving and shaking hands. "Meta is participating in the CIIE for the first time under the current name, because we want to take this opportunity to make people familiar with Meta," said the staff at Meta's booth, "At the same time, Meta wants to promote the metauniverse concept and build a big metauniverse system with more partners."
Meanwhile, the smart city scenes that often appear in science fiction movies became a reality for visitors attending the expo. At the booth of Unity, visitors personally experienced simulated smart applications. Unity, the world's leading real-time 3D creation provider, recently established a joint venture in China, called Unity China, which debuted at this year's event. On the smart transportation simulation platform in Unity's exhibition area, visitors watched virtual scenes of city roads, subways, and airports on the screen. 3D technology replicates data in three dimensions to present various data information in real time, such as the traffic volume of people and vehicles, and where accidents occur; people viewed various information of different locations by clicking or zooming in or out of a specific spot. Those 3D scenes can greatly improve operation and maintenance capabilities. Zhang Junbo, president and CEO of Unity China, said, "Unity can use real-time 3D technology to improve efficiency and reduce operation and production costs by building digital twins to create smart solutions for cities, transportation, production lines, retail, and many other services."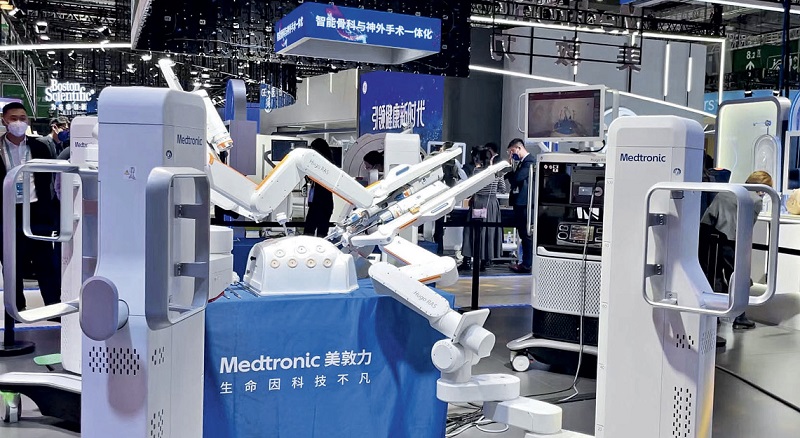 Medtronic's Hugo™ RAS system making its Asia debut at the fifth China International Import Expo in Shanghai.
Green Living
What can a small recycled plastic water bottle be used for? In the expo's Lifestyles Hall, UNIQLO brought multi-colored polar fleece jackets, which are made of 100 percent recycled fabric. This type of jacket is currently sold on the market, and visitors were able to watch a demonstration of the recycling process, where ordinary plastic drinking water bottles were transformed into warm, comfortable, and beautiful jackets. Although the coat is made of plastic, its fabric is very soft. UNIQLO China PR Manager Liu Yimin told reporters, "Our vision is to create a green supply chain through a modern production measure, as we want to take into account fashion and functionality, while also contribute to sustainable development."
In the transport industry, electric vehicles are becoming the first choice for green mobility, and now not only the fuel that powers the vehicles can be green and sustainable, but also the materials used in the manufacturing of vehicles can be low-carbon and environmentally friendly. In the expo's equipment hall, Covestro, one of the world's leading producers of high-quality polymer materials, showcased the electric vehicle HiPhi Z, the latest collaboration with top Chinese electric vehicle brand Human Horizons. HiPhi Z features a number of material solutions by Covestro. Covestro and HiPhi are now deepening their partnership to create next-generation solutions. HiPhi will employ an array of Covestro products, following an agreement signed at the fifth CIIE. It is widely believed that high-quality polymer materials and products will help the automotive industry to develop sustainably and change future mobility.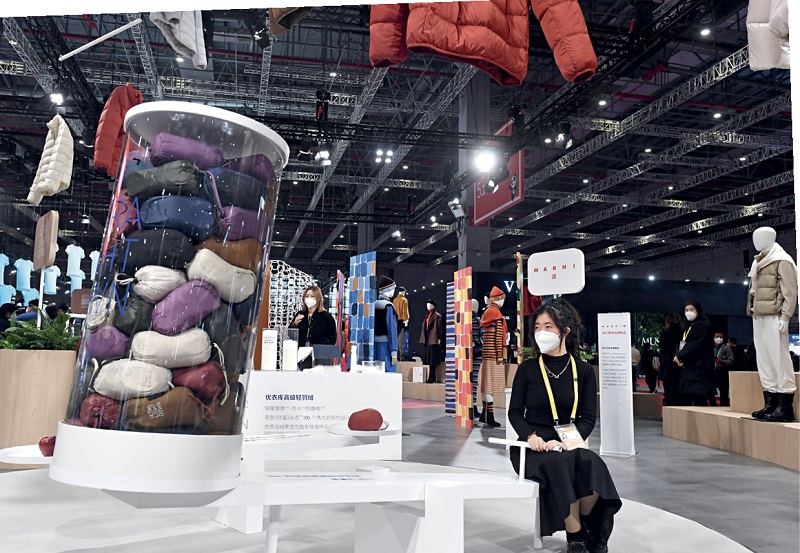 UNIQLO is displaying its latest ultra-light jackets at the fifth China International Import Expo in Shanghai.
Smart Instruments
The Medtronic Hugo RAS (robot-assisted surgery) System, which made its debut in China at this year's expo, attracted a lot of attention. The Hugo RAS System is able to adapt to and resolve modern challenges and is future-proofed. It is flexible with modular and mobile systems, making it compatible with existing O.R. environments. It hence makes robot-assisted technology accessible to more hospitals. In addition, the Hugo RAS System's unique console ensures smooth cooperation between the attending surgeon and the surgical team in real time, making the surgical process more efficient.
Another debut in the Asia-Pacific region was the Vanta SCS Neurostimulator. This is an implantable spinal cord stimulator, which can help to ease chronic pain such as that caused by diabetics and thus improve patients' quality of life. Its battery life can last up to 11 years, about two times longer than other similar devices. In addition, with the mobile application and web portal facility, patients can adjust parameters of the device at home, while doctors can also control it remotely. These products reflect the global medical technology trends of intelligence, minimal invasiveness, and human-centered philosophy.
Apart from medical companies, cosmetics giant L'Oreal Group also brought some tech-based gadgets. Faced with a wide variety of perfumes, many people have difficulty in choosing. L'Oréal launched YSL SCENT-SATION, a Fragrance Finder, partnered with the leading EEG provider EMOTIV. The device can recommend the best matching perfume products to consumers, using a multi-sensor headset that utilizes electroencephalogram (EEG) to track and analyze the emotional response of consumers when smelling different scents, and produce a recommendation through a cognitive and artificial intelligence algorithm.
The CIIE brings together the most cutting-edge hi-tech products from many of the world's leading companies, allowing visitors to experience the latest technological advances in various fields and to immerse themselves in the most innovative technological concepts. These advances constantly update the public's knowledge of technology, and provide inspiration for a better life in the future.