China's rapid advances in technology will inevitably foil the United States-led Western technology war against China. Huawei unveiled its stunning new high tech Mate60 cell phone and timed the announcement with the visit of U.S. Commerce Secretary Gina Raimondo. Sending a message?
The Donald Trump administration launched an intensive trade war and a tech war against China. President Joe Biden continued Trump's policies and ratcheted them up to a new level. Rather than engage in mutually beneficial trade relations and scientific and technological cooperation, Washington openly admits it seeks to contain and suppress China's economic growth and development.
Playing this zero-sum game is a dead end for the United States. China is very well equipped in the pursuit of technological innovation. Fundamental to China's tech progress is the human factor. For example, it is no secret that China every year produces far more STEM (Science-Technology-Engineering-Math) students than does the U.S.
Tech war is economic war
Export controls and restrictions on technology development are nothing new in international commerce. During its colonial period, the North American colonies faced an array of trade restrictions and technology restrictions imposed by the British Empire. These were designed to prevent the colonies from becoming rivals to British manufactures. They also were a factor leading to the American Revolution and War of Independence.
In World War I, the United Kingdom enacted a "Trading with the Enemy Act" which created an export control regime deigned to deny Germany war related imports. After the U.S. entered the war, Congress passed its own Trading with the Enemy Act modeled on the British legislation. These wartime legislative measures were applied again during World War II.
After World War II, export controls on a multilateral basis were created by the West to restrict various exports to the Soviet Union and Communist bloc. The Coordinating Committee for Multilateral Export Controls (COCOM) was created at the beginning of the Cold War. The U.S. thus coordinates, in turn, with NATO allies, Australia, and Japan to restrict the export of sensitive technologies to designated countries.
So the Western use of export controls for the purposes of economic warfare is nothing new. But the revival of this mechanism intensively directed specifically against China is a key feature of the U.S.-led New Cold War. The technological encirclement and blockade of China, however, is not sustainable.
Washington miscalculates
Washington calculates that it could restrain China's technology advancement and thereby stay ahead of the China. However, it appears that this calculation was mistaken.
Logically, because China's population is four times larger than that of the United States, there would at some point be a larger pool of STEM trained specialists in China than in the U.S. This is so because of the continuous upgrading of higher education in China and the massive commitment to research and development.
Several years ago, Georgetown University in Washington, D.C. released a study on the STEM issue. The university's Center for Security and Emerging Technology reported that in 2000 the U.S. issued twice as many doctorates in STEM field as did China. But in 2007, China began outpacing U.S. universities. The report assessed that by 2025 China would produce twice as many STEM Ph.D. graduates.
Because the U.S. cannot compete with its own population base, Washington seeks to import specialists in STEM fields from India as one stop gap measure.
But Chinese innovation is very dynamic and advanced with great future potential. Therefore, it should have been no surprise that China would develop the necessary technology for state-of-the-art semiconductors. This national objective combines the growing pool of high-tech specialists with a large pool of skilled labor together with billions of yuan for investment.
It was not difficult to foresee that China, through innovation and targeted investment, would be able over time to produce the machines and industrial processes to fabricate advanced state-of-the-art semiconductors. This applies to Chinese semiconductor design capability as well.
Why did the Washington miscalculate?
An inter-agency task force on the Chinese semiconductor issue would have concluded that the attempt to block and limit Chinese advances is not sustainable and thus would fail.
Some critics of the administration point to the lack of competence in President Biden's foreign policy team. They say that Secretary of State Tony Blinken and National Security Advisor Jake Sullivan are just not up to their jobs.
Be that as it may, it is possible that racial prejudice affects Washington's assessments. There was a time after World War II when it was common to look down on "cheap" Japanese goods. But Japanese success in electronics and auto manufacture by the 1980s showed another story.
Anyone from the U.S., a tourist or an official who visits China's National Museum in Beijing will see exhibits displaying many centuries of Chinese skill and innovation not only in art, such as ceramics and bronze, but also in inventions and technology. China's history of science and technology goes back millennia.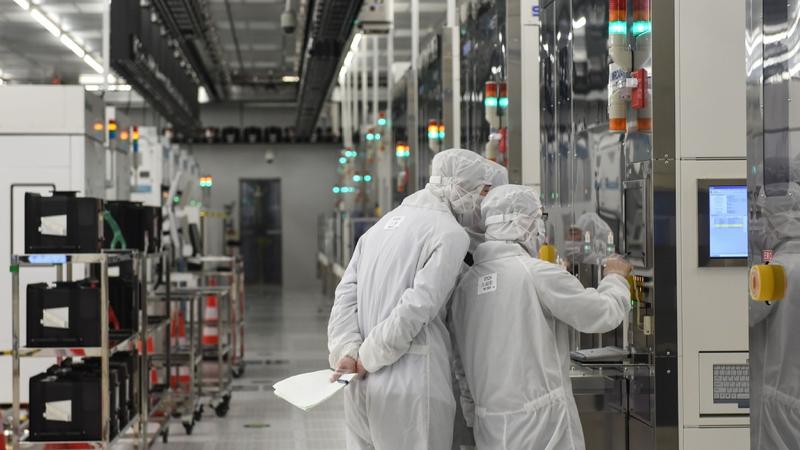 What does the Huawei Mate60 portend?
Clearly, the advanced smartphone is a perception changer at a minimum. No doubt, it will be seen as a game changer as well. Other high-tech breakthroughs are in the news.
It is now reported that the Chinese firm SMIC has a 7 nanometer (nm) N+2 process semiconductor project that is produced entirely in China with no access to Western equipment and technologies. All of the core components in China's EUV lithography machines are said to be ready and that the prototype is being tested.
On the day that the new Mate60 phone was announced it was sold out in one minute online. Huawei boosted production to 15-17 million units and beginning September 10 Chinese can purchase the smartphone in Huawei's offline stores. The phone has a satellite capability.
As Chinese firms develop independent semiconductor design and fabrication capacity, U.S. firms inevitably will lose out on this vast export market. It seems logical that the more intense the anti-China trade and tech wars become the more Chinese consumers will turn to homegrown products other than those from the U.S.
The U.S. lifted a stone only to hit its own feet.
The U.S. politicians must come to their senses and adopt a China policy of mutual respect, peaceful coexistence, cooperation, and mutual benefit. Washington's belligerent and destabilizing foreign policy disrupts the international community, increases tensions, and can lead to a war which will harm the U.S. side in the end.
The article reflects the author's opinions, and not necessarily the views of China Focus.