"Innovation-driven development" is now a key concept in China. In addition to mastering certain strategically important technologies, it refers also to basing China's overall social and economic development on continuous innovation and sustained technological progress. The strategy was first proposed at the 18th National Congress of the Communist Party of China (CPC) in late 2012 with the related guidline issued in 2016.
In view of the many Chinese industries then mired in the lower midfield of the global value chain, the strategy proposed three steps to address the situation: making breakthroughs in core technologies dominated by others; increasing the spending on research and development, so as to make China among the leading innovation-driven countries by 2030; and shaping China into a major global power in science and technology, defense technology, and competitive industries by 2050.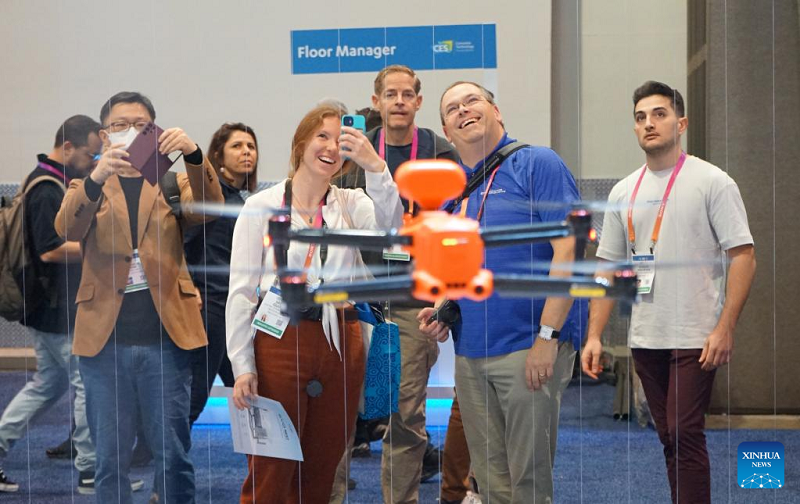 People look at a drone in the exhibition area of Chinese company Autel Robotics during the 2023 Consumer Electronics Show (CES) in Las Vegas, the United States, Jan. 6, 2023. Chinese consumer electronics brands launched a diverse range of innovation products at the 2023 CES. (Photo by Zeng Hui/Xinhua)
Incredible Innovation Capacity
This innovation strategy was further underscored and elucidated in Chinese President Xi Jinping's keynote speech in May 2018 at the joint sessin of the 19th Meeting of the Members of the Chinese Academy of Sciences and the 14th Meeting of the Members of the Chinese Acaemy of Engineering, when he described innovation as "the primary force driving development," calling for concerted efforts to improve the ability to innovate independently.
Meanwhile, some external events also underlined the urgency of this innovation strategy, for example, the U.S. Department of Commerce's imposition in 2019 of sanctions on China's telecommunications sector. In addition to sanctioning Chinese high-tech companies, the U.S. has also sought to exclude China entirely from the supply chains of semiconductors and similar products.
However, the U.S. government's actions in this regard are highly likely to cause confusion and conflict. Even the New York Times acknowledged recently that China as a whole backs the self-sufficiency strategy in regard to this vitally important technology. China's impressive innovation capacity, the Times continued, could ultimately secure success in other sanctioned areas, such as the space and defense industry.
Upgrading Industrial Structures Through the Digital Economy
Premier Li Keqiang reiterated in his government work report delivered at the opening meeting of the first session of the 14th National People's Congress (NPC) that, over the past five years, China's government has implemented a series of measures required by its innovation-driven development strategy. This includes upgrading industrial structures and the introduction of important scientific and technological innovation projects. The ultimate aim is to motivate industrial companies' penetration of the mid- to high-end field, especially that of production. Chinese products may thus achieve higher quality and enhance the country's competitiveness.
One such area is that of artificial intelligence (AI). Li Kaifu, a Chinese AI specialist, is quoted as saying in a 2019 newspaper report, "Artificial intelligence will bring about changes as fundamental as those enabled by electrification." Current AI applications range from speech and image recognition, facial recognition, machine translation, and other "perception technologies," to intelligent manufacturing, innovative drug discovery, robots, and driverless cars.
A Forbes article published in 2020 declared that China is well on its way to becoming the first global artificial intelligence superpower, due to possessing "the most ambitious AI strategy of all nation" and to providing "the most resources worldwide for its implementation."
The rapid expansion of China's digital economy has also made this possible. The share of digital economy in China's GDP has now risen to around 40 percent. And as of the end of May 2022, China had about 1.7 million 5G base stations, so extending the use of big data, cloud computing, and artificial intelligence applications to such areas as medicine, transportation, education, and agriculture.
Chinese People's Political Consultative Conference (CPPCC), the country's political advisory body, which coordinates proposals to do with improving the economy, announced at a press conference before the first session of its 14th National Committee that the country would fortify the development foundations of its digital economy and promote its integration into productive industries.
Clean Energy for a Cleaner Environment
Improving the environment is another key field for China's innovation. The 2023 government work report pointed out that the average concentration of fine particulate matter (PM2.5) dropped by 27.5 percent and the number of days with heavy air pollution fell by over 50 percent in cities at and above the prefecture level. The conversion to more modern energy systems and technologically innovative types of power plants plays an undenaiable role in this regard. China's development of a domestic nuclear industry, therefore, is an ambitious but promising long-term project.
Nuclear science, in addition to safe power generation, opens up a wealth of technologtical and sociological applications, for example, in the fields of medicine and food processing. The thousands of new companies in nuclear industry supply chains also generate significant economic benefits which add impetus to China's emergence as a high-end country.
China's nuclear energy production rose from 70 billion kilowatt hours in 2009 to over 250 billion in 2019. Over the same period the share of nuclear energy in the national energy mix rose from 1.9 percent to about 5 percent. The country's 55 nuclear power units currently in operation, meanwhile, are expected to increase. In January 2021, China's first nuclear unit with Hualong One reactor in eastern China's Fujian Province officially went into operation. The reactor is based on technology independently developed by China's engineers and scientists.
China also currently operates the Experimental Advanced Superconductor Tokamak (EAST) the world's most successful fusion reactor. Researchers at the Institute of Plasma Physics of the Chinese Academy of Sciences (ASIPP) announced at the end of December 2021 their containment of 70 million degree Celsius hot plasma for more than 17 minutes. The raw materials needed to keep this "artificial sun" running, moreover, are virtually unlimited either on Earth or in the universe. Power generation through nuclear fusion is consequently envisioned as the ultimate solution to fossil fuel-associated limitations.
Integrated Regional Development Fostering Innovation
Advancing technological progress and innovation on a broad scale often requires concentrating potential success factors in regional innovation centers. The coordinated development of Beijing-Tianjin-Hebei region, the Yangtze River Economic Belt, and the Guangdong-Hong Kong-Macao Greater Bay Area (GBA) hence plays a vital role in China's national innovation strategy. The GBA entails the merging of nine cities in Guangdong and two special administrative regions – encompassing a total population of 70 million – into a huge metropolitan area that attracts key factors which can facilitate technological and innovative leaps.
The GBA leverages the various metropolitan areas' strengths, such as technology and innovation, finance, shipping and trade, advanced manufacturing, and hospitality to create a tight-knit supply chain of ideas, resources, and talent within the region. For example, the Greater Bay Area, bearing in mind the capabilities of its cities in Guangdong as regards cutting-edge innovations and technologies when combined with Hong Kong's strengths as an international capital market and financial center, is expected to open up new perspectives for companies — in research and development as well as in serving as a talent pool and technology ecosystem.
By 2035 Shenzhen is expected to become a globally influential metropolis of innovation, entrepreneurship and creativity — ultimately a model city and exemplar of China's socialist modernization. Shenzhen has been prioritizing hi-tech industries, including smart robots and devices over the past decade, and has built 20 industrial parks specializing in innovative production.
Proactive Participation in International Technological Cooperation
China's goal of achieving technological independence in as many areas as possible does not signify any intent to seal itself off from the world beyond. On the contrary, through intergovernmental cooperation platforms China maintains close relations with other innovation hubs around the world.
Public sources show that China has so far established scientific-technological cooperation relations with more than 160 countries and regions, and joined more than 200 international organizations and multilateral mechanisms. Many experts conclude that China's independent innovation will likely enlarge the global development pie still further.
China's innovation-driven development strategy has taken it on the right path. It is now only a matter of time before the country masters and improves those technologies that the U.S. and other Western countries seek to keep from China and, implicitly, all developing countries. This achievement will benefit all areas of global development.
_____________
STEPHAN OSSENKOPP is a senior researcher with the German think tank Schiller Institute and senior copy editor with the China Institute of International Studies.