Zhang Enze, a graduating student from the Wuhan-based China University of Geosciences (CUG), experienced great relief when he secured three job offers in early March thanks to an online job fair.
Workers at the Tianma E-commerce Industrial Park, Haizhou District, Lianyungang City, Jiangsu Province, are dealing with customers' orders by collecting the requested items and then preparing them for delivery on May 23, 2020.
"I didn't expect to get three offers at one fair as we graduating students now face huge pressure in job hunting due to the COVID-19 epidemic," said Zhang, who majors in applied chemistry.
Zhang was lucky among 8.74 million Chinese college graduates joining the workforce this summer. The figure increased 400,000 from that of last year, according to China's Ministry of Education (MOE), meaning the competition for job grew fiercer this year. What made the situation even grimmer was the sudden outbreak of the COVID-19 epidemic that hit fresh graduates and migrant workers the most.
Employment is of vital importance to people's livelihood and the economy. On May 22, Chinese Premier Li Keqiang, while presenting the annual work report of the government at the third session of the 13th National People's Congress, pledged that China will create more than nine million new urban jobs this year and boost support for employment with fiscal, monetary, and investment policies. "We will strive to keep existing jobs secure, work actively to create new ones, and help unemployed people find work," Li said.
The season for finding a job during the first half of 2020 has been complex and grim: on the one hand, the number of fresh graduates hit record high, while on the other hand, enterprises curtailed recruitment plans as a result of the epidemic.
On May 12, at a regular press conference held by the MOE, Wang Hui, director of the Department of College Students of the ministry, said that the Chinese government would help graduates find jobs by introducing policies, such as expanding enrollment for graduate programs, improving employment services, strengthening guidance on job hunting, and encouraging enterprises and public institutions to hire more new employees.
According to Yan Jia, director of the student employment and entrepreneurship guidance office of the Wuhan-based CUG, this year, the university is sending off 7,010 graduates. As of the middle of May, the university had already organized 15 large-scale online job fairs and 15 special recruitment fairs in various fields including natural resources, Internet, and construction. The office had released 3,501 pieces of recruitment information involving 3,729 employers via its WeChat account.
The university has been customizing support plans for students in job hunting. Phuntsok Namgyal, hailing from a poor family in Tibet, is a student from the Earth Science Institute of the university. Since he was first enrolled at the university, his goal has been to return to his hometown for employment after graduating. For this reason, the CUG tailor made a plan to help him realize that goal. It designated a study buddy for him and contacted an advisor for him to help his scientific research carried out in Tibet. Thanks to the efforts, Phuntsok Namgyal, who is graduating this year, secured an offer with China Railway Construction Group Co., Ltd. and will work on the group's projects in Tibet.
At the present time, local governments and universities are on the move as was promised by Premier Li Keqiang that colleges and governments of localities should provide continuous employment services to graduating students.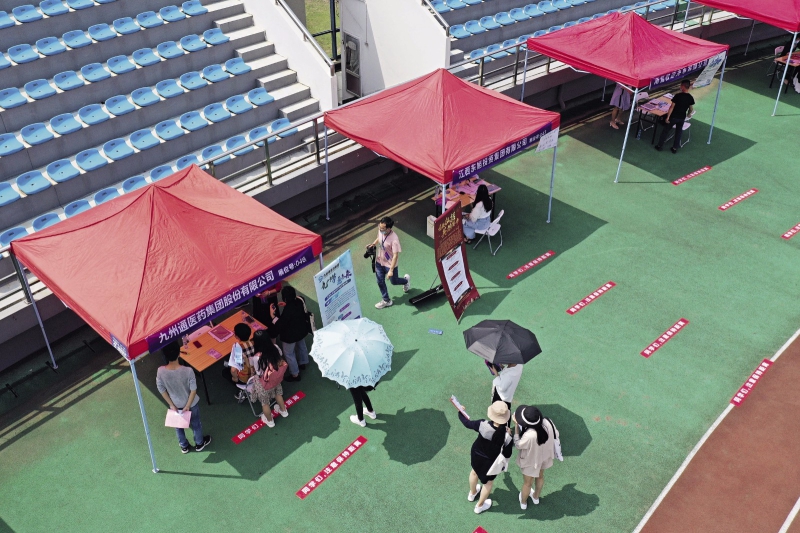 The special job fair of Nanchang University is held on May 23, 2020 at the outdoor stadium of its Qianhu campus.
Promoting Stable Employment
According to the National Bureau of Statistics, the number of new urban jobs created in China during the first quarter of 2020 decreased by 950,000 year on year. Apart from ensuring employment of graduating university students, reopening the economy to keep the existing jobs is also an urgent task.
Caidian District of Wuhan has been seriously affected by the epidemic. Enterprises in the district found it difficult to resume business. Many had to lay off employees or reduce their payment so as to survive the epidemic.
Pujiang Yanpu Auto Parts Co., Ltd., located in the district, once generated annual earnings of RMB 220 million. After the outbreak of the epidemic, the company productions came to a complete halt. But as the serious epidemic was brought under control, it has been vigorously promoting the resumption of work and production. However, it had to face yet another problem: few employees could return to their jobs due to lockdown measures enacted in Wuhan. Urgently needed help came from the local government at the critical moment. Apart from policy support, Caidian district government had subsidized RMB 52,345 to the company as of May 20, and exempted it from social security contribution worth RMB 545,000 from February to May. The support helped the company to survive the darkest time of the epidemic.
As of the middle of May, the local government of Wuhan's Caidian District had subsidized a total of RMB 6.78 million to 1,205 enterprises in a bid to tide them over the crisis without laying off employees. A total of RMB 12.11 million were granted to 7,959 individuals on flexible employment. The local government also earmarked RMB 199,500 as subsidies to social security contributions of nine enterprises. More companies and organizations had their financial burden relieved thanks to social security contribution cut or exemption from February to June. The government also provided services to people trapped at home due to the coronavirus so that they can return to their jobs as soon as possible as the epidemic ebbed away.
According to the latest data of the Ministry of Industry and Information Technology, as of May 9, 99.1 percent of large industrial businesses had resumed operation, and the figure for small and medium-sized enterprises surpassed 90 percent. The orderly recovery of business operation has led to the gradual increase of employment rate.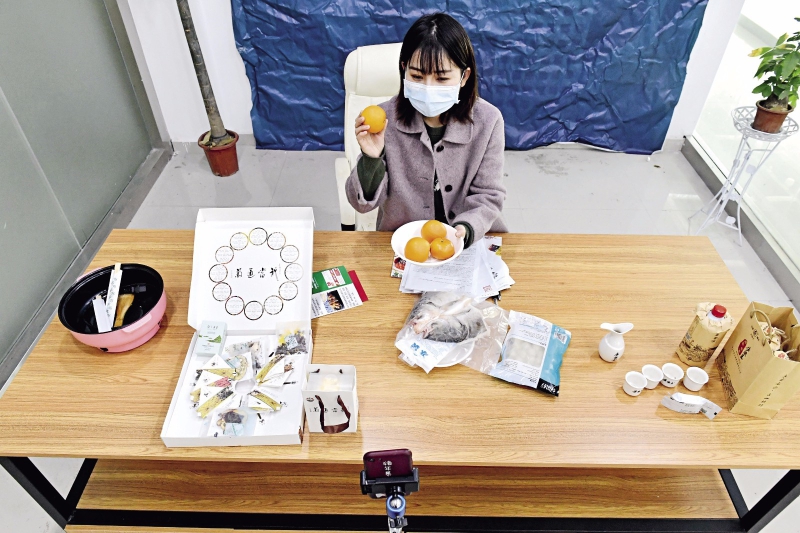 Internet celebrity Lulu is promoting Hubei agricultural products during a live broadcast in Wuhan on April 12, 2020.
New Employment Opportunities
"E-commerce saved my business. Now the employees of my restaurant follow me in selling products on WeChat," said Cheng Cheng, a 32-year-old fastfood shop owner in Beijing.
The young man came from Huailai County, Zhangjiakou City in Hebei Province. The epidemic brought a hiatus to his business, which was opened with his savings of 12 years.
Facing huge economic pressure, Cheng Cheng made the resolute decision to shift his focus to online WeChat business. "I contacted many agricultural cooperatives in my hometown and acted as an agent for them. The epidemic accelerated my transition to e-commerce," he said.
Presently, the business of his fastfood restaurant is gradually recovering. He and his employees are also seeing brisk business with their online shop, which sells sweet potatoes, grapes, and strawberries targeting consumers in Beijing.
As for the prospects of his online store, Cheng Cheng is full of confidence. "Last year, I sold thousands of boxes of grapes and made more than RMB 20,000. I'm going to expand the business this year."
Along with booming e-commerce, online retailing businesses are rapidly expanding express delivery and other logistics services. Relying on exploding digital economy, online economy is providing many new employment opportunities.
Meanwhile, micro-blogs, WeChat, Tiktok, and other social media platforms have also created new employment posts in such areas as new media operation, software development, and short video editing. Many aspirational young Chinese have found their personal fame and fortune in these new business realms. They grew to be online influencers, writers, and entrepreneurs. On May 11, the Ministry of Human Resources and Social Security unveiled a list of new professions including blockchain engineering technicians, Internet marketers, and blockchain application operators.
China has pledged to support these new professions and new trends. In this year's government work report, Premier Li Keqiang said the country will introduce more policies in support of new forms of business, such as e-commerce, online shopping, and online services, advance Internet Plus initiatives across the board, and create new competitive strengths in the digital economy.