China-South Asia interactions are being enriched day-by-day due to Beijing's integration drives underpinned by the Belt and Road Initiative, its investments in infrastructure for connectivity, and its comprehensive plan involving trade, tourism, science, technology, health, and education to boost economic recovery in the post-pandemic era.
Fresh manifestation of China's diplomatic policy in South Asia came to the limelight after China hosted a foreign ministers' meeting with five South Asian nations including Pakistan, Afghanistan, Bangladesh, Sri Lanka, and Nepal in late April.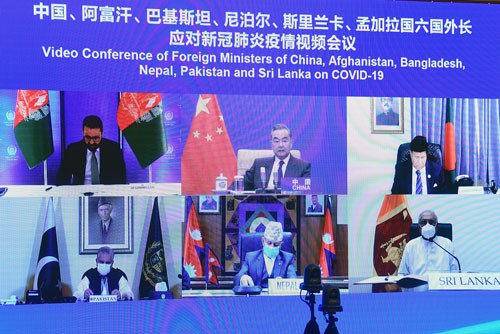 Foreign ministers of China, Afghanistan, Bangladesh, Nepal, Pakistan and Sri Lanka jointly hold a video conference on COVID-19 on April 27, 2021.
The six foreign ministers decided unanimously to keep tabs on the COVID-19 situation in India, and expressed their willingness to continue to provide needed support through respective channels in consultation with India. China's robust integration and engagement with South Asian countries is centered on shared peace and green development by pursuing co-existence, equality, and rule of law.
To push forward practical cooperation in many fields, China announced plans to establish a China-South Asia emergency supplies reserve, set up a China-South Asia poverty alleviation and cooperative development center, and hold a China-South Asia forum on rural e-commerce poverty reduction cooperation.
The meeting became a high-profile platform to thwart any attempt to politicize the issue of pandemic's origin and vaccine production and distribution. Most South Asian countries supported Chinese President Xi Jinping's statement on making vaccines a global public good, and China's vaccine cooperation with other countries in a flexible manner, including co-production of COVID-19 vaccines.
The five foreign ministers from South Asia agreed to deepen BRI cooperation, keep industrial and supply chains stable and secure, and give a stronger boost to economic recovery and the improvement of people's lives in the region.
The foreign ministers also stressed the importance of strengthening cooperation in poverty reduction, food security, and other non-traditional security matters to protect the livelihood of people with special attention to the most vulnerable groups.
China's commitment for Asia's ascent was also demonstrated at the Boao Forum for Asia Annual Conference 2021. Asian economies will remain an "anchor" for multilateralism and play a key role in bolstering pandemic control, keeping industrial and supply chains efficient and stable, and promoting trade and investment, said Li Baodong, secretary general of the Boao Forum for Asia. Yang Ying, vice-president of Deloitte China stated at the Forum, "Specifically, businesses believe expansion and upgrading of the consumer market as well as technological innovation will mainly drive China's sustainable growth, which will also help boost the whole regional economy and contribute to global economic development. She then added, "China's steady economic recovery will also boost the economic development of countries and regions involved in the Belt and Road Initiative." On the future connectivity spectrum with South Asian Countries, China plans to build an important passageway to South Asia through Tibet Autonomous Region. This plan is envisaged in the outline of the 14th Five-Year Plan (2021-2025) for National Economic and Social Development and the Long-range Objectives Through the Year 2035.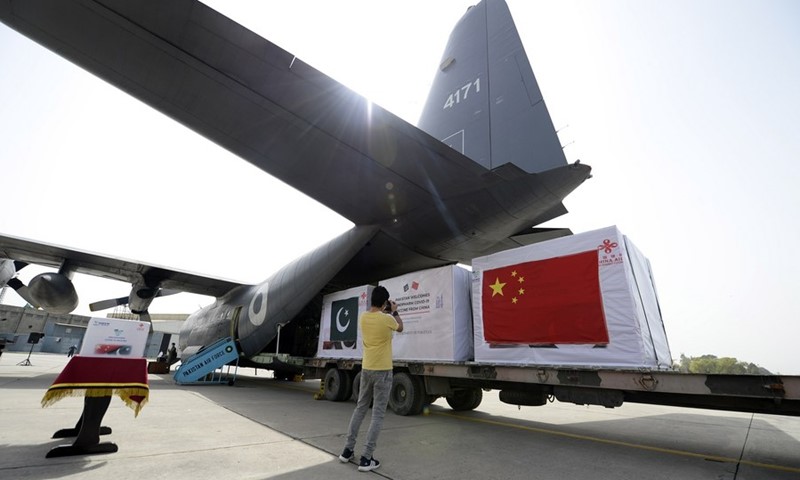 A handover ceremony is held for the second batch of COVID-19 vaccines donated by the Chinese government at Noor Khan Air Base near Islamabad, capital of Pakistan, March 17, 2021. (Photo: Xinhua)
Active and robust Chinese diplomacy in South Asia has encouraged many countries in the region to boost their collaboration with China in various sectors.
Abdul Hamid, president of Bangladesh, said during a meeting with Chinese Minister of National Defense Wei Fenghe that China is one of the most important development partners of Bangladesh, and exchanges between the two countries are gradually expanding in various fields, including trade and investment. He mentioned that Chinese investment in various sectors, including infrastructure and communication, is playing a very significant role in the socio-economic development of Bangladesh.
Gotabaya Rajapaksa, president of Sri Lanka, emphasized the necessity of working together with China to promote the development of the Belt and Road Initiative. Talking to China's new ambassador to Sri Lanka Qi Zhenhong, Rajapaksa said that Sri Lanka would always remember the firm support from China in the country's fight against terrorism and its post-war reconstruction. He is determined to study China's development path and model, and strengthen cooperation with China in key areas related to people's livelihood, such as rural development, science and technology, education, and investment.
In a meeting with Chinese ambassador Nong Rong, Pakistan Foreign Minister Shah Mahmood Qureshi spoke highly of China for its unwavering commitment in helping Pakistan to bolster its economy. Seeking opportunities in accessing the Chinese market, the foreign minister also stressed the need to speed up the completion of China Pakistan Economic Corridor (CPEC) projects. He pointed out that CPEC is a transformative program and hoped that the Chinese ambassador, with his experience in trade and infrastructure development, will fast track CPEC projects and promote industrialization in Pakistan.
South Asia is geographically significant as a region where cultures gather. Now it has entered an active stage for economic progress. Today, South Asia is seeing significant changes ranging from growing partnerships and unfolding opportunities to perceptible uncertainties. China's robust engagement with the region integrates pragmatism and reciprocity.
Chinese diplomacy in South Asia, as well as its global diplomacy, is based on the concept of peaceful development and common prosperity. From the bitterness and suffering from war and poverty, the Chinese people have learned the value of peace and the pressing need of development. They see that only peace allows them to live and work in prosperity and contentment and that only development can bring them quality of life. Therefore, the central goal of China's diplomacy is to create a peaceful and stable international environment for its development. In the meantime, China strives to make its due contribution to world peace and development as a major country. It never engages in aggression or expansion, never seeks hegemony, and remains a staunch force for upholding regional and world peace and stability.
China has been seeking cooperation as a way to pursue peace, promote development, and settle disputes. It seeks to establish and develop cooperative relationships of different forms with other countries and effectively meet growing global challenges by constantly expanding mutually beneficial cooperation with other countries, and work with them to solve major problems that affect world economic development and human survival and progress.
____________
YASIR HABIB KHAN is special correspondent of China Today in Pakistan. He is also founder and president of Institute of International Relations and Media Research (IIRMR).