South Asia's first electric train is up and running in Lahore, Pakistan, bringing hi-tech rail travel to the city of more than 12 million people.
"The 'Orange Line Metro Train,' (OLMT, Lahore project) is a gift from the Chinese to the Pakistani people," Chinese Consul General Lahore, Long Dingbin, told China Today.
OLMT, Lahore, constructed and operated with Chinese technology, was launched on October 25, as a project of the China–Pakistan Economic Corridor (CPEC), an iconic and mega-funded development venture of the Belt and Road Initiative (BRI). Inaugural ceremonies took place simultaneously in Lahore and Beijing.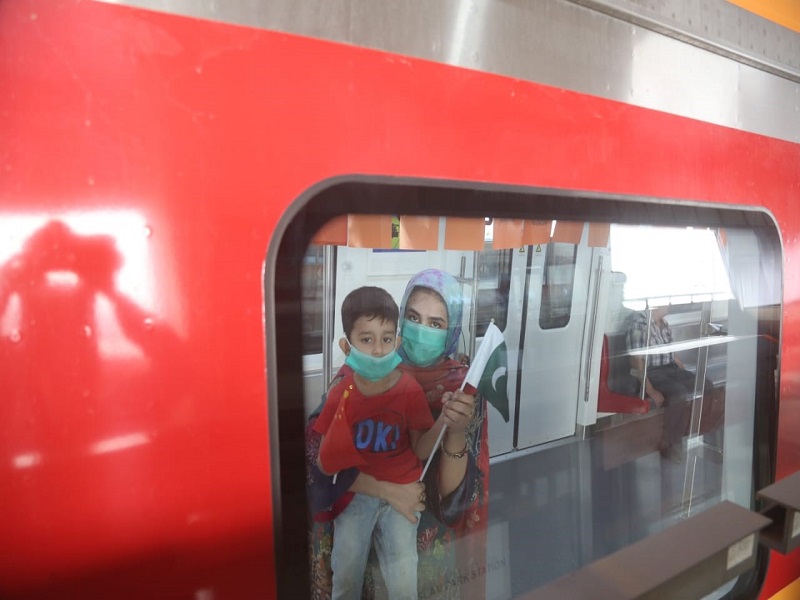 Pakistan's first ever metro train service, the Orange Line, has started its commercial operation in Lahore.
Groundbreaking Transport Project
The construction of the OLMT, Lahore marks the first time that the whole chain of China's metro train industry, including designing, manufacturing, construction, operation and maintenance, has been used, from inception to conclusion, in Pakistan.
A total of 27 sets of energy-saving electric trains, each comprising five fully air-conditioned wagons, with an operating speed of 80 kph, are now in public use, ensuring a comfortable, secure, and economical traveling facility to almost 250,000 passengers daily, once fully operational. Total length of track is 27.1 km with two of the total 26 stations being underground.
Long Dingbin said, "Since the signing of the contract in 2015, the metro line project has received great attention from the Chinese and Pakistani Governments. With the strong support of the Punjab Government and the sincere cooperation and joint efforts of technical personnel from China and Pakistan, the OLMT, Lahore project has finally completed construction and operation preparations, and on October 25, it started its commercial operation and will provide services for the people of Lahore." Long indicated that this is another fruitful achievement in the construction of CPEC, and a concrete manifestation of the all-weather strategic cooperation between China and Pakistan. "As the second consul general of China to Lahore, I am also a witness to the whole construction process of the OLMT, Lahore project, and I am sincerely happy about the operation of this metro line. I would like to express my sincere gratitude to the Punjab Government and related departments that have always supported the construction of the OLMT, Lahore project," he added.
Long said the OLMT, Lahore project is not only a transportation infrastructure project, but also a livelihood project that benefits local people. The OLMT, Lahore project is the first metro line in Pakistan and also one of the early harvest projects of the CPEC. The opening of the metro line has enabled Pakistan to have the most advanced urban rail transit operating system in South Asia, and would greatly improve the traffic conditions in Lahore and become a new landmark of the city, said Long.
"During the construction of the OLMT, Lahore project, a total of 7,000 jobs were created for Pakistani people, and 2,000 jobs will be created in future operation and maintenance. Furthermore, a large number of professional and technical personnel will be trained for Pakistan by this project," he revealed.
China and Pakistan were all-weather strategic partners, good friends, good brothers, good neighbors, and good partners. China-Pakistan friendship, Long said, had withstood the test of time and is becoming even stronger than ever before.
"The two countries always understand, support, and help each other. The year 2021 will mark the 70th anniversary of the establishment of diplomatic relations between China and Pakistan. I believe that the completion of the OLMT, Lahore project has provided a new connotation to the friendship and cooperation between China and Pakistan in the new era," he said.
Later, Zhao Lijian, a spokesperson of China's Ministry of Foreign Affairs, who also served many years as diplomat in Pakistan, said that China would continue working with Pakistan to advance the building of CPEC and forge it into a quality BRI demonstration project.
Saving Time and Money
Metro train commuting is characterized by a convenient and speedy traveling experience. In Lahore, brimming with population of around 12.6 million, local people will appreciate the massive cut in their traveling time. Locals usually use various modes of motorized transport such as motorbikes, cars, rickshaws, taxis and buses, taking more than 80 to 90 minutes (depending on traffic) for a journey from Dera Gujjran, starting point of the metro to Ali Town, ending point of the metro, a distance of about 27.1 km. The time has been halved by the OLMT, Lahore, thus reducing stress, avoiding traffic jams, and bringing peace of mind to Lahore's commuters.
Lahore city traffic police official, Arif Rana, said that the increasing trend of motorized vehicles for commuting was one of the city's biggest causes for traffic congestion. The metro line will help reduce the commuting time, saving the public precious time that had been wasted for years, he said.
The cost of traveling on the OLMT, Lahore also offers relief to the budgets of local commuters. Punjab Mass-transit Authority GM (Operations) Muhammad Ozair Shah said that almost 8 percent of the per capita income of the country was spent on transportation.
Taking cognizance of this, the Punjab Government fixed the fare for the OLMT, Lahore at a very affordable Rs40 (US $0.25).
More Employment and Learning Opportunities
Similar to all CPEC projects, the OLMT, Lahore, from its inception, has offered opportunities of employment to local people. During its peak construction period, thousands of skilled and semi-skilled people were employed. This was a godsend for the job market in Pakistan, which has been badly hammered in the ongoing economic crunch.
Shahid Rana Zaidi, Project Manager of Orange Line Metro Train Package-1 told China Today that approximately 8,000 people were given jobs in various categories of the project's construction.
Ibrar Hussain, a skilled building laborer said that the OLMT, Lahore project appeared to be a divine blessing. "I was jobless and had previously been sent from pillar to post in search of a job. Though I was unmarried at the time, I had to feed five sisters and my parents. I lost all hope before my friend, already working at Package-1 of the metro line project, got me hired. I have worked for three years and made good money to make ends meet," he said. Hussain said another advantage from working at the OLMT, Lahore project was to upgrade his skills, as the project was constructed per world-renowned modern standards.
Shahid Saleem, CEO of Habib Construction Services, Pakistan's top infrastructure development company, worked on the project's civil work from Dera Gujjran to Chuburji, (13.6 km). He said his company's engineers and technicians learnt a lot from this project. "We visited Beijing in September 2015, where we personally observed state-of-the-art processing and procedures of metro train systems. Interacting with Chinese technicians was an insightful experience in cutting-edge technology," Saleem said. His company has imported technical machinery, gadgets, and apparatus from China.
"During the construction, we invited students of Lahore's University of Engineering and Technology to share our practical experience. A number of students said what they learnt at the site of the metro train project was the best part of their educational experience, as book knowledge has its limitations," said Saleem.
Safer on the Road
The metro line is going to change the commuting landscape of Lahore with its far-reaching influence and positive impact on traffic, especially in terms of road accidents.
The data from the Punjab Emergency Service (Rescue 1122) revealed that 184 people of the province lost their lives in 2019. The year before, the figure was 350. Speeding was registered as the leading cause of accidents. According to the Rescue 1122, around 1.3 million people die annually worldwide from transport accidents and over 50 million suffer injuries leading to disabilities due to road traffic accidents; and 90 percent of these deaths occur in developing countries like Pakistan.
Jalil u Rehman, an urban transport expert, said that the OLMT, Lahore will play an anchoring role in reducing the high frequency of road accidents. Operating on Chinese technology, the OLMT, Lahore will help Pakistan meet The 2030 Agenda for Sustainable Development that had an ambitious target of halving the global number of deaths and injuries from road traffic crashes, he added. The Punjab Emergency Service (Rescue 1122) Director General Dr. Rizwan Naseer told China Today that the OLMT, Lahore is a valuable and healthy addition to the public transport system of Pakistan, saying it will help in diminishing overcrowded road traffic and help contain road crashes and deaths.
______________
YASIR HABIB KHAN is special correspondent of China Today in Pakistan. He is also founder and president of Institute of International Relations and Media Research (IIRMR).