During the 2021 China International Fair for Trade in Services (CIFTIS), the digital RMB avenue at the exhibition area for financial services in the Shougang Park attracted a constant stream of visitors. With just a few clicks on a smartphone, visitors could carry out transactions using digital currency in the stores of the avenue selling a variety of products ranging from culture-inspired goods, groceries, artifacts, books, and products made by time-honored Chinese brands.
With the help of a volunteer, a man in his 50s surnamed Li, activated E-CNY services via his smart phone. He scanned an ePayments code on a vending machine and bought a bottle of water in seconds. "The shopping is so easy. Digital technology is making our daily life increasingly better," Li said.
As Li experienced, digital technologies have been deeply integrated with people's daily lives. According to statistics by the Chinese Institute of Electronics, China's digital economy expanded at an average annual rate of 16.6 percent during the 13th Five-Year Plan period (2016-2020), contributing to more than 67 percent of the country's GDP growth. Particularly against the backdrop of the raging COVID-19 pandemic, emerging new technologies, industries, and business models have been transforming China's industries, society, and lifestyles. In a way, China's economy and society is going digital at a faster pace.
At the CIFTIS, Chinese and foreign businesses and institutions presented their latest eye-catching digital services and application scenarios, showed how technology empowers high-quality development, and turned the annual event into a dazzling assemblage of cutting-edge technologies including artificial intelligence, big data, and cloud computing.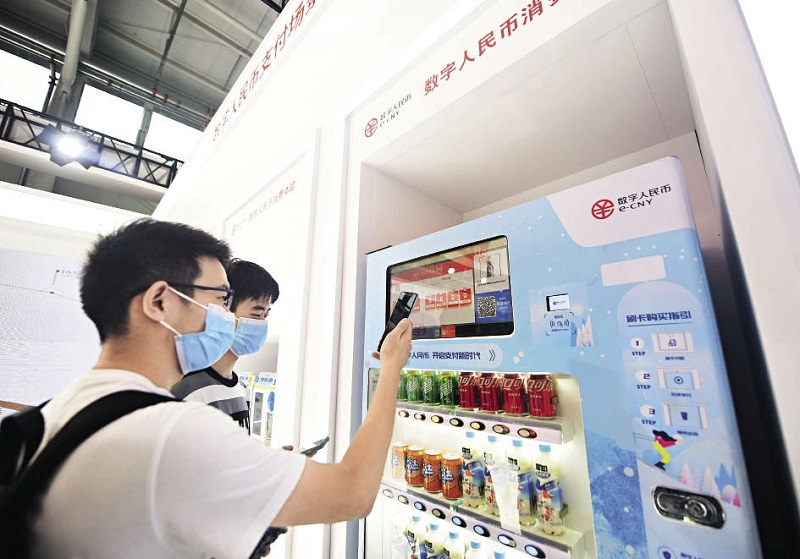 Visitors experience using digital Renminbi to make on-site purchases at the Financial Services Pavilion of the 2021 CIFTIS.
Digital Insurance Services
In the exhibition area for financial services, the subsidiary of the China Life Insurance Company Limited (China Life) specializing in property insurance services released a cloud platform for disaster prevention. By entering a location on the homepage, users can get real-time information about possible meteorological disasters and a corresponding report on risk evaluation pertaining to the entered location.
Zhang Lu, a representative of China Life's subsidiary, said that the cloud platform is a manifestation of the company's principle of putting prevention before compensation. The cloud platform is capable of defining geographic coordinates with an accuracy rate exceeding 95 percent. After integration of the location data with disaster risk levels, its domestically-developed geographic information system conducts a spatial analysis, identifying potential risks to customers' properties.
The cloud platform of China Life's subsidiary is linked up to the monitoring and alert systems of the National Early Warning Center and the China Earthquake Networks Center. It has been providing services to four million corporate clients and 30 million individual customers.
Upon receiving warnings of heavy rainfall in Henan and Typhoon In-Fa this summer via the cloud platform, China Life swiftly delivered the information to its clients and asked them to take precautions. The heads-up alerts were timely and clients were able to reduce property losses thanks to it.
Another innovation launched by China Life at the CIFTIS is its insurance service based on forest carbon sink index.
In May 2021, the first insurance policy based on the forest carbon sink index was issued in Xinluo District, Longyan City of southeast China's Fujian Province. The insurance was against damage or destruction to 200,000 hectares of forests. It provides RMB 20 million in insurance for one million carbon units to be absorbed by the forests in the district.
Carbon sequestration is the process of removing carbon dioxide from the atmosphere, said Liu Feng from China Life. Traditionally, forests and woods can be insured. The new insurance is based on forests' function of absorbing carbon dioxide. The aim is to protect forests' value in environmental protection and the value in the trading of carbon emission rights. It is an active and bold move the insurance industry took to contribute towards carbon peaking and carbon neutrality. It will be conducive to nurturing forest resources, enhancing the capacity of the natural ecosystem in carbon sequestration, and boosting green development.
"The higher the index is, the weaker the capacity of insured forests in carbon sequestration," said Liu. "When the index hits the cap we set, we will initiate procedures for claim settlement."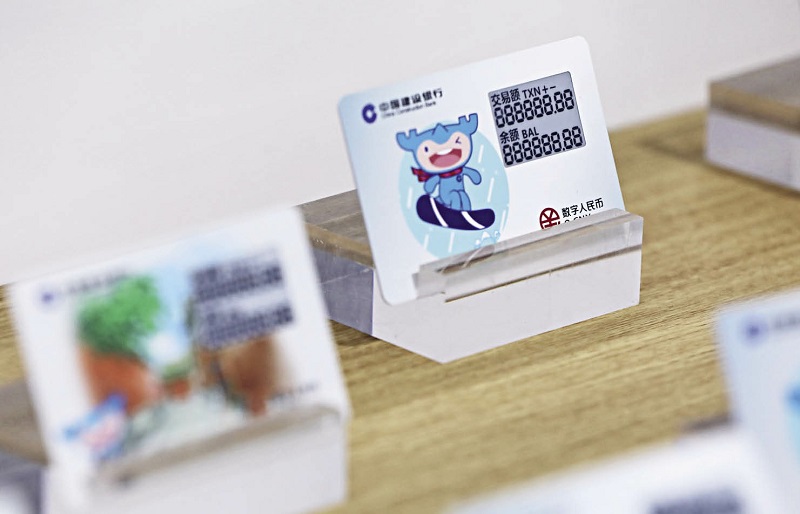 The digital renminbi card exhibited by China Construction Bank at the Financial Services Pavilion on September 3, 2021.
Smart Traveling
Beijing Subway is a leading urban rail transit operator in Beijing. At its pavilion in the exhibition area allocated for supply chain and business services, the company showcased its achievements in using intelligent technology to empower security checks, station operations, metro line operations, train management, and energy usage. While improving services for passengers, it has contributed toward the national drive of carbon neutrality.
Also in the Beijing Subway pavilion, a new automatic fare collection (AFC) machine drew much attention. Featuring an intelligent facial recognition system, it aims to improve pass efficiency. Along with the AFC machine is a security check machine which can automatically identify prohibited items carried by passengers.
The machines will greatly improve the efficiency of security checks, particularly during times of high passenger flow, said Li Yujie, deputy chief of the technology department of Beijing Subway. According to calculations, the number of passengers admitted per unit of time can increase by 1.5-fold, the cost of human resources for security checks reduced by 50 percent, and the handling capacity expanded from 1,200 items per hour to 1,800 items per hour when the machines are put into use. "The machines have been pilot tested at the Fuchengmen Station of Beijing metro Line 2. There are plans to use them in five high-ridership stations before 2022 after the ongoing installation and pressure tests are finished," said Li.
As technology advances, passengers are demanding higher levels of services. Beijing Subway released an on-demand passenger service system at the CIFTIS. If facing a difficulty, a passenger can get connected with subway staff via an audio or video call by scanning a QR code. If the subway staff do not attend the call, the information will be transferred to the control room of the station in 15 seconds, and staff on duty in the control room will respond to the call for help.
The on-demand passenger service system has been put into use in the metro line to the Beijing Capital International Airport. Stationary video call terminals have been installed around frequently used equipment like the AFC machines and the self-service ticket machines for the convenience of senior citizens and foreign passengers who may not have access to WeChat.
Beijing Subway is working on more train control technologies like the application of the Hawk-Eye smart system in train operation. With the aforementioned technologies, the metro lines in Beijing will become more intelligent and the train interval is expected to be shortened to just 102 seconds.
"Beijing Subway will continue scaling up support of technological innovation to better meet passengers' demands and solve more real-life problems," Li Yujie said.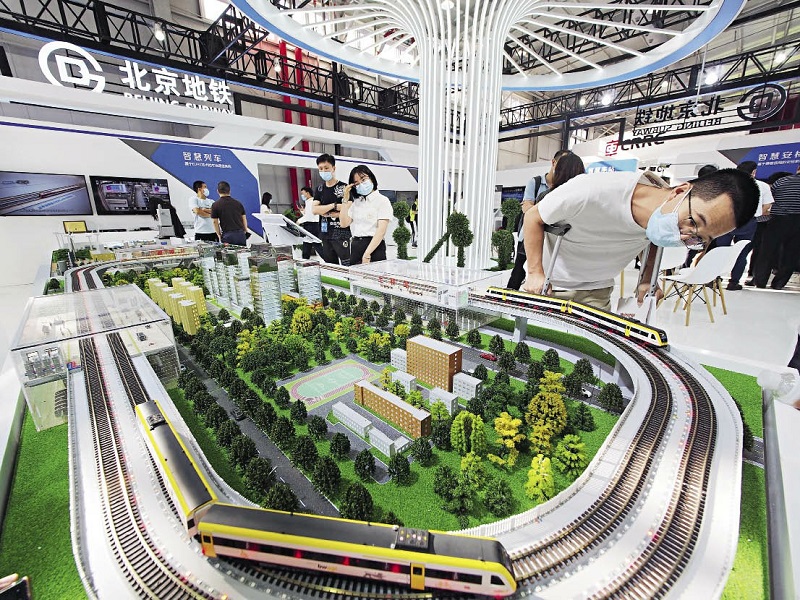 Visitors check out the Beijing Subway's booth at the Shougang Park exhibition area on September 6, 2021.
Efficient Industries
GLP is a leading global company in logistics real estate with operations in Brazil, China, India, Japan, the U.S., Vietnam, and European countries. Its market value is in the excess of US $110 billion.
The company played a video at the CIFTIS highlighting its products and solutions including smart logistics hub, financial services based on digital supply chains, whole-process cold chain services, and smart industrial parks. Revolving around five key attributes of "leading, smart, high efficiency, carbon-free, and beautiful," its 180-square-meter pavilion presented a panorama of the company's focus on supply chain, big data, and new energy, attracting many potential business partners.
Supply chain is one of GLP's major lines of business. GLP's supply chain financial services platform provides small and medium-sized enterprises (SMEs) along the supply chain with stable funding support so that the industry can be run more efficiently, according to Cai Chen, senior vice president of GLP's branch in Shanghai. Driven by big data, the Internet of Things, blockchain, and other financial technologies, GLP provides financial services including freight charge payment, equipment financing and leasing, inventory financing, and purchasing agent services to businesses in sectors like logistics, cold chain, commodity trading, and cross-border e-commerce.
It customized loan services for couriers based on shipment data. Logistics companies operating multi-modal transport services are also eligible for the loans.
The loan services have been popular. According to a Hangzhou-based logistics firm, it faces great pressure in cash flow as its consignor pays it in three months on average, and it has to settle up bills for gases, tolls, and drivers' salaries on a regular basis. With the loan services, it can apply for financing online with the shipment as a guarantee as long as it delivers the shipment to its destination.
Of all the corporate clients GLP offers financial services to, 92 percent are SMEs, which operate in 87 sectors in close to 200 cities across 30 Chinese provincial-level regions.
As a forerunner and advocate for carbon neutrality, GLP delivers its clients green solutions for logistics and industrial infrastructure by harnessing solar and wind power as well as its energy storage technology. It is estimated that the company will have generated 1 gigawatt of power via its distributed photovoltaic power generation platform by the end of 2021. The amount is enough for the annual power consumption of around 750,000 households.
Cai said in the future, GLP will join hands with more industrial partners and financial institutions to create a financial ecosystem based on digital supply chains. This will help SMEs along the industrial and supply chains expand financing channels, improve financing efficiency, and lower financing costs, Cai added.
Advancements in technology and timely adoption are paving the way for rapid digitization and transformation of China's economy, empowering high quality development and growth.