THE ramifications of COVID-19 are wide-ranging. One is the change of how people connect to and communicate with each other, together with the increasing popularity of real-time video. Among the ranks are leaders from the international community who have conducted their exchanges in what is known as "cloud diplomacy."
Chinese President Xi Jinping co-hosts a China-EU leaders' meeting in Beijing, capital of China, on September 14, 2020, via video link with German Chancellor Angela Merkel, whose country currently holds the EU's rotating presidency, European Council President Charles Michel and European Commission President Ursula von der Leyen. (Xinhua/Pang Xinglei)
On September 14, Chinese President Xi Jinping met with German Chancellor Angela Merkel, whose country currently holds the rotating presidency of the European Union (EU), European Council President Charles Michel, and European Commission President Ursula von der Leyen via video link, the first kind of such meeting in 10 years. They reached consensus on advancing ties, safeguarding multilateralism, and jointly addressing global challenges. Both China and the EU spoke highly of the summit.
Before that, Chinese State Councilor and Foreign Minister Wang Yi paid an in-person visit to five European countries from August 25 to September 1 — Italy, the Netherlands, Norway, France, and Germany. The eight-day visit drew extensive international attention and highlighted the vital position of China-Europe ties in China's diplomatic vision.
In recent years, China-Europe cooperation has deepened in all fields. As the U.S. is taking a tough stance against China and Europe-U.S. relations are becoming strained, China and Europe are attaching even greater emphasis on cooperation with each other. Although China-Europe ties face some issues and challenges, both sides have expressed a strong willingness to strengthen partnerships.
Strong Willingness for Cooperation
The China-EU leaders' meeting has achieved tangible results, including the official signing of the China-EU agreement on geographical indications and their commitment to concluding the negotiations of the China-EU Bilateral Investment Treaty within this year. Chinese and EU leaders also decided to establish a China-EU High Level Environment and Climate Dialogue and a China-EU High Level Digital Cooperation Dialogue, and to forge China-EU green and digital partnerships. From the bountiful results, the strong willingness of China and the EU to advance their pragmatic cooperation can be discerned.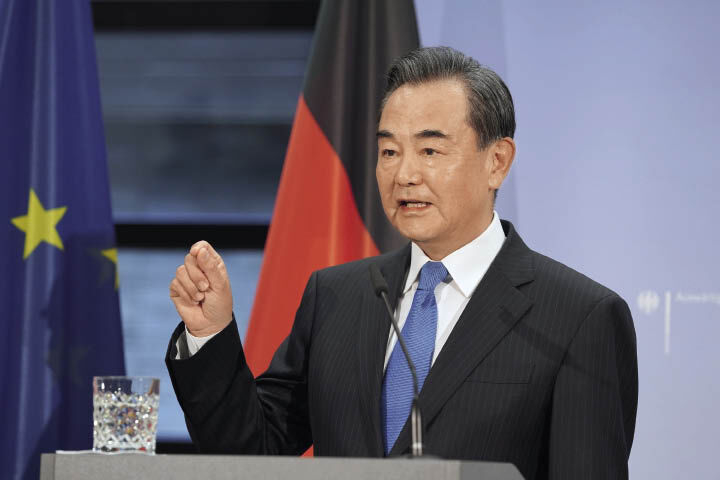 At a joint press meeting in Berlin together with German Foreign Minister Heiko Maas, State Councilor and Foreign Minister Wang Yi talks on the three-point important consensus during his trip to Europe, on September 1.
Candidness also featured the China-Germany-EU leaders' meeting, as they didn't sidestep problems and misunderstandings between them. Concerning issues of China's internal affairs, while indicating its position of opposing any foreign interference, China expounded its principles and stands on these issues, and communicated with its EU partners in an open manner. Meanwhile, the EU side also acknowledged its problems on human rights, and hoped to carry out dialogues with China under the principles of equality and mutual respect, trying to boost mutual understanding and properly manage their differences.
At the meeting, Xi proposed four principles the two sides should adhere to for developing the China-EU relationship: peaceful coexistence, openness and cooperation, multilateralism, and dialogue and consultation. The four principles enrich the connotation of China-EU relations, and will be conducive to further unleashing vitality of bilateral relations and its development potential.
The mutual support between China and Europe during the COVID-19 fight is exemplary of global joint efforts to handle a public health emergency. At present, China has effectively brought the epidemic under control at home. However, some European countries are seeing a resurgence of new infections. The anti-pandemic drive is still a top priority. During his eight-day visit of Europe, Wang Yi emphasized the importance of China-EU cooperation on the fight against COVID-19. All the five countries expressed their hope of making the cooperation in COVID-19 vaccine development one of the top priorities on their agendas.
Meanwhile, China and the European Union (EU) are among the largest economies in the world. From 2004 to 2019, the EU had been China's largest trading partner, while China had been the EU's second largest trading partner. The trade and investment relations between China and the EU, formed over many years, are under severe pressure because of the global implications of the pandemic. Therefore, stabilizing the China-EU industrial and value chains was one of the priorities of Wang's discussions with European leaders during his visit.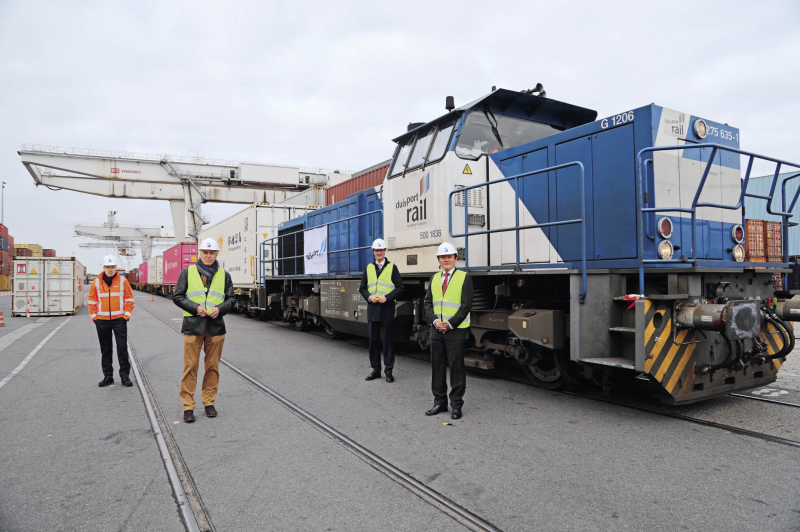 Chinese and German guests attend the welcome ceremony of the China-Europe freight train from Wuhan in Duisburg, Germany, on April 14, 2020. It was the first such train from Wuhan since the coronavirus outbreak, marking the resumption of China-Europe freight services in Wuhan.
China-EU economic and trade cooperation during the post-pandemic era was equally a point of focus on this visit. EU countries currently attach great importance to the development of digital economy and green economy, which China hopes will be a major part of future China-EU cooperation.
One specific consideration of Wang's visit to Norway, a non-EU member, was to push for an early signing of the bilateral free trade agreement.
This year marks the 45th anniversary of the establishment of diplomatic relations between China and the EU. A series of high-echelon visits and major cooperation agendas were planned between China and the EU this year. Due to the pandemic, the annual China-EU leaders meeting was held online. On June 22, Premier Li Keqiang, together with Charles Michel, President of the European Council, and Ursula Von Der Leyen, President of the European Commission, presided over the 22nd EU-China Summit via video.
One of Wang's agendas on his visit of Europe was to push major negotiations between China and the EU. At present, the ongoing China-EU bilateral investment treaty (BIT) negotiations have approached the final and crucial stage.
The BIT between China and the EU is also known as China-EU Comprehensive Agreement on Investment (CAI). The signing of the agreement will be of great significance to the progress in China-EU relations in the future. Both sides have high expectations of a quick resolution to this agreement. Leaders of China and European countries have, since last year, made it clear on many occasions that they wish to sign the CAI by the end of this year. During his visit, Wang conducted in-depth discussions with Germany, France, Italy and other countries on the agreement.
Jointly Defending Multilateralism
Wang's visit to the five European countries has sent a strong signal to the international community that China and the EU collectively champion multilateralism. When talking with Jean-Yves Le Drian, French Foreign Minister, in Paris, Wang said that the consensus reached with all countries during his trip is to adhere to multilateralism. Unilateralism, as Wang underlined, has been rising, as certain nations, defying international treaties, reject international obligations. Without multilateralism, the international order installed since World War II will be grievously eroded, exerting a major adverse impact on many countries.
The EU itself is the product of multilateralism, which is the foundation of Europe's own development and its global interests. After the end of the Cold War, there has been growing rifts between Europe and the U.S. on the international order and global governance. They were first made public when the Iraq War started in 2003, and intensified after Trump took office in 2017. While European countries champion multilateralism, the U.S. administration has been retreating to unilateralism as is evidenced by U.S. withdrawals from international treaties and organizations including the Paris Agreement, the Iran nuclear agreement and the Intermediate-Range Nuclear Forces Treaty among others.
Against this backdrop, France and other European countries make great efforts to build solidarity among EU member states to better safeguard the interests of Europe. The increasing call for greater "European sovereignty" is indicative of European countries' support for multilateralism. The essence of the "European sovereignty" concept lies in a stronger EU achieved by deepening cooperation among member states in the fields of the Euro currency, artificial intelligence, digital economy, energy, Internet, and military defense.
Europe is seeking kindred spirits who champion rule-based multilateralism. They include Japan, Australia, and Canada. In the meantime, Europe lays great stress on playing its role under the framework of multilateral institutions like the United Nations. This is in line with China's stance of upholding multilateralism with the UN at the center. This is common ground for close cooperation between the two sides.
Promising China-Europe Relations
Despite a series of critical events lashing Europe in the past decade, especially the European debt crisis beginning in 2009, China is still confident in European integration, and values EU's international status and influence. Chinese President Xi Jinping, during his meeting with Charles Michel, President of the European Council, and Ursula Von Der Leyen, President of the European Commission, via a video link on June 22 this year, said, "China and Europe are two major forces, two big markets, and two great civilizations. What we stand for, what we oppose, and what we work together on can make a difference for the world."
Admittedly, China-EU relations are becoming increasingly complicated. Some EU members now have a changed view on China as they see China's development as a pressure. On March 12, 2019, European commissioners issued a joint communication, calling China "an economic competitor in pursuit of technological leadership." The document also deemed China as "a systematic rival promoting alternative models of governance." Despite this, EU's policy toward China is different from that of the United States. It opposes both containing China and decoupling from China. Maybe it is keeping its guard up, but the willingness to work with China remains strong.
Since the beginning of this year, the U.S. has been taking an increasing hard line against China. U.S. Secretary of State Mike Pompeo made several visits to Europe with the purpose of forming a so-called "Anti-China Club."
This presented Europe with a dilemma. Europe wants to maintain good relations with both China and the U.S. for its own interests. In security, European countries and the U.S. are close allies. The two sides are also each other's largest trade partner. However, China is becoming an increasingly important partner in trade and joint efforts to mitigate climate change.
On the whole, European countries defy the "all-or-none" mentality toward China promoted by the U.S. For this reason, a number of European countries have recently indicated that they will not change the strategy of engagement with China.
To maintain the stable development of China-EU relations in the future, both sides should first put their focus on communication to prevent misunderstanding from worsening. There should be an insistence on seeking common ground while reserving differences. Notwithstanding inevitable competition, both sides should strive for smooth cooperation, especially in economic and global governance spheres. China and Europe should strengthen consultation and cooperation on a slew of issues, including climate change, global economic governance, World Trade Organization reform, and development assistance. A sooner conclusion on the CAI will help solve many existing issues between China and Europe.
_______________
FENG ZHONGPING is vice president of China Institutes of Contemporary International Relations.