Over just 40-plus years of development since the adoption of the reform and opening-up policy, a poor village built on reclaimed tidal marshes in east China's Jiangsu Province has emerged as an eco-friendly, industrialized urban center with modern facilities matching any major city.
Situated on the south bank along the lower reaches of the Yangtze River, Yonglian Village in the town of Nanfeng in Zhangjiagang City has seen an earth-shattering transformation. During the annual sessions of the 13th National People's Congress (NPC) and the 13th National Committee of the Chinese People's Political Consultative Conference (CPPCC) in 2021, Wu Huifang, NPC deputy and secretary of the Party Committee of Yonglian Village, accepted an exclusive interview with China Today, sharing Yong-lian's experience in making growth benefits available to all, guaranteeing people's political and civil rights, and achieving sustainable development.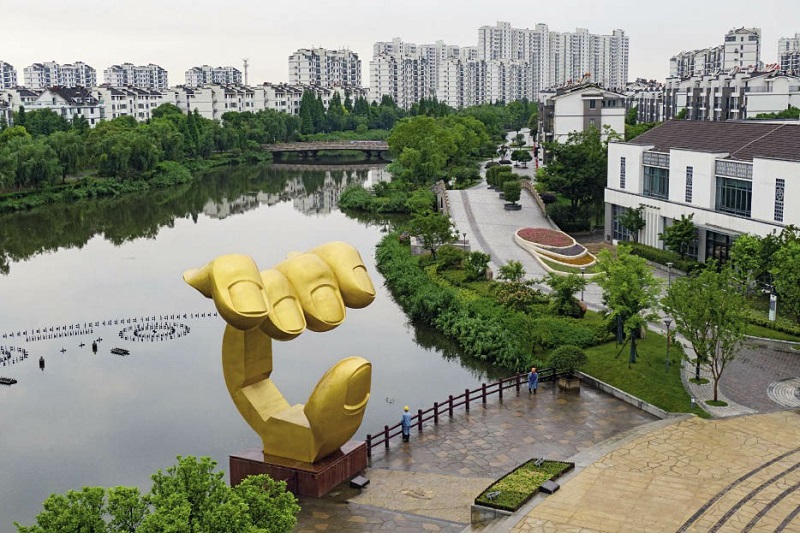 The modernized Yonglian Village in east China's Jiangsu Province sits in picturesque surroundings featuring a southern China architecture style of white walls and black tiles, and little bridges and streams.
Booming Industry
Fifty years ago, Yonglian was among the poorest villages in China, where villagers attempted to earn a living by digging ponds to raise fish. Later, it became home to various plants producing iron and steel products, furniture, cement, and pillow covers. At present, the steel mill, built with self-raised funds in 1984, has developed into Jiangsu Yonggang Group Co., Ltd., a large-scale integrated iron and steel enterprise.
What are the underlying factors driving all these changes?
"As China's economy shifted to a new normal after the 18th National Congress of the Communist Party of China in 2012, we have been transforming and upgrading our business in an all-round way," Wu said, then proceeded to introduce the following four major measures that had been taken.
First, the company accelerated its product upgrading and focused on the production of high-quality special steel. Second, it has exported products to 112 countries and regions around the world with preferential policies in the context of the Belt and Road Initiative. Third, it adopted measures on energy conservation and protection, and introduced a green circular economy to lead its transformation. Fourth, it expanded its industries to diversified areas, including financial trade, equipment manufacturing, engineering and construction, and the circular economy. In 2020, the Yonggang Group's revenue reached RMB 101 billion, with total pre-tax profits hitting RMB 6 billion.
The rapid industrialization in Yonglian has also brought about opportunities for its urbanization. After years of development, Yonglian Village has been built into a livable community, having a capacity for more than 20,000 residents. A commercial street, schools, marketplaces, and underground pedestrian walkways have been built to make living conditions as convenient as in big cities.
Following in the footsteps of industrialization and urbanization came agricultural modernization. Villagers transferred the management rights of contracted land to the village collective, which is able to plan ahead, and adopt advanced technology and equipment for large-scale farming. On a vast area of land, a large number of production bases have been built to plant seedlings, grains, flowers, fruits, and vegetables, and raise special aquatic products. A cultural theme park featuring agriculture in southern China was also built. All these entities are now registered companies operating in a market-oriented way. In addition, the village set up a fresh food distribution company and a tourism company to accelerate the integrated development of agriculture.
"The supply-side structural reform in agriculture means fully unleashing the productivity in every link of the industrial chain, enhancing the value chain of agriculture, and creating a thriving rural industry," said Wu.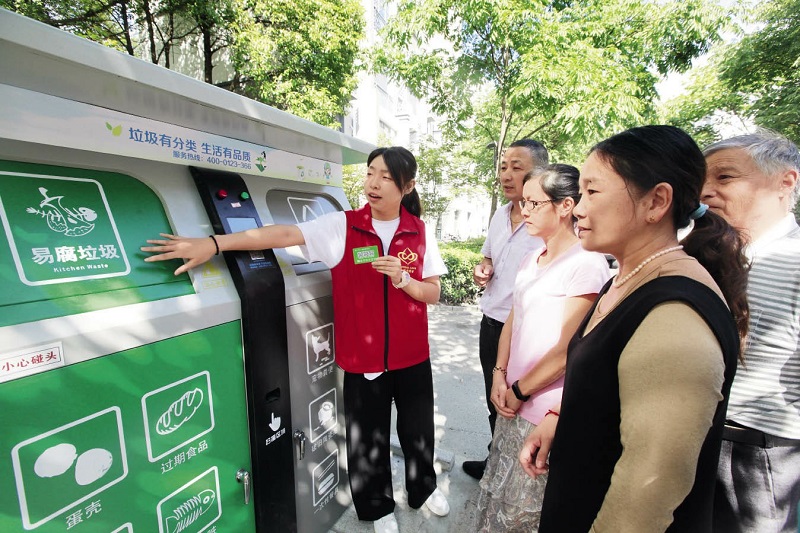 Villagers learn how to use the intelligent waste sorting machine to build an eco-friendly community.
Eco-Friendly and Livable
Ecological livability is the key to rural revitalization. For Yonglian, a sound ecological environment is the most precious resource of the countryside. "From the very beginning, we have been adhering to the philosophy of sustainable rural development," said Wu.
Wu then shared the experience of building a green and livable environment in the village. For example, Yonggang Group has invested roughly RMB 6 billion in energy saving and environmental protection in the transformation of the enterprise to ensure that all pollutant emissions reach the strictest standards of the steel industry. The company was recognized as a "green factory" and a "green supply chain management demonstration enterprise" by the Ministry of Industry and Information Technology. In terms of recycling and energy saving, Yonggang Group also took the lead in the collection and treatment of sewage.
Located in the south of Jiangsu Province, Yonglian Village made use of its local resources and cultural traditions and developed package tours to attract tourists. A typical travel experience includes a visit to farming culture theme park, a pampering bath in the Phoenix Mountain Hot Spring, and a sound sleep in the Yonglian Resort Hotel.
To make the village more livable, RMB 9 million has been invested in intelligent waste sorting. Smart sorting boxes, and waste collection and transport vehicles were purchased, together with a micro-molecular degradation processor that can decompose 300 kilograms of food waste per day. A waste sorting education center and a waste sorting center were also built to create a more eco-friendly community. Of the village's total area of 12 square kilometers, 42 percent is covered by forests.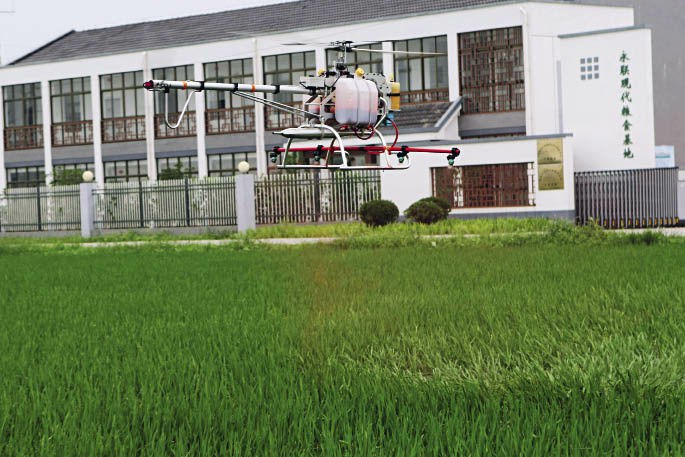 Drones are used for spraying pesticides at Yonglian's modernized grain production base.
Democratic and Effective Governance
Wu said that the functions of administrative villages usually consist of two main aspects. One is to grow the collective economy, and the other is to govern the village effectively, and ensure people have equal access to public services. However, as industries develop and grow, more professionals are needed. It is therefore necessary to separate the two functions, letting the village administrative committees assume the function of social governance, and the economic cooperative concentrate on industrial development.
In 2010, the Yonghe Community Neighborhood Committee was established in Yonglian. The new committee undertook the social management and service functions of the village committee, and Yong-lian began to be governed by their own residents like any other urban community. In 2013, members of the Yonglian Village economic cooperative assembled. They agreed to hire a professional management team to run the economic cooperative in a market-oriented approach. The cooperative operates in a variety of sectors including agriculture, tourism, catering, training and property services.
In the past, the village's market, environmental sanitation, and public security were all under the administration of the village's comprehensive management office. In 2009, with the support of the higher-level Party committee and government, the Yonglian Social Affairs Coordination Leading Group was established in the village. The government of Nanfeng Town under the jurisdiction of county-level city Zhangjiagang sent a team of law enforcement officers in areas of public security, urban management, sanitation, commerce and industry to Yonglian, making public services in the village on par with urban areas.
Yonglian Village is successful in enabling villagers to govern themselves and making community-level democracy visible and tangible. A village meeting hall was built, which can accommodate 285 representatives, and is equipped with a large LED screen for live broadcasts. Villagers can watch the whole process via a real-time digital broadcasting system at home. Every year, the village holds a representative meeting with members of the economic cooperative and residents in the Yonghe community to deliberate the issues of collective economic development and community-level self-governance.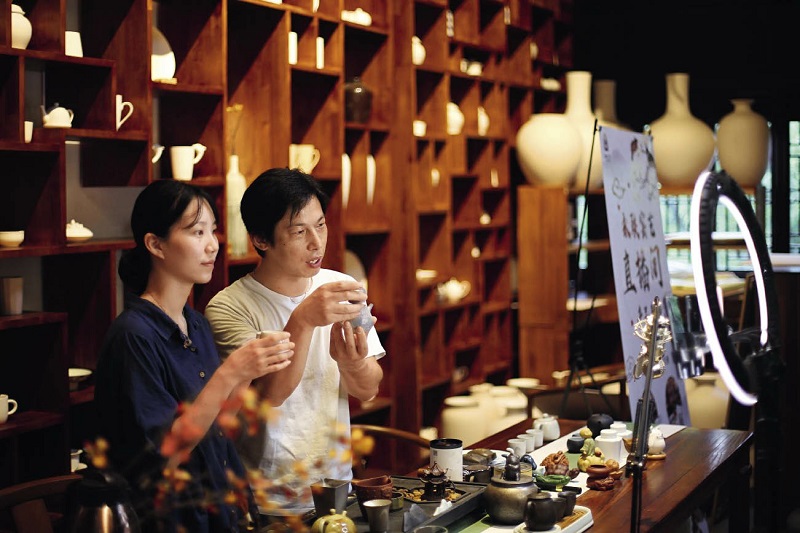 Staff members of the farming culture theme park in Yonglian Village sell pottery wares via live streaming on June 13, 2020.
Benefits for All
"The purpose of our development is to share the fruits with all, achieve common prosperity, and meet the people's needs for a better life," Wu said, adding, "As long as we keep our original aspiration and mission in mind, we can always make decisions and seek development in the interests of the people."
Since its establishment, Yonglian Village has provided more opportunities for villagers to enjoy a better life through a series of institutional arrangements for economic growth. The village size has expanded and the village population increased from around 700 to more than 10,000. The village has seen to it that every new member of the village is treated equally.
At the beginning of the 21st century, the village-run Yonggang Group underwent two rounds of overhauls to shift toward a modern corporate system. The company decided to give 75 percent of its shares to the board of executives and professional management team and the remaining 25 percent to villagers. This creative initiative earns the village about RMB 200 million in dividends annually, and offers an average of RMB 10,000 in cash dividends to each villager each year.
Sharing benefits in this way is also seen in the employment, education, and medical care sectors. Although the Yonggang Group can absorb part of the village labor force, many locals cannot be employed because they are either not well educated, past retirement age, or are in poor health. Yonglian Village has thus established labor and security companies, and signed contracts with nearby enterprises to provide poorly-skilled laborers with jobs like sanitation workers and security guards.
Education can help villagers realize their dreams. So, in 1995, 2005, and 2014 respectively, the village built, renovated, and expanded the village primary school, using funds from the village collective. In addition, Yonglian Village also set up the Yonglian People Foundation, which receives donations of more than RMB 20 million every year from society, Yonggang Group and its employees. The foundation is dedicated to public welfare programs, such as education, poverty alleviation, and care for senior people and those living with disabilities.
Speaking of rural vitalization, Wu said that the key to this issue is the transformation of industries, governance mechanisms, and the workforce. "In the future, we must adhere to the leadership of the Party to build a modern industrial system, a modern ecological community, and a modern rural governance model, and strive to be a vanguard in achieving basic agricultural and rural modernization in Jiangsu Province by 2022."