President Xi's New Year address bolsters the nation's confidence in its restored vibrancy and strengthened solidarity when forging ahead on the new journey towards China's modernization.
The New Year arrived amid the gradual return of the world's second largest economy to its pre-epidemic bustling normalcy. In bidding farewell to the eventful year of 2022, among its many memorable moments are some that will be forever etched in the people's memory. The successful convening of the momentous 20th National Congress of the Communist Party of China (CPC), the superlative staging of the Beijing Olympic and Paralympic Winter Games, the completion of China's Space Station … the list goes on. But there were also poignant moments, wrought by natural disasters and unexpected accidents, upon which the people stuck together and helped one another in an instinctive display of solidarity.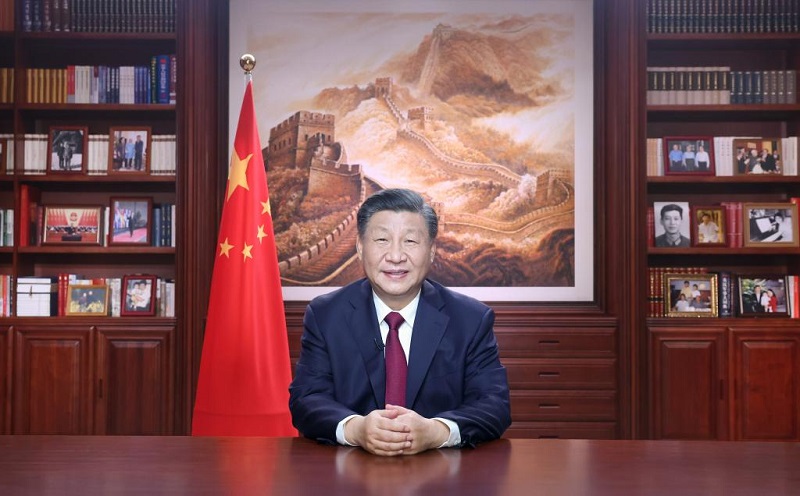 Chinese President Xi Jinping delivers a New Year address on the evening of December 31 in Beijing to ring in 2023. (Xinhua/Ju Peng)
"At every turn of the year, we always think of the great character of resilience that the Chinese nation has carried forward through millennia. It gives us still greater confidence as we continue our way forward," President Xi Jinping said in his 2023 New Year address.
As the country further optimizes and refines its COVID-19 response, the surge in transportation flows and the booming consumption market and manufacturing sectors augur a promising year ahead. As President Xi said on New Year's Eve, "Going forward, China will be a country that performs miracles through hard work."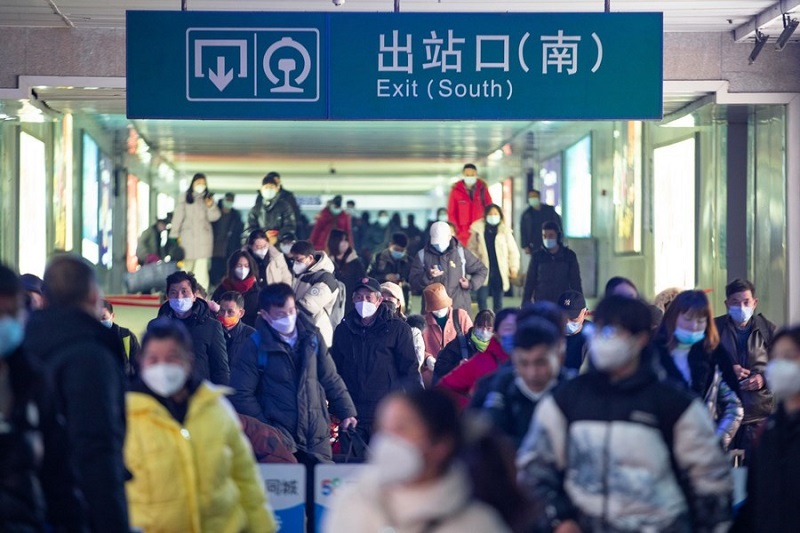 Travelers walk out of Nanjing Railway Station in Nanjing, capital of east China's Jiangsu Province, on January 2, 2023. (Xinhua/Su Yang)
People First
People's concerns are always top on the President's agenda. "We have introduced tax and fee cuts and other measures to ease the burden on businesses, and made active efforts to solve the most pressing difficulties of high concern to the people," Xi said.
The country has rolled out a raft of support policies geared to shoring up economic recovery and helping enterprises ride out their difficulties. As of early November, China's tax refunds, as well as tax and fee cuts and deferrals, totaled RMB 3.7 trillion, State Taxation Administration data show. Preferential tax and fee reduction policies saved taxpayers RMB 789.6 billion during this period, while deferred tax and fee payments amounted to RMB 679.7 billion. Such payments from the 100,000 key enterprises monitored by taxation authorities fell by 5.3 percent per RMB 100 of operating revenue.
Meanwhile, the country has done its utmost to ensure the basic livelihood of people in difficulties. Data show that more than RMB 120 billion of fiscal funds were expended during the first half of 2022 on providing subsistence allowances and other subsidies to impoverished and other social groups across the nation, marking a 7 percent year-on-year increase.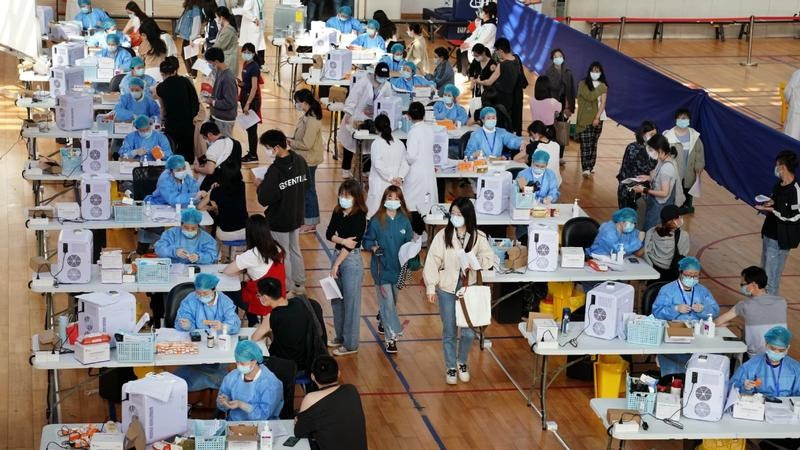 Teachers and students get vaccinated against COVID-19 at East China Normal University's Minhang campus stadium in Shanghai on March 28, 2021. (Xinhua)
When, as the year 2022 drew to its close, COVID infections surged throughout the country, measures to boost the output of medical supplies, as well as to ensure the provision of raw materials, establish new production lines, and promote technological upgrading, were immediately taken in efforts to enable pharmaceutical enterprises to operate at full capacity. By December 15, more than 15,000 fever clinics had been set up in grade II hospitals and above, while more than 35,000 fever clinics and consulting rooms were set up in primary-level medical and health institutions.
Since the first COVID-19 outbreak three years ago, China has always given top priority to the people and to saving lives by adapting its COVID response to the changing situation. The country has recorded the world's lowest rates of mortality and severe cases, so effectively controlling the spread of the virus and gaining sufficient time to provide universal vaccinations. In doing its utmost to protect the people's lives and health, the country has also minimized the impact of the epidemic on its economic and social development.
As the country enters a new phase of COVID response wherein tough challenges remain, President Xi calls on the country to "make an extra effort to pull through, as perseverance and solidarity mean victory."
Laudable Accomplishments
In his New Year address, President Xi stated that, "Today's China is a country where dreams become reality." The Beijing Olympic and Paralympic Winter Games concluded with a resounding success. The year 2022 also saw the launch of the Fujian, China's third aircraft carrier, delivery of the C919 jet – China's first large passenger aircraft, and the start of Baihetan hydropower station's operations.
A most outstanding of the country's achievements that year was China's substantial progress and remarkable accomplishments in its pursuit of further space exploration. The launch of the lab modules, Wentian and Mengtian, into orbit and their docking with the core Tianhe module marked completion of the T-shaped Tiangong space station. This, and the launch last November of the Shenzhou-15 mission, signified the space station's entry into an application and development phase that will last ten or more years.
This simulated image captured at the Jiuquan Satellite Launch Center in northwest China shows the manned spaceship Shenzhou-15 conducting a fast automated rendezvous and docking with the space station's Tianhe module on November 30, 2022. (Xinhua/Guo Zhongzheng)
China welcomes astronauts from other countries to its space station to carry out scientific experiments. The country indeed endeavors to make the station a platform for extensive international participation, following the principles of peaceful utilization, equality, mutual benefit, and common development. China has signed agreements and carried out cooperation projects with France, Germany, Italy, Russia, Pakistan, and many space agencies and organizations. Tiangong space station is the first of its kind to welcome all UN member states.
As President Xi said, "None of these achievements would have been possible without the sweat and toil of the numerous Chinese people. Sparks of talent are coming together, and they are the strength of China!"
Anchor of Global Recovery
The Chinese economy is still the world's second largest, and has achieved sound development. As Xi stated in his address, GDP for the coming year as a whole is expected to exceed RMB 120 trillion.
Foreign companies, moreover, remain upbeat about the Chinese market. The first 11 months of 2022 saw a 9.9 percent climb in China's foreign direct investment (FDI), year-on-year, to RMB 1.156 trillion, surpassing the total for 2021. Over 99 percent of surveyed foreign firms feel confident about China's economic outlook in 2023, and 98.7 percent said that they would maintain and expand their investment in China, according to a Xinhua report last December.
China has the world's most complete industrial system. The country's manufacturing industry takes up 30 percent of the world total, making it a vital global manufacturing hub. High-end manufacturing was a major FDI destination in 2022, and many foreign manufacturers treat China as an innovation base, according to a Xinhua report. Official data show that during the first 11 months of 2022 China's actual utilized foreign investment in high-tech manufacturing soared 58.8 percent, year-on-year.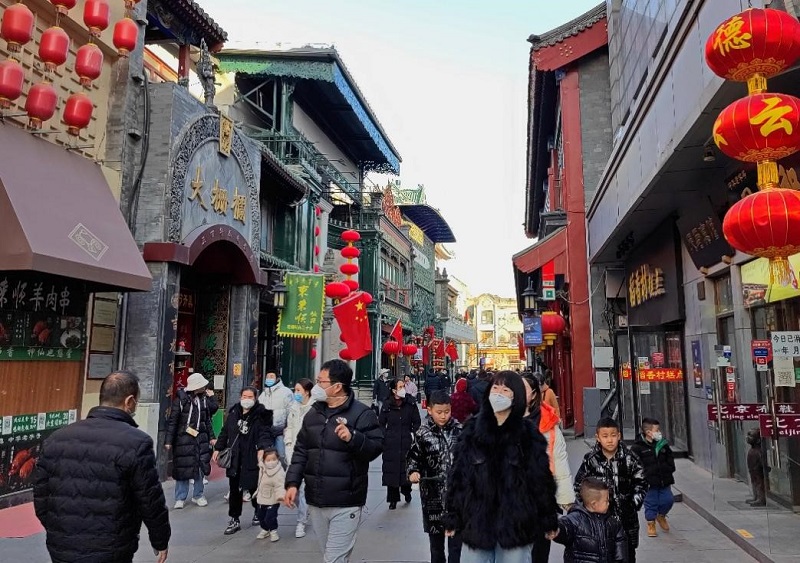 Visitors throng the business street Dashilan as shops attract customers with alluring discounts in late December 2022. Photo by Yu Xiangjun
With per capita GDP surpassing US $12,000, China is home to the world's largest middle-income group. Owing to their greater disposable income, the Chinese become consumers of quality goods and services, and their potential purchasing power is immense. The lifting of COVID test requirements in most public places brought a decisive rebound in tourism, catering, and retail revenues across the country during the three-day New Year holiday. Around 52.7 million domestic tourist visits were recorded during the three-day break – a 0.44 percent year-on-year increase, according to the Ministry of Culture and Tourism. Tourism revenue generated over the holiday consequently reached over RMB 26.5 billion, up 4 percent on the same period last year.
Last December China published guidelines on facilitating consumption and upgrading consumption quality. "In the short run, China's consumption market will pick up, with consumption related to travel and services registering a bigger rebound. In the mid-to-long term, consumption will become a major driving force for economic growth," Huang Wentao, chief economist with China Securities, said in a Xinhua interview.
"The fundamentals sustaining its long-term growth have remained strong. As long as we stay confident and strive for progress while maintaining stability, we will realize the goals we have set," Xi said in his New Year address.
Promoting World Peace and Seeking Common Development
"Today's China is a country closely linked with the world," Xi observed in his address. The past year furnished President Xi's head-of-state diplomacy with a busy schedule that bore fruit sufficiently to set the pace for China's overall diplomatic work. State Councilor and former Foreign Minister Wang Yi summed it up on December 25 at the Symposium on the International Situation and China's Foreign Relations as one home-ground event, two major initiatives, and three important foreign visits.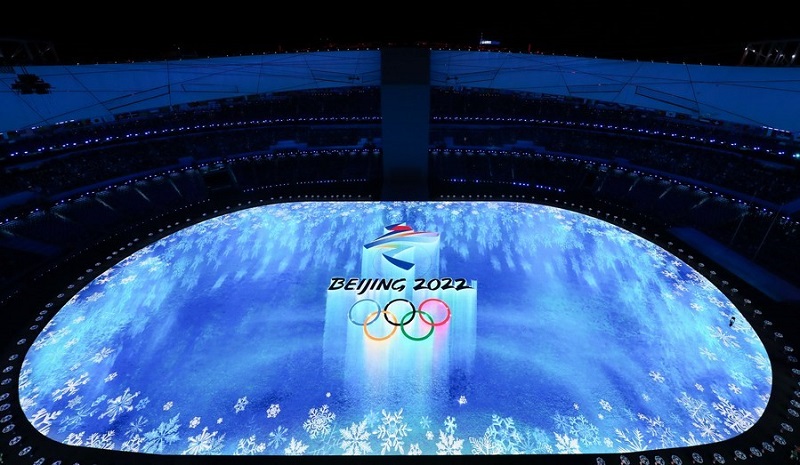 The opening ceremony of the Beijing 2022 Olympic Winter Games at the National Stadium in Beijing held on February 4, 2022. (Xinhua/Chen Yichen)
The Beijing Olympic and Paralympic Winter Games opening ceremony brought together 31 heads of state, government, and international organizations from five continents. The international community thus experienced a more confident, open and inclusive China, Wang said.
It was also during the past year that China offered its solution, based on Chinese wisdom, to global governance deficits, and for tackling the common challenges confronting the world as a whole. The Global Development Initiative (GDI) and the Global Security Initiative (GSI) – two major initiatives – are essential in addressing the urgent needs and difficulties of our divided and changing world.
In drawing a blueprint for more inclusive world development, the GDI has won the endorsement and support of more than 100 countries, and a number of international organizations. Around 70 countries have joined the Group of Friends of the GDI.
President Xi put forward the GSI at last April's Boao Forum for Asia, offering a Chinese proposal that aims to address the challenges to global security and achieve durable world peace and security. As of now, over 70 countries have voiced support for the GSI.
Xi's three major foreign visits last year include the Meeting of the Council of Heads of State of the Shanghai Cooperation Organization (SCO) in Samarkand, the G20 Summit in Bali and the APEC Economic Leaders' Meeting in Bangkok, and the first China-Arab States Summit and China-Gulf Cooperation Council (GCC) Summit in Riyadh.
President Xi attended in the period before and after the 20th CPC National Congress five multilateral summits, and held bilateral meetings with the leaders of more than 40 countries, so creating three head-of-state diplomacy peaks in 2022, and making a good start to the work of the CPC's new collective central leadership in China's foreign affairs, Wang Yi said.
As Xi observed in his New Year address, "We cherish peace and development and value friends and partners as we have always done."
In blazing a new trail of major-country diplomacy with Chinese characteristics, China demonstrates the country's strong sense of mission and responsibility as a major country. Wang Yi predicts that the year 2023 will see a new climax in head-of-state diplomacy, and many highlights in home-ground diplomacy. The country will, meanwhile, expand all-round diplomacy in a coordinated manner, continue to seek the widest possible convergence of interests in global governance, and focus on strengthening its international communication capacity.
As Xi emphasized in his address, "We work hard to contribute China's wisdom and solutions to the cause of peace and development for all humanity."