Having savored the afterglow of the vibrant Beijing 2022 Winter Olympics and its magnificent closing ceremony on February 20, China is now gearing up for its next big event – the annual sessions of its national legislature and top political advisory body, known as the "two sessions."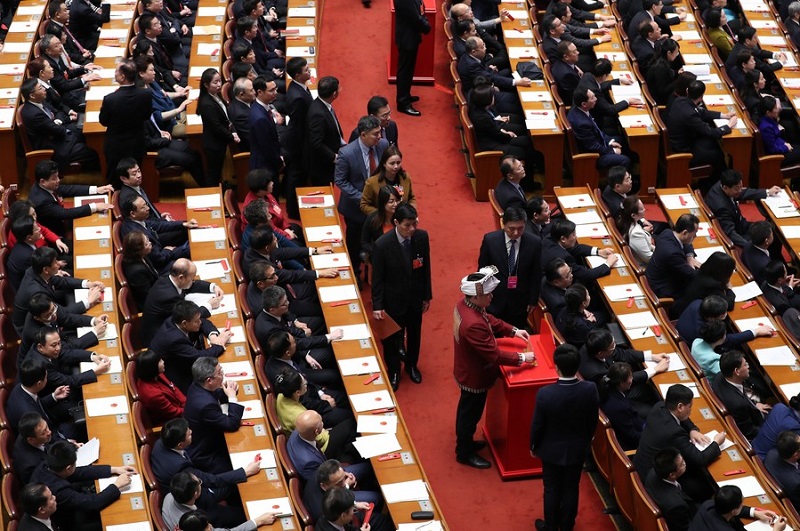 Deputies to the 13th National People's Congress (NPC) cast their ballots on a draft amendment to the Constitution at the third plenary meeting of the first session of the 13th NPC in Beijing, capital of China, March 11, 2018. (Xinhua/Ding Haitao)
The 13th National People's Congress (NPC) will convene its fifth session on March 5, while the 13th National Committee of the Chinese People's Political Consultative Conference (CPPCC) will hold its fifth session on March 4. Thousands of national lawmakers and political advisors from across the country will gather in Beijing for the "two sessions," which embrace every aspect of the country's development and the people's wellbeing.
Now a focal point of global attention, the annual "two sessions" offer the international community a window into how the country is run, and how Chinese people exercise their democratic rights through participating in state affairs. NPC deputies, as representatives of the people who have selected them, submit motions; and CPPCC National Committee members, as representatives of different social sectors, raise proposals, and participate in deliberations on state affairs and supervision of state governance.
In 2021, offices and departments under the State Council handled 8,666 suggestions from NPC deputies and 5,718 proposals submitted by CPPCC members, according to a briefing at the recent State Council executive meeting chaired by Premier Li Keqiang, who urged efforts to "gather wisdom from all sides" to improve the government's work. The meeting pointed out that the relevant departments had adopted over 4,300 pieces of advice, and subsequently introduced more than 1,600 policy measures.
World Values Survey (2017-2020) data show that Chinese people, with an average score of 7.5 out of 9, are happier with their country's political system than are Americans, who scored an average 4.5. However, in the latest edition of the Democracy Index, compiled by the U.K.-based Economist Intelligence Unit (EIU), released on February 9, China nevertheless sits in 148th position, with a score of 2.21 out of 10.
More alarmingly, the U.S. House of Representatives passed on February 5 the so-called "America COMPETES Act of 2022," whose content denigrates China's development path and its domestic and foreign policies, clamoring for strategic competition with China. The Act, steeped in Cold-War mentality and zero-sum game mindset, "once again exposes the hegemonic and bullying practice of the United States, which runs counter to the trend of our times and people's shared aspiration for peace, development, and cooperation," Chinese Foreign Ministry spokesperson Zhao Lijian told a recent regular press briefing.
Particularly ironic is the dichotomy between the Washington-led so-called "diplomatic boycott" of Beijing 2022 and the record viewings of Winter Olympics videos and live broadcasts on various U.S. platforms. More than 100 million Americans watched the Games on NBCUniversal networks, the U.S. media conglomerate announced. The event was also "the most streamed Winter Games ever."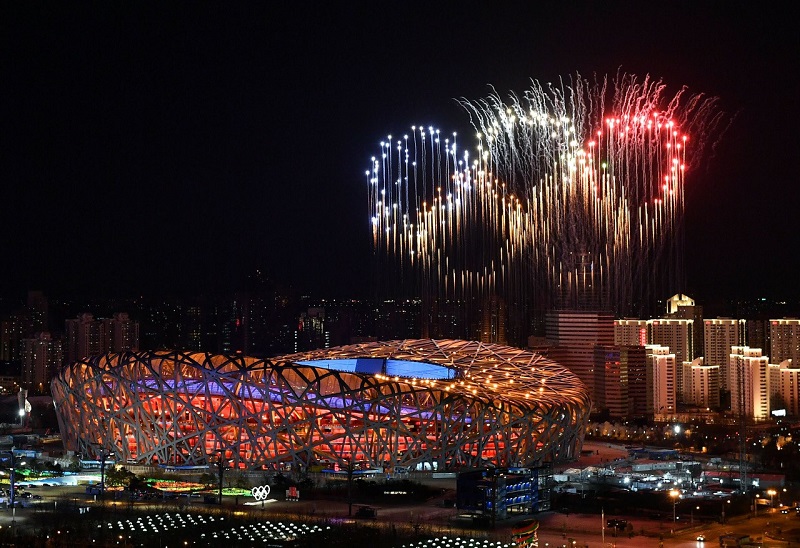 Fireworks illuminate the night sky during the opening ceremony of the Beijing 2022 Olympic Winter Games at the National Stadium in Beijing on February 4, 2022. (Xinhua/Li Xin)
Many warm moments will be permanently etched in people's memory of the Games. China's veteran freestyle skier Xu Mengtao — a four-time Olympian — burst into tears upon realizing her dream of winning an Olympic gold in the women's aerials. American freestyle skier Ashley Caldwell, who narrowly missed a place on the podium, gave Xu a huge hug, exclaiming "Taotao! Olympic Champion!" adding, "I'm so proud of you!" "Some of the best love is found in friendship," tweeted CBC Olympics, Canada's official Olympic and Paralympic broadcaster. And as Chinese Foreign Ministry spokesperson Hua Chunying commented on Twitter, "True sportsmanship transcends borders."
Legendary U.S. snowboarder Shaun White has 1.5 million followers on TikTok. In one viral video clip White showcases the traditional Chinese dishes he had so relished in the Olympic Village, including "Sweet and Sour Pork," "Kung Pao Chicken," and "Dandan noodles." "In between competitions, I have just been eating," he said frankly. "The food is so good."
The popularity of the Beijing 2022 Olympic Winter Games among ordinary Americans, and the friendships built between U.S. and Chinese Olympians during the Games have rendered the "diplomatic boycott" no more than a farce staged by Washington and some of its cronies under the so-called "human rights" pretext.
In a world frequently plagued by conflicts, and the tendency towards division and decoupling, the solidarity enshrined in the Games and its immense success have greatly boosted human confidence the world over to overcome challenges and ride out trying times by working together. But the necessary premise is to cast off the "Cold War" mentality and respect each other while cherishing common human values, in the belief that the world excels in its diversity.