As entrepreneurs, traders, investors, and governments discuss economic resilience, competitiveness, and real and potential geopolitical crises, it is more than clear that the entrepreneurial spirit should take precedence when it comes to dealing with China. With the global pandemic behind us, the entrepreneurial spirit should show the path since it is connected to reality, and not speculations.
Also, China, the most populated country, responsible for one third of the world's growth in recent years and expected to continue its contribution as a global dynamo, is moving on in entrepreneurship — private or state sponsored, becoming increasingly focused on a green economy and contributing to fighting global climate change.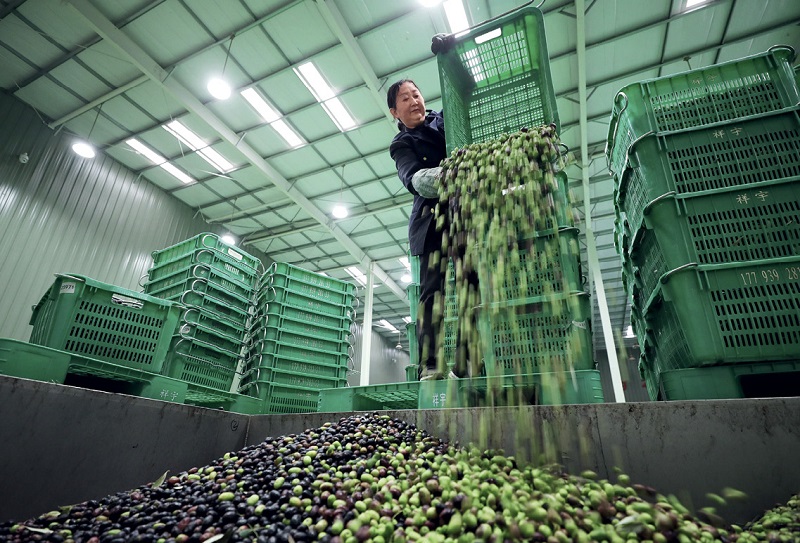 A farmer of Longnan City, Gansu Province occupied with harvesting olives on October 2022. After olives were introduced to Longnan from Mediterranean countries, the city became a top olive production base in China.
Engagement Now and Beyond
In the January 15 research report, The China Imperative for Multinational Companies, American management consultancy McKinsey talks about the need to reconfigure businesses to adapt to post-pandemic times. It says the average household income in China has risen from about US $750 in 1990 to US $13,000 in 2019. Such dynamism drew multinationals to China like a magnet and they have built a mutually beneficial relationship over recent decades.
McKinsey warns that the sheer complexity of the Chinese market means that the "notions of outright decoupling are simplistic." Tellingly, the McKinsey analysis stresses that in China, the largest market with expected more than 5 percent GDP growth in 2023, the opportunities still remain large. In an increasing multipolar world, Beijing has become a major pole.
Jörg Wuttke, president of the EU Chamber of Commerce in China, also warned in January 2023 to "avoid overestimating the risks and underestimating the benefits of engagement" with China. It showed the potentially blind attitude of not considering the costs of Europe not fully engaging with China. As a matter of fact, European multinationals regularly say that operating in the world's second largest economy, which is also continuously growing, keeps them profitable, innovative, and globally competing.
Challenges to Opportunities
In early 2023, China has already become a recognizable leader in advanced technologies and interconnectivity. Think of the Green Belt and Road Initiative concept, artificial intelligence, and space technology. Today, China's green transition is a gigantic window of opportunity for all, from our daily domestic recycling consumption to ecological food and clothing needs, for both small and medium-sized enterprises and multinationals, no matter what their size. China's transition alone will require investments worth trillions of dollars, representing gigantic, lucrative business opportunities in China and worldwide. It is the embodiment of a community of share futured for humankind, embracing us all.
I tell my university and business school students, particularly at the ESADE private university in Barcelona, "If you do not go to China, China will come to you." For indeed it is a two-way street, continuous and unstoppable, even in pandemic times. For example, in 2021, Chinese venture capital investment was pouring into European tech startups at a record level, reaching €1.2 billion, more than double the amount in 2020, according to the report The Chinese FDI in Europe: 2021 Update by the Rhodium Group in New York and the Mercator Institute for China Studies in Berlin. The survey found the flow was concentrated on fintech, e-commerce, artificial intelligence (AI), and robotics. In 2021 completed Chinese FDI in Europe increased 33 percent to € 10.6 billion, from € 7.9 billion in 2020.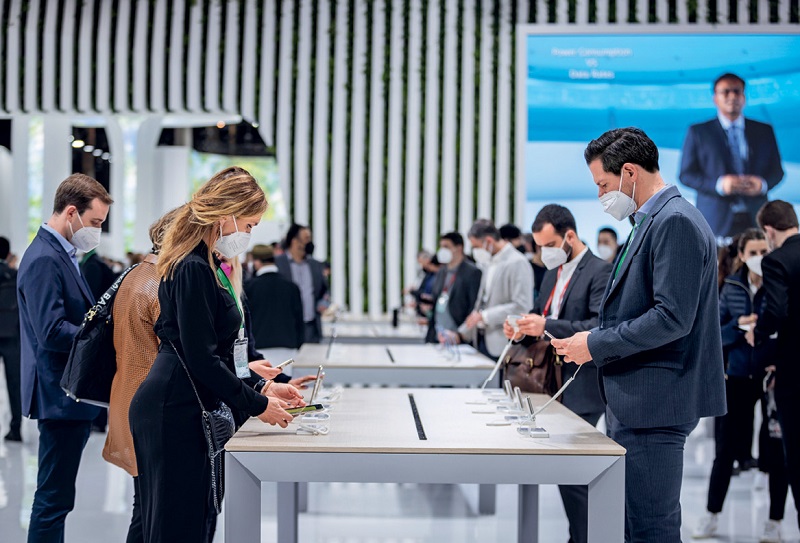 Visitors looking at mobile devices at the Huawei booth during the Mobile World Congress on March 2, 2022 in Barcelona, Spain.
Competition and Collaboration
In this background, where competition and win-win situations often go hand in hand, Chinese technology corporation Huawei and the Hospital Clínic de Barcelona in Barcelona signed a memorandum of understanding in November 2022 to promote the use of technology in healthcare for two years. Huawei will provide telecommunications equipment and technological solutions using AI and 5G connectivity, reinforcing the digitization of Spain's health system. It will help in, for example, early detection of diseases and improving medical care as well as exploring new forms of field interactions, including remote connection treatment and patient monitoring. The move will mark a milestone in the Huawei's operations in Europe, bringing win-win solutions to both sides in the entrepreneurial spirit while benefiting patients.
Since hospitals in a cosmopolitan city like Barcelona receive patients of all nationalities, and since the city has a vibrant Chinese community from all walks of life, Chinese patients will benefit too.
The two-way entrepreneurship continues in 2023, adapting without conflict, like in the more traditional food industry. In early January, Spain, the largest olive oil producer and by far the largest olive oil exporter to China, began importing olive oil from the city of Longnan in Gansu Province in northwest China. That means further recognition of this emerging industry in the Chinese city, which has already exported its olive oil to the Republic of Korea and Italy, gained recognition in olive oil class competitions in Spain, Italy, Greece, Argentina, Israel, the United Kingdom, and Japan, and won nearly 40 top awards. Does this mean that Spanish olive oil companies will now disappear, beaten by competitors in quality and price? Or will they be favoring decoupling or disengagement? Not at all.
China became Spain's second largest olive oil export market outside Europe and fifth globally in 2021-2022, selling over 45,000 tons at a value of €177 million. According to the Interprofessional Association of Spanish Olive Oil, it is a 10.25-percent increase year on year. In the long term, the Spanish olive oil industry might lose or gain, depending on innovation capacities and alliances with its very competitors.
These activities are currently discussed in business schools and institutions worldwide, such as the China Europe International Business School in Shanghai, Beijing, Shenzhen, Zürich and Accra; ESADE Business School in Barcelona and Madrid, Spain; the Tsinghua Arts and Design Institute in Milan, Italy; the Tsinghua University Latin America Center in Santiago, Chile; and the Global Innovation Exchange Institute (GIX) in Seattle, U.S.
Major consultancies and think tanks, including Natixis in Hong Kong and the Paulson Institute in Washington, say China's entrepreneurship at the private and state level, considering Beijing's recent policies such as "common prosperity" and "dual circulation," is business friendly and connected to the outside world.
It's foreseeable that China's economic and technological growth will continue to influence the world — this year and beyond.
AUGUSTO SOTO is director of the Dialogue with China Project based in Spain.