Mao Guangyou and his wife inside their mattress factory in Fuyuan, Yunnan Province, in September 2022 (COURTESY PHOTO)
A truck cabin has two compartments—two seats in the front and a sleeper compartment in the back. The confined space serves as both a workplace and a bedroom for truck drivers, who typically spend more than 300 days a year in their mobile homes.
"Truck designers know how to create the perfect engine and transmission combination, but how many of them have actually tried the sleeper cab? They have no idea just how uncomfortable the original mattress is," Mao Guangyou, founder of a mattress factory in Fuyuan, Yunnan Province, said.
Mao's business focuses on addressing this problem overlooked by office-based designers by manufacturing customized sleeper cab mattresses, a rarely seen service on the market, and selling them on Taobao, tech giant Alibaba's massive online shopping platform. Previously a truck driver himself, Mao was all too familiar with the industry's particular pain point and saw it both as an opportunity for his tiny factory, which only employs six, and a solution to his fellow drivers' roadside torment.
In China, small and medium-sized businesses like Mao's are the "capillaries" of the economy. Their stories prove how China's economic miracle is not only the fruit of grand undertakings, like extensive infrastructure investment, but also the result of unrelenting efforts exerted by the country's minjian gaoshou (literally "masters among ordinary folk")—like Mao.
Business and life
Far more than your average cushion, Mao's product is actually a jigsaw puzzle. The primary challenge lies in a precise grasp of different mattress measurements, which vary from truck brand to brand and model to model with different concave-convex angles. When Mao set out on his journey, no such information existed online, nor did truck manufacturers have the data he required.
And so, Mao himself had to go and measure the truck cabins in person, one by one. He recorded the exact dimensions of hundreds of brands and models and then created mattress templates for each and every one of them. At this point it's safe to say that even though Fuyuan does not produce trucks, it does own the most complete truck sleeper cab catalog in all of China.
"I don't have to sleep in a pod anymore," is what many happy drivers have to say about Mao's product. The mattress brand, as implied by its name—Truck Baby, has won the favor of truck drivers all over China and has filled a market gap that had long gone under the radar.
"Small and medium-sized businesses have played a positive role in China's economic development," Hong Yong, an associate researcher with the E-Commerce Institute of the Chinese Academy of International Trade and Economic Cooperation, told Beijing Review. These companies create jobs, especially in rural areas and small cities, allowing local residents to find work close to home.
Small and medium-sized businesses also meet ever more diversifying consumer needs. And their inherent flexibility allows them to better adapt to market changes and promote greater competition through personalized products and services, Hong explained.
For example, in response to a customer's need to warm up their mattress in the bitter cold of winter, Mao managed to create a temperature control system for his product, in turn upgrading his brand to Truck Baby 2.0.
In Sichuan Province, Shu Wenqing also innovated his business—live-stream cooking on Taobao. At 7:30 p.m. every day, without skipping a beat, Shu goes online to whip up a carefully curated selection of Sichuan dishes. Live-stream viewers based in Mianyang City, Shu's hometown, can then order the freshly made dishes and have them delivered to their doorstep right away.
"People are making money at work—instead of cooking at home, and I make money cooking" is how Shu sums up his business philosophy.
Yi Ge [pseudonym] has his own entrepreneurial wisdom. The young man leads a team of three in selling leftover stock of mobile phone cases online. To keep producing trendy cases, large suppliers need to get rid of excess stock to make room for new ones. Yi smelled a business opportunity.
Yi usually obtains the leftover cases for free and sometimes the suppliers even pay him for taking them. Yi's team will then package them, 10 pieces per parcel, and sell the "blind boxes" on Taobao at 10 yuan ($1.4) per parcel—and delivery is free. Given a single phone case will usually go for more than 10 yuan on Taobao, these blind boxes are definitely a bargain for consumers.
Entrepreneurs like Mao, Shu and Yi all had their own reasons for starting up a business, either out of interest, a sense of responsibility or simply to make a living. But their contributions and resourcefulness are actually an indispensable part of China's economic progress moving on- and upward.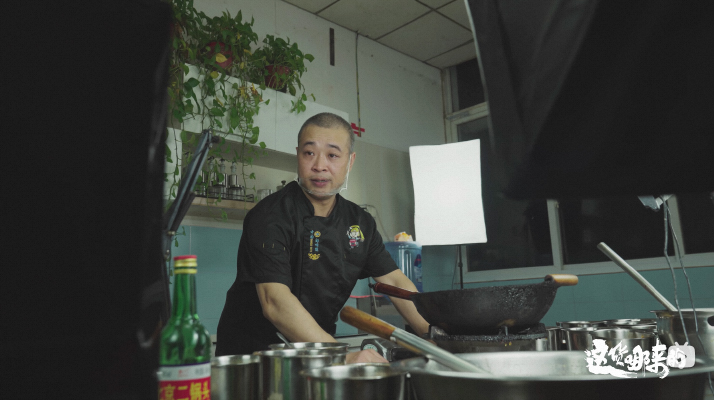 Shu Wenqing is simultaneously cooking and live-streaming from his kitchen in Mianyang, Sichuan Province, in September 2022 (COURTESY PHOTO)
Behind the webpage
Nevertheless, their business success cannot be separated from China's increasingly modernizing business landscape. E-commerce, for one, plays a crucial role.
Hong said e-commerce removes geographical restrictions which helps sellers expand their business. It provides low-cost sales channels and convenient marketing and advertisement tools for them to gain exposure and build up a reputation.
The aforementioned "masters among ordinary folk" all need Taobao to give full play to their business skills, which in turn allows their goods and services to reach more customers.
Meanwhile, the mega platform has provided its eager entrepreneurs with even more possibilities. Its idea to turn their stories into a documentary instantly struck a chord with a filmmaking team famous for recording the lives of ordinary people in China. The collaboration's final product, In Goods We Trust, was released on BiliBili, a popular video platform targeting Gen Zs, and video platform Youku in February. It went viral.
As part of the documentary's promo campaign, Taobao introduced an H5 page with delicately designed miniature stores where users could find all the Taobao sellers featured in the documentary. An H5 page is basically a mobile website, mostly a promotional or event-related site, that can be shared on social media platforms. People can then browse through the website with an in-app Web browser.
Pan Heng, producer of the documentary, told Beijing Review that the sellers almost turned an instant profit from the documentary and its related campaign. Mao found a potential business partner as well as professional bed mattress suppliers to lift his brand to the next level. The daily number of new followers on Shu's channel grew at a speed 10 times that of before, with 70 percent of new followers placing orders. The day Yi's episode aired, he sold 13,000 blind boxes, according to Pan.
"E-commerce provides ordinary people with an all-inclusive way to expand their business and change their destiny," Pan said. "It brims with imagination and creativity."
(Print Edition: In Goods We Trust)
Copyedited by Elsbeth van Paridon
Comments to zhangshsh@cicgamericas.com