Five foreign experts with the Foreign Languages Press (FLP), a subsidiary of China International Communications Group (CICG), recently wrote to President Xi Jinping describing their experiences translating and publishing books such as Xi Jinping: The Governance of China and expressing their pride at engaging in work that helps international readers better understand China.
In a reply to these foreign experts on August 25, President Xi said that accurate and expressive translation will help the world better understand China in the new era and play a significant part in promoting exchanges and mutual learning between Chinese and foreign civilizations.
In the letter, Xi also extended greetings to all members of the publishing house on the occasion of the 70th anniversary of its founding.
The experts, coming from different countries and cultural backgrounds, have shared their love for China and Chinese culture and made significant contributions to the country's translation and publication work that serves foreign readers, Xi wrote in the letter.
He urged the foreign experts to continue to pool their strengths in telling China's stories with excellent translations that can easily break through linguistic and cultural barriers, so that more foreign readers can understand China.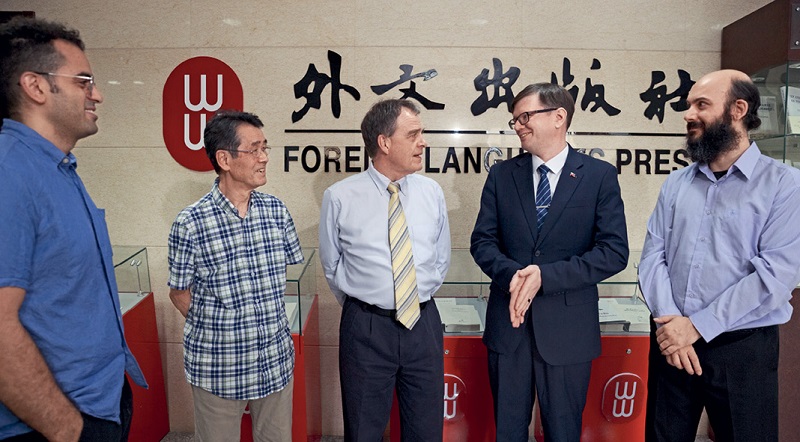 The five foreign experts with the Foreign Languages Press who recently wrote to President Xi Jinping: Aly Thabet Aly Mohamed Farag from Egypt, Kikuchi Shuji from Japan, David William Ferguson from the U.K., Timofey Bakhvalov from Russia and Burkhard Risse from Germany (left to right). Photo courtesy of China Pictorial
Aly Thabet Aly Mohamed Farag, from Egypt, has lived in China for 14 years and speaks fluent standard Chinese. As an expert in Arabic translation at the FLP, he is one of the five who wrote the letter to Xi. Thabet said he was elated to get a response from the Chinese leader and immediately telephoned his family members after hearing the news. "Knowing that President Xi attaches so much attention to translation, I feel that I'm now tasked with a greater responsibility to do my work well," he said.
David Ferguson – an editor from the U.K. – who has polished translations of many of Xi Jinping's books and government white papers, felt quite honored when reading President Xi Jinping's reply to the letter he and his colleagues had written. In the letter, they also wrote that they felt a great sense of responsibility while working on the translation of Xi Jinping: The Governance of China. Ferguson edited the English translation of Volume I, II, III, and IV of Xi Jinping: The Governance of China.
"As you delve deeper into Xi Jinping Thought on Socialism with Chinese Characteristics for a New Era, you realize that it is, in fact, a single structure where all the pieces fit together like a jigsaw, covering all of the areas of importance to the people," he said.
The West's ongoing hostile presentation of China has made Ferguson's work like "plowing a very, very difficult furrow" in his own words. "But it's all the more reason why people like me who know and understand China are now trying to present China in a positive light," he said.
In 2021, Ferguson was granted the Friendship Award and the Special Book Award of China by the Chinese government for his contribution to cultural exchanges.
Meanwhile, foreign experts with other subsidiaries of CICG have also been greatly inspired by President Xi's letter. "I'm very surprised, and as one of CICG's foreign experts, also very honored when I read President Xi's letter. My morale in facilitating exchanges and communications between China and France has been greatly boosted," Julien Buffet, a French editor with China Today, said at a CICG meeting for sharing reflections about Xi's letter. A PhD holder, Buffet has worked at the magazine for over five years. Noting China-France cultural exchanges can be traced back to centuries ago, he went on to say that the bilateral exchanges have seen booming development during the past decade with the largest group of people of Chinese origin in Europe found in France. "I'm going to do more to bridge the two cultures," Buffet said.
After reading President Xi's letter, Mahitab Ahmed Abdelhalim Mostafa, an Egyptian editor with China Today's Arabic edition, said, "I felt it was also a letter to me." Fully recognizing foreign experts' role in promoting cultural exchanges, the letter has infused in Mostafa a new impetus and sufficient confidence in continuing her job and translating more works to reach people outside who want to learn more about the Eastern country. She believes those works will help people get to know the real China and enhance mutual understanding between China and other countries.
At the meeting, CICG President Du Zhanyuan pointed out that the letter fully reflected the importance President Xi has attached to international communications in the new era and the work pertaining to advancing mutual learning and exchanges between Chinese and other civilizations. Du pointed out that it provides guidance for CICG's translation and publication work.
Founded in 1952, the FLP was the first publishing house to produce works in foreign languages after the founding of the People's Republic of China in 1949. The fourth volume of President Xi's book Xi Jinping: The Governance of China was recently published by FLP in both Chinese and English. In 2014, the first volume of the book debuted at the Frankfurt Book Fair in Germany, where it was available in nine languages – including Chinese, English, French, and German. As of now, the book has been published in four volumes and 36 languages and distributed in more than 170 countries and regions.
Du Zhanyuan said the publication of President Xi's works, including Xi Jinping: The Governance of China has broken new ground in the sphere of international communication of the Party's innovative theories in the new era and increased the ways in which international readers can learn about China.