This year marks the 50th anniversary of the establishment of diplomatic relations at the ambassadorial level between China and the U.K. Looking back in history, some people and organizations are memorable for the two countries, as they have made important contributions to the development of bilateral ties. While looking forward, more farsighted people are focusing on bolstering win-win cooperation and giving fresh significance to bilateral ties, so as to increase mutual benefit on the ground. The 48 Group Club is one such forward looking organization. Its name comes from a British trade delegation of 48 businessmen, also known as the "Icebreakers," who traveled to China in 1954 to establish trading relations between the two countries.
China Today recently spoke to Stephen Perry, chairman of the 48 Group Club and managing director of the London Export Corporation. His father Jack Perry, founder of the club, was among the 1950s pioneers. Perry junior, following in his father's steps, visited Beijing in 1972, and was among the group that first sold commodities from the U.S. to China. He was quickly enamored with China and has since been working as a bridge to connect China and the West through trade. In 2018, Perry became the only Briton among 10 foreigners awarded the China Reform and Friendship Medal for his outstanding contributions to the friendship and economic and cultural exchanges between China and the U.K.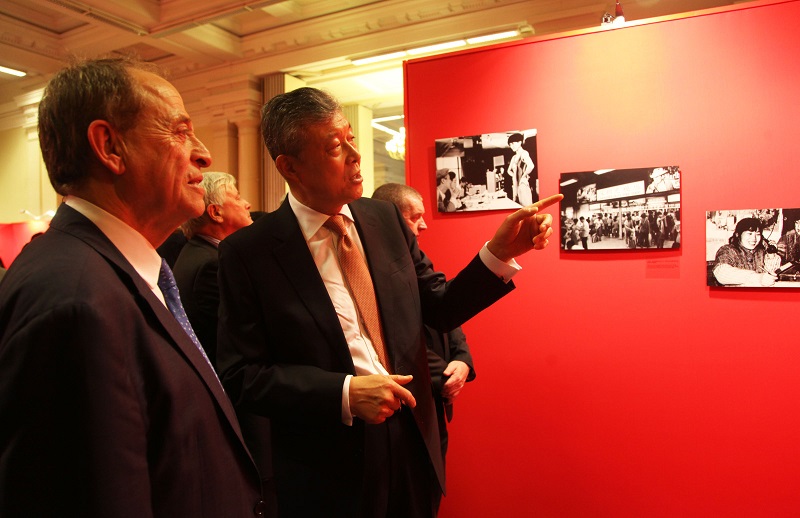 Stephen Perry (left) accompanied by former Chinese ambassador to the U.K. Liu Xiaoming (right) on a visit to the "Glorious History" photo exhibition celebrating the 40th anniversary of China's reform and opening-up held in London, on December 11, 2018.
China Today: In the 1950s, your father Jack Perry was among the first Britons to do business with the New China. What are your memories of your father?
Stephen Perry: My father was a serious man who left school at 14 years of age, after prolonged illnesses resulting from the London fog. In the hospital he learned to read and read all the British classics. Later, when he experienced fascism directly, with brutal attacks on London's working class, he started to read Karl Marx and other writers of a progressive philosophical leaning.
He went on to meet Chinese through others who opposed the Cold War, and attended the International Economic Conference held in Moscow in 1952 at the suggestion of Dr. Ji Chaoding, then secretary-general of the China Council for the Promotion of International Trade. My father agreed to help restart British and European trade with China and founded the London Export Corporation and then the Icebreakers mission of 1953, before founding the 48 Group Club.
He was a profound and self-educated man. I watched him dine with British prime ministers and leaders of the U.S. He was respected for his knowledge of China and explanation of Chinese policies. He was also hounded by opponents of New China and treated very badly by some.
China Today: In 1972, following in your father's steps, you helped China reach its first major business deal with the U.S., which also started a journey for you to further discover this country and its people. During your first trip to China, which cities did you get to visit, what impressed you most? And was China the way you had imagined?
Stephen Perry: That deal was to expose to me the reality that the world was changing and China was open to proposals where they married with China's interests. I lived in the U.S. twice and made more than 200 trips to the U.S. doing several billion dollars' worth of U.S.-China trade.
In 1972, China was very poor and its foreign trade depended on its crop yields. The better the weather the less China had to spend on food imports. The peasants turned off the lights early at night and turned them on early when they went to the fields. It was a country that was putting itself back together through the hard work of the Communist Party of China and the Chinese people, fighting hard to find the right paths.
All the cities from Liling to Beijing, from Kunming to Shanghai made deep impressions on me then and since. China is like a constantly changing stage set, reflecting the return of China and the new forms of the world that China was to be part of. Through China one can learn about the world and about the history and recovery and the future of the country. It is a breathtaking history and [will be] a sensational future that blends past and present ideas coming from its leaders such as Chairman Mao and President Xi Jinping. The first premier of the newly formed People's Republic of China, Zhou Enlai, also played a significant role in seeking to establish a new way to trade with the West.
China Today: You have traveled back and forth between China and the U.K. more than 200 times and witnessed great changes in the country. What is it that keeps you coming back?
Stephen Perry: China is an incredible story of how one quarter of the world's population has transformed its own reality in less than 70 years. I have seen its reform and opening-up through the eyes of a businessman, which is unusual. Sometimes, in doing major business deals I had to learn new ways and be very patient. But I found China believes in a "win-win" philosophy of cooperation. A "win-win" where if both sides gain then the deal can go forward. That takes some learning. Many foreign businessmen and women try to win in China. The way to succeed is to find "win-win." I have not found that anywhere else in the world.
China Today: After China's reform and opening-up, especially during the last 10 years, what businesses has the 48 Group Club focused on to promote bilateral economic and trade relations? What are the main imports and exports?
Stephen Perry: What amazed me during my first visit to China in 1972 was that every inch of the ground was used for agriculture. Then I was surprised again in the period after 1978, when China transformed from an agricultural society to an industrialized country.
In the early days, China exported tea, canola oil, silk, and other agricultural products to the U.K., and the U.K. exported goods like wool, metal, and chemicals to China. Now the imports and exports have been expanded to a wide range of commodities including food products, raw materials, and many other commodities.
Trade performs many functions. All commodities in trade are in an integrated global matrix. The weather around the world impacts different nations' needs and resources, so we buy and sell food such as soybeans, nuts, animal feed, and oils. Countries are endowed with different assets and natural resources, so commodities such as metals, minerals, machines, and chemicals are being traded both ways, as well as industrial raw materials and textile raw materials from cotton to polyester, cashmere, and camel hair. In addition to that, finished textiles, housewares, ceramics and glass, as well as arts and crafts, are also included in our bilateral trade.
China Today: In 1993, you became the chairperson of the 48 Group Club, which now has more than 600 Chinese and British individuals or institutional members covering business, culture, diplomacy, and other sectors. You introduced Andrew Lloyd Webber's musicals to the Chinese people, such as The Phantom of the Opera. Can you share some details about the backstory of this process and what is the essence of cultural exchange?
Stephen Perry: The 48 Group Club hasn't just been about trade – it has also made strides in cultural and sporting exchanges. We brought a Chinese language version of Les Misérables to Shanghai for the first time in 2002 and worked with many parts of Chinese culture to achieve that. One day our work was brought to a standstill when we were told the authorities did not like the name of the musical, as it clashed with the current campaign in China of harmony. I was able to ask the premier of China if we had to comply to change the name of the musical. He replied in public that this work was one of the great works about the horrors of raw capitalism. He said the name was appropriate. The people of that time were miserable. It showed me the worldliness of China's leaders and their preparedness to hear a foreigner.
I took the first British football team to China in 1978 and there was a great roar during the match. Deng Xiaoping came to the match and stood up and waved to everyone there. These have been wonderful moments of bridging the cultural and sporting divides between our countries and giving the opportunity to create closer relations between the peoples of the two countries.
We might have many different tastes and characteristics, but what we have in common between our peoples is struggling to accept change and removing the pain. Having leaders who think first of the people is key. Both our countries have experienced good and bad. But we know that eventually good will triumph.
China Today: Young people are creative and active in thinking. The 48 Group Club's "Youth Icebreakers" are committed to enhancing exchanges and understanding between Chinese and British young people. What roles do these young people play?
Stephen Perry: The "Young Icebreakers" is a leading and respected network for young U.K.-China business leaders, continuing to reflect and enhance our strong heritage from the 48 Group Club. The youth act as a bridge between two countries. The network provides a channel to share ideas, raise awareness and promote the achievements of British and Chinese young people, whilst creating a sense of collaboration and community among young professionals who are interested in China and the broader community.
I think what is most significant is that in today's world, our "Young Icebreakers" have a global vision and can find their own ways to grow. They have the potential and power to shape their own future. The youth are the future and opponents [of China] cannot prevent that.
China Today: How can China and the U.K. – two countries which have different histories, cultures, and social systems and are at different stages of development – maintain the long-lasting and win-win relations, as well as promote the building of a community with a shared future for humankind?
Stephen Perry: The world is going to change much faster. Asia is going to become the primary region of the world so long as it does not allow others to force it to pointless wars.
The U.K. and China are two of the five permanent members of the UN Security Council and it is the most sacred duty of both nations to serve the world not just themselves. In the end, it is this task that will bind our two nations. If either fails then we will both fall. We lean on each other to help others to share.
Our mutual benefit can help the world with a policy of sharing and building a safe world where nations cooperate. It is only through cooperation to reach greater goals that the world can be safe. Our problems of public health, climate change and global warming can only be managed by sharing objectives and deepening research to find new options for the world. For example, there is an evident reality that COVID-19 is not going away anytime soon. The U.K. and China can initiate great progress by managing COVID-19's features. We can innovate together for the benefit of the world. This is a public service, for the public good.