Zoë Reed, hailing from London, has another name. It is a typically Chinese name, Sun Ruyi, which means "everything you could wish for." The name, given by her father when she was 46, suggests a deep connection.
A youthful 71, Zoë, chair of the Society for Anglo-China Understanding (SACU), is passionately devoted to people-to-people exchanges between China and the U.K. Her connection with China is a blood tie that has made the work not just her responsibility but also her passion.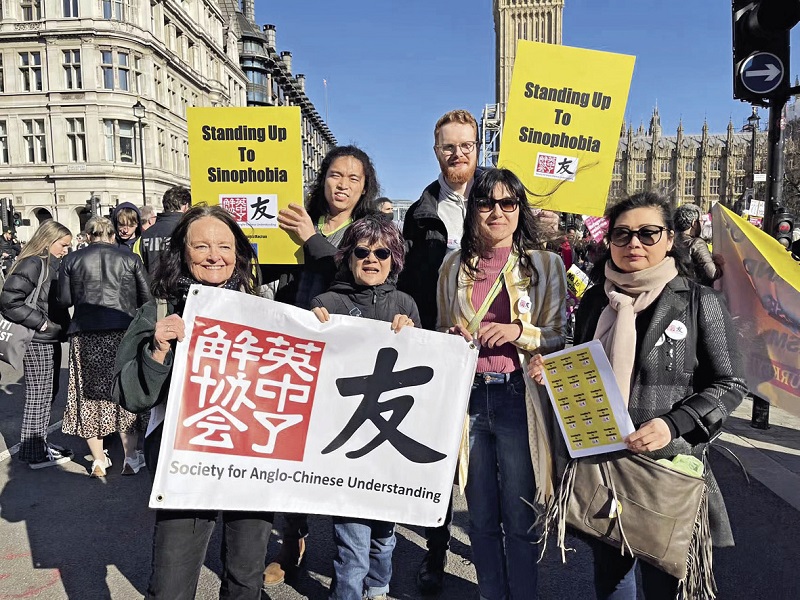 SACU members are participating in an anti-racism demonstration called "Standing Up To Sinophobia" on the streets of London, on March 19, 2022.
Family Bond
Zoë's bond with China started in the 1940s. Back then, Dr. Joseph Needham, a renowned scientist at Cambridge University, helped two Chinese students go to the U.K. for higher studies.
One of the students was Sun Kuang-chun, who went to the Cooperative College, near Loughborough, and studied textile engineering. There he met a young student, Susan Reed, and they had a relationship. When Sun's studies ended, he returned to China, but neither he nor Susan was aware that she was pregnant, and they were not in contact again.
The child that was born was Zoë Reed. It was not an easy job for Susan to raise a half Chinese baby on her own in the 1950s. "She moved to different parts of the country, which involved me living with different families and having to settle into 11 different schools," Zoë said. However, the relocations had a benefit. They have given her flexibility. She feels comfortable in different situations and can get along with many types of people. "This has been useful in my career and of course, my current work at SACU, too," she laughed.
Susan had been in touch with Dr. Needham and his wife Dorothy, when she found out she was pregnant, and the first panicky contact with the kind and helpful couple developed into a life-long friendship. "My mother would write to them whenever she had difficult decisions to make – in life, study, or career," Zoë said. "They would invite her to stay in their home in Cambridge, giving her full support and encouragement."
Every Christmas and birthday, Zoë received books about China as a gift from the Needhams. "Some of the books are still on my bookshelf, arranged in order of the years they were given to me," Zoë said, showing the titles in her collection.
For example, in 1956, she was given Monkey Journey to the West, a children's book adapted from the Chinese masterpiece Journey to the West written by Wu Cheng'en in the Ming Dynasty (1368-1644). As a five-year-old, she was fascinated by the illustrations in the book. These China-themed books opened a wonderful new world for her, a world that she would be part of one day.
China, a Second Home
It had long been Zoë's wish to meet her father. She came to know his circumstances in her early 20s. "I didn't feel any anger that he had returned to China after finishing his studies," she said. "He didn't know my mother was pregnant when he left."
In 1995 when Zoë attended Dr. Needham's funeral, his lifelong friend HT Huang offered to contact her father. Shortly after, she received a letter from him, welcoming her into the family.
By that time, Zoë herself was married and a mother of two children. "My husband and I arranged a trip to China with our two children. That was also the first time I went to China, and I was, by turns, both tremendously excited and very anxious about how our adventure would turn out," she said.
"We set out from London and took a nine-hour flight while my father's family traveled 36 hours on a train from Lanzhou to Beijing. We agreed to meet under the red flag in Tian'anmen Square on March 21, 1997." It was Zoë's 46th birthday. Two families, one British, one Chinese, were finally united.
Between 1997 and 2019, Zoë made 16 trips to China, traveling to different cities. "Each time I visited the family, I tried to make it also connected with my work in the U.K. National Health Service (NHS) and SACU," she said. In 2012 she published her father's life story, written by him, and in 2016 was asked to add her mother's story and hers to it – and the book A Bridge Between Hearts was published in English and Chinese.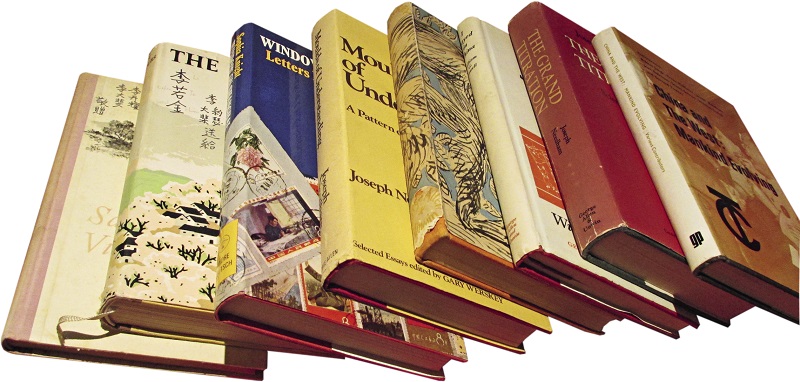 China-themed books Zoë Reed received as Christmas or birthday gifts from the Needhams.
In Dr. Needham's Footsteps
SACU, a U.K.-wide organization, was established by Dr. Needham and others in 1965 to promote understanding and friendship between the peoples of Britain and China.
Susan joined SACU earlier on and Zoë in 2001. "By then, I had been to China a couple of times and really wanted to contribute to SACU's mission," she said. When she was nominated as the chair in 2009, she realized the huge responsibility placed on her. But she says she is glad that over the last 10 years, SACU has emerged from a relatively quiet existence into an active contributor to friendship and understanding between the peoples of China and the U.K.
The year 2013 marked the 70th anniversary of Dr. Needham's first long journey to China in 1943. This was the journey where Joseph Needham had first met Zoë's father as a schoolboy. SACU organized a trip named "In the Footsteps of Needham." Together with her husband Richard Poxton and 24 other SACU members, Zoë flew to Chongqing, where Dr. Needham's original journey had started. Seventy years on, a permanent memorial to Joseph Needham was established there. Then they went to Chengdu and visited the Chengdu Research Base of Giant Panda Breeding as well as the restored Dujiangyan Irrigation Project, the world's oldest irrigation system without using dams. Dr. Needham had also visited the site.
The next destination was Lanzhou, where they met up with Zoë's Chinese family, and then on to Shandan where her father had studied at the Bailie School. The technical training school was founded by Rewi Alley, an educator from New Zealand and its first headmaster was George Hogg from England. Then, the party went by coach to Dunhuang, famous for its ancient caves with Buddhist murals, spending three days exploring. "What an unforgettable long journey!" she exclaimed.
On its 50th anniversary in 2015, SACU launched the George Hogg Education Fund to promote educational exchanges and cooperation between localities and institutions in Britain and China; and also to provide more opportunities for its members to know more about the life of ordinary people in China. The fund is linked with the International Committee for the Promotion of Chinese Industrial Cooperatives in China.
Zoë is also active in promoting cooperation between British and Chinese institutions on mental health. After studying pharmacology and psychology, she first worked for local government and now with the NHS, where she is a director at the oldest psychiatric hospital in the world dating back to 1247, South London and Maudsley NHS Foundation Trust. It is also the largest mental health training institution in the U.K. and one of the cooperation projects was with Weifang, a city in east China's Shandong Province, for medical exchanges. In 2015, a delegation of doctors and nurses from Weifang spent a month with Trust staff, observing their techniques and approaches in the diagnosis and treatment of mental illness.
The last such NHS visit Zoë made was before the pandemic in June 2019. At the invitation of the British Foreign and Commonwealth Office, she and a doctor colleague organized training sessions on mental health services which they presented to doctors and nurses in three Chinese cities – Xi'an, Yinchuan and Chengdu.
Through SACU, Zoë has other collaborations in China, including with the Chinese People's Association for Friendship with Foreign Countries, the Beijing Publishing Group, and some local governments. "Every time I visit China, I can see old friends and find the rapid development and changes in China," Zoë said. "It now takes less than nine hours from Lanzhou to Beijing on the high-speed train, which is almost the same time as flying from London to Beijing!"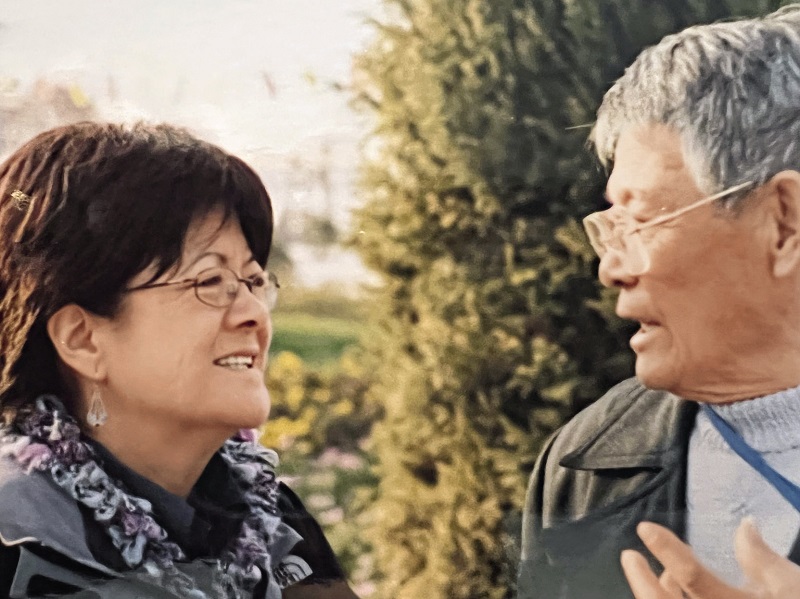 Zoë Reed and her father Sun Kuang-chun.
Hope Lies in Youth
SACU has a quarterly publication China Eye for its members as well as a monthly newsletter. "China Eye" disseminates information on China's local customs, science, education, culture and business. It introduces Chinese characters, traditional Chinese medicine and intangible cultural heritage. The aim of SACU and its magazine is to provide information which helps build friendship and understanding between the peoples of China and the U.K.
Zoë commented that in recent years, there has been a marked rise in Sinophobia in the U.K. "Some British people who lack understanding of China's culture, civilization and development can be misled by negative reports," she said. However, the new changes in China have also increased people's interest in further understanding the nation and its people.
China Eye tries to counter the negative coverage of China in the Western press. "We cover positive and interesting news and facts as well as book reviews and articles about Chinese culture," she said. She is impressed by the strides China has been taking to tackle climate change. "We should do more to promote understanding of the steps China has taken," she said.
In recent years, more people joining SACU are young Britons who chose to study or work in China and have now returned to the U.K. They want to keep that connection between China and Britain alive and to tell a better story, the true story of China they experienced rather than the stereotypes you hear.
She is delighted that about one third of the SACU Council are young people, both British and Chinese, who are also social media savvy. Some of them share the interests of contemporary young people in China like Chinese hip hop music. "The more our young people can see the similarities between our two cultures, the more likely we will build deeper emotional ties and demolish the prejudices against China," Zoë said.