A Finnish expert has been making an important contribution to China's sustainable development and exchanges between the two countries over the past decade.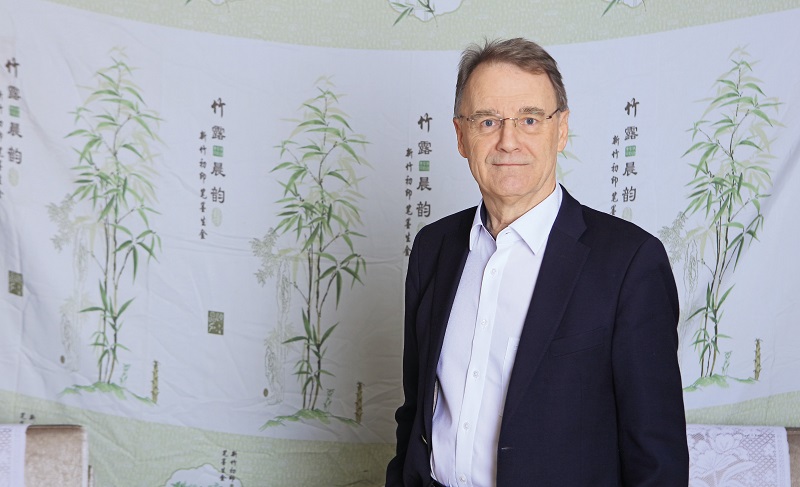 Patrick Eriksson, a Finnish expert in ecological building.
Patrick Eriksson is a Finnish expert in ecological building, smart cities, and small city development. He is currently a senior advisor to the Administrative Committee of the Xiongan New Area. In 2019, he received the prestigious Yanzhao Friendship Award from the People's Government of Hebei Province.
On the afternoon of January 17, 2020, a few days before the Spring Festival, Premier Li Keqiang met with representatives of foreign experts working in China. He extended his greetings for the Spring Festival to them and their families, and expressed sincere gratitude for their support to China's reform, opening-up, and modernization process.
Eriksson, in attendance at the meeting, said, "It was my first time to come to the Great Hall of the People and the second time to see Premier Li Keqiang. I first saw him about a decade ago. I was deeply impressed by his friendliness and open attitude."
Premier Li Keqiang said during the meeting that openness is the distinctive feature of China's development. China unswervingly safeguards world peace, multilateralism, and free trade. While opening ever wider, China continues cooperation with other countries to achieve win-win results. He added that China would implement more proactive, open, and effective policies to attract foreign talent, and provide more convenience for foreign experts working and living in China. Eriksson felt very excited and encouraged after hearing Premier Li Keqiang's positive remarks.
Eriksson said, "I noticed that all the experts present were somewhat nervous, but we were soon put at ease by the premier's unique charisma. At the evening banquet following the meeting, I briefly chatted with the premier and mentioned our encounter a decade ago. This experience was one of the highlights of my time thus far in China."
Eriksson said with deep emotion, "China is a fascinating country; its development and the changes which I have witnessed have added to my interest in city planning. I'm doing things that I have a great interest in. I'm willing to help other people and have developed a strong sense of affection for China."
Aurora Borealis, also called Northern Lights, shine over a forest in Nellim, Finland on January 27, 2018.
"Retire? No! I'm going to China."
"I'm 74 years old this year. When I was 60, my friends asked whether I would retire. I said 'no, I'm going to China'." Therefore, in December 2008, Eriksson came to China.
Even before he came to China, some members of Eriksson's working team were from China. In his interactions with those Chinese colleagues and interns, he had already become very curious about China and looked forward to going there.
Eriksson has participated in several projects since he came to China, "I was lucky to participate in some Chinese projects, such as the building of China-Singapore Tianjin Eco-City, the development of Chenggong New Area of Kunming City, and the overall planning of Beijing's Mentougou District. We also participated in some design competitions and won several awards. For example, we won the third prize for the design of Nanjing·Sino-Finnish Economic Trade, Cultural Cooperation, and Exchange Center."
In June 2015, during his first visit to Hebei Province, Eriksson held a lecture on ecological development in small cities and towns. One month later, he played host to a delegation from Hebei in Stockholm, the capital of Sweden, and helped with the signing of a development and cooperation memorandum between Hebei and Tengmbom (Sweden) to jointly develop eco-friendly cities. In October of the same year, he visited Hebei for the second time as a project representative and participated in business cooperation events. In July 2017, he received a delegation from the Hebei Administration of Foreign Experts Affairs in Helsinki, the capital of Finland. He accompanied them on field trips to ecologically-designed cities in Finland. In December of the same year, he delivered a speech about the planning and building of eco-cities in North Europe and Scandinavia in Shijiazhuang, the capital of Hebei. He later visited Hebei GEO University to discuss the cooperation between Chinese and Finnish higher education institutions.
"I enjoy living and working like this. I know I'm contributing to sustainable development, and I'm willing to continue doing that," Eriksson said with a smile.
Building Xiongan Like a University
Located in Baoding, Hebei Province, Xiongan New Area was approved by the Central Committee of the Communist Party of China (CPC) and the State Council, as a part of the China (Hebei) Pilot Free Trade Zone in 2017. This new area is of great significance for alleviating Beijing's non-capital functions, exploring new models of optimal development in densely populated areas, adjusting and optimizing Beijing-Tianjin-Hebei's urban layout and spatial structure, as well as creating new engines for innovation-driven development. As a senior consultant of the Xiongan New Area Management Committee, Eriksson has developed a sincere connection with Xiongan after visiting it many times.
"We should build Xiongan like a university," said Eriksson. In his opinion, in world renowned universities, the students study, live, exercise, and play on eco-friendly campuses. Faculty members are also very comfortable teaching and living in such a cozy environment. "Why don't we design a city like a university? Why not let everyone in the city enjoy the comfort the city brings to them?" said Eriksson.
In terms of Xiongan's construction, Eriksson listed four key words: new symbol of China, smart transportation, zero-waste city, and an eco-friendly city.
Eriksson believes that Xiongan, as an entirely new space, should become China's new symbol, showing the country's updated image to the world and its efforts in sustainable development. Its construction has attracted worldwide attention. Eriksson feels it is imperative to design it with the most advanced concepts and world-class standards, build it into a benchmark project, and create a model of urban construction.
It has obvious advantages — convenient transportation, an excellent ecological environment, and great accessibility to resources; all of which meets the basic conditions for high-standard development and construction.
Smart transportation should be a focus of Xiong-an's construction. "Electric vehicles are an important mode of transportation. They can reduce pollution and increase the effectiveness of public transportation," according to Eriksson. Another trend in revival is the use of bicycles, which requires separate bike lanes in urban design. "Bike-sharing allows people to easily use bicycles through apps, which is a factor that must be considered during urban upgrading and rebuilding," Eriksson said. In addition, online shopping is also a growing trend, which means an increase of billions and billions of packages over time. "This convenient shopping method has brought more traffic and even traffic congestion with it, so this is also a factor we need to consider when doing urban design."
Nothing is a waste, it is just misplaced. Xiongan should be a zero-waste city. A zero-waste city does not refer to a city without waste, nor does it eliminate the generation of waste. From the perspective of urban management, it effectively utilizes solid waste, reduces its generation, solves the problem of accumulated solid waste, and ensures a sustainable circle. The government needs to take advantage of the construction and features of smart and low-carbon cities, to advance the layout of solid waste management, and build a world-class zero-waste city with standardized norms, innovative models, and urban-rural integration. "I really hope that Xiongan will become a sustainable city. Building materials need to be eco-friendly and recyclable. I am confident that Xiongan can do this," said Eriksson.
Eriksson particularly emphasized urban greening, which plays a vital role in reducing carbon emissions and pollution control. "With the advancement of technology, people can actually work anywhere. How delightful it would be if one could live in an eco-friendly city."
Xiongan has been positioned as an ecological city. To ensure that, green space and water surface of the city area will account for more than 70 percent, and thus the share of infrastructure, production, and residential area cannot exceed 30 percent. This kind of city planning optimizes the ecological environment and is an important prerequisite for realizing a livable city, improving the life quality of citizens, and enhancing the image of the city.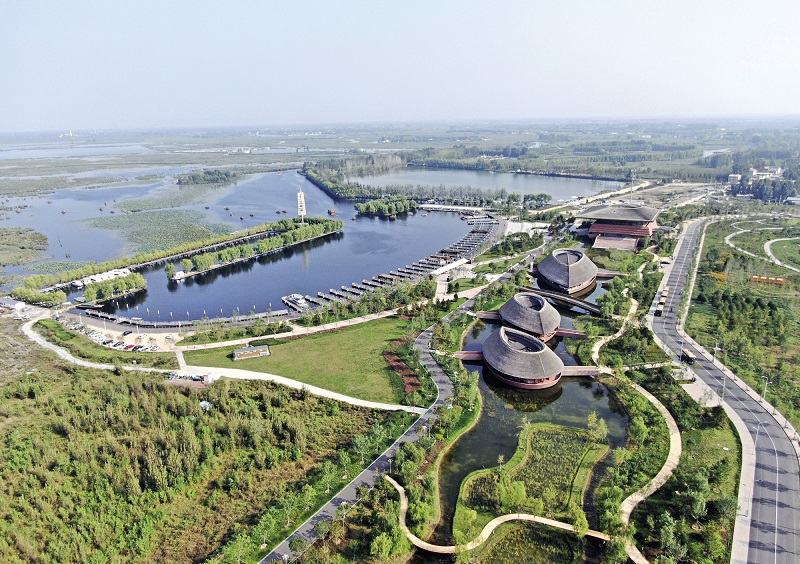 An aerial photo shows wharves at Lake Baiyangdian in Anxin County, Xiong-an New Area on October 1, 2021.
Exchanges and Mutual Learning
Finland has a lot of experience to share with China, especially pertaining to forest protection and afforestation.
Finland is a highly developed country, but its climate and natural environment are actually quite severe. The severe natural conditions have taught the Finnish how to survive, namely, to live with nature. "We have a deeply rooted 'green strategy,' and we care a lot about nature and protecting forests," Eriksson said.
With a forest coverage rate approaching 75 percent, Finland has a wealth of experience in forest plantation that can be shared with China. There is still a lot of room for improvement in China's forest coverage rate.
"In Finland, we start skiing from October till May," Eriksson proudly introduced that his country is quite advanced in all winter sports. He was impressed by the China-Finland Year of Winter Sports in 2019. A number of cooperation programs were carried out between the two countries to promote the Beijing 2022 Winter Olympics and winter sports. "As a founding member of the China-Europe Sports and Health Promotion Association, in February 2018, I had the privilege of promoting cooperation between China and Finland as well as China and other European countries.
Eriksson harbors a great love of Chinese philosophy, being a great admirer of the great thinker, Confucius. "The harmony between man and nature," and "equilibrium between yin and yang" in ancient Chinese philosophy resonate with him strongly. Balance is a way of thinking that he greatly appreciates. He has been working in the field of sustainable urban design, which he sees as shaping the balance of all kinds of factors in practical solutions.
Eriksson also appreciates the importance attached to water in the Chinese tradition, "I especially like riverside cities such as Nanjing's beautiful Qinhuai River, and the moat around the Forbidden City. The Forbidden City is the most refreshing place I have ever seen in the world." In his view, the architectural designs of ancient China, such as the Forbidden City, imbibe concepts of sustainable development.
WU XINGDUO is a special correspondent of International Talent magazine.