TRTCM carries on the techniques, procedures, and dedication of its founders while embracing modernization to expand the applications of traditional medicine.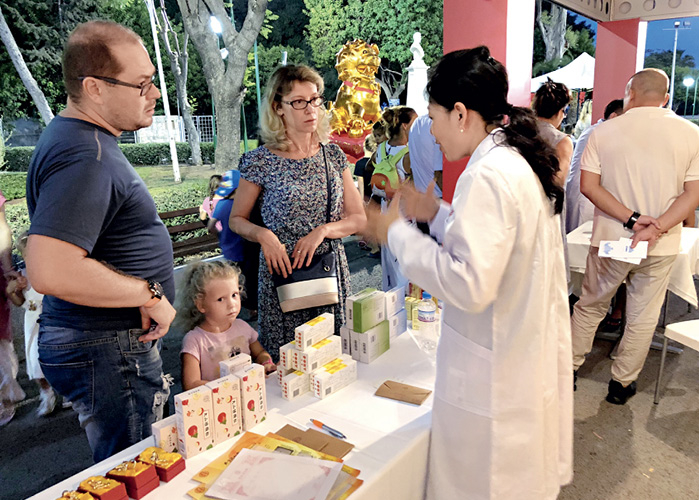 A Chinese doctor explains the functions of TCM products to local customers.
Back in 1993, the centuries-old traditional Chinese medicine (TCM) brand Beijing Tong Ren Tang established its first store in Hong Kong. In 2004, Beijing Tong Ren Tang Chinese Medicine Co., Ltd. (TRTCM) was founded in the Hong Kong Special Administrative Region, as part of the Beijing TRT Group's strategy for global expansion.
In 2013, TRTCM was listed on the Growth Enterprise Market of the Stock Exchange of Hong Kong. It has since accelerated its global outreach under the Belt and Road Initiative, entered European and American markets, and made breakthroughs in introducing TCM to mainstream markets in the West.
TRTCM takes promoting TCM practice and culture globally as its mission. It is committed to carrying on the traditional methods and skills for preparing Chinese medicine, and pushing for the application of TCM in today's modern society.
Under its four-step strategy for global development, TRTCM has established 151 retail branches, TCM clinics, health centers, and cultural centers in 28 countries and regions worldwide. The Tong Ren Tang brand has been registered in more than 100 countries and regions, and its more than 1,000 locally registered specifications of products are sold in 40-plus countries and regions. Its production line has obtained the Good Manufacturing Practice certification in Hong Kong, Japan, Australia, and the European Union, the Halal certification, as well as Israel's Kosher certification. The company has established cooperation with universities and research institutions in other countries to study the safety and mechanisms of action of its core products, hence providing data-based support to facilitate the entry of TCM health products into major Western markets.
In order to strengthen the people-to-people bond, TRTCM has launched a number of cultural activities in countries and regions along the Belt and Road routes. Among them is a stroke prevention campaign which started in Hong Kong in 2016. Various activities have been organized for this campaign every year, including a Baduanjin (a traditional Chinese exercise that combines breathing, body movement, and meditation) session that set a Guinness world record with 1,680 participants. TRTCM attended the first International Chinese Medicine Cultural Festival in Hong Kong in 2017 and the follow-up exhibitions in the U.S., Australia, and Canada. It also attended the China-Central and Eastern European Countries Capital Mayors Forum, the second Chinese Cultural Festival and the first China Intangible Cultural Heritage Exhibition in Cyprus, as well as the "Days of Beijing in Belgrade" event. In 2016, the mayor of San Francisco declared September 30 the Beijing Tong Ren Tang Day.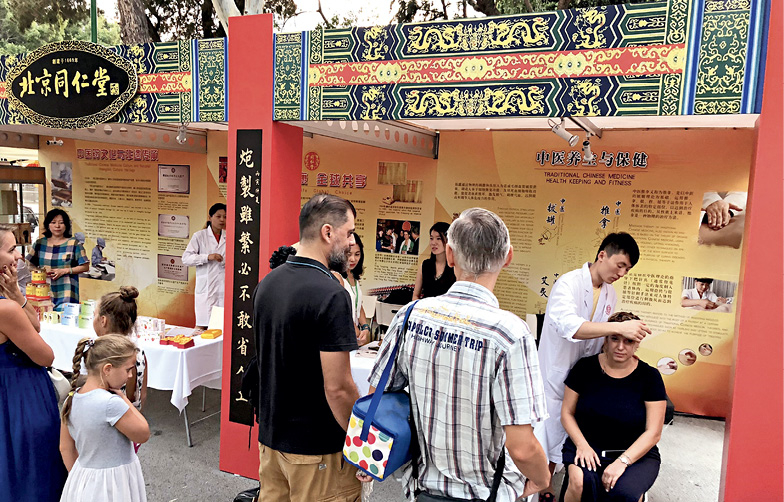 A TRTCM store in Cyprus provides TCM massages for cure.
In addition to quality health products, and diagnosis and treatment services, all overseas stores of TRTCM offer free teaching of Taiji and Baduanjin, and introduce China's health-preserving culture to local residents. So far, the company has served more than 50 million people worldwide and extended the TCM culture to tens of millions of people. Its services not only meet people's needs for a better, healthy life, but also help TCM gain more international recognition.
In 2020, TRTCM assembled an expert COVID-19 response team comprised of TCM experts from China and other countries, led by an experienced expert entitled TCM Master, the highest honor in China's TCM industry. Based on the study of pandemic developments in 50 countries and regions, they created 100 sets of "Fuzheng Biwen Decoction" formula and published the Research, Prevention, and Treatment of COVID-19 by Tong Ren Tang. The publication elaborated on the company's experience in fighting this disease and its unique approach to this fight. Its overseas stores also distributed leaflets on pandemic control to customers.
Beijing Tong Ren Tang Global Expert Group for COVID-19 Prevention and Treatment and the Chinese Medicine Task Force of Malaysia (COVID-19) jointly released the Malaysia COVID-19 TCM Practice Guideline (first trial version). TRTCM also donated anti-COVID medicine to Chinese enterprises and individuals abroad through Chinese embassies and consulates, and provided timely assistance to the international community in the fight against COVID-19.
These endeavors have won TRTCM many honors, including a spot in the lists of "top 10 successful Chinese enterprises operating in ASEAN," and the "top 10 enterprises for advancing globalization of TCM." In 2019, it was named one of the first national TCM service export bases by the Ministry of Commerce and National Administration of Traditional Chinese Medicine. In 2021, Tong Ren Tang ranked first among 118 mainland pharmaceutical companies in both the list of global businesses promoting the globalization of traditional medicine, and the "TCM going global" index, published by the Chinese Academy of International Trade and Economic Cooperation. In the same year, it was named one of the 10 successful cases of Chinese enterprises building positive international images. In September of 2022, the "Fuzheng Biwen Decoction" formula was selected as a demonstration case of global services at the China International Fair for Trade in Services.
At its 20th National Congress, the Communist Party of China declared that it will "promote the preservation and innovative development of traditional Chinese medicine," sending a heartening message to those working in this sector. TRTCM will continue to explore the historical, cultural, and practical value of TCM, find new methods to present and spread the TCM culture, and carry forward this national heritage while making innovations. In doing so, it will help bolster China's cultural confidence and make greater contributions to safeguarding the health of people around the world.