"Internet Plus" in recent years, has gained traction among universities, research institutes and even the corporate world. The Internet, enabling fast and interactive data transmission in real-time, has facilitated the openness and sharing of knowledge, the commercialization of academic achievements, and the development of platforms for academic exchanges.
"Approachable" Knowledge
As the carrier of information, the Internet has an irreplaceable position in efficient information transmission and storage. Because of this, researchers and scholars can search online and access the required academic literature both at home and abroad in a more convenient and efficient way. What's more, it helps them to keep an eye on the latest academic progress in the area of their studies.
Shi Renhai, associate professor at the Institute for Advanced Materials and Technology of Beijing University of Science and Technology, said that in the age of the Internet, a large number of official websites of academic journals and scientific research institutions have emerged along with the advancement of science and technology. These websites, with regularly updated journal databases and latest research outcomes, help scholars obtain useful information in their research areas, and be informed about the latest trends in certain industries, he said. It is unnecessary for researchers to get stuck in libraries in search of previous research results. Instead, one can surf the Internet for useful information and helpful materials, saving time on the preparatory work in deciding the direction of research. "As the Internet connects the whole world, it expands the depth and breadth of research topics with a global perspective," said Shi.
Being an open platform, the Internet also breaks the boundaries between professionals and amateurs, enabling the latter to obtain first-hand information in their fields of interest. An Internet user under the screen name of "yufujun," or loosely translated as a linguistics fan, has been following the research progress of Chinese language and literature, as well as the application of linguistics. At the beginning of 2019, "yufujun" created a chatting group on Chinese social media platform WeChat to share language service resources in his spare time. The chatting group has since attracted more than 500 linguistics enthusiasts, practitioners, and scholars. Each member share documents, articles, as well as news and events of academic activities. They also raise questions, share insights and unfold discussions via the platform, creating something like an online and interactive "micro academic salon."
"It takes no extra time or energy. We just share whatever we come across," "yufujun" said. The founder of the WeChat group said the platform, which gathers a huge amount of learning materials, enables him to make use of his fragmented time for study. In just two years, he has set up more than 10 chatting groups for language resources sharing. "As the number of members increases, I set up different groups for enthusiasts with different areas of interest so that they can get more targeted learning materials and information," he said. Roughly, he has a 5,000-member fan base and is expecting more kindred spirits to join in.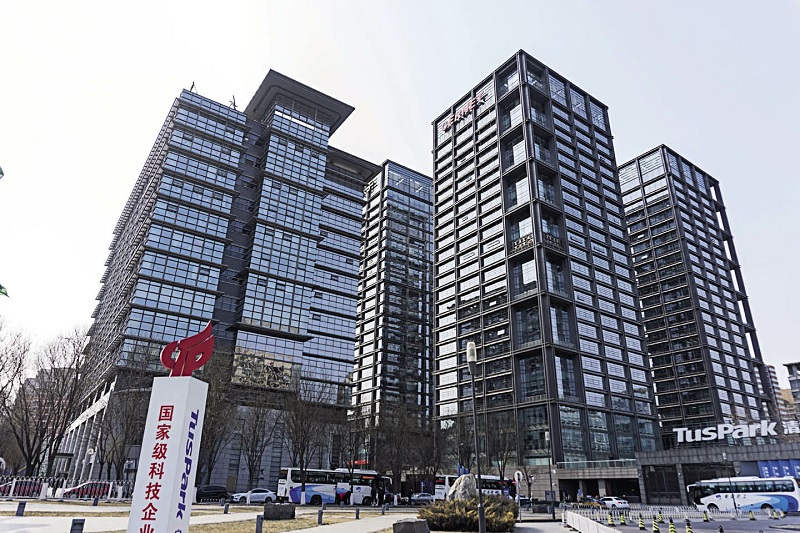 Located in the core area of Zhongguancun Science Park, Beijing, Tsinghua University Science Park (TusPark) is home to more than 400 enterprises and organizations.
Academic Entrepreneurship
An ideal route to integrating the academic research with the real industrial world is to find out problems that need to be solved in practice based on well-made survey, determine the research direction, find solutions through further in-depth research and study, and advance the human progress in economy, society, and culture.
Shi Renhai believes that putting academic achievements into practice and turning them into productive forces is one of the goals of academic research. He recalled his school days in the United States where he was a member of a research project for optimizing magnesium alloy sheets. The traditional product had poor deformation performance and cracked easily, resulting in the discarding of whole sheets. Ren and the research team managed to design a new set of technologies based on a quantity of statistics and experiments. With the new technology, the sheet doesn't crack while it's being processed. "Then we applied for a patent online," Shi recalled. "Volkswagen, the German automobile manufacturer, learned about our patent via the Internet and started to cooperate with us, applying the new technology to the processing and installation of their vehicle accessories, such as car doors and roofs."
As science and technology further developed, the role of the Internet is no longer limited to a matchmaker between academic achievements and the needs of enterprises. In recent years, a new wave of academic entrepreneurship is emerging in China. College teachers and students have research skills in advanced technologies, but lack experience in management. When venturing into to business world, they would have a better chance of succeeding if they choose professional services provided by incubators.
TusHoldings Co., Ltd. (TusHoldings) is an example of successful academic entrepreneurship. Established in Tsinghua University Science Park in 2000, the company focuses on providing all kinds of support to technology entrepreneurs, such as financing and industrial operation. Its platform not only provides entrepreneurial courses and salons for professors and researchers, but also one-stop services to start up a business, including fund-raising from angel investors. In this way, researchers from Tsinghua University and other academic institutions find it easier to commercialize their scientific and technological achievements. Innovation is spurred, injecting vitality to industrial transformation and economic growth.
Tus-Incubator, a service platform provided by TusHoldings, has formed a well-known incubation system brand with "TusStar" as the core. The platform has incubated and served more than 5,000 enterprises in total, of which more than 2,000 enterprises have grown independent, and over 41 enterprises have gone public. In addition to that, another 40-plus enterprises have been acquired by big companies, with a return on investment of around RMB 20 billion.
Mitigating the Impact of COVID-19
The outbreak of the COVID-19 pandemic in early 2020 pressed the pause button in all walks of life in China, including schools. In order to prevent and control the deadly virus, colleges and universities postponed classes. Students were unable to return to their campuses on time. Research and projects that require a lot of field trips and campus facilities had to be halted.
"The research on materials science had to stop, as its implementation needs a large amount of computation power, which is impossible on a personal computer at home," said Shi Renhai. The laboratory on campus is equipped with a large-memory and fast-calculation computer cluster, which can be used by multiple users synchronously. Beijing University of Science and Technology managed to move the computing power online, enabling teachers and students to use it remotely to continue their research project even though they cannot return to the school.
In Shi's opinion, academic activities should gradually move online amid the epidemic. "All the academic conferences I attended before were offline, which allow face-to-face communication for attendees to share information on the latest research and their personal visions. However, due to the pandemic, many academic conferences, such as the reputable Chinese Materials Conference and the International Conference on Computer Coupling of Phase Diagrams and Thermochemistry, have been postponed or canceled," said Shi.
Thanks to the Internet, large-scale academic conferences like what he mentioned can be held online, and academic exchanges and cooperation can continue, free from limitations brought by the pandemic, Shi said.