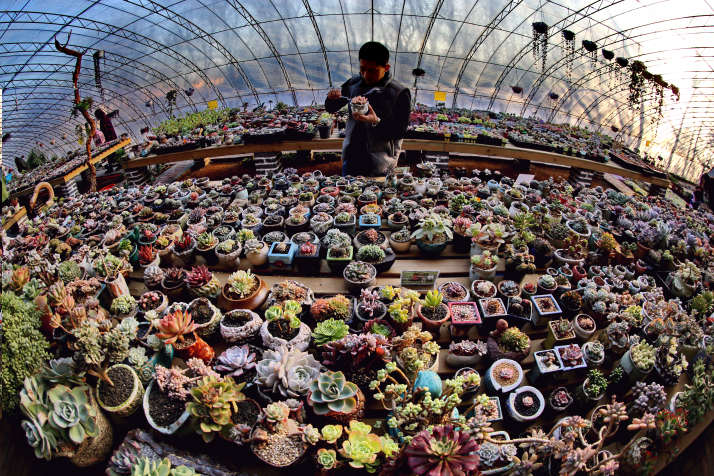 Cultivation of succulents is very much in vogue, especially among young people in the urbain area (XINHUA)
Thanks to her smartphone, Liu Qing can now earn 500,000 yuan ($77,200) a year. Just six years ago, such income was a distant dream for the female farmer, who was raising her children alone in her hometown in Gengwei Township in Shuyang County, Jiangsu Province in east China. Due to the lack of local job opportunities, her husband had to move to the city for work, where he just earned an annual income of 20,000 yuan ($3,088). But now, like many other local farmers, her dream has come true, thanks to a powerful weapon: succulents.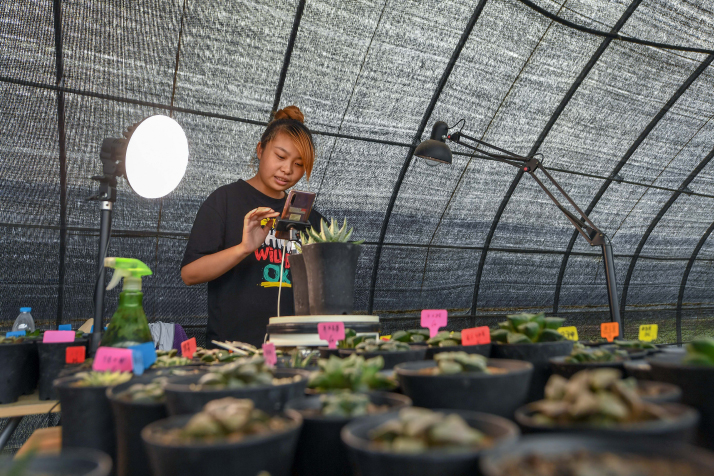 Livestreaming boosts the sales of succulents (XINHUA)
Leveraging local resources
For years, Gengwei paid little attention to developing industry due to its lack of suitable facilities and, above all, its limited access to transport. Villagers could only rely on rice and wheat cultivation to support themselves. But traditional agriculture has long lost its appeal to young farmers, many of whom had to migrate, like Liu's husband, leaving behind a "ghost village."
In contrast, Yanji, a neighboring town, has experienced rapid growth in recent years, thanks to horticulture and e-commerce. In 2014, despite the opening of a provincial road that finally linked the two towns, which are separated by a river, the road to prosperity remained closed to Gengwei. "Yanji already held a large share of the national horticultural market. It was hard for us to follow their lead," said Qiu Jiancheng, Secretary of the Gengwei Township Party Committee.
In the following year, however, the town shifted its focus for rural development, establishing a private horticultural farm of 30 million garden plants, including succulents. The farm offers its 150 employees, all recruited locally, the opportunity to explore the beauty and delicacy of these succulents. But more importantly, they have enjoyed the benefits brought by the plantation.
Very aesthetic and easy to grow, succulents are becoming increasingly popular with the general public, especially young urban dwellers. Their prices can range from a few yuan to as high as tens of thousands of yuan depending on the variety. Despite having a slightly higher production cost than traditional agricultural produce, the cultivation of succulents can generate net profits up to 14 times higher.
The employees, who learned the best way to grow succulents, have been planting them in their own fields. Similarly, in October 2015, the local government invested 12 million yuan ($1.9 million) to set up a 500-mu (33.3 hectares) succulent nursery with modern facilities. Soon after its opening, all the land was shared by its 35 contract growers, including Liu.
By participating in technical training sessions for women left behind, Liu quickly acquired the know-how to grow succulents. In just one year, she achieved an annual turnover of 400,000 yuan ($61,760).
As the nursery alone could no longer meet the needs of all the farmers who were keenly interested in this sector, the government decided to set up farms in 12 villages of the town, so that everyone could have a share of the cake. Overnight, the whole town embarked wholeheartedly on the cultivation of these popular plants. Thousands of varieties of succulents are now cultivated on an area of 5,000 mu (333.3 hectares), generating an annual production value of 300 million yuan ($46.3 million) and 7,000 jobs.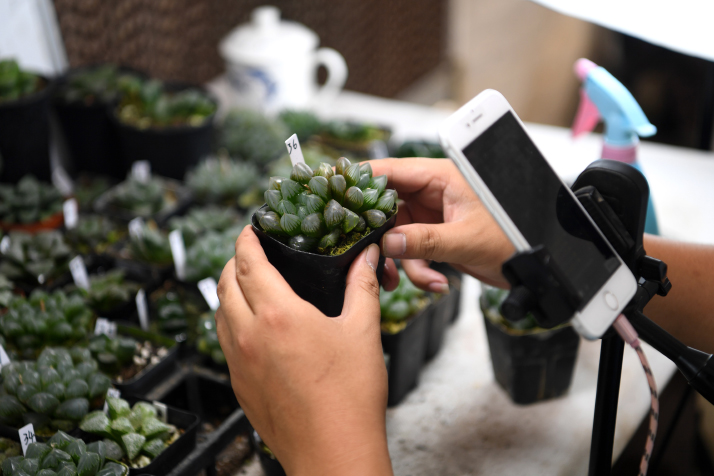 Livestreaming boosts the sales of succulents (XINHUA)
Miracle formula
Gengwei is not the only region in the country to rely on the succulent economy. In fact, in comparison to its competitors, it is neither the largest nor the oldest. However, it owes its success to a miracle recipe: e-commerce. As Qiu summed it up succinctly, the local population is as gifted at growing succulents as it is at selling them.
At around 6 pm every day, the nursery hits its peak working hour. The succulents ordered online during the day are packed and shipped in bulk. In the best-case scenario, customers receive them the next day. According to statistics, 10.87 parcels are dispatched from Gengwei per second on average, with 343 million parcels shipped every year. Of course, all this would be unimaginable without a powerful e-commerce platform and an efficient logistics network.
The local government has supported the business by setting up a 1,500-square-meter service center and a 2,000-square-meter logistics zone to encourage young people to return to the town and launch their startups there. Local entrepreneurs can run their online shops, receive further training, and even display their goods there. Every year, large-scale producers from Yanji are also invited to train farmers in the trade skills of e-commerce.
At the same time, livestreaming continues to grow in popularity among e-merchants. Already on the path to success, the people of Gengwei did not hesitate to jump on the bandwagon.
Each morning at 11 am, Liu opens her app to start livestreaming from her nursery. Customers can view the succulents in all their glory. Within a few minutes, several orders are placed. "Sometimes, a livestreaming session can last 10 hours if a large number of subscribers log on that day. Orders can reach a total of several hundred per day," said Liu. An annual income of 500,000 yuan ($77,200) is no longer a dream for her.
The growth of the rural economy has not only transformed the fate of women who were previously left behind but also benefited people with mobility limitations, such as 22-year-old Yang Xiao. When his father fell ill, his mother was forced to leave for the city to look for a job. Convinced of the economic efficiency of succulents, the young man started his own business in 2019. Barely a year has passed and he now has the names of different varieties on his fingertips. "I feel much more valuable today. All I have to do is ship orders, and I can earn 3,000 to 4,000 yuan ($463 to $618) a month. Even if I can't work anywhere else, I can still make a living," he said with a sense of pride.
(Print Edition Title: Succulent Sensation)
Comments to lixiaoyu@chinafrica.cn