American artist Denis Naymark pursues his ceramic dream in China's porcelain capital, Jingdezhen.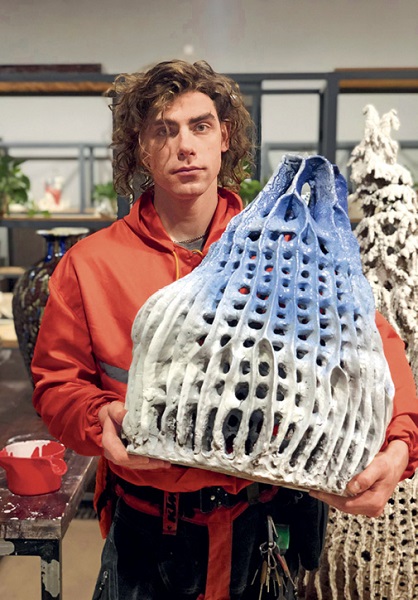 Denis Naymark and his ceramic work.
In the year 1295, on his way back to Europe, Marco Polo could not have imagined that the white "porcellana" he took with him from Jingdezhen would make a big hit, causing a sensation and even a frenzy for porcelain among the Europeans, especially the noblemen. Macro Polo made them aware that porcelain actually came from China, not from the middlemen in Persia or Egypt. To some extent, Macro Polo made his mark on history by introducing "Chinese" ceramics to Europe.
More than 700 years later in 2013, a young American named Denis Naymark sharing the same fascination and craving about porcelain made his first visit to Jingdezhen. Two years later, he decided to settle down there permanently.
Clay Connection
Known as the "porcelain capital," Jingdezhen has a more than 2,000-year history of making pottery and ceramics. It didn't become a major ceramic base until the year 1004 when Emperor Zhenzong (968-1022) of the Song Dynasty (960-1276) changed the title of his reign to Jingde. Later, the place famed for its bluish white porcelain back then acquired the name Jingdezhen. This is the only city named after an emperor's reign name all throughout China's long history. In Chinese, the character jing means grand and the character de means virtue while zhen means town, representing a promising future for Jingdezhen. Since then, it gradually rose to become the most important ceramics production center in China and has produced ceramics for the government for over 1,000 years and the imperial court for over 600 years.
Those are probably what Naymark's archaeologist father told him when he was a young child. His father is a Russian Jew from Uzbekistan, a country which sits right along the Silk Road, who has taught coinage and art history at Hofstra University in New York, where Naymark was born, for many years. "As he was often excavating a lot of Silk Road materials, he told me a lot about ceramics when I was a kid," Naymark said. One advantage of being a New Yorker is having access to a host of art galleries and museums related to ceramics. "My father and I often went to museums and he told me all the history behind every piece, what socioeconomic conditions caused it to be made in a particular way, how the iconography ended up being this way or that way, etc.," Naymark recalled. Growing up in such an environment, Naymark became quite fascinated in playing with clay and making ceramics at an early age.
Like father, like son. Naymark began to learn how to make pottery when he was eight years old, and was admitted into Hofstra University in 2007, when he was just 15, to learn more advanced pottery techniques. While studying there, he met his undergraduate mentor Paul Chaleff who recommended Jingdezhen to him to study Chinese ceramics. In 2016, Naymark traveled to China to start his master's degree at Jingdezhen Ceramics Institute, which is now called Jingdezhen Ceramics University, under Zhang Siping. "She was always super helpful and super willing to teach me what she knows and to help me out along the way," Naymark said. During the same year, Zhang recommended that he and two other classmates participate in a national snow sculpture competition held in Harbin, and they won the second prize. With the help of an amazing teacher and an enabling environment for ceramic creation, he made great progress in honing his ceramic techniques in Jingdezhen and graduated in 2020.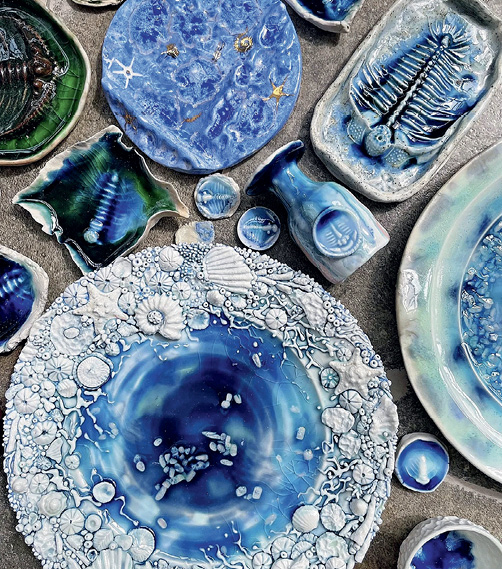 The engraved sea creatures seen in his ceramic works resemble ancient fossils.
Burning Ambition
In 2022, Naymark started a studio called the Living Fossil Studio with his business partner Lan Qian. Living Fossil represents the central theme he expresses in his ceramic work, namely marine biodiversity conservation. Naymark grew up in New York, which is located by the sea. When he was a child, he liked to swim in his spare time and observe creatures like crabs and sea sponges, thus creating in him a great interest for the marine world. His affection for animals can even be seen now in his studio where he has a squirrel, a turtle, two cats, and eight corn snakes. He is personally concerned about animals' future because now many creatures are endangered and even becoming extinct. He does not want the creatures that exist today to end up being fossils of tomorrow, and so he hopes his studio can help to raise people's awareness of biodiversity conservation.
As a result of his burning passion for such an idea, most of the works he has posted on social media are blue, the color of the sea, and incorporate hand-sculptured small molds resembling fossils of various marine creatures, demonstrating the sheer beauty of marine life. Traditional Chinese ceramics emphasize the symmetry of both the shape and the pattern. Naymark's works, on the other hand, while based on the techniques and principles of Chinese ceramics, like using a symmetrical belly as the foundation, often exhibit asymmetrical designs with delicate details like jagged surfaces and branch-like parts added to them, showing his own artistic style. One of his favorite works which incorporates a wide range of colors and shapes was inspired by sea creatures including the diminishing coral, thus sending a strong message of nature conservation. "People need to preserve this kind of wonderful ecosystem," Naymark said.
Away from the hustle and bustle of big cities, the Living Fossil Studio is located in Nan'an Village, Jingdezhen. Even though New York provides a very artistic environment and served an important role in forming his perception of the function of art, Naymark believes "there is too much noise there" and prefers to live a quieter life in the Chinese village. The tranquil place has allowed him to draw inspiration from nature and make ceramic works that reflect his artistic views, as the profile of the Living Fossil Studio reads "this studio belongs to forest and sea."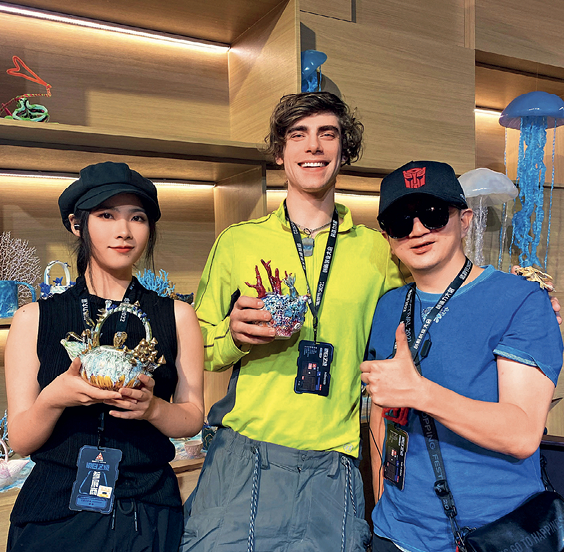 Denis Naymark (middle) with Lan Qian (left) and one of the organizers (right) of the 2022 Taobao Maker Festival.
Potter Around to Promote Ceramics Abroad
Naymark's ceramic works have been making a difference, small but significant. Many people around him have been influenced by him and stopped eating seafood. Some galleries and businesses even reached out to him for cooperation on some projects. He has also participated in many art festivals and events to make his ceramic works more visible, like "The Way of Harmony" International Public Art Camp held in Chengdu in 2021 and the 2022 Taobao Maker Festival in Guangzhou, where young people showcased their innovative ideas and products. Apart from that, Naymark livestreams his creation process of ceramics on social media to convey his idea of biodiversity conservation — he desires the pieces of art work to speak for themselves. Though these may not exert a huge impact in the short run, Naymark enjoys the pace of pottering around and progressing step by step, little by little. After all, changes do not happen overnight.
Naymark is not the only expatriate in Jingdezhen. Tens of thousands of people across the world have been attracted by the beauty of Chinese ceramics and came to Jingdezhen to study more about this ancient art. Many of them created their own studios after completing their studies, contributing to the dissemination of ceramic culture. "Jingdezhen has now become one of the top four clusters of new arts along with Beijing, Shanghai, and Hengdian and is an experimental field for new cultures," Lü Pinchang, vice president of Jingdezhen Ceramic University, said in a speech delivered at the 2022 Jingdezhen "YangJingPiao" Ceramic Art Exhibition & the Dialogue Between Chinese and Foreign Ceramic Artists, co-hosted by China Today.
As he looks into the future, Naymark is creating an international resident studio, a space for about 20 resident artists. He has already contacted local studios in Réunion, an overseas region of France, for cooperation. They plan to exchange local artists to study ceramics in China in a small and pottering-around effort to "promote cultural and economic unity between creative fields in different countries." With a new studio in the building, Naymark is sure to make his mark on introducing Chinese ceramics to more people, just like Macro Polo did centuries ago.