Near the western embankment of the Yundang Lake in Xiamen, a beautiful coastal city in southeastern China, a famed French restaurant has found its home. The words "Greg's Xiamen·Xiamen" on a dark signboard attract many diners. Exquisite presentation, fresh ingredients, and sophisticated cooking technique all highlight the distinctly French identity of the cuisine. "I came to China in 2003. After visiting several cities, I settled in Xiamen because this seaside city is similar to my hometown Bordeaux," said restaurant owner Gregory Louraichi, a French chef.
The year 2021 was special for Louraichi – the restaurant celebrated its 10th anniversary, and he turned 40, at which point, according to a Chinese saying, "one should have no more doubts when he is 40." With a career he loves, two lovely sons and Chinese wife who supported him in starting a restaurant, Louraichi said that Xiamen is definitely his second hometown.
Spring Festival in His View
Louraichi worked in many high-end Chinese hotels and restaurants such as La Seine in Guangzhou and La Villa in Hong Kong. He introduced the popular French dessert macaron to Xiamen in 2005. In the winter of 2011, he decided to open his own restaurant.
"I met and fell in love with Viviane here. I am too familiar with China." Speaking of his destiny with China, Louraichi spoke unceasingly, "Now China has changed significantly. Over the past 17 years, I got married and had children and began running a French restaurant. As a foreigner, I have witnessed the advancements of China, and its achievements in the sphere of high technology and the Internet really took me by surprise."
His wife Viviane is a native Chinese named Long Guanyun. "Greg and I have been married for more than 10 years, and he has spent at least seven Spring Festivals in China over the years," Viviane said. "He likes the lively atmosphere of the Chinese New Year, and often enjoys a substantial family reunion dinner on the New Year's Eve, where we also watch the Spring Festival Gala together. The next day, he actively pays New Year's greetings to relatives and friends."
Louraichi also likes to visit different places in China to experience the Spring Festival. Lion dancing and red envelopes containing lucky money are the most novel and interesting Spring Festival traditions in his experience.
Louraichi shows special preference to the Spring Festival because "it is the same feeling the French have about Christmas," a wonderful time to enjoy family gatherings and visit relatives and friends. The 2020 Spring Festival was an unforgettable one for the Louraichis. Due to the sudden outbreak of the COVID-19 epidemic, the local government encouraged everyone to celebrate the festival locally, so the restaurant prepared a sumptuous New Year's Eve dinner and opened for business as normal. According to Chinese tradition, lanterns were hung, couplets were posted, and red envelopes were distributed to customers. Everyone spent a special Chinese-French Spring Festival together.
Louraichi is best at high-end custom French cuisine. Delicate and attractive cuisine and a romantic atmosphere make his restaurant not only popular with French customers, but also attracts many young Chinese, who choose to come here for a date, and some will specially pick this spot for proposing. Many international activities are also organized here. In 2015, Louraichi's restaurant was the only one in Fujian Province among the 1,300 authentic French restaurants in the world selected by the French foreign ministry. In 2018 it was named the best French restaurant in China by Travel and Hospitality magazine.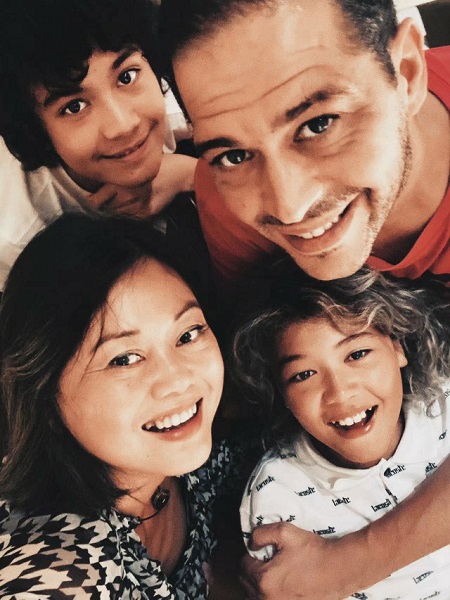 Louraichi with his family.
Steady Development
The pandemic's impact on the catering industry is self-evident, and Louraichi's French restaurant has also been affected. "Compared with previous years, our operating income dropped a lot in 2021." But Louraichi has no complaint, "Compared to the catering industry in other countries, we foreigners in China have already felt lucky and happy. Xiamen's local prevention and control measures are effective. Both the Guanren Community he resides in and the local government fully support entrepreneurial foreigners in Xiamen, helping us to solve practical problems and tide over difficulties together."
Guanren Community has a large number of international residents. "Chinese people have always been friendly to foreigners and have accepted us at a deep level," Louraichi said. "Although the pandemic has caused a lot of inconvenience over the past two years, our life here is relatively stable. For epidemic prevention, I can feel the efforts and results brought by the Chinese government."
Encountering many difficulties under the severe challenges of the pandemic, Louraichi has been constantly trying new things. He has been innovative in making many new dishes, trying to combine gourmet advantages of China and France. For example, he added thin French fries when making Kung Pao Chicken. Chinese Olympic champion Liu Xuan and her family ate at the restaurant in June 2021, which made Louraichi pay special attention to the menu of the Beijing Winter Olympics. "The guests of the Games are excellent athletes from all over the world. China, as the host, wants to take care of the tastes of athletes from each country. The organizer needs to not only meet the dietary needs of athletes from all countries, but also ensure food safety." He said, "I mainly want to draw some new inspiration from the menu. My restaurant also launched a series of meals on the theme of the Beijing Winter Olympics."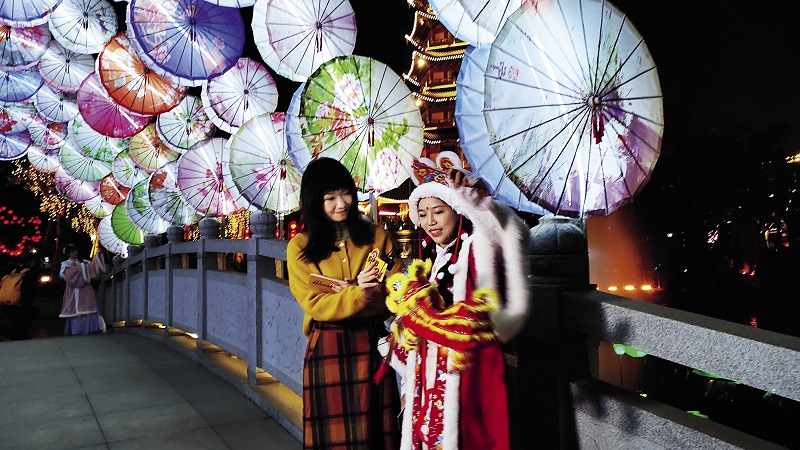 Twenty-one arrangements of bright lanterns in Xiamen reflect a strong Spring Festival atmosphere by combining traditional culture and modern technology.
Connection through Food
As a chef who has studied French food since a young age, Louraichi also loves Chinese food, such as Peking duck, noodles with soybean paste, dumplings, Yangzhou fried rice, and shredded pork with garlic sauce. "Although one uses chopsticks and the other a knife and fork, both of their food cultures are interlinked. China has many kinds of local dishes with unique flavors, among which Cantonese cuisine is my favorite."
French food is directly related to the French people's requirements for life and aesthetics. Special attention is paid to the original taste, sauce preparation, and exquisite presentation. It is necessary to work hard on the aesthetics and creativity of the food's appearance to achieve a pleasing effect. Louraichi found that a growing number of Chinese customers, especially young people, pursue this delicate visual effect while enjoying the taste. So he also helped many Chinese restaurants to develop creative dishes to cater to the ever-diversifying needs of customers. "I want people to see that when making Chinese food, we can also add elements of French, Japanese, or Italian food. The Chinese are very focused on taste, but I also want to bring some aesthetic elements to them."
Louraichi and his French restaurant have witnessed many important occasions of Sino-French activities. On the occasion of the 50th anniversary of the establishment of diplomatic relations between China and France in May 2014, Xiamen and Nice signed a sister city agreement and the mayors of the two cities held a gala dinner here. In May 2016, Louraichi was appointed as "Xiamen Tourism Promotion Ambassador."
Louraichi is now a well-known foreigner in Xiamen. When asked of his new year wish, he said, "Our earth has been sick for a long time, I hope it gets better soon. Let each of us return to normal life." His life goal is to use food to amaze everyone.
CUI XIAOQIN is a freelancer.