Parties to the United Nations (UN) Framework Convention on Climate Change met in Glasgow, United Kingdom, for the convention's 26th Conference of Parties (COP26) from October 31 to November 12, 2021. Representatives of countries from around the world negotiated for a concerted global response to one of the most urgent challenges of our time.
Thousands of miles away, 34-year-old Chinese explorer Wen Xu and the "Glacier Memory" expedition were doing their part to save the planet on the depopulated zone of the Qiangtang Plateau in southwest China's Tibet Autonomous Region. On November 8, the team successfully drilled out their first ice core – cylinder of ice drilled from ice sheets or alpine glaciers. They are essentially frozen time capsules that allow scientists to reconstruct climate from the far distant past. Layers in ice cores correspond to years and seasons, just like a tree's annual growth rings. However, as climate change intensifies, glaciers are melting at an alarming rate.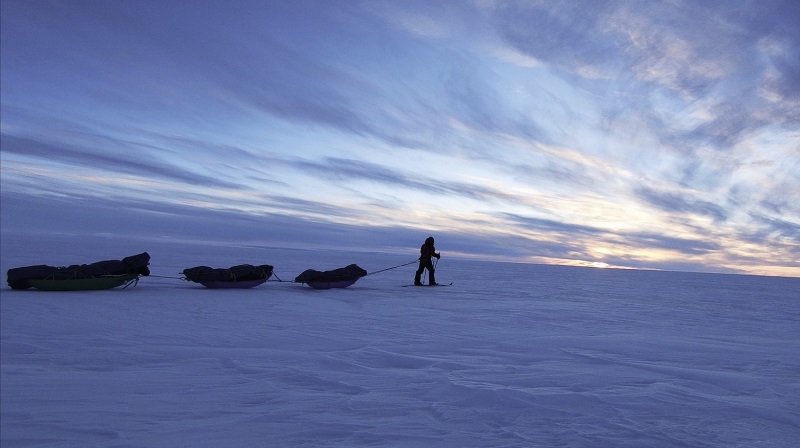 Wen Xu is on his record-breaking crossing of Greenland in the Arctic Circle in 2018.
Preserving the Memory of Glaciers
"Glaciers are the most sensitive indicators of climate change as they shrink or disappear due to global warming," said Wen, who has years of experience in mountaineering and glacier scientific research, going back to the age of 16.
It was while he was studying at Tianjin Nankai High School that he became passionate about mountaineering expeditions. As a result, he chose to study at China University of Geosciences (CUG) as an undergraduate, and then pursued further learning as a postgraduate in a Quaternary Geology program jointly supported by CUG and the Institute of Tibetan Plateau Research, Chinese Academy of Sciences. Currently, the young explorer is a glacier researcher and member of the national mountaineering team.
Wen is also a co-founder of the Polar Hub – a non-profit organization focusing on polar scientific exploration and the popularization of climate science. He launched the Below 2°C Initiative and has successfully completed the scientific expedition to the North Pole, the South Pole, and the Himalayas, which is dubbed the "third pole."
In the densely populated Wangjing, an area near the northeast fourth ring of Beijing, China Today met with Wen at his workshop, where he and his wife Hu Jiaojiao, together with other team members, were finalizing the detailed plan for the upcoming public welfare exhibition of "Glacier Memory."
Hu is a petite woman of the Yi ethnic group and an explorer dedicated to public good. In 2015, Hu and seven female explorers from all over the world completed a 60-day rafting expedition down the Ganges River, a global program named AccessWater aiming to raise the public awareness of water conservation. Sharing the same outlook, the couple are committed to combining exploration with scientific research, public welfare, and environmental protection, and putting their ideas into action.
In WeChat Moments – a social networking platform developed by China's tech giant Tencent, Hu posted an article titled "Scientific Research of 'Glacier Memory,'" in which she wrote, "Glaciers are among the world's best recorders of climate, since the cylindrical ice cores drilled from glacial ice contain tiny bubbles of trapped air, allowing scientists to measure the concentration of carbon dioxide in the atmosphere from hundreds of thousands of years ago."
On November 1, 2021, Wen's team of Polar Hub, together with Professor Tian Lide's team from the Institute of International Rivers and Eco-Security of Yunnan University, set out for the "Glacier Memory" expedition, with the goal of drilling out three through-bottom ice cores with a total length of more than 300 meters at Shuanghu County in Qiangtang National Nature Reserve, 5,850 meters above sea level.
"The memory of glaciers is vanishing," said Wen. One of the three ice cores taken out by the "Glacier Memory" expedition will be preserved in Antarctica for posterity. "A century later, advanced technologies will enable future generations of scientists to discover more [from this preserved ice core]," he added.
Another initiative he is busy with is helping future glacier scientific expeditions to operate at higher altitudes. "We are hoping to build a fully contained platform to support scientific explorations on land, in water, in the sky, and in outer space," said Wen.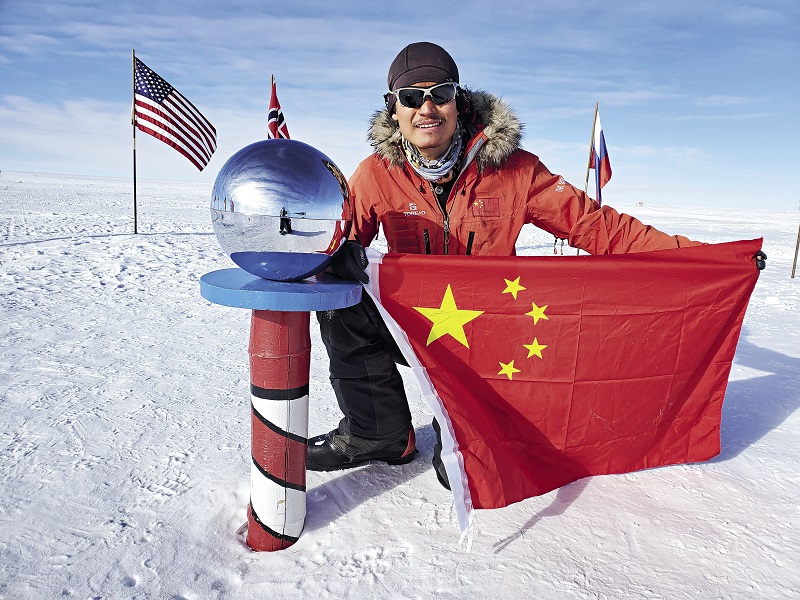 After hauling the sledge for 1,400 kilometers over 58 days, Wen Xu finally reaches the South Pole on January 10, 2020.
Warming Climate and Warning Glaciers
Wen told China Today that his passion for glacier conservation was triggered during an expedition on the Qinghai-Tibet Plateau in May 2017.
He was trekking on the glaciers at the source region of the Yangtze River, when he slipped and fell into icy water. On his back, he was carrying more than 20 kilograms of scientific equipment. Years of expedition and winter swimming experience helped him to react quickly, and after several attempts at trying to gain a grip with his ice pick, he was finally able to haul his freezing body out.
The entire incident had taken only 30 seconds.
It was at midnight that he realized that something was wrong. "The glacier is located at 5,500 meters above sea level. And it was only May. Where did such a big ice lake come from?" he wondered.
Throughout the night, Wen searched his memory about glaciers. He recalled that at the peak of Muztagata, nicknamed the "father of glaciers," covered with glaciers from millions of years ago, the snow line had receded nearly 500 meters; and at the far North Pole, the ice surface on the route he once walked has become ice floes.
For the first time in his life, he realized just how imminent the threat of global warming is.
In July 2017, Wen and Hu co-founded the Polar Hub, which is dedicated to polar and glacier ecological research, science popularization, and environmental protection.
They also launched the Below 2°C Initiative to stimulate public awareness of glacier protection and climate action through scientific expeditions to the three poles of the Earth. The name comes from the Paris Agreement's call to keep the increase in the global average temperature to well below 2°C compared with pre-industrial levels.
As planned, Wen successfully completed the scientific expedition to the summit of Mount Qomolangma and crossed Greenland in the Arctic Circle in 2018, preparing for his final expedition to the South Pole.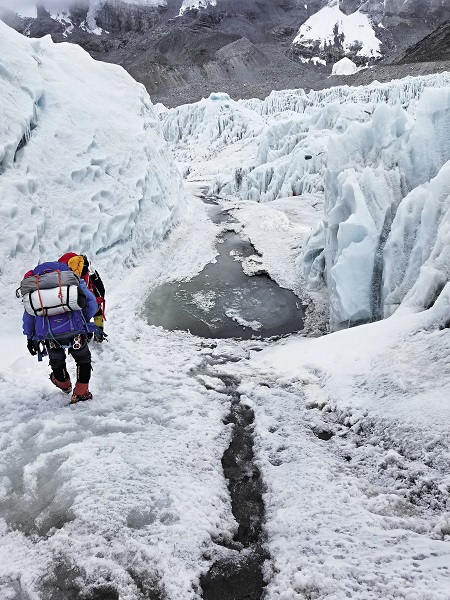 Wen Xu has realized from firsthand experience that glaciers are melting during an expedition on the Qinghai-Tibet Plateau in May 2017.
Exploring Antarctica Alone
In October 2019, Wen set off from Beijing and embarked on a solo expedition across the polar continent without assistance and supplies. Part of his motive was also to raise public awareness of the need to save glaciers.
"Solo means I was on the trip alone during the whole process; no assistance means I did not have help from any external forces, such as machinery or wind, but relied solely on my own strength; no supplies means that I carried everything I needed in a 185-kilogram sledge, including food, clothing, shelter, and all the other daily necessities," he said.
Wen's two-year preparation included research on terrain, climate, technology, equipment, and food, as well as physical and psychological training.
"People always commend adventurers for their fearlessness. However, I am afraid of losing my life, and worried about the uncertainty brought about by the climate crisis to the future life of my children," said Wen.
On November 11, 2019, he arrived at the United Glacier Camp on the Antarctic continent, and then took a plane to the coast of Berkner Island, where he started his expedition on November 13 local time.
Extreme snowstorms, strong level-12 winds and the never-ending expanse of whiteness were his constant companions, along with the inevitable biting cold of minus 30-40 degrees Celsius. The everlasting polar days also challenged him. "There was no night, and time seemed to be stretched. I started to miss my family." Every day, a five-minute talk with his wife on the satellite phone before sleep became his greatest comfort.
Wen said that his fear was mitigated by the determination to keep moving forward, and he managed to travel 26 kilometers a day.
Every 10-15 kilometers, he would stop to collect samples. There were nearly 10 kilograms of scientific research samples and instruments in his sledge. Bottles of ice and snow from the inland of Antarctica holding the secret of climate change were the treasures that he cherished most. "The precious samples will fill the gaps in research on the inland of Antarctica and unravel a series of mysteries about the Earth's climate evolution," said Wen.
On January 10, 2020, after hauling the sledge for 1,400 kilometers over 58 days, Wen finally reached the South Pole, becoming the first Chinese to make it to the landmark, under his own steam.
Take Action Now
No one could have imagined that at the beginning of 2020, a pandemic in the form of COVID-19 would sweep across the world. Meanwhile on February 14, Brazilian soil scientist Carlos Schaefer announced a new record temperature of 20.75 degrees Celsius, breaking the barrier of 20 degrees for the first time on Seymour Island near Antarctica. A warming climate and warning from glaciers have never captured so much attention across the globe.
"2020 was destined to be a year to remember. A series of seemingly unrelated disasters actually had a close connection with climate change. It was a warning to us from nature," said Wen, who further strengthened his determination for action on climate change.
"Actions speak louder than words." This is his life motto. "Facing the unknown challenges, only action can overcome fear," he said when launching the "Citizen Science Project," which aims to make scientific exploration more accessible to the public.
With the convenience of a WeChat applet whose development his team participated in, Wen said the public could contribute their part to scientists' research on nature and climate change.
On the Chinese short video platform Kuaishou, Wen has launched a livestreaming session about his Arctic expedition experience, sharing the rarely known facts about the Arctic via interesting stories. "Within one hour, the viewership reached 35 million. People were eager to learn about climate change, especially young children," he said.
At home, Wen's family also participate in preserving the environment through simple yet effective actions like rejecting takeaways and disposable items, and carrying their own cups and eco-friendly paper bags. "Trivial things can have a magic power to reinforce awareness and then change behavior," he said.
In July 2021, before the 15th meeting of the Parties to the Convention on Biological Diversity (COP15) was held in southwest China's Yunnan Province, Wen, together with 20 young Chinese, went to the dry and hot valley region along the Red River in Yunnan to investigate biodiversity and ecological restoration, aiming to find an ecological response to global warming. "During the COP15, Polar Hub was officially announced to become [one of] the Actors & Partners of the UN Decade on Ecosystem Restoration (UN Decade). We will continue our efforts in helping the world achieve a sustainable future," said Wen.
"I was alone on the journey to the South Pole, but we must walk hand in hand on the road of action against climate change," he said. "Our choices today will determine who we are tomorrow."