The Shanghai Cooperation Organization (SCO) reached an important milestone this year, as the political, economic and security cooperation group celebrated the 20th anniversary of its inception.
To commemorate the occasion, the SCO organized a special forum titled "Governance and Leadership" in Beijing. Over 200 delegates from politics and academia focused on global issues including leadership and national development, COVID-19 response and modernization of governance capacity, people's wellbeing and social governance, and regional cooperation.
Shanghai Spirit needed in fighting pandemic
The SCO has become an increasingly important actor in Eurasian politics and security, even more so since the world has been permanently changed by the unprecedented COVID-19 pandemic.
And with the need for countries to cooperate with each other to combat challenges now more important than ever before, the SCO and its founding message of mutual trust, mutual benefit, equality, consultation, respect for cultural diversity and pursuit of common development – known as the "Shanghai Spirit" – stands as a fine example of how countries can achieve this cooperation.
Shanghai Spirit has featured heavily in celebrations for the SCO's vigentennial, with Chinese State Councilor and Foreign Minister Wang Yi referring to it at a reception celebrating the SCO's founding, calling for those involved to "inherit and carry forward" its message, as well as "strengthen the exchange of experience in state governance".
Wang's comments were echoed at the recent "Governance and Leadership" forum, where the Shanghai Spirit was reiterated on more than one occasion.
Chen Xi, member of the Political Bureau of the CPC Central Committee and head of Organization Department of the CPC Central Committee, used his keynote speech to urge political leaders and experts to open their minds to the Spirit's guiding principles, while Du Zhanyuan, President of the China International Publishing Group, highlighted the importance of the SCO and the Shanghai Spirit, encouraging media outlets to better tell the organization's achievements and spread its positive message.
This Spirit has been evident in SCO members and their response to COVID-19, becoming the biggest converging interest and generator for cooperation since last year's Council of Heads of Government of SCO Member States meeting, according to Deng Hao, secretary general of the China Center for Shanghai Cooperation Organization Studies.
And that Shanghai Spirit is needed now more than ever in the current-pandemic era, as the world seeks new approaches to cope with profound global changes.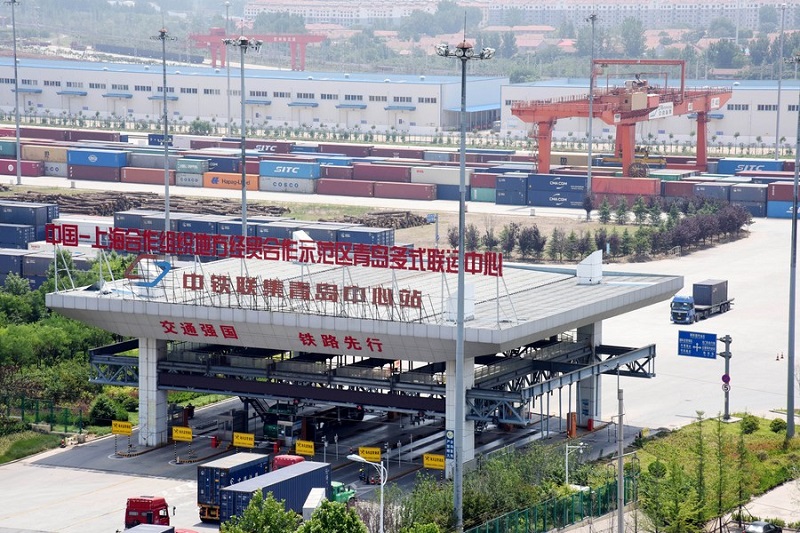 File photo taken on June 12, 2019 shows the Qingdao multimodal transportation center in the China-SCO local economic and trade cooperation demonstration zone in Qingdao, east China's Shandong Province. (Photo/Xinhua)
From regional security & trade to new cooperation
The SCO was established in 2001 by six founding members – China, Kazakhstan, Kyrgyzstan, Russia, Tajikistan, and Uzbekistan – to transcend outdated international relations concepts such as the clash of civilizations, the Cold War and zero-sum mentality, as well as promote regional cooperation.
Since then, it has expanded to eight full members, with India and Pakistan joining in 2017, as well as four observer countries and six dialogue partners.
And while the SCO initially focused on three key areas: regional security, economy and culture – with the greatest progress being made in the first – the organization has since expanded its remit to other security-related issues such as drug trafficking, information security and illegal migration.
But despite its success, there are still areas in need of progress. According to Alexander Lukin, Director of the Center for East Asian and Shanghai Cooperation Organization Studies at Moscow State Institute of International Relations, economic cooperation could be significantly improved, such as establishing a "SCO Development Bank" to finance multilateral interstate economic projects.
While this proposal has earned the support from governments and academic leaders in the region, as of yet, this proposal has not advanced beyond a conceptual framework.
Speaking at the "Governance and Leadership" forum, Lukin said cooperation on education and culture is also particularly important, especially as Eurasian states are seeking to highlight their unique culture and values as a basis for regional integration.
However, for Zuo Fengrong, Deputy Director-General, professor of the Institute of International Strategy of China National Academy of Governance, one of the biggest challenges for the SCO is to determine its strategic goals in line with those of a changing era.
Speaking alongside Lukin at the "Governance and Leadership" forum, Zuo said Eurasia will become a major stage of human activities in the post-pandemic era, and that the SCO is capable of promoting the economic integration of Eurasia.
To do this, Zuo believes the SCO needs new, innovative forms of cooperation, adding that it is necessary to explore ways to establish economic cooperation mechanisms and innovate cooperation approaches within the framework of the Belt and Road Initiative (BRI), the "Greater Eurasian Partnership" initiative and the Shanghai Cooperation Organization.
A freight train from the China-Europe Railway Express arrives at a land port in Urumqi, Xinjiang Uygur autonomous region. (Photo/China Daily)
SCO brings opportunities for BRI
The SCO is not an alliance or even a union of sorts, but a product of the need for inter-governmental cooperation. It has also promoted the building of a new type of international relations, one that confronts a rapidly changing world.
While this year marks the 20th anniversary of the SCO, it also coincides with the eighth anniversary of the Belt and Road Initiative proposed by China in 2013.
According to Zhao Lei, Deputy Director-General and Professor of the Institute for International Strategic Studies of China National Academy of Governance, both these entities are mutually reinforcing each other in this new form of international relations.
In an interview with China Focus during the forum, Zhao said BRI is both a multilateral and bilateral initiative, and many projects need bilateral promotion. The SCO is a multilateral institution, which can reflect BRI's principles of extensive consultation, joint contribution and shared benefits.
Kazakhstan is a clear example for Zhao of where both BRI and SCO can complement each other. Kazakhstan is in Central Asia – a key region of the SCO, and in an area where most China-Europe freight trains pass through, including through SCO countries.
China-Europe freight trains have become a vital link between Europe and Asia, especially during the current pandemic situation, not only delivering consumer products but also anti-epidemic materials. If the Eurasian continent recovers economically, then the rest of the world's economy can also recover quickly too, Zhao told China Focus.
But economic advantages are not the only area where the SCO can mutually benefit BRI. The SCO can also provide ample cultural exchanges to help the initiative, Zhao said.
While traditional cooperation between SCO members is dominated by security – what Zhao describes as "hard connectivity" – there also needs to be "soft connectivity", such as people-to-people exchanges, which can result in more long-term and stable regional security.
Through this, such mutual promotion will lead to a "1+1>2" cooperative effect, Zhao noted, proving better results for the SCO and the BRI, together.
Zhao Kailin is staff reporter of China Focus.
Copyedited by Thomas Scott-Bell