As one of the thematic exhibitions of the CIFTIS, the World Winter Sports (Beijing) Expo 2020 opened at the China National Convention Center on September 8, hosting a series of activities including forums, exhibitions, and business matchmaking.
Taking the opportunity of the Beijing 2022 Winter Olympics, the winter sports section of the CIFTIS is expected to underscore the important position of the winter sports industry in modern global trade services, and promote integrated international development of sports, science, culture and tourism, and health industries, hoping to "realize the matchmaking role between international winter sports resources and boosting the development of China's snow and ice industry."
Ice and snow sports sector once bore the brunt of the COVID-10 pandemic earlier this year. But China has quickly shifted into the recovery mode, evidenced by the feast of ice and snow attractions showcased at the expo, where preparations for the 2022 Beijing Winter Olympics and Paralympics were prominently featured. The international sports community has heaped praise on China's efforts to revive winter sports.
"By bringing together the winter sports industry enterprises under the theme of the Power of Ice and Snow, the expo is the perfect platform to highlight this important contribution of sports to the recovery," Thomas Bach, president of the International Olympic Committee, said in a video speech during the expo's opening session.
"The successful convening of the expo will be the catalyst for the start of an excellent 2021 season, which is in front of us, and FIS very much looks forward to our exciting program of activities which are coming up," the International Ski Federation (FIS) secretary-general Sarah Lewis said in an online speech.
Not only senior officials from the International Olympic Committee and international winter sport organizations were invited to the expo, but also representatives from countries that do well in winter sports were present, including Austria, Norway, the Czech Republic, France, Japan, Italy, Finland, Iceland, Switzerland, and Germany. A total of over 500 brands from China and other countries have participated in online-and-offline exhibitions.
The expo covers an area of around 16,000 square meters and consists of two exhibition areas. One is the comprehensive exhibition area, where =preparations for the 2022 Winter Olympics, and the latest technology and services of international ice and snow industry are displayed. The other is located to the south =of the Linglong Pagoda, which showcases the latest progress of the public participation in ice and snow sports. In addition, a series of activities are tailored for winter sports fans, including indoor skiing, snow house building, and stimulated off-road skating.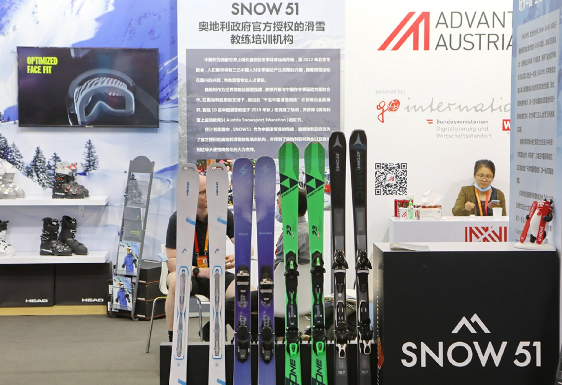 An officially authorized ski coach training institution by the Austrian government is showcased at the World Winter Sports (Beijing) Expo 2020.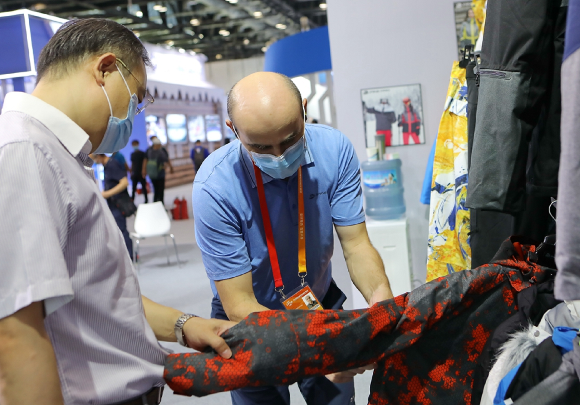 An exhibitor of ice and snow sports from Prague, the Czech Republic, explains to a visitor one of their skiwear products.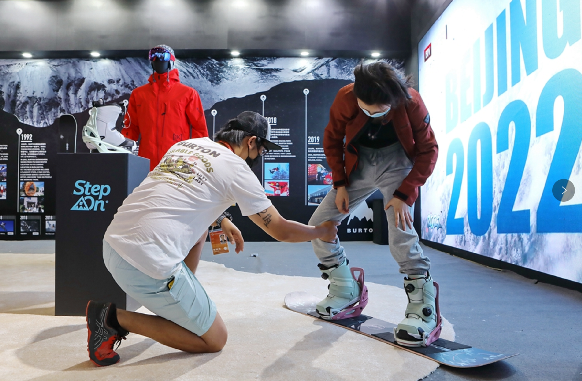 A Chinese visitor experiences snowboarding at the booth of BURTON – a U.S. brand designing and manufacturing industry-leading products for snowboarding.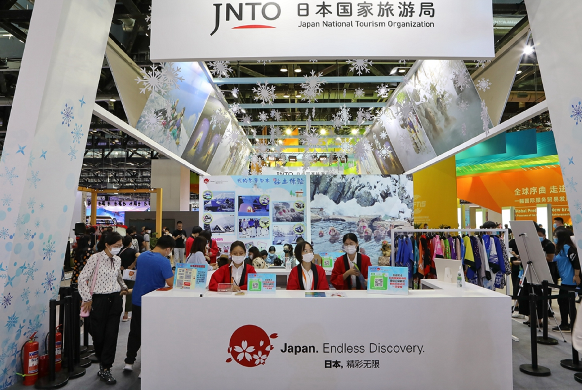 Japan National Tourism Organization's booth at the exhibition center attracts Chinese visitors. Photos by Yu Jie